Bush Mechanic: 8 steps to workshopping efficiency
---
Farm machinery guru Dr. Graeme Quick shares his tips on properly designing and equipping your farm workshop for increased efficiency and reduced downtimes.
Farm machinery requires both regular maintenance and thorough repair work. Well-serviced equipment will reduce downtime, increase field efficiency and certainly influences trade-in value.
So a properly designed and equipped workshop is a must in a professional farming operation. Having the tools, repair parts and supplies stored together in some type of centralised shop facility also avoids frustration.
Here's what you need to know about setting up your workshop for the best outcome for both yourself and your machinery.
Site Considerations
Site selection needs solid consideration in planning a workshop layout.
Choose a site that's accessible to service drives, electrical and water supply lines, and one that is well-drained.
The workshop should be situated about 30-60m from the house and at least 45m from other buildings – this allows for future expansion, reduces fire hazards and gives space for machinery manoeuvring and parking.
Orient the workshop so that main door/s is away from prevailing winds. The workshop floor should be raised at least 100 to 300mm above the natural outside ground level to provide satisfactory drainage, and ensure that access doors remain free from trash, mud, or even ice and snow.
Floor Plan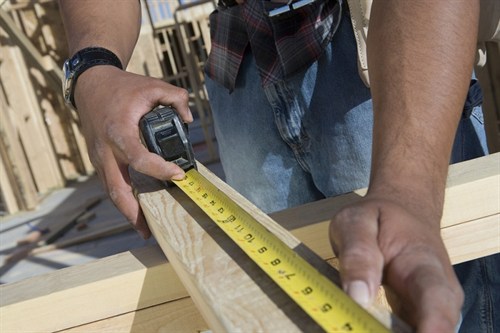 The first decision is whether to incorporate the workshop with the machine storage area or keep them separated.
Pro: Convenience, when both areas are combined or adjacent.
Con: Fire Potential. There may also be certain municipal requirements in this regard. Check with your Council; you'll most likely need formal approval to build in any case.
How Big? The workshop area should be sized in proportion to the amount of machinery that's in use or stored. Here's a rule of thumb: make the workshop area at least 20 per cent as big as the area used for machinery, with say 40m2; e.g., 5m x 8m as a minimum.
In sizing a workshop, consider the space occupied by the largest machine on the farm, plus additional service space around the machine, plus a workbench and equipment area along the walls.
The service area should be 1.2-1.5m wide around the perimeter of the machine, and the work tables and equipment area should be say 1.2m wide along the walls.
Consider movement of machines into and out of the workshop. Door location depends on the floor plan and type of building construction.
The farm workshop should accommodate any machine which is being stored; which means consideration of height and width of access doors accordingly. Provide one door matched to size the largest paddock machine that you might have to bring in.
Generally, machinery access doors should allow 600mm wider and 150mm higher than the largest machine stored. Therefore, machines such as self-propelled combines and self-unloading wagons may require an access door up to 4.25m high and 5 to 6m wide.
Where practical, large access doors should be located on the end walls, and be 2ft (600mm) wider than the width of the machine bay area.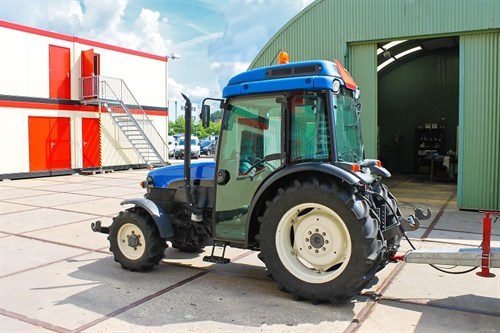 One machinery access door to the workshop may be adequate; but having doors on opposite ends or sides makes for "drive-through" ease in handling large machines. Overhead doors – tilters or rollers - are preferred in the workshop. They are more expensive but easier to open, especially during winter conditions, they are also more effective at maintaining the shop climate and keeping out dust and trash compared to sliding doors.
In addition to the machinery access doors, at least one man-door should be provided near the main machinery door or close to the office.
Construction
From the outset, check with your insurance company about minimum requirements on things like workshop interior linings to be sure that the shop will be eligible for coverage when it's finished.
Ideally, the walls, ceiling, and machinery access doors of the workshop should be insulated to a minimum of R20 with a vapour barrier installed on the interior side of the wall to prevent moisture migration into the insulation.
Overhead insulated doors provide the tightest seal for the heated workshop. Galvo or white coloured, steel buildings are cooler than dark coloured ones in hot weather.
Slope the concrete floor 5 to 10mm per metre to a floor drain (with sediment bucket) to remove wash water or even snow melt.
Windows should be sized for convenient viewing of the house or yard and for ventilation in hot weather. But don't count on them alone for adequate lighting for close work. Irrespective of windows the primary source of shop light should be artificial.
Electrics
Allow reserve capacity for future expansion. Three phase is preferable but if only single phase, the minimum should be 100 amperes, with safety switch/RCDs.
Locate a 240 volt outlet close to the main entrance to accommodate an electric arc welder and other heavy equipment. Space convenience sockets every 3m around the shop walls, and half that spacing along the workbench. Don't forget to put some weatherproof outlets outside for pressure washers, trouble lamps etc.
Make sure that all wiring meets Electrical Safety Codes.
Ventilation
An insulated shop will need to be ventilated. Exhaust fans with a minimum capacity of 5 l/s per m2 of floor area should be installed to remove gases and fumes during the colder weather and in hot weather exhaust fans should have sufficient capacity to provide a complete room air change every 2 or 3 minutes.
Exhaust fans can't provide sufficient ventilation if internal combustion engines are run in the shop without special precautions, so always connect a flexible hose to the exhaust pipe of the engine being operated and pass it directly outside through a hose port in the door, or a permanently installed wall port. Locate that wall port well away from any doors or windows to avoid exhaust re-entry.
Equipment layout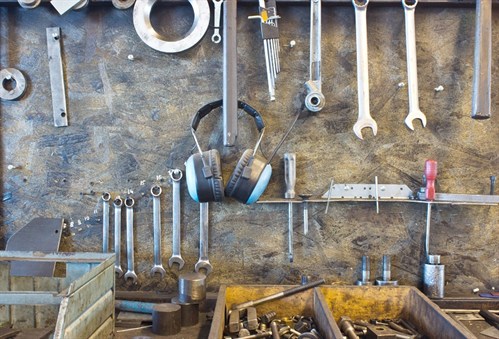 Provide plenty of room for equipment storage, tools, parts, nuts and bolts, hydraulic fittings, chain links and separate non-magnetic fitments etc., and allow space for future equipment needs.
The interior layout should be planned to provide maximum convenience for doing repair work. Locate the welding units inside the large door so that they are accessible inside or outside the building. Likewise for a portable air compressor.
A large open area where machines can be serviced and repaired should extend inward from the large access door. Workbenches, tools, and equipment storage cabinets should be placed against the walls. Locate the chop saw, drill press or grinder so that long stock can be accommodated.
Never hang a hoist on a roof truss. This can put an unsafe concentrated load on that portion of the building. A portable beam supported at both ends with A-frames on casters should be used to support a chain hoist. If you must have a fixed hoist then provide suitable structural component strength in the building for that.
Fire prevention
Follow local building codes for fire prevention.
A dry chemical or carbon dioxide type fire extinguisher should be provided immediately inside each of the main doors so that they can be reached without entering the building. These types of extinguishers are recommended for oil and electrical fires and may also be used for small trash fires.
Combustible or corrosive materials must be kept away from the welding area or are best not stored in the shop at all.
In the metal working or welding area, it is recommended that 1.2m sheet metal or asbestos board sheathing be placed on the bottom of the wall around that equipment.
Don't clean parts with gasoline or other flammable solvents indoors. Never store volatile fuels in the shop.
Office
If you can afford an office inside along with your computer equipment, it's a good plan to store slow moving parts and records etc. there, but no fluids on top of the office.
If no office, at least provide a desk and a decent storage cabinet for service record keeping, for storing trade literature, valuable parts books and operator's manuals.
| | |
| --- | --- |
| | Dr Graeme Quick is an international expert in farm machinery. Over the past 40 years he has held senior positions at Iowa State University, CSIRO and NSW Department of Agriculture. He's also a best-selling author. Nowadays he holds various engineering consultanices and, with his wife, lives on acreage in Peachester in south-east Queensland where they grow cabinet timbers and fruit trees. He can be contacted at g.quick@bigpond.com |
This article was initilaly published in NewFarmMachinery magazine issue 1, August 2013. For the latest farm machinery news, reviews and informational features, subscribe to NewFarmMachinery magazine.
Subscribe to our newsletter
Sign up to receive the Trade Farm Machinery e-newsletter, digital magazine and other offers we choose to share with you straight to your inbox
You can also follow our updates by liking us on Facebook. 

Graders For Hire | Cranes For Hire | Telehandlers For Hire | Excavators For Hire