Bush Mechanic: Top 10 Tools for your Farm Machinery Workshop
---
NewFarmMachinery's resident Bush Mechanic, Dr Graeme Quick, shares his top-10 tools for a workshop.
You can never have too many tools! How many? Much depends, of course, on how much of your own repair work you do. Here are my suggestions on the top 10.
1. A DECENT AIR COMPRESSOR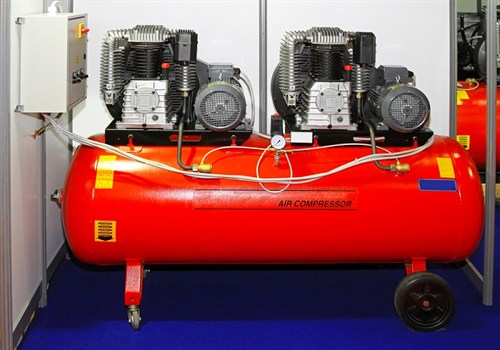 Don't stint on buying an air compressor. You'll never be sorry if you buy one that's a little too big! A good air compressor will last practically the lifetime of the shop. For durability, avoid oil-less units or aluminium casing compressors.
Air compressor size is usually rated first by airflow capacity and pressure is a secondary consideration. As for pressure, you'll need at least 90psi (621kPa) and for heavy-duty work a two-stage compressor with pressures up to 175psi (1,208kPa) is in order.
The most airflow-hungry demands on the compressor come from air tools. For example, a 7-inch (18mm) air-driven angle grinder, an orbital sander or a low pressure spray gun will need up to 8cfm (4l/s). Heavy-duty tools like a one-inch impact wrench or air hammer/chisel will need up to 11cfm (5l/s).
The list of air tools is almost unlimited these days and their air demands are on the packet. Out in the paddock a 25cfm (12l/s) compressor and air lance are essential especially for harvester blow-down.
2. WORKBENCH
Absolute minimum size would be, say, 4 foot long by 2 foot wide (1.2 X 0.6m).
There's a good case for having a work bench that has both a wood and a metal surface. The wooden section is often easier to work on and precision parts are less likely to be damaged on wood.
The bench needs to be solidly mounted. The bench vice should be mounted on the steel top.
3. BENCH VICE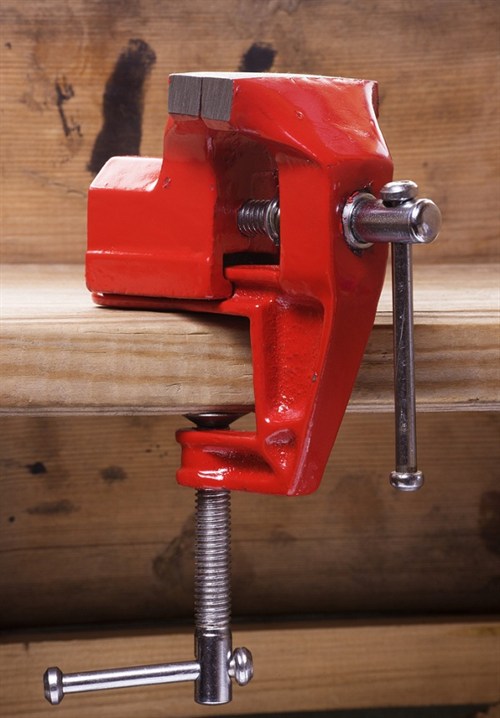 Don't be stingy here either. A solid vice is the shop's best friend. Don't let price dictate your choice.
A minimum jaw size ought to be four inch (100mm).
A vice with in-built anvil is mighty handy. In the absence of a vice-integrated anvil, a separate anvil is always valuable. The old blacksmith vices were pretty good – they were anchored directly into floor and could really take a hammering!
In any event the bench vice needs to be securely attached to the bench, preferably located on the bench with space where long steel pieces can be gripped in and on either side of the vice. I have built a couple of useful anvils by welding legs on lengths of inverted railway iron, flat side up.
4 .DRILL PRESS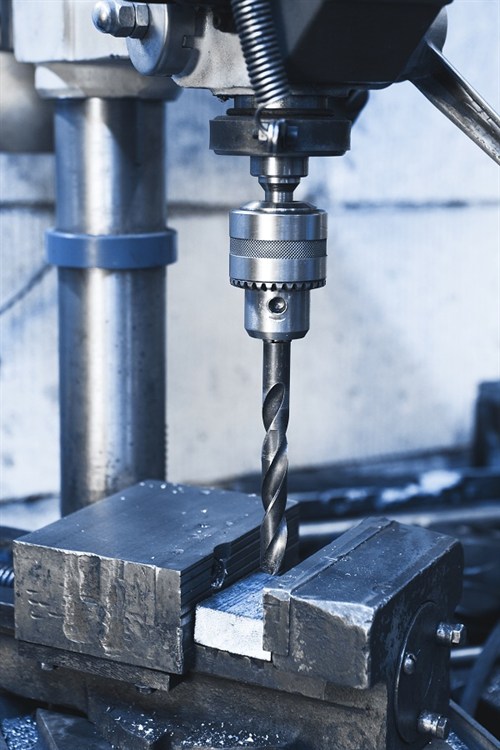 For precise drilling a hand-held drill won't cut it, you need a drill press of one kind or another, not only for precision but also to handle larger hole drilling and working safer plus with less strain.
Are second-hand factory machine tools available in your area? That can be a good source of a heavy-duty drill press, not to mention other fun machine tools.
5. CHOP SAW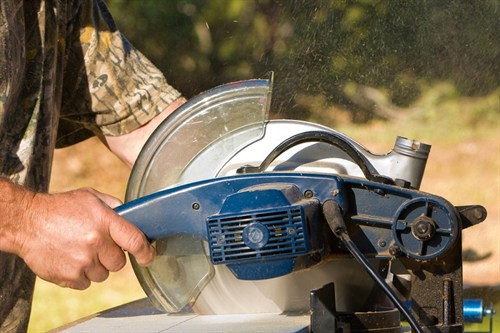 A chop saw does a vastly better job - cleaner and faster - than a 'gas wrench' or oxy torch.
Furthermore, there's no slag and the cut makes for a better quality and stronger weld.
You'll be surprised how often you will use a chop saw.
6. ANGLE GRINDERS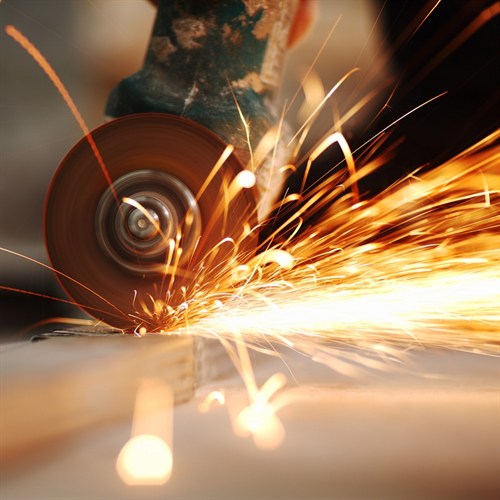 At the minimum a 4-inch angle grinder plus a seven-inch angle grinder – these are indispensable.
You use these for shaping things, for weld-prep and for sharpening blades and tools.
Frankly, I find I can do so many things with the angle grinders that I don't feel the need for a gas torch.
Bench grinders are useful but can't beat an angle grinder for versatility.
7. WELDER
It's amazing what's available these days in the welding game – the old stick welder is the standby, but there is much to be said for the latest wire welders for slag-free and better penetrating welds.
Watch out for those cheaper face shields – they can give out and you may get temporarily blinded accidentally by weld flashes if the auto-darkening feature fails (like when the sun hasn't shone for some weeks).
An oxy set is versatile but the cost of gas and bottle rental is something to ponder.
8. BOLT BINS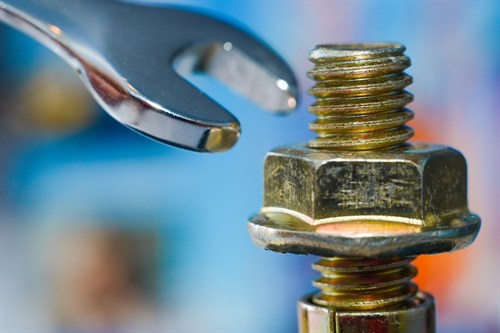 The mix of English and metric threaded fasteners is a total pain, but a good shop has to have a wide selection of bolts and nuts.
A smart move is to start out with a professional set of bolt containers, as distinct from using old jam tins or odd plastic containers of mixed shapes and sizes.
So be systematic or else you'll waste a fair bit of time later sorting and looking for just the right bolt when you need it in a hurry.
Watch out for bird deposits if you deploy open-top bolt containers!
9. HYDRAULIC PRESS
Here's another place where the bigger the better! A 10-ton press maybe okay, but a broadacre farmer can justify having a 30-ton press.
Having a press can save trips to town to press out bearings, and straighten bent stuff.
10. JIB CRANE/FORKLIFT/FEL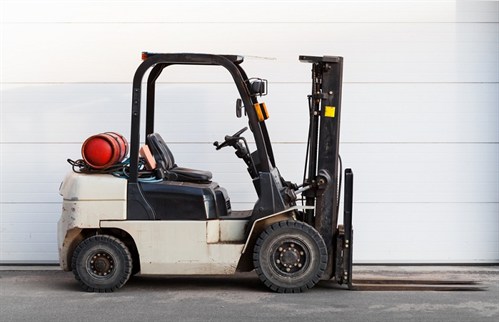 Lifting heavy items is expedited with these tools. The front-end loader (FEL) is good substitute if you don't have space for a jib and winch, or a fork lift in the shop.
That's my top 10. After that there's no limit. It goes without saying that you can't have too many hand tools like socket sets, pliers, wrenches, hammers, screwdrivers etc.
Acknowledgement: The Bush Mechanic is indebted to Successful Farming magazine which provided the initial inspiration for this piece.
| | |
| --- | --- |
| | Dr Graeme Quick is an international expert in farm machinery. Over the past 40 years he has held senior positions at Iowa State University, CSIRO and NSW Department of Agriculture. He's also a best-selling author. Nowadays he holds various engineering consultanices and, with his wife, lives on acreage in Peachester in south-east Queensland where they grow cabinet timbers and fruit trees. He can be contacted at g.quick@bigpond.com |
This article was initilaly published in NewFarmMachinery magazine issue 2, September 2013. For more informational features from Dr Graeme Quick plus the latest farm machinery news and reviews, subscribe to NewFarmMachinery magazine.  
Subscribe to our newsletter
Sign up to receive the Trade Farm Machinery e-newsletter, digital magazine and other offers we choose to share with you straight to your inbox
You can also follow our updates by liking us on Facebook. 

Graders For Hire | Cranes For Hire | Telehandlers For Hire | Excavators For Hire