How to measure the performance of your farm machinery (Part 2)
---
Last week, we looked at four ways to measure performance of a tractor/implement system. This time Bush Mechanic Dr Graeme Quick focuses on power transfer from the prime mover to equipment attachments.
As we know, each of the following four criteria has a direct bearing on the overall cost-effectiveness and profitability of a farm business:
Field performance
Pattern performance
Power performance
Quality performance
Operator performance
However, equally a tractor or any other prime mover is — for most of the time — no more useful than the equipment attached to it.
Power requirements, implement quality or ability to survive tough jobs and operator skills are still valid criteria for assessing the overall tractor/implement's system performance.
Implement breakout force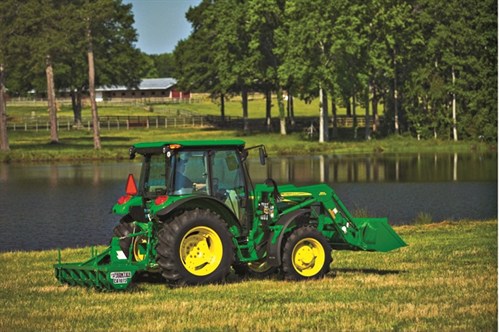 John Deere 5095 MFWD tractor with 553 loader and CA 1072 turf core aerator. Keeping an implement on the three-point linkage behind an FEL makes for balance in loader operation. Photo courtesy Deere and Company.
Let's start with tractor front end loaders.
Of the many types of loader buckets available, the four-in-one bucket is the most popular. This extremely useful design offers crowd, curl, load, doze, level, pull, carry and dump.
Loaders are rated first by bucket width and volumetric lift capacity, then by lift breakout force, i.e. the amount the loader can pry up when the bucket is placed flat on the ground when only the loader lift cylinders are used to pry up.
However breakout force might alternatively be defined when not just the lift cylinders but all the forces available to the bucket are deployed to scoop up some material.
In this case, the force is higher than the plain lift capability or tipping load and will often exceed the balance of the machine.
Rear ballast/weights or a rear mounted implement will usually be needed with a front end loader for both safety and comfort.
For example an L4310 Kubota tractor is rated to lift 852kg in the centre (fore/aft centre) of the bucket, but it has a 1,420kg breakout force.
Level lift arms are valued because their four-bar parallel linkages maintain the bucket level throughout the lift range.
Notional loader bucket sizes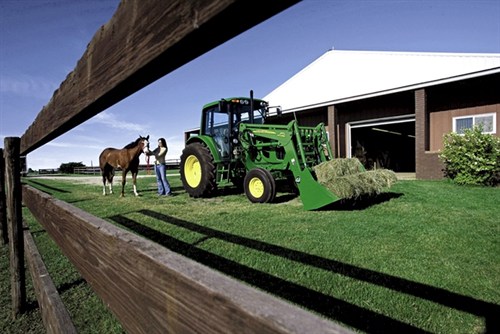 Regular loader bucket on a Deere farm tractor — the 'level lift' design allows the bucket to remain in the same orientation whether the loader arms are raised or lowered; a second control governs bucket curl or tilt. Photo courtesy Deere and Company.
TRACTOR PTO POWER hp/kW

BUCKET WIDTH 
ft/m

BUCKET CAPACITY yds3/m3

BREAKOUT               lb/kg

200/150

10/3

4.75/6.2

9,000/4,090

150/112

8/2.4

3.7/4.8

7,000/3,182

100/75

8/2.4

1.9/2.5

4,500/2,045

50/38

7/2.1

0.9/1.2

3,500/1,590

25/19

5/1.5

0.5/0.7

1,800/818

10 to 25/7.5 to 19

4/1.2

0.3/0.4

950/432
In Europe, front-mounted linkage equipment is relatively popular but not so common Down Under, so front linkage and front power take-off (PTO) will not be considered here.
Power take-off (PTO)
The PTO was devised to take power from the prime mover so it could be easily connected and disconnected to a corresponding input shaft on the application end.
In a tractor with a transmission-driven PTO, the PTO is driven directly from the transmission and disengaged by the tractor's clutch.
This configuration is simplest, but whenever the tractor forward motion slows, so does the PTO.
That arrangement often requires an overrunning clutch to disengage the PTO — if the PTO is rotating faster than the transmission, a PTO-driven attachment with high inertia would move the tractor.
That's a definite hazard.
On early PTOs the vehicle had to be "in gear" in order to run the PTO. The live PTO allows control independently of the tractor motion.
This is an advantage when the load driven by the PTO requires the tractor motion to slow or stop running to allow the PTO driven equipment to catch up.
Most PTOs built today are live and are often controlled by push-button or selector switch. This increases safety of operators who need to get close to the PTO shaft.
This requires a two-stage clutch. Pressing the clutch pedal half-way will disengage the transmission, pressing it fully will disengage both transmission and PTO.
This configuration allows the operator to slow down or change gears while the PTO is still running.
The third type is the independent PTO, which has a separate PTO clutch.
As with a live PTO, this allows for full control over the tractor while separately controlling the PTO. Independent PTOs may have mechanical, electric or hydraulic engagement.
The 2,000rpm PTO standard for compact tractors and mowers is for tractors up to 27hp (20kW). Finally, there are front PTO's in the same power ranges as the other types.
PTO position in relation to drawbar location 
ASAE (American Society of Agricultural Engineers) standard S482 (ISO 500 series) prescribes dimensions and static vertical load limits for agricultural wheeled tractors in four categories:
DRAWBAR CATEGORY

Maximum Drawbar Power hp/kW

DRAWBAR PIN SIZE mm

STATIC VERT LOAD max kg

I

15 to 35/11 to 26

25               105

II

30 to 100/22 to 75

30               115

III

60 to 170/45 to 127

40             7,902

IV

135 to 300/101 to 224

50           11,212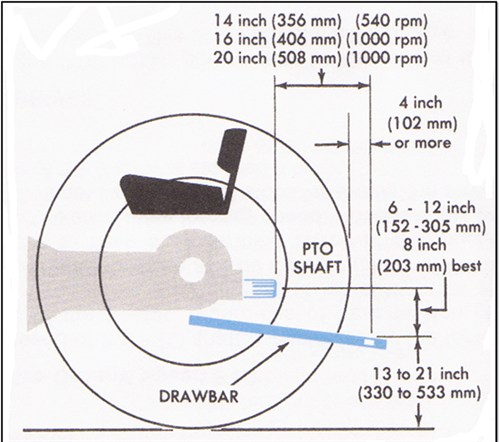 Standardised location of PTO relative to the drawbar for Type 1, Type 2 and Type 3 PTO's. (Source: Deere Service Publication: 'Tractors' FMO)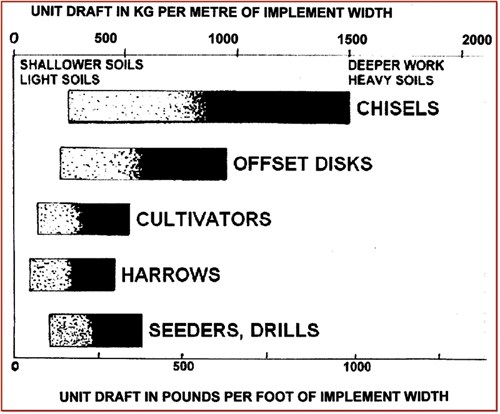 A handy table for calculating drawbar draft loads for different paddock activities
Hydraulics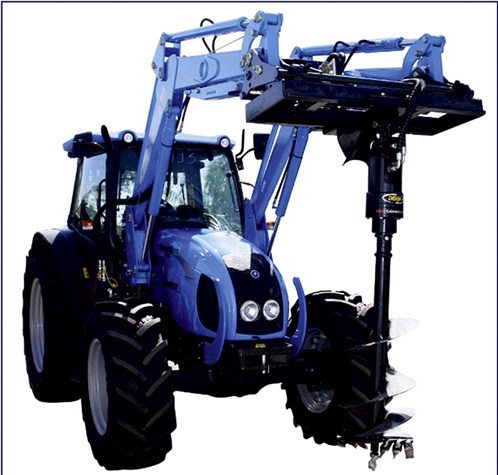 Australian-built Digga post hole auger is hydraulically driven. The Yatala, Queensland -based company offers several sizes. The PD3 can handle 240 to 600mm augers and requires flow rate 45 to 75l/min. (Source: www.digga.com/tractor-post-hole-digger.html)
In its simplest form, hydraulic pressure and flow can be converted to forces and motion allowing the tractor to perform tasks an operator cannot do physically — and do it at a convenient location.
Implements are the typical use for hydraulics off the tractor, and selective control valves (SCVs) control the volume and direction of flow.
Implements use hydraulic oil to perform a variety of functions, such as raising and lowering parts, as well as providing power to motors and other actuators for mechanical movement.
Today's hydraulic systems use electronics to vary pressure and flow.
As a result, hydraulic systems have become more precise and can now be used to control devices such as variable-rate planter and spreader drives or hydrostatic drive systems and transmissions.
Systems are available that produce pressure and flow only on demand and to the amount required to perform the operation.
Instead of the system being at a 'set' pressure and flow, the pressure and flow are controlled. Fluid is directed by valves that are controlled electronically.
Hydraulic flow rates up 340 litres/minute (90 gallons/minute) with up to nine remote circuits are available.
Load sensing to control a variable pump in a pressure- and flow-compensated system manages hydraulic flow and power to specific systems upon demand.
This saves fuel when no hydraulic functions are in use.
Electronics monitor and control hydraulic systems for real-time, minute mechanical movements such as infinitely variable transmissions, GPS steering controls, and suspension systems [cab and seat].
Electronic headland management is an example of the many system capabilities currently in hydraulics. Another example is on planters with solenoid cut-off on individual rows.
Electric drives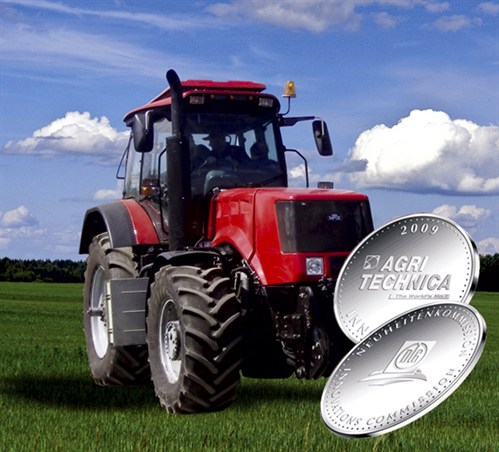 The Belarus 3023 electric drive tractor has an inline transmission generator producing three-phase 220/380 volt/50Hz power in the Model 150 (150 DBHP) which has continuously-variable speed control. For the first time PTO revs can be entirely independent of engine revs.
Hydraulic drives are versatile and compact, but can be messy and not highly efficient.
Big commercial dirt-hauling trucks with electric drives are already used in the mining industry: the engine drives a generator and the generator drives electric motors that propel the vehicle.
This kind of technology is now available on several Russian tractor models. The Rostselmash facility has acquired Versatile-Buhler for North American marketing and offers certain farm machinery lines under the Versatile logo.
Electric motors are highly efficient and don't need an oil reservoir. Deere, Case and Agco are in hot pursuit on electric drives.
For those curious about the physical performance, here are two comparable transmissions: overall peak efficiency 87 per cent for the electromechanical drive, versus 67 per cent for the hydrostatic (Source: Ruselprom, who supply the drive train for the Belarus tractors).
It has to be admitted that right now electric motors are bulkier than hydraulic motors, but there's no oil to mess with — so, watch this space.
| | |
| --- | --- |
| | Dr Graeme Quick is an international expert in farm machinery. Over the past 40 years he has held senior positions at Iowa State University, CSIRO and NSW Department of Agriculture. He's also a best-selling author. Nowadays he holds various engineering consultanices and, with his wife, lives on acreage in Peachester in south-east Queensland where they grow cabinet timbers and fruit trees. He can be contacted at g.quick@bigpond.com. |
Read the detailed feature in NewFarmMachinery magazine issue 11, on-sale July 14.Subscribe to the magazine to never miss an issue.
Subscribe to our newsletter
Sign up to receive the Trade Farm Machinery e-newsletter, digital magazine and other offers we choose to share with you straight to your inbox
You can also follow our updates by liking us on Facebook. 

Graders For Hire | Cranes For Hire | Telehandlers For Hire | Excavators For Hire