Tractor tyre choice and setup – part 1
---
Unlike car tyres, there's a lot to think about when it comes to the selection and use of tractor tyres. Dr Graeme Quick offers some tips.
The first point to make about tractors is that no matter what traction devices are used to propel a prime mover across the land, they all need some soil movement to 'get a grip'.
That is, no matter how small, there must be some slippage!
INTRODUCTION
Traction is defined as the force derived from the interaction of the device with the ground surface.
In farming, a traction device that develops the necessary traction is of little use if at the same time the machine compacts the soil excessively or creates severe ruts impeding crop production or there's erosion due to wheel tracks.
Pneumatic Tractor Tyres have the following functions and demands:
Carrying Loads. The vertical forces are weight; ballast, transferred implement forces, and  longitudinal forces : implement draft and braking, and lateral forces due to cornering and sideslopes.
Elasticity to reduce vibrations and improve ride.
Serve as containers for fluid ballast.
Self-cleaning, to remove soil buildup between lugs.
Minimise soil compaction and ground surface damage.
Long wear life.
Tough, insensitive to sharp obstacles and staking.               
Setting up a tractor correctly is a balancing act between a wide array of choices.  Correct choices reduce operating costs, maximize performance and increase tractor life.
How to ensure that a tractor is setup to work at its best as far as tyres are concerned?
TYRE SELECTION
There are a few basics when it comes to choosing the right tyres.
Tyre type
Tyre size
Number of tyres
Farm operation
TYRE TYPE
The basic choice is between bias or radial ply construction.
Plies are layers of relatively inextensible cords or wire embedded in the rubber to hold its shape by preventing the rubber from stretching in response to the internal pressure.
The orientation of the plies plays a large role in the performance of the tyre and is one of the main ways they are categorised.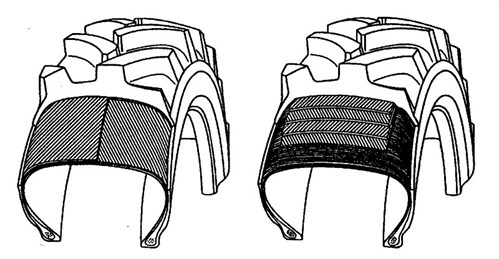 Tyre construction. The two principle types in tractor applications are Bias Ply (left) and Radial Ply (four-ply radial shown right). 
Bias ply
Bias ply tyres cost less. The biasor cross ply construction utilises body ply cords that extend diagonally from bead to bead, usually at angles in the range of 30 to 40 degrees.
Successive plies laid at opposing angles form a crisscross pattern to which the tread is applied. The design allows the entire tire body to flex easily, providing the main advantage of this construction; a smooth ride on rough surfaces.
The cushioning characteristic also causes the major disadvantages of a bias tyre: namely, increased rolling resistance and less traction than a radial. 
Radial ply
Radials last longer. Correctly inflated, radials perform better in transferring power to the ground and last longer than bias ply tires.
Radials do require more careful pressure management than bias ply tires.  It's not good enough to go by the look of a radial when assessing whether it's inflated correctly
Radial tyres have belt plies which run under the tread at about 15° to the circumferential direction. These belt plies stiffen, stabilise and strengthen the tread area, minimising tread movement during contact with the ground surface and therefore improve tread life. 
Radial tyre construction is recognised worldwide for its ability to deliver numerous benefits bias-ply tyres cannot.
In the agricultural industry, radial technology delivers these benefits: Long tyre life, and lower rolling resistance, better resistance to cuts, punctures and tears, excellent traction, improved handling and fuel economy.
Radial tyre construction utilises body ply cords extending from the beads and across the tread so that the cords are laid at approximately right angles to the centerline of the tread, and parallel to each other, as well as stabilizer belts directly beneath the tread. The belts may be cord or steel.
TYRE SIZE AND NUMBER
Tyre size and the number of tyres, whether singles, duals, or triples, is partially determined by the tractor supplier but also by what the operator wants.
To increase efficiency when it comes to tyres, choose radials, choose the largest and affordable ones, and choose enough of them so that there is sufficient load carrying capacity to keep the tire pressures at say 100 kPa (14 psi ).
It is possible, but uncommon to have too much tyre capacity on a tractor. More typically the tyres are the limit to a tractor's load carrying and power delivery.
Ground compaction levels are reduced as the tyre size and number increases but at the same time the area compacted goes up.
For example, fitting dual wheels increases traction by providing a greater soil contact area, permitting more ballast and reduced sinkage.
All else being equal, duals may increase the average pull of a tractor drive axle more than 30 per cent.  The following graph provides comparative data on traction performance for several tyre configurations with the same loading.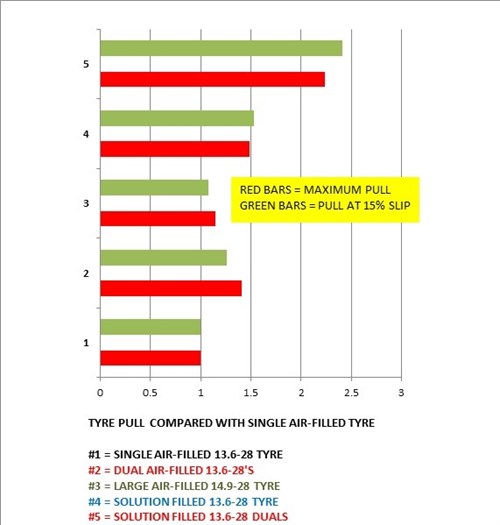 FARM OPERATION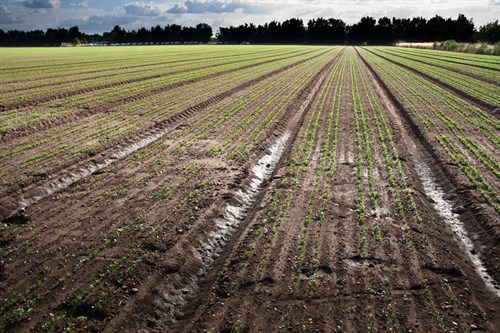 In most conventional farming operations, the main idea is to keep soil compaction to a minimum to avoid plant damage; therefore tyre pressures should be kept to a minimum.
However, for Controlled Traffic Farming (CTF), it goes the other way.
In CTF, permanent wheel tracks are reserved to confine machinery to specific "road beds", keeping the wheels out of the cropping zone so as to avoid disturbing any plants.  
In this case, higher tyre pressure helps the tractor roll down the tracks, resulting in less rolling resistance and better trafficability for subsequent passes.
There are even special very high load agricultural tyres for CTF. For example a Goodyear Special Grip VA500/95D32 twenty ply rating has a maximum allowable pressure of 415 kPa (60 psi) and load rating of 9580 kg, compared with the 520/70R38 with maximum allowable pressure of 160 kPa (23psi) and load rating of 3350 kg.
The Special Grip does require a split rim. Generally the full drawbar power isn't used in CTF so the tractor doesn't need to be fully ballasted.
Watch out for part 2 next week as we discuss tyre setup ie inflation and ballasting.
| | |
| --- | --- |
| | Dr Graeme Quick is an international expert in farm machinery. Over the past 40 years he has held senior positions at Iowa State University, CSIRO and NSW Department of Agriculture. He's also a best-selling author. Nowadays he holds various engineering consultanices and, with his wife, lives on acreage in Peachester in south-east Queensland where they grow cabinet timbers and fruit trees. He can be contacted at g.quick@bigpond.com. |
Subscribe to our newsletter
Sign up to receive the Trade Farm Machinery e-newsletter, digital magazine and other offers we choose to share with you straight to your inbox
You can also follow our updates by liking us on Facebook. 

Graders For Hire | Cranes For Hire | Telehandlers For Hire | Excavators For Hire