Tractor tyre choice and setup – part 2
---
Last week, we covered the tyre types available on the market and what you should consider when selecting tyres. This week, Dr Graeme Quick explains ways of setting up your tractor tyres for the best on-farm efficiency.
Now that you know the basics of tractor tyre selecting, it's time to explore ways of properly setting up your tyres for various uses on-farm.
Let me start with how tyre setup affects soil compaction.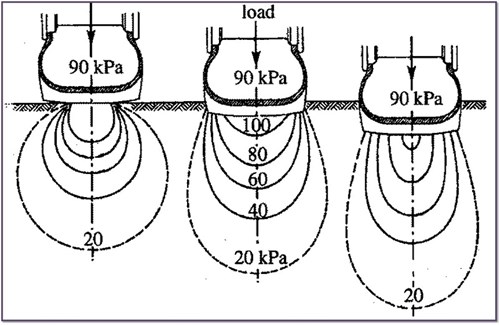 Professor Walter Soehne's "Pressure Bulbs". In this instance calculated normal stresses for a 13.6-28 tyre loaded with 10 kN = one tonne or 2200 lbs) on hard soil (left), average conditions (middle ) and on wet and soft soil (right). Ground pressure was 90 kPa or 13 psi. 
In the 1950's Walter Soehne in Germany developed the "pressure bulb" theory and modeled stress distribution in soils under tractor tyres. This showed  compaction under the upper soil is mainly governed by tyre contact pressure, whereas compaction in the lower soil layers is mainly a function of tyre loading.
Reducing contact pressure meant larger tyres and lower inflation pressures. 
Tyre inflation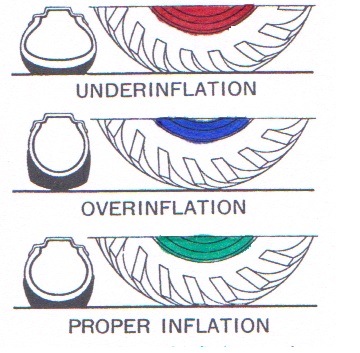 Influence of tyre pressure. It is difficult to determine if a radial tyre is underinflated just by looking.  
Deflating a tyre for off-road softens it, making the tyre more flexible to absorb bumps and less likely to get punctured by sharp objects.
 It increases the contact patch with the ground, or footprint, increasing traction and flotation.  The pull of a traction tyre is usually increased by deflating the tyre when operating on sand, but it may have no effect on stiff clay.
On concrete, the additional flexing may actually decrease the tyre's power efficiency by deflation.
Since agricultural tractors need to handle well on-road and off-road, remote control of tyre pressure enables an operator to alter inflation pressure on-the-go, matched to the respective demands.  
The key point is that tyre load capabilities and vehicle mobility are dependent on inflation pressure. This is critical for the more widely used radials.
Central Tire Inflation Systems (CTIS)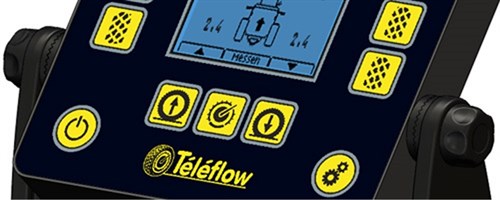 Illustrating the control display module of the Teleflow CTIS system.  More information on CTIS's website.
A CTIS provides remote or in-cab automated control over the air pressure in each drive tyre of a prime mover. The key benefit of such a system is to improve performance on different terrain.
For example, lowering the air pressure in a tyre will increase the tire footprint and thus reduce ground pressure. This improves traction and increases mobility when driving on soft or unstable ground.
Fewer punctures and tire damage will occur over harsh terrains whilst ride quality and fuel consumption can be improved dramatically.
Using lower tyre pressures off highway also produces significantly less damage on the terrain surface. This is particularly important in Forestry applications, although equally important in agricultural environments, with the added benefit of lower ground compaction which can increase crop yield by up to 30 per cent.
Giving the driver direct control over the tyre pressures enables the vehicle to be driven at speeds which are appropriate to the terrain and loads being carried.
Tyre loading
The higher the number of plies, the greater the inflation pressure, allowing the tyre to carry a heavier load. Tyre makers usually provide full load/inflation details. Here's an example:
Tyre Static Load Limits

Example 13.6-28 Bias Ply tyre - speed limited to 8 km/h (5 mph) under load:

Ply Rating

Inflation pressure, kPa

Maximum load, Kg

6

190 (28 psi)

2400 (5300lbs)

8

250 (36 psi)

2810 (6150lbs)

10

320 (46 psi)

3180 (7000 lbs)
For example: a 300 HP four wheel drive with equal sized duals all round, ballasted to 120 lb/Engine HP. Total weight is therefore 36,000 lb; with a 55/45 weight split, 19,800 lb on the front axle and 16,200 lb on the rear axle.
Each front tire would carry 4950 lb and each rear tire 4050 lb. For radial 20.8R42 duals, a manufacturer's load/inflation table recommends 12 psi for the front radials and 8 psi for the rear radials. 
Pressure and fluid ballast should be the same for inside and outside duals.
It pays to own an accurate tyre gauge, preferable one with a dial and calibrated to 1 psi or say 5 kPa increments. Check its accuracy from time to time.
Tyre Ballasting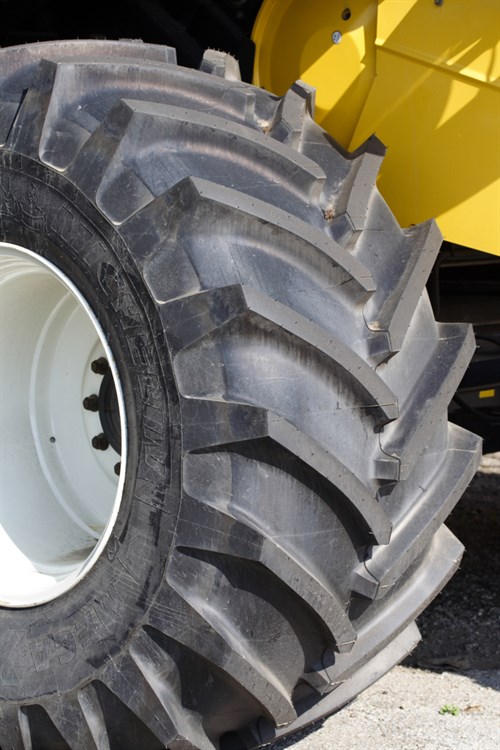 Tyre ballast is important. Tractors can have more power than their base weight can use so adding weight to the tyres and/or frame will improve traction and reduce wheel slippage which can damage tyres.
There is evidence that the use of rim weights can lead to transmission problems long term compared with liquid in the tyres to the same weight. Some controversy rages around fluid-filling tyres versus using wheel weights for ballasting. See DTN/The Progressive Farmer's piece on tyre ballasting.
One thing is clear: the use of cast iron wheel weights allows more flexibility in being able to add or remove the ballast according to the job at hand, whereas tyre filling is practically a one-off.  
For options of tyre ballasting fluids to use, see Orange Tractor Talk's very good  tabular comparison.
Solution-filling a traction tyre is best below 40 per cent fluid fill, especially recommended with radial tires. Additional fluid significantly stiffens the tires, can reduce tractive performance, contributes to ride discomfort and may cause power hop problems.
Certainly never fill above 90 per cent, otherwise there will be insufficient air space to absorb shocks and damage to the tyre can occur.
If more ballast is needed, better to stop at 75 per cent, which is slightly above valve stem level. Filling a 30.5-32 tyre to 75 per cent can add one tonne (2200 lbs) to that wheel.
Calcium chloride is heavy (30 per cent more than water alone), will not freeze and is fairly inexpensive, but it is extremely corrosive. It can eat holes in the rim or just about anything else. 75 per cent fill level will reduce rim corrosion from the fluid.   
CONCLUSION
It's best to check a new tractor's tyre loading/ inflation/ ballast or fluid fill situation before taking the keys from the dealer!  Check the weight distribution on the tractor axles. Match inflation pressures to the terrain. Ballast according to the work ahead.  
Proper tyre management means setting an appropriate load for the tyre and the proper inflation for that load. For optimum performance, tyres need to be run at the lowest recommended pressure for the weight they carry.
This translates to the optimalfootprint or area of rubber in contact with the ground and transfer of power to the ground. Using the correct inflation also minimises soil compaction for the specific tyre and load.
And finally, do you have an accurate tyre gauge?
| | |
| --- | --- |
| | Dr Graeme Quick is an international expert in farm machinery. Over the past 40 years he has held senior positions at Iowa State University, CSIRO and NSW Department of Agriculture. He's also a best-selling author. Nowadays he holds various engineering consultanices and, with his wife, lives on acreage in Peachester in south-east Queensland where they grow cabinet timbers and fruit trees. He can be contacted at g.quick@bigpond.com. |
Read this report in more detail in NewFarmMachinery Magazine issue 12, on-sale August 11. Subscribe to the magazine for more informative reviews and features. 
Subscribe to our newsletter
Sign up to receive the Trade Farm Machinery e-newsletter, digital magazine and other offers we choose to share with you straight to your inbox
You can also follow our updates by liking us on Facebook. 

Graders For Hire | Cranes For Hire | Telehandlers For Hire | Excavators For Hire