Buying the right hay baler for your operation
---
Square baler, round baler, how do you choose the right one for your operation? Let the late Dr Graeme Quick walk you through the categories and help you make the right decision.

In a harvesting operation, operators get cranky when they lose even three per cent of their grain. However did you know a 30 per cent loss of material in a hay harvesting operation is quite common?
In fact, hay losses can be as high as 70 per cent in between cutting, storing and feeding out. What is going on?
Consider this. In a hay production operation, about 90 per cent of hay is baled. Before it is baled the hay crop has to be cut, in some instances cut and conditioned, then swathed or windrowed before it is baled and hauled away. In each of these processes, losses accumulate so in a hay production operation, time is everything.
As cut hay respires, respiration losses need to be kept down to reduce the loss of nutrients.
Round baler vs Square baler
There are two main categories of balers, the rectangular baler (or square baler) and round baler. Each category has its own subcategories and variations capable of producing hay bales of different sizes.
Rectangular baler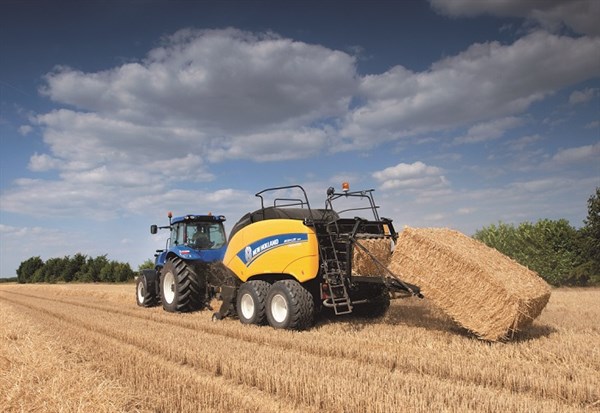 A New Holland big rectangular baler, capable of producing hay bales with the dimensions: 1.2mx1.2mx2.4m. Image: New Holland Agriculture
Rectangular bales stack and transport better than round bales and the wads of flakes that are packed end on end into a bale are convenient for feeding out.
There are balers of different sizes in this category capable of producing bales of various sizes depending on your needs. Small rectangular balers produce smaller bales which allow easier handling and less labour but there are also larger ones producing bigger bales that do not necessarily require more workers to handle, as long as you possess the right equipment.
Bale density in straw is between 115 to 200 kg/m3 for square bales. A six twine-tied big square bale can weigh more than a tonne, depending on the material that has been baled.
Look up rectangular hay balers for sale in Australia
Look up rectangular hay baler specifications
Round baler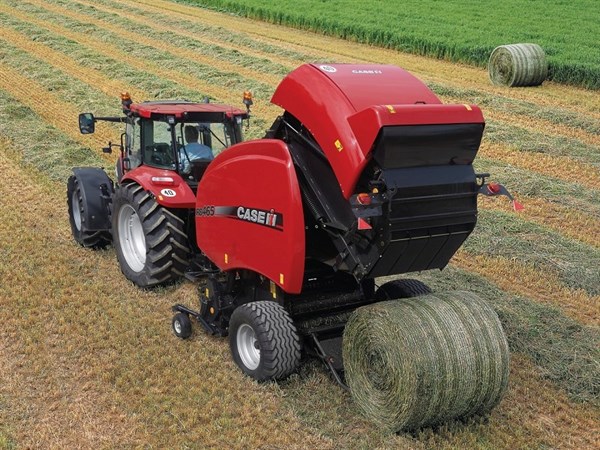 Case IH claims its newest baler offering, the RB5 series variable chamber round balers released in May this year has an increased capacity of up to 20% and a bale density improvement of up to 5% over its predecessor series. Image: Case IH
There are two types of round balers: fixed or variable chamber.
The variable chamber or belt balers have the ability to pack the hay tighter in the bale's centre, to produce a "hard core" bale. Soft core bales can also be produced by reducing chamber pressure as the core is being formed.
Fixed chamber balers are also known as soft core balers and require less setup and maintenance.
In the fixed chamber baler with rollers, the pick-up feeds the crop to a circular bale chamber formed by a series of 12 to 18 frame-mounted steel rollers individually driven by heavy duty chain.
Similar to variable chamber balers, when the bale is complete and set to be tied or wrapped, the in-cabin monitor rings and the operator stops the tractor for the wrapping process to proceed automatically.
Soft core bales, produced by fixed chamber round balers don't stand up to either stacking or storage. If soft core bales are made a little too wet, they mould instead of fermenting unlike a hard core bale.
In addition, moisture causes the bale to heat up and burn off valuable protein and in extreme cases, can result in combustion.
Look up round balers for sale in Australia
Look up round hay baler specifications
Baler-wrapper combos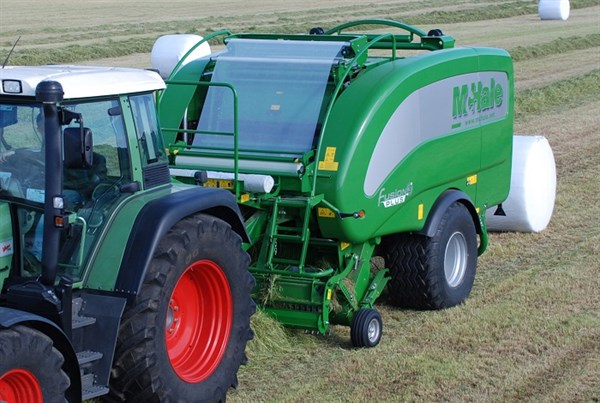 McHale Fusion Round Baler with integrated wrapper on board. With this deisgn there is no need to stop during the wrapping cycle. Image: PFG Australia
Advances in baler technology have led to the introduction of "non-stop baler wrappers" (also known as combi) which eliminate the need to stop the baler for the wrapping cycle.
These 2-in-1 machines feed out wrapped bales ready to be hauled for storage. Hay handling equipment manufacturers like Lely, Kuhn and McHale have been leading the way for these innovative combination machines.
However, as you can probably guess, these machines will be dearer than conventional one-purpose balers on the market. Combo baler-wrappers only produce round bales at this point in time. 
How to choose?
Go square or go round? It very much depends on your personal and business circumstances such as the type of crop you're baling, the size of your operation, how much money you have to spend and so on.
Here are the top factors to consider:
Material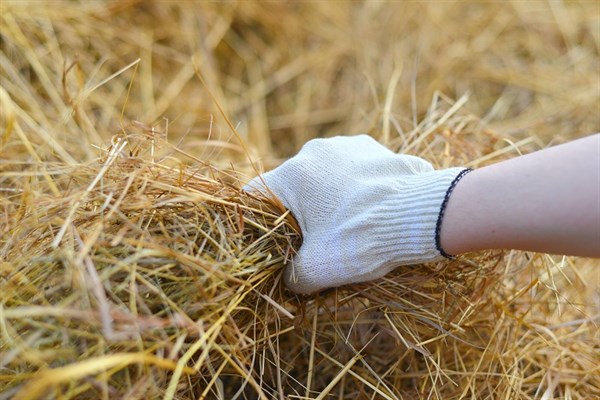 What are you baling? Different types of material (straw, hay or silage) has different densities and moisture levels which should dictate the type of baler to go for.
For example, if you're baling silage, a fixed chamber round baler will be a better bet as wet silage tend to cause the belts in a variable chamber round baler to slip.
If you're baling straw, a good pick would be the variable chamber round baler as the belts pack the material in tightly at its core. It also has the advantage of producing bales of different diameters at will compared to the fixed chamber model.
Moisture levels               
A very important point to remember when baling hay is: NEVER bale while the hay is still wet. Baling wet hay will cause moulding to occur and the potenital for the bail to catch fire, which is definitely not ideal.
On the other hand, if the hay dries down too much, leaves shatter and a proportion of the valuable material is lost, resulting in loss of colour and lower feed value.
Therefore, keep in mind baling is best done on hay at above 10 per cent and below 18 to 20 per cent moisture levels.
Medium square bales (360 to 450kg) are denser than small square and large round bales and thus need to have two to three per cent less moisture at time of baling to avoid moulding.
Large round bales retain internal heat much longer than conventional bales and have densities in the range of 115 to 240kg/m3.
Selecting the right baler therefore depends on the kind of crop you bale and its moisture levels, as well as how long you will store the hay for.
Perhaps consider the use of hay drying agents or hay preservatives such as inoculants to prevent nutrition loss in storage and make the bales last longer.
Size of operation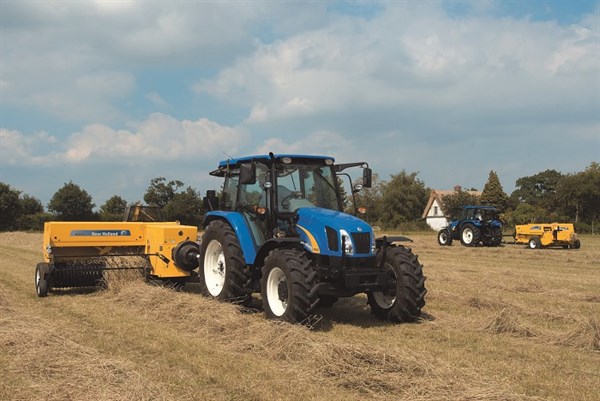 Small square balers like these by New Holland might not be a cost effective option for big farms but are ideal for small operations with limited resources. Image: New Holland
If you own a small scale operation with only a few animals, rectangular balers producing smaller bales present a better option as handling of the bales will be easier with minimal equipment required. Smaller square bales are also easier to store.
In relation to larger operations, large square balers have been shown to harvest hay crops more cheaply than round balers on a per dry ton basis in a fully mechanised broadacre system.
Although the shape of square bales has many handling and hauling advantages over round bales, large square bales cannot be stored outside in wet climates and need to be under cover, wrapped in plastic film or tarped.
When stored properly however, large square bales preserve the crop better than round bales.
The main downside to a large square baling operation is the high initial capital investment compared to round baling. In most cases higher horsepower tractors are required to operate a large square baler compared to a round baler.
Dealer
No matter what baler you choose, go with a brand that has parts available nearby and a good dealer reputation. As mentioned, the hay production process is absolutely time critical.
When you have a lot of hay on the ground and you urgently need parts and service, having the dealer nearby will make you a believer.
| | |
| --- | --- |
| | Dr Graeme Quick is an international expert in farm machinery. Over the past 40 years he has held senior positions at Iowa State University, CSIRO and NSW Department of Agriculture. He's also a best-selling author. Nowadays he holds various engineering consultancies and, with his wife, lives on acreage in Peachester in south-east Queensland where they grow cabinet timbers and fruit trees. |
Got any baler wisdom of your own to share? Tell us below!
Subscribe to our newsletter
Sign up to receive the Trade Farm Machinery e-newsletter, digital magazine and other offers we choose to share with you straight to your inbox
You can also follow our updates by liking us on Facebook. 

Graders For Hire | Cranes For Hire | Telehandlers For Hire | Excavators For Hire