FEATURED: Topcon precision agriculture
---
Australian top tier farmers are global front-runners when it comes to pushing the envelope with new technology; and precision agriculture company Topcon is on to it. Anna Game-Lopata writes.
Australian farmers are well versed in the advantages of technology and how it can benefit their farms. They do a lot of research and they know what they want before they get it.
So says Topcon vice president sales and support Michael Bourke, who is currently visiting the precision agriculture company's Adelaide-based manufacturing hub as part of the new customer support director's induction.
"Australian farmers are more advanced than a lot of others so it's been our key market for a number of years," Bourke asserts. "The American market is advanced but they get a lot of subsidies so they don't demand that next technology whereas Australians seem to push a lot to have the next great thing on their farm."
As Topcon has become more globalised, Bourke says other countries with bigger populations are catching up purely on volume but Australian farmers have always been leading the technology charge.
"We've definitely got a good population of our product in Australia that's for sure," Bourke says. "For example, the Australian market has had a great take up of our X20 console product over the years. The population of X20s in Australia is the biggest we've got anywhere in the world."
An Aussie diesel mechanic by trade from Ulverstone, Tasmania, Bourke is currently based in the United States, but travels the world regularly as part of his role overseeing all Topcon's sales divisions as well as the customer support division and systems integration.
"We build all the platforms for agricultural vehicles, so engineering makes a screen or an [engine control unit] and then we put it all together as a package to sell to customers. My responsibility is those three areas on a global basis, so it keeps me pretty busy."
Topcon is a Japanese company listed on the Tokyo stock exchange and a leading manufacturer of positioning products, medical equipment, industrial measuring and optical components. It has US$1.6 billion (A$1.8 billion) in consolidated sales and Toshiba Corporation remains its majority shareholder.
Topcon's agriculture division lies within its positioning products subsidiary, which is run out of the US.
In Australia, Topcon entered the agriculture market through the acquisition of South Australian company Key Technologies in 2007, where Michael Bourke had been employed for 13 years. Starting out with invoicing, Bourke worked his way up into sales support on an international level, trying everything along the way including manufacturing and operations.
"My father and brother are farmers so I've been around agriculture since I was a little kid," Bourke relates, "but machinery has been my profession. This is the cool side of it; I don't have to run around the farm, I fly round the world instead."
Key Topcon products include a range of controllers for agricultural vehicles such as tractors and sprayers known as the X Family of consoles.
"The X Family moves up according to farmers' requirements and budgets, from the low end X14 released earlier this year to the X30 which is our top end computer system," Bourke explains.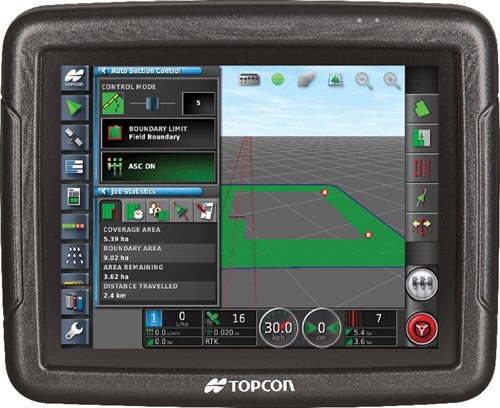 Topcon's X25 console
"We just released the mid-range X25 console to complete the suite, which we'll be shipping in December. We still have the older technologies brought to us by Key Technologies but our flagship range is the X Family of consoles."
Bourke says Topcon has put a special focus on keeping X Family interfaces as common as possible but he believes the sliding scale of features is what really sets it apart.
"The X14 is an entry level system whereas the X25 allows you to do spraying and spreading, seeding and variable rate applications, but it's limited on the number of compatible software products and it has fewer extra features.
"The X30 at the top end however, is our premium product. It has the ability to do everything including line management and water management with software packages for each built in.
"The idea is to step up gradually from the entry level system through to greater levels of sophistication, but it doesn't matter where you start, the software is the same and the platforms; the user experience is the same.
"You don't have to learn a new system as you move up through the products. Once you've learned our platform you can run all our consoles, which makes it nice and easy."
Read more about Topcon and what it offers the Australian agricultural industry in the upcoming issue of New Farm Machinery magazine, on-sale December 1. Subscribe to the magazine to have it delivered to your doorstep.
Subscribe to our newsletter
Sign up to receive the Trade Farm Machinery e-newsletter, digital magazine and other offers we choose to share with you straight to your inbox
You can also follow our updates by liking us on Facebook. 

Graders For Hire | Cranes For Hire | Telehandlers For Hire | Excavators For Hire