VIDEO: Protect yourself against bushfire this summer
---
While it's fair to say country folk generally have a good handle on their fire risk, when circumstances conspire, things can go pear-shaped very quickly. CFA volunteer and reporter Steve Kealy writes.
It's no secret we're in for a long, hot and dry summer. Unless you're living in a Tasmanian cave or a highrise apartment, you'll likely see dry, cured vegetation wherever you look.
Despite long years of good, hard-learned lessons on preventing or managing fires for many farmers, unfortunately climate change has subtly but irrevocably changed the rules — and what was good practice even 10 years ago might no longer be adequate today.
Recently, Victorian CFA chief officer Euan Ferguson issued this grim synopsis: "There is a longer term two-year dryness in areas from Melbourne to the Mallee and Wimmera and the northern slopes of the Great Divide.
"In the Mallee and Wimmera, there is advanced drying of forest fuels and grassland fuels cured to greater than 80 per cent rapidly.
New South Wales declared its fire season earlier than ever before this year and areas of Queensland have already burned.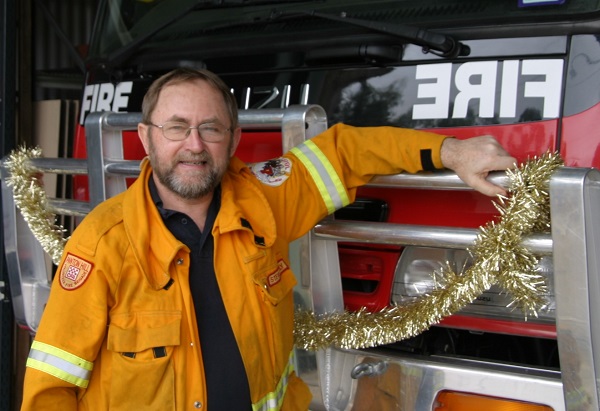 Writer Steve Kealy: "Just another grubby yellow Grunt on a red truck"
Sometimes it takes new eyes to assess your fire preparation: a cluey neighbour or someone from the local volunteer brigade might see the staggeringly obvious that you've missed, simply because it's always been there: stuff like firewood stored against a wooden fence, gas cylinders stored on the verandah or hard-to-reach gutters that haven't been cleaned out for a while.
Often it's a little thing that becomes a disaster: an ember blows in from a grass fire in a nearby paddock, settles on the doormat, lights up the doorframe,  and within minutes, the house is gone.
However, it is shed fires that really makes fire-fighters quake in their Taipan boots. I'd hate to have to turn out to a fire in my own shed. I know there's all manner of stuff in there — none of which will be good for you if it gets hot.
Read more of Steve's fire fighting wisdoms and simple tips to stay safe in the upcoming fire season in our special Fire Prevention feature in NFM issue 16, on-sale December 1.
Look up fire fighting equipment for sale
---
In this Fire Prevention feature, we also looked at and tested several fire-fighting equipment that could come in handy come bushfire season, including:
Goldacres Eco 800RP 
Tested by Matt Wood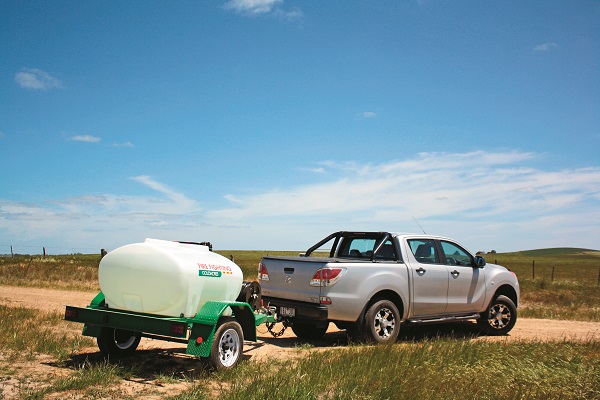 The Goldacres name brings to mind spray equipment first and foremost but the company also manufactures a range of trailed firefighting equipment with capacities ranging from 800 litres to 2,000 litres.
Basically the design brief for a fire fighter is it needs to be tough, durable, and easy to use with a reliable engine and pump unit.
This pretty much describes the Goldacres Eco 800RP, the entry level 800-litre fire fighting trailer unit.
Find Goldacres sprayers for sale.
Silvan Selecta Rakpak Smoothflo spot sprayer and Selecta SQF400D fire-fighting unit
Tested by Barry Ashenhurst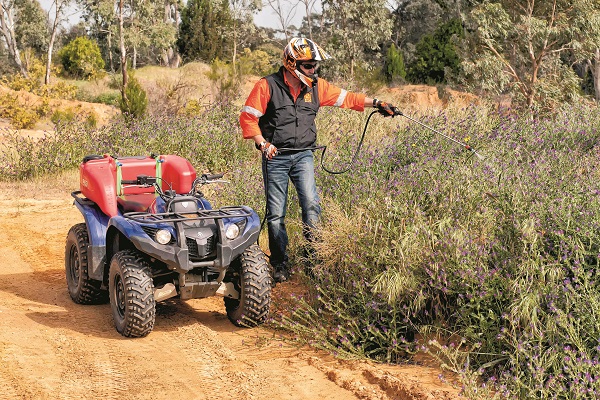 Silvan's 70-litre Selecta Rakpak Smoothflo spot sprayer mounted on the rear of a mid-size ATV
Prevention is always better than cure so Barry Ashenhurst looked at an effective sprayer by Silvan, the 70-litre, 12 volt Selecta Rakpak Smoothflo which can quickly kill off weed infestation such as Paterson's curse and other ignitable vegetation generally growing around fences, buildings and in paddocks.
Hooked up to a small all-wheel drive ATV, the Rakpak is useful for getting into tight spaces, between and even under farm buildings where grass and weed build-up is inevitable.
If the invitable happens anyhow, Barry reckons the 400-litre Selecta SQF400D unit will fulfill spot-fire fighting duty quite nicely.
Find Silvan sprayers for sale.
Last but not least, Steve Oxley from fire safety specialist Wormald discusses the importance of installing essential fire safety systems and extinguishers on your farm machinery including tractors and harvesters.
Don't miss this special feature in New Farm Machinery magazine's December issue. Secure your copy today by subscribing to the magazine.
Subscribe to our newsletter
Sign up to receive the Trade Farm Machinery e-newsletter, digital magazine and other offers we choose to share with you straight to your inbox
You can also follow our updates by liking us on Facebook. 

Graders For Hire | Cranes For Hire | Telehandlers For Hire | Excavators For Hire