VIDEO: Soilkee Renovator sow seeds of hope
---
West Gippsland farmer Niels Olsen's Soilkee Renovator is the first of its kind. It seeds while aerating and mulching to regenerate soil life; increasing yields up to 45 per cent in one year. Anna Game-Lopata writes.
Dairy farmer Niels Olsen knew something had to change when he wrecked his paddock. Having made a profit with his earthmoving business that season, he decided to buy big on fertiliser. But what he didn't realise was that he was adding acid to an already acidic soil.
Come the new season, the pasture was yellow and dry. Olsen was left scratching his head as to what he did wrong. This led to a passion for learning about soil biology and a successful fertiliser business.
Four years on, Olsen has also used his new-found knowledge to invent a remarkable new machine which improves the soil so much, pasture and crop yields are doubling in just a few months.
Olsen's photos tell a thousand words.You can see the darker green stripes with light green in between just 10 days after the Soilkee Renovator machine has gone through. It's visually lusher without the use of any fertiliser whatsoever.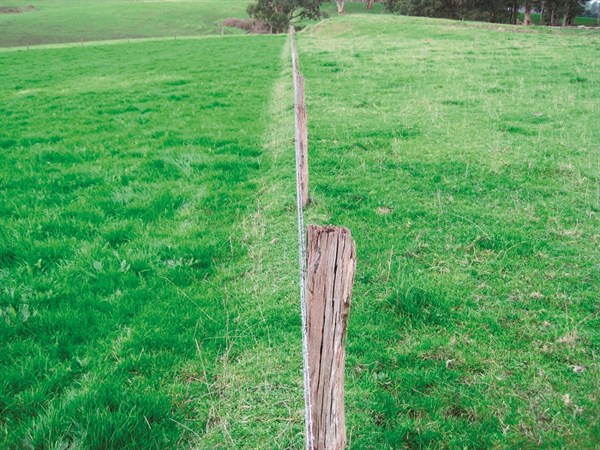 Results achieved in one pass, three and a half weeks after applying only the Soilkee and seed shows enhancement of existing pasture on the left. Image courtesy of Niel Olsen. 
An oat crop pulled from the wet mud after four weeks of growth shows the soil teeming with worms. In the trench where the machine has been you can see about 2cm of worm castings and eggs.
A field of pasture planted five and a half weeks before using the renovator is grazed down to the stubble, while the similar-looking, 'control' or existing pasture sown without the renovator remains untouched; even all the way along the path up the hill to the water trough.
Another image reveals the stark and clear contrast between two sections of the same pasture. In just eight weeks, the Soilkee treated part shows at least a 100 per cent greater growth than the section that was missed.
Niels Olsen has been farming his west Gippsland property near Drouin in Victoria for 30 years. His parents were dairy farmers and when he was 20, Olsen bought the adjoining property to the family farm.
 Starting with about 80 cows, the dairying operation built up to about 220 animals on the farm alongside a thriving earthmoving business. But about four years ago Olsen and his wife Marja decided to sell the Frisian cows and run a few beef cattle instead.
"We started off with a basic herring bone set-up, which was fairly slow to milk a hundred cows," Olsen explains.
"Then we extended it to 22 units with teat cup removers to cut the labour down. That enabled one person to milk 22 cows each side, so we were doing 220 cows in about 1.5 hours, it wasn't too bad.
"But time was a problem. When we were doing earth moving all day, we had to milk in the morning and at night so it was stretching out to 16 or 18 hours a day. The two jobs together worked okay for a while, but when the fertiliser business came in on top of that again, something had to give."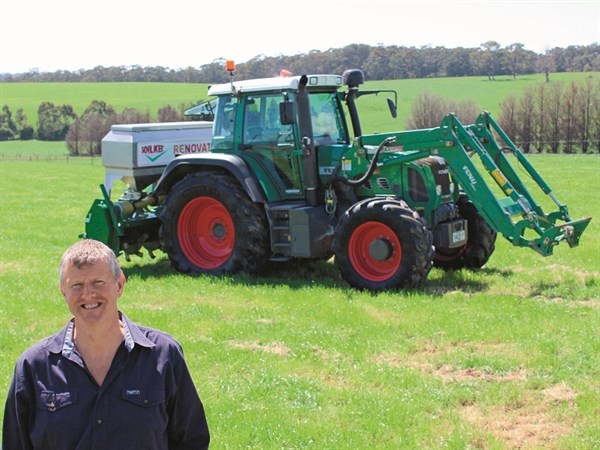 West Gippsland farmer Niels Olsen invented the Soilkee Renovator to improve his pasture
Olsen knew his real passion lay in understanding soil chemistry, initially as a way to improve his own farm. That's where he and Marja then put their focus, with Marja taking on the lion's share of the research.
"We did a biological farm study tour over in America for three and a half weeks, looking at different ways of looking after the soil," Olsen says, "including using companion planting where one crop protects the other from pests. We also looked at the positive impact on animal health of farming systems focused on biodiversity in New Zealand.
"I went to a lot of courses and seminars on improving your soil so as to help improve our pastures," he adds. "Then other people wanted the results I was getting so that's how the fertiliser business grew.
"The earthmoving operation gave way and we concentrated on fertiliser. The business was taking off so well we gave up dairying."
Another turning point came for Olsen at a seminar explaining how a desert in Mexico achieved eight crops of maize for fodder per year.
"They were only growing the maize to a metre or so high and using it as grazing fodder not growing it out to crop," Olsen says. "Yet here we are in west Gippsland with some of the best soil, best rainfall in Australia and we're lucky to do one crop a year.
"I thought well, if they can do it in a desert, why can't we do it here?"
Olsen came away determined to create a machine that would provide seed a chance to germinate with less competition from pasture.
"That's why I created the Soilkee Renovator," he says. "I wanted to work up a little area that would give the seed a good go in the pasture situation. We developed the renovator to aerate out on the sides so it actually helps the pasture as well.
Read more about Niels Olsen and his invention, the Soilkee Renovator, in the upcoming issue of New Farm Machinery magazine, out December 1. Subscribe to the magazine to secure your copy.  
Subscribe to our newsletter
Sign up to receive the Trade Farm Machinery e-newsletter, digital magazine and other offers we choose to share with you straight to your inbox
You can also follow our updates by liking us on Facebook. 

Graders For Hire | Cranes For Hire | Telehandlers For Hire | Excavators For Hire