Top ten picks at the National Farm Machnery Show Part 1
---
In mid-May Australia lost one of its most prominent and innovative agricultural engineers, with the passing of Dr Graeme Quick. He was one of the world's leading experts on grain harvesting technology and a founding contributor of New Farm Machinery magazine
During his professional career Graeme was awarded 15 design patents, produced 14 farm machinery books and more than 150 peer-reviewed documents and research articles.
A chartered professional engineer, he was the first Australian to be made a fellow of the American Society of Agricultural and Biological Engineers.
He was also a fellow of the Australian Institution of Engineers. 
In 2004 he was awarded US Agricultural Engineering's highest recognition — the CH McCormick — JI Case gold medal, for his meritorious contributions to the profession.
Throughout his professional career, Graeme cultivated an exceptionally amicable relationship with all aspects of the farm machinery business, from the largest multinational corporations to the smallest short-line manufacturer.
He will be greatly missed.
In one of his last contributions to New Farm Machinery, Dr Graeme Quick documents the top ten agriculture innovations he observed in January at this year's National Farm Machinery Show in Louisville, Kentucky.
We look at the first three. Look out for seven to ten online next week.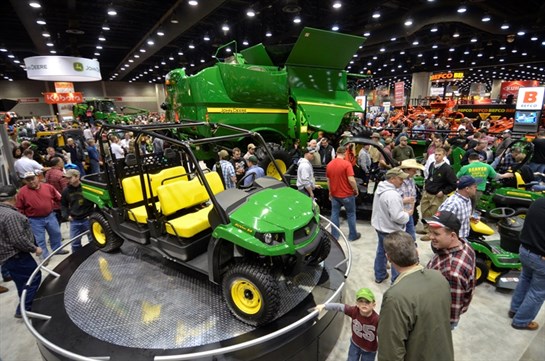 I have just returned from a one month 'farm machinery safari' in the United States. This report is from a bloke from Down Under on a business trip where a valuable part of that time included two days at the National Farm Machinery Show in Louisville, Kentucky.
Winston Churchill once said Britain and the US were "divided by a common language".
Popular topics of casual conversation with Americans about our two countries (Australia by extension to Winston's remark) were:  (a) the weather – just plain awful stateside and benign back here in Queensland at the time;  (b) Politics - it seems that political leaders on both sides of the pond are vulnerable to strenuous verbal assault by talking heads of almost any persuasion.
Biggest indoor farm show
As for the Louisville Show: this is arguably one of the biggest indoor farm shows around. The two days I had were insufficient to cover it all.  
The National Farm Machinery Show celebrated its fiftieth anniversary this year.  In that brief span of time the world's population has doubled to seven billion. And the farm machinery is very different.
The Louisville Show boasts of hosting the nation's oldest tractor pull.
People attending the evening program are treated to bone-deadening noise - the pulls are held in the Freedom Hall in the center of the showgrounds. 
I reckon I saw at least one hundred monster machines waiting at the "pits" being readied for the evening's entertainment. Some had as many as five big IC engines. Even aircraft jet engines are allowed.
Ten machinery highlights
Here are the first three of ten items that most impressed me at the time (not in any priority order). There were of course heaps more to see, but time ran out; nevertheless with interviews, camera and literature the following can be reported.
1. Calmar yield mapping system
Just imagine a yield map generated without a yield monitor. It can be done. In fact it can be done much more accurately than from a combine yield monitor. 
But there is no free lunch. To use this setup you will need to do some spot yield checks. On the other hand, combine loss and yield monitors need calibration too. 
Calmar Mapping Services of Indiana has a system. How can the Calmar system be more accurate? In simple terms,
the Calmar system collects more data from smaller areas through remote sensing than is possible from a combine yield monitor.  The advertised claim is "Up to ten times more".
Calmar had a display at Louisville illustrating graphically a yield map from imagery. The basic principles behind Calmar's methodology are:
Yield is proportional to plant biomass.  For most crops, the bigger the plant, the more it will yield.  For a few crops however there is an inverse relationship.  Cotton is one example; cotton yield is inversely related to biomass.
The Normalised Difference Vegetation Index (NDVI) is a graphical indicator that can be used to analyse aerial images to provide an excellent indicator of biomass.
The only place where this falls apart is in fields that are heavily infested with weeds.  NDVI images will not distinguish weeds from crop. 
Weed patches can often be identified using pattern recognition, but accounting for these areas in a yield calculation is very difficult. 
The first step is to procure a multispectral image by satellite or airplane flown late in the season.  Then create a biomass map from the image.
 Hand yield checks in selected areas are critical at harvest time. These hand yield checks act as calibration points.
Given those known yield values, Calmar can correlate the NDVI values to yield.  The hand yield checks would be from a high-biomass (high NDVI) area, a low-biomass (low NDVI) area, and some point(s) in between. 
This must be done on each field, as other factors like variety, planting date, fertility, etc. can affect the calculations. 
Care must be taken to identify where these factors come into play and when they do, those areas need to be treated separately, even if they are physically in the same field.
 The biomass map is integrated with the hand sample data.
Using the hand yield check values, an equation relating NDVI to yield can be calculated. 
Final yield values provided by sale tickets, bin estimates or non-GPS yield monitors are used to create the new yield map – this is the final step of the process.
With conventional yield maps, the result is only as good as the calibration. In this case, the hand yield checks and the supplied average yield are used to "calibrate" the multispectral image to make a yield map.
The more accurate the average yield is, the more accurate the final yield map will be. There can also be many more yield points in a yield map created from imagery than one created by a yield monitor.                                                                                                                                           
How much more?  
The typical combine monitor measures one yield value every second.  So for a combine traveling at say 4 mph and equipped with a 35 ft head, there would be one yield value for every 203 square feet.      
Remote sensed multi-spectral images can close in on areas as small as 30-inch by 30-inch or 6.25 sq ft. or potentially 32 times as much as a combine yield map.  When UAVs become legal, that could become even more precise. 
Furthermore, yield maps can be created for crops that are currently not capable of monitoring onboard a harvester, for example seed corn, hay, forages, mint - and others. 
Combine yield maps have errors associated with lag, partial head swaths, crop plugging, excessive speed changes, lost signal, etc; whereas a remote-sensed yield map is free from any of those types of inaccuracies.
How much do these maps cost?
Calmar's charge for most of these maps is around $3.20 per acre, depending upon crop and number of acres.
However, many of the company's clients elect to use these yield maps to determine fertiliser rates for multiple crop rotations, which spreads the cost of the yield maps over 4, 6, even 10 years.
For a corn/soybean rotation, used over 10 years, this would cost: $3.20 (corn map) + $3.20 (soybean map) / 10 years = $.60 per acre.  
Yield maps using this method are valuable, and a client can sometimes spot issues that are small in area. 
However, the true benefit is using the yield maps as a data layer to help make management decisions such as fertiliser application rates, post-harvest nutrient needs and evaluating hybrid or varietal differences.
With the Calmar system, there is no equipment to buy, no software to learn, and substantial savings are possible in time and money.
CALMAR Mapping Services, Remington, Indiana.  www.calmarlabs.com.      
2. The Russian combine.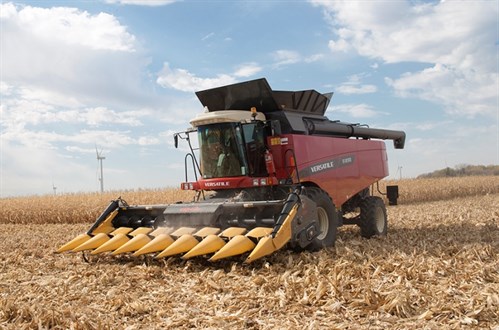 Prominent at the Versatile display stand was the Russian-designed Model RT 490 Combine.  
This class nine 490 HP combine is impressive and well finished. Russian Combine Factory Rostselmash Ltd. bought the majority share of common stock and the Versatile name from Canadian business mogul John Buhler. 
Versatile is building this combine in Winnipeg Canada.  What makes it different is that the single rotor axial flow machine has a rotating concave. 
This means that all 360 degrees of concave are "live", as distinct from the competition's half-circle fixed concave designs.
Brief specs are:  Class Nine rotary combine powered by 490 HP 11.9 litre Cummins engine.
Feeder with four beaters and stone trap to 30 inch axial threshing and separating rotor; 3600 concave wrap counter rotates at 8 rpm.
Two-stage cleaning system. German and US-built all wheel drive chassis. Integrated straw and chaff spreaders. Grain tank 340 bushel, 3 bu/sec unloading rate.
3. Westendorf loader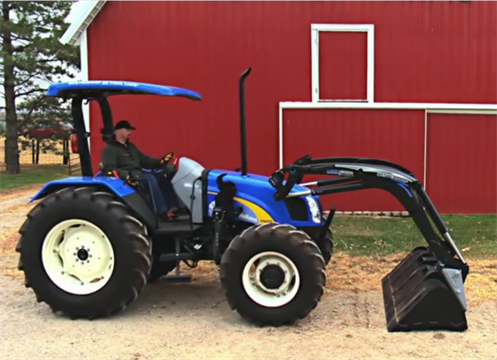 Materials handling equipment manufacturer Westendorf from Onawa, Iowa offers a tractor front-end loader that can be hitched or disconnected from the tractor seat. No need to dismount to changeover.
The Westendorf Max low-profile loader is mountable from the cab and when demounted requires no tools, pins or stands. 
The hydraulics and electrics hook up with one handle. Westendorf's Smart-Pak cylinders have no external hoses and the loader's other hydraulic hoses and fittings are hidden and protected inside the loader arms. 
A wide selection of buckets, spears, grapples, blades, plows and specialty attachments are available.   www.loader4U.com.
Don't miss the rest of Dr Graeme Quick's appraisal, including the Lely Astronaut Robotic milking machine and the Hillco One-Pass Baling system among others online next week.
Find combine harvesters for sale
Subscribe to our newsletter
Sign up to receive the Trade Farm Machinery e-newsletter, digital magazine and other offers we choose to share with you straight to your inbox
You can also follow our updates by liking us on Facebook. 

Graders For Hire | Cranes For Hire | Telehandlers For Hire | Excavators For Hire