Dr Graeme Quick reports on agriculture innovation
---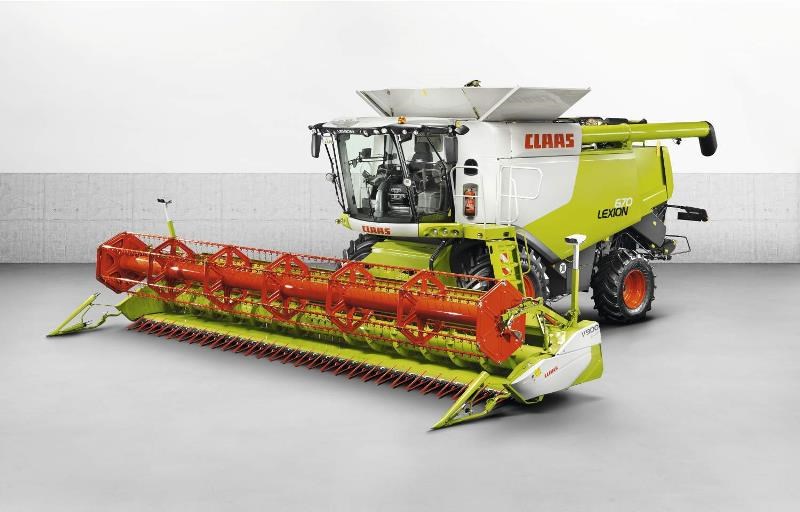 The ClaasLexion 700 Series is equipped with an exclusive horizontal cooling system fitted to the top of the combine where the air is the cleanest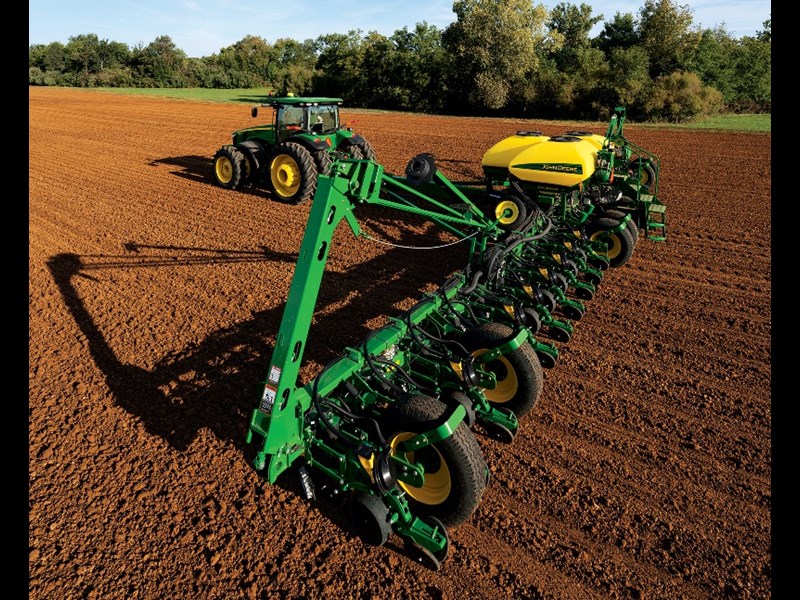 With controlled placement into the trench, there's no degradation of in-ground spacing accuracy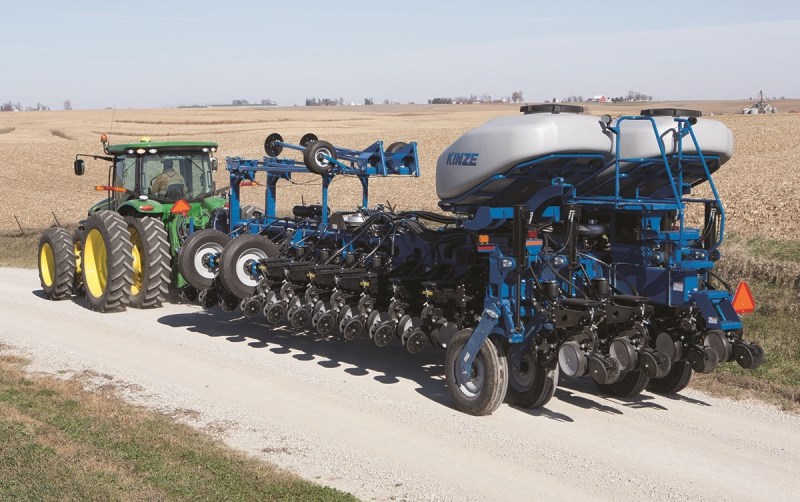 The Kinze 4900 planter boasts the world's first electric drive planter capable of planting multiple hybrids automatically as it goes through the field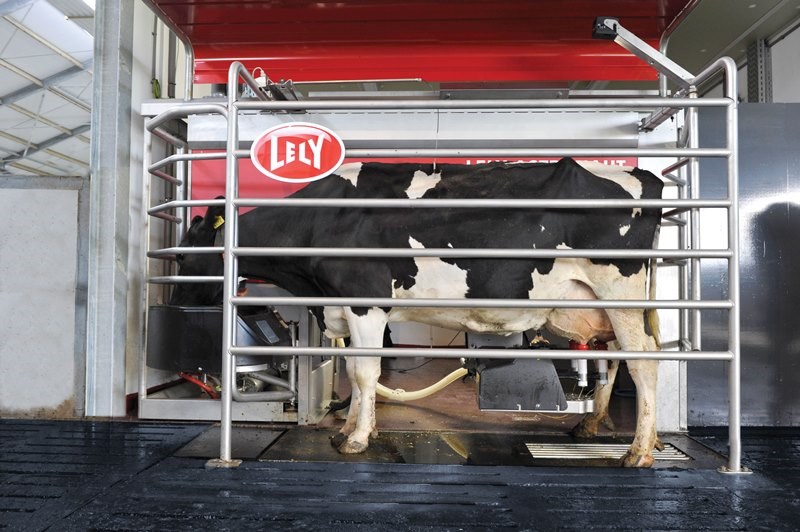 The Lely Astronaut milking robot delivers an increase of up to 15 percent as a result of the greater milk supply from healthier cows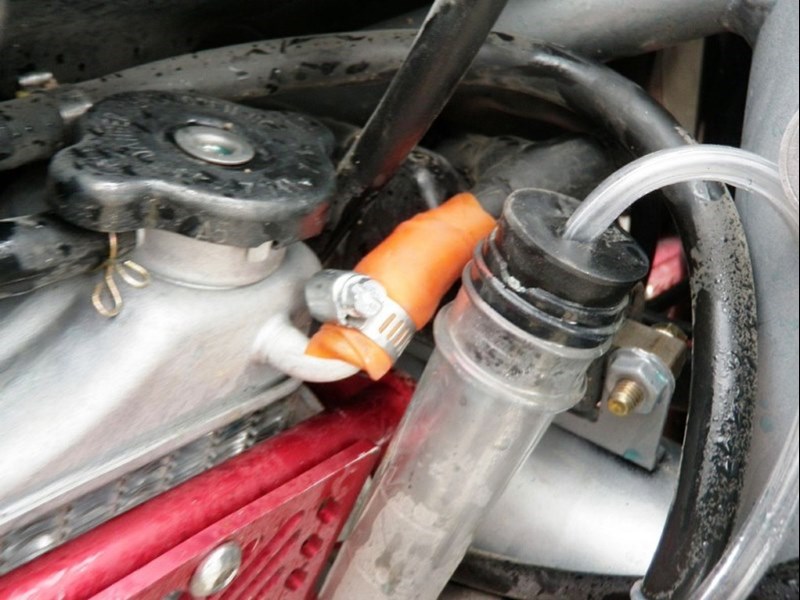 This silicone self-fusing stretch tape is said to capable of repairing almost anything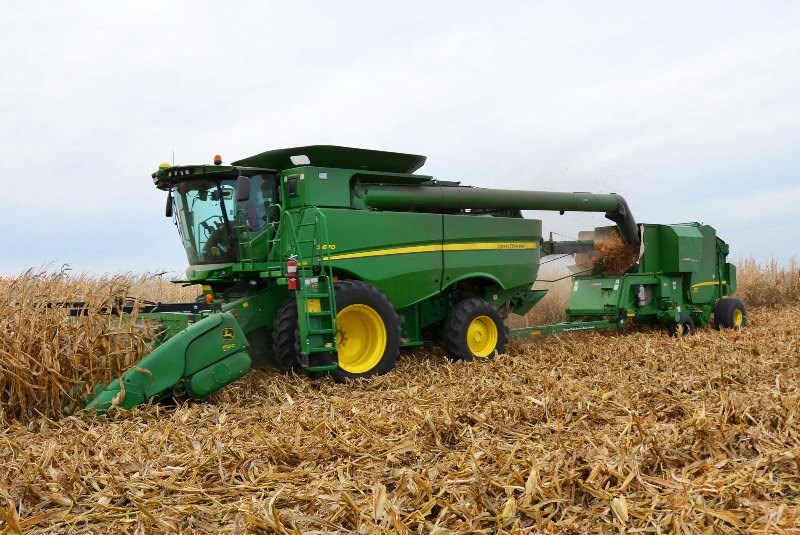 The Single-Pass Round Bale System allows producers to harvest and bale in one pass requiring less equipment, time and manpower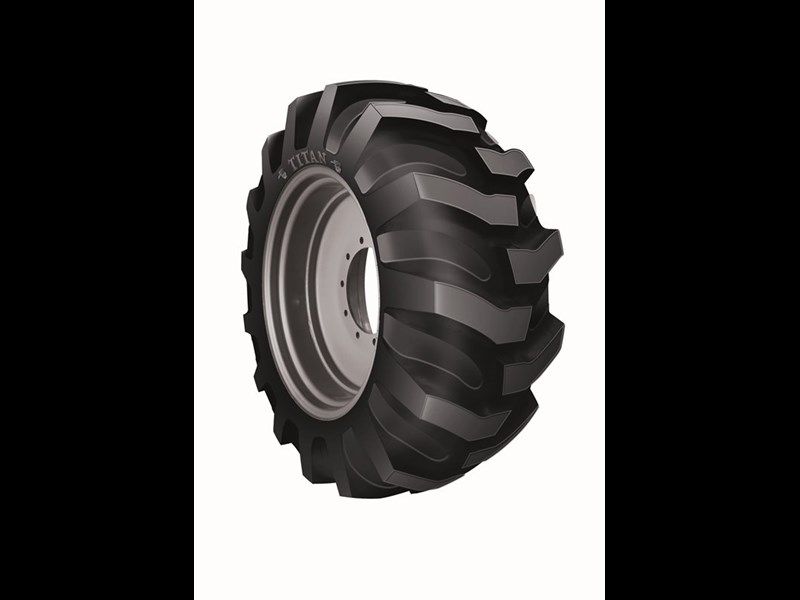 Titan Low sidewall technology tires are claimed to cause no more soil compaction than a rubber-tracked tractor but with the advantages of faster speeds and a smoother ride

In one of his last contributions to New Farm Machinery, Dr Graeme Quick documents the top ten agriculture innovations he observed in January at this year's National Farm Machinery Show in Louisville, Kentucky. Here are numbers four to ten
Having returned from a one month 'farm machinery safari' in the United States in January Dr Graeme Quick reports as "a bloke from Down Under on a business trip" where a valuable part of that time included two days at the National Farm Machinery Show in Louisville, Kentucky.
Last issue we brought you the first three of ten items that most impressed Dr Quick at the time (not in any priority order).
"There were of course heaps more to see, but time ran out; nevertheless with interviews, camera and literature the following can be reported of items four to ten," he writes.
4. THE LELY ASTRONAUGHT MILKING ROBOT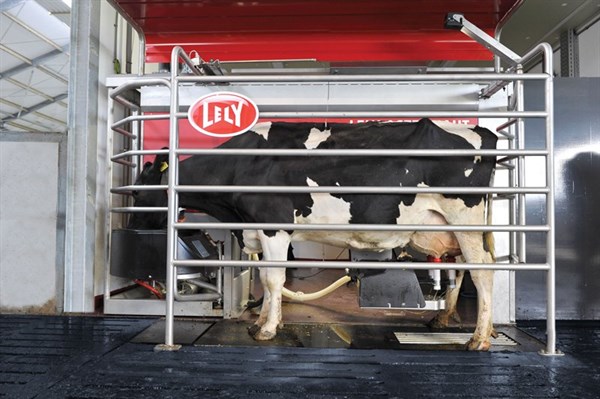 The Lely Astronaut has been around for some years now but this was the first time for me to see one in action (although the highly-productive cow on display was artificial). Very impressive.
How does it work? The robotic milking process starts when a cow enters the parlor. A computer identifies the cow, usually by an electronic tag, and determines if the cow is to be milked. If so, an electronic feeder dispenses feed while the side-opening gate closes.
A washing assembly, affixed to a metal arm on rollers, swings out and washes the teats. After washing, the roller retracts and a laser-finder locates the teats. This laser-finder communicates to the arm attachment, which hold the teatcups.
The laser-finder tells the teatcups exactly where the teats are located. The arm attachment attaches each cup. Each teatcup has its own meter, which shuts off vacuums when milkflow drops below a certain preset level.
Once all teatcups are removed, the arm moves away from the cow and each teatcup is washed by a sprayer unit. The side-gate opens and the cow leaves the parlor.
This system is no longer about cows producing most milk but rather about the cows yielding the best economic results. One Astronaut handles some 60 cows. Greater milk as a result of healthier cows increases production up to 15 percent as a result of the Lely robot. www.lely.com
5. HILLCO SINGLE-PASS BALING SYSTEM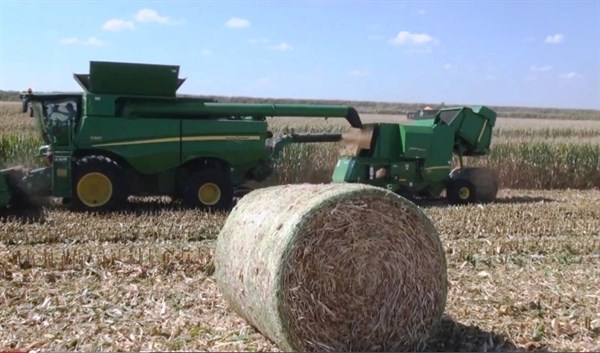 Finished in Deere livery, the genius of the Hillco Single-Pass Baling system (SPRB) system is the use of a round baler hitched behind the combine to collect the MOG [material other than grain] and stover [leaves and stalks of field crops left in a field after harvesting] directly without allowing it to be contaminated with soil.
In the traditional two- or three-pass operation (harvest, then windrow then pickup by the baler) there can be as much as ten percent soil by weight in the bales.
Besides which the system allows non-stop harvesting and baling by virtue of a pre-chamber to hold material while each bale is being formed.
Bales are both higher quality and heavier than traditional corn stalk bales , single pass round bales are more even and dense, each weighing around 795 kg. They also have higher feed quality.
An additional hydrostatic pump is mounted on the combine along with a slinger conveyor whose spout provides an even feed into accumulator just ahead of the integrated baler.
When the bale has reached the pre-determined size, the baler wraps and ejects the bale while the accumulator continues collecting the MOG for non-stop/one operator harvesting.
Hillco Technologies Inc., Nezperce, Idaho.
6. CLAAS LEXION DYNAMIC COOLING SYSTEM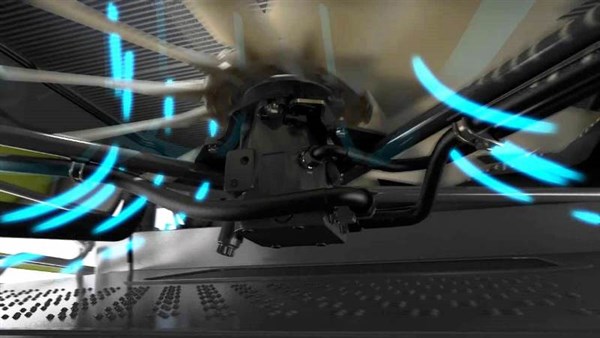 The latest mandated emission controls on US diesel engines have precipitated a change in the radiator configuration on some combines.
Claas for example now features Dynamic Cooling where the horizontal radiator fan pulls air from above the combine down through the radiators and out through side vents.
This creates a curtain of air around the machine to blow dust and debris away from the combine.
The result is cleaner air drawn into the air filter and radiators.
Dust and debris from the rotary rad screen are vacuumed off and blown below the combine.
Time between services intervals is lengthened and potential fire hazards from materials on the engine are reduced. Now provided on all Claas Lexion models.  www.claas.com
7.TITAN LOW SIDEWALL TIRES (LSW)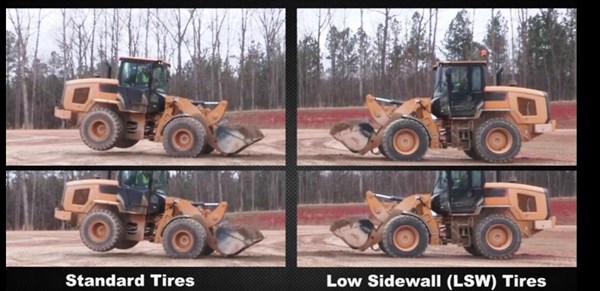 Titan/GoodyearLow Sidewall (LSW) technology from Quincy Illinois features larger rim diameter and smaller sidewall than standard tires while maintaining the same outside diameter, inflation pressures and load ratings.
For example LSW offers an 81 inch outside diameter tire that fits on a 46 inch rim vs 38 inch rim (70 percent aspect ratio) on a standard tire.
This is claimed to cause no more soil compaction than a rubber-tracked tractor but with the advantages of tires, namely faster speeds, smoother ride, stability with less bounce, lope or hop, less berming and improved fuel economy. www.titan-intl.com
8. RESCUE TAPE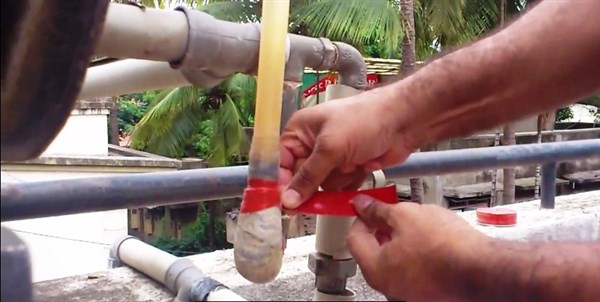 This silicone self-fusing stretch tape is said to capable of repairing almost anything. It can provide a permanent water-tight seal that can be used on the spot in-field to stop – for example – radiator hoses and even a leaky hydraulic line.
Said to be capable of withstanding oil hydraulic pressures as well as being electrically insulating and heat-resistant.  It has even been used to do an on-spot marine diesel engine fan belt repair that held extremely well.
The tape is made in the US by Harbor Products Inc., Carson City,  Nevada.
Available in different thicknesses, colors and widths from 12 to 50 mm.  It offers low cost solutions to common problems in extreme environments. www.rescuetape.com.   
9. JOHN DEERE EXACTEMERGE PLANTER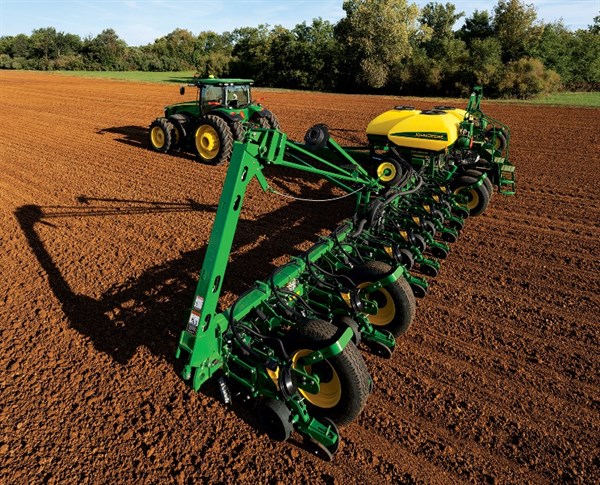 John Deere claims its new row units plant corn and soybeans accurately at speeds up to 10mph with their industry-exclusive brush belt delivery system.
The unit's brush belt is an intriguing concept that delivers the singulated seed under full control down to the bottom of the seed trench with a rearward trajectory matched to ground speed at any desired population.
This places the seed without bounce or roll in the trench. 
With controlled placement into the trench, there's no degradation of in-ground spacing accuracy. A brush belt conditioner at the bottom of the delivery system is self-cleaning to shed any dust from the brush belt.
Seed singulation is by vacuum meter that maintains target seed population over terrain at slopes up to 15°.
Each ExactEmerge row unit is driven by two brushless DC motors that work independently to control the meter and the brush belt. These provide speed-matching seed delivery.   
Seed sensors on each row provide information for each seed that travels through the brush belt delivery system: population, seed spacing, seed singulation. 
The data is gathered right there and delivered to Deere's SeedStar™ XP monitoring system.  With Wireless Data Transfer and MyJohnDeere, performance  data can be viewed from anywhere. www.JohnDeere.com
10. KINZE MULTI-HYBRID PLANTER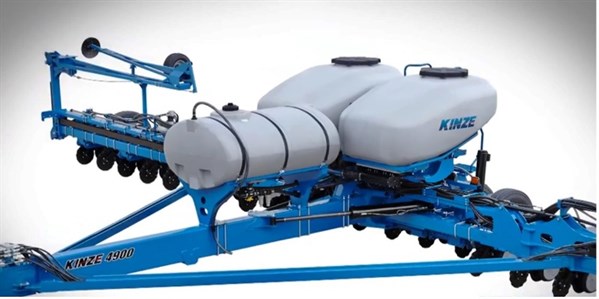 Soil type varies considerably across many fields.  Hybrid seeds may not be optimised for a specific area.
In its Model 4900 planter, Kinze has come up with the world's first electric drive planter that is capable of planting multiple hybrids automatically as it goes through the field.
The unit does this by switching between two hybrids as the machine crosses different soil zones based on pre-existing soil maps.
Independent tests over two seasons showed fields planted using multi-hybrid technology averaged 9.5 Bu/acre higher to return $54 dollars extra an acre across both low and high productivity zones.
The as-applied data is automatically logged for the farm's records.  Specs of the 4900 Planter: narrow-row transport front-fold frame, 30-inch row spacing with choice of 12, 16 or 24 rows. www.kinze.com  
Find combine harvesters for sale
Find tillage equipment for sale
Subscribe to our newsletter
Sign up to receive the Trade Farm Machinery e-newsletter, digital magazine and other offers we choose to share with you straight to your inbox
You can also follow our updates by liking us on Facebook. 

Graders For Hire | Cranes For Hire | Telehandlers For Hire | Excavators For Hire