6 sprayer parts and technologies that make spraying a breeze
---
Spraying need not be a chore with the variety of tools and technology currently on the market to assist you. We explore several apparatuses that will make spraying a breeze.
About two months ago, we looked into the science of spraying and shared some tips on how to spray safely and effectively.
As NFM writer Tom Dickson says, it doesn't matter what the size of your property is or what you sow. When it comes time to spray, the job has to be done properly. Spray drift needs to be minimised as much as possible so as to prevent wastage and unnecessary damage to the environment.  
Knowing what to do is one thing; owning the equipment you need to ensure your spraying costs don't hit the roof is another.  
In this modern day and age, there is a plethora of products and technologies on the market to help make light work of your spraying. From nozzles to spraying controllers, they all play an important part to ensure the task of spraying goes as smooth as possible for the farmer.
We scoured the market to find six top products you should check out this spraying season:
WeedIt spot-sprayer system

WeedIt is a unique system that uses near-infrared camera sensors to detect green leaves of weeds in fallow paddocks.
The red-light technology detects chlorophyll present in living plants, and the nozzles closest to the plant quickly respond by releasing a short burst of chemical onto the weed, instead of spraying an entire area.
WeedIt claims farmers can save up to 80 per cent on chemicals, using the system.
The system is designed to work both day and night, allowing operators to carry out their spraying whenever they need.
In fact, spraying at night with WeedIt is more effective, according to the company, because there's less interference from sunlight.
The innovative system can be retrofitted to existing boom sprayers or purchased with a full chassis and boom from local distributor Croplands.
Topcon X20 sprayer control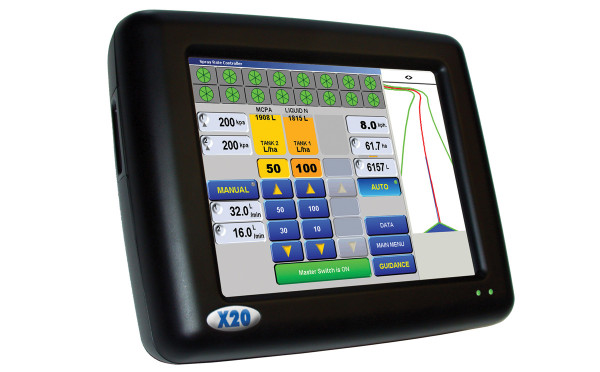 When it comes to precision agriculture, the name Topcon springs to mind. In particular, its X20 sprayer control allows the operator to simultaneously handle up to three tanks, dual line/booms and up to 30 boom sections with just one console.
The system comes standard with automatic section control (ASC), which aims to reduce the operator's work load and chemical costs, and increase accuracy of the spray application.
Topcon's X20 console also features the option of variable rate control (VRC) with mapping. With this combination, the X20 can simultaneously apply from prescription maps, control and record all products, as well as generate real-time application maps.
The single in-cabin full-colour touch-screen console is compatible with most spray rate controllers.
TeeJet SpraySelect app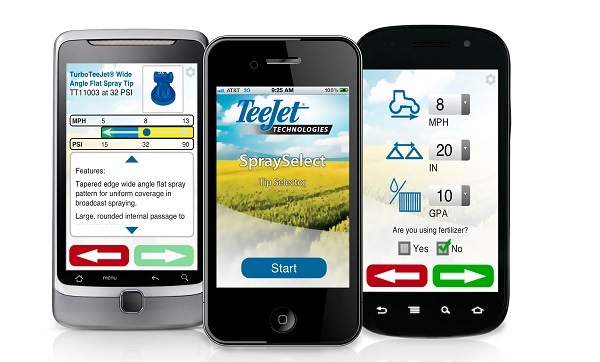 If you're not sure which tip or nozzle you should use for your spraying application, TeeJet's SelectSpray mobile app can solve that problem for you.
The free-to-download app, designed for both Apple and Android devices, allows you to quickly and easily choose the correct spray tip for a given application.
All you have to do is enter the speed, tip spacing and target rate, select the droplet size category and a list of recommended tips will be provided. Specific gravity input is also included for use when applying liquid fertilisers.
SpraySelect has been designed for users across the globe as it supports United States and metric units, as well as six languages — English, Spanish, French, Portuguese, German and Russian.
You can downlaod the TeeJet SelectSpray mobile app from the app store. 
Arag MP400 multi-stage pumps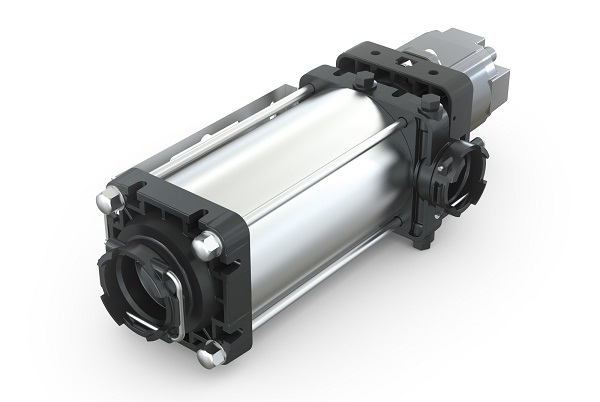 Established in 1976, Italian brand Arag boasts decades of experience in the international spraying and precision agriculture markets.
One of its newest offerings is the MP400 series multistage centrifugal pumps, which is the company's first multistage pump designed especially for agricultural sprayers.
The use of multiple impellers allowed the development of pumps made mainly of high-resistance plastic, making them significantly cheaper than stainless steel pumps. The quality plastic allows the pumps to work with most spray chemicals.
Arag also claims the new pumps are able to produce high working pressure at a lower RPM to ensure longer component lives.
Look up centrifugal pumps for sale
Miller Spray-Air boom technology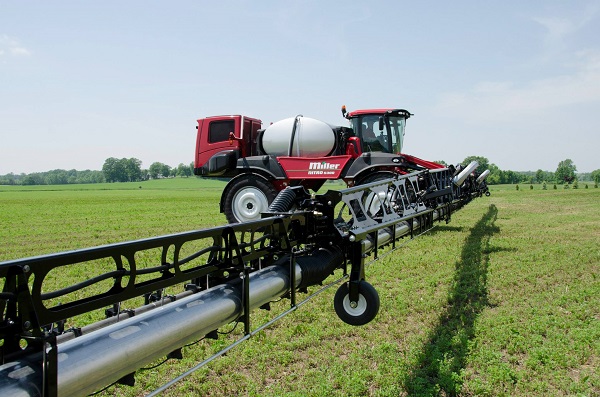 When coverage is critical and one needs deep canopy penetration to kill the target pest — whether weed, disease or insect — sprayer expert Miller Nitro reckons its Spray-Air boom technology is the answer.
The technology, available on selected Miller Nitro sprayers, features air nozzles spaced every 10 inches (25.4 cm) along the air boom, which atomises spray droplets using the Dial-A-Drop technology.
This creates optimum-sized droplets that are not affected by speed and pressure changes, ensuring a uniform application over the entire field.
Due to the smaller, controlled droplets and directed air blast, Miller Nitro says the Spray-Air technology allows for very efficient use of water, often in the range of 2 to 5 per acre (GPA) gallons (7.6–20 litres per 0.4 hectare) for herbicides; and generally from 5 to 10 GPA (20–40 litres per hectare) with fungicides.
That way, operators are able to save on input (chemical and water) costs as well as improve environmental sustainability by only using what is needed.
Find Miller Nitro sprayers for sale
TeeJet DynaJet Flex 7120 nozzle-control system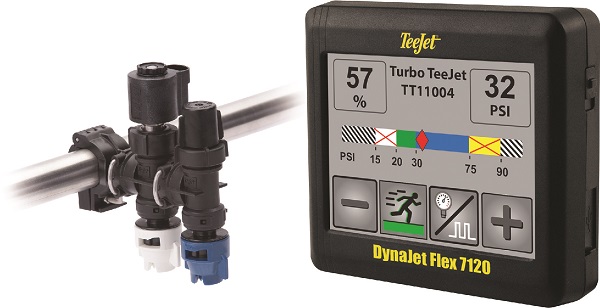 TeeJet's newly introduced DynaJet Flex 7120 nozzle-control system aims to offer operators optimum spray productivity, minimum drift and maximum coverage on the field.
The system uses pulse width modulation (PWM) technology with solenoid-operated tip shutoffs, which allow operators to control tip-flow rate and droplet size independently.
The compact touchscreen console can be installed on a wide range of sprayers, from the smallest golf/turf machines to the largest self-propelled sprayers on the market.
The systems' e-ChemSaver solenoid-operated tip shutoffs, mounted at each nozzle body, control liquid flow based on commands that modulate the "on" versus "off" time of each nozzle.
By varying the duty cycle of the e-ChemSaver, flow rates can be varied without changing system pressure, giving a consistent droplet size across a wide range of ground speeds and application rates.
Conversely, this system allows the operator to vary droplet size as needed from the cab while maintaining a fixed application rate. 
Found any fail and fool-proof spraying technology that has worked wonders for you? Please share with us below!
Subscribe to our newsletter
Sign up to receive the Trade Farm Machinery e-newsletter, digital magazine and other offers we choose to share with you straight to your inbox
You can also follow our updates by liking us on Facebook. 

Graders For Hire | Cranes For Hire | Telehandlers For Hire | Excavators For Hire