VIDEO: Local robotic seeding system set to change the face of farming
---
If you think driverless technology on farms only exists in an alternate reality, think again. CARENE CHONG looks at a locally built autonomous agricultural prototype system that could be working in fields in next to no time.
We've all heard of the driverless car concept commercial giants including Google, Volvo and Tesla are scrambling to develop and perfect ahead of each other.
Imagine taking a snooze behind the wheel while your car drives itself to work without you moving a finger. Sounds too good to be true? Perhaps it is.
While the concept has been floating around for a while, there are simply too many hurdles to overcome and sceptics to silence before it can be properly realised. In fact, experts predict a fully functional model will not hit the market until at least 2020.
Similarly, driverless tractors might cop the same amount of scepticism as their on-road cousins, if not more. The fact that tractors are used mainly as prime movers to carry out a range of farming tasks including seeding, harvesting, baling, and spraying raises more issues and questions than even the most ambitious engineer might be able to address.
However, a team of researchers led by Associate Professor Jay Katupitiya at the University of New South Wales (UNSW) is determined to show Australia and the world autonomous farm machinery need not be just a figment of the imagination. 
In fact, having one of these self-driving machines working on your farm is a whole lot closer than you think.
Birth of an idea
About five years ago, Katupitya and his team set to work on an autonomous machine specifically designed to carry out ploughing and seeding tasks. Today, the project is at a ripe and ready stage for the market.
To take a closer look at the unit and to ask some prickly questions that will no doubt cross farmers' minds when it comes to machines like this, my colleague Tom Dickson and I make our way to UNSW's machinery testing plot in Menangle, New South Wales which is about an hour's drive from the university.
Lady Luck is certainly on our side as we drop by on what is possibly the only dry day of the week we visited Sydney.
Katupitiya has been tinkering around with the machine in a workshop within the property to check that everything is in working order for the machine's stint of the day. Two apprentices, one of them Katupitya's student are on site to give the main man a hand.
Wires and gadgets of all sorts poke out of multiple parts of the machine, which sits smack bang in the middle of the shed.
 The SmartSeeder system, as it has been named by the team, consists of an 18-horsepower John Deere 4210 tractor with a 3m wide seeding implement trailing behind.
According to Katupitiya, obtaining funding for the project has not been a breezy task at all.
"When you're trying to bring in new technology like this, the level of acceptance is very low," he says.
"Even trying to convince someone in a conversation that this sort of technology exists is very difficult."
"So I went around the country and presented my idea to various organisations like the Victorian Farmers Federation and South Australian Precision Agriculture Association. Gradually, people began to listen and as a result, also through some farmers' influence, the Grain Research and Development Corporation (GRDC) approved funding."
Today, the project is supported not only by GRDC but also UNSW's School of Mechanical and Manufacturing Engineering where Katupitiya is also head of the Mechatronics Engineering program.
Implement centric
While it's true major manufacturers like John Deere and Fendt are developing their own autonomous systems, none of them are quite like the technology Katupitiya's team has created.
For example, most of the commercial systems are not fully "driverless" in that a person is required to drive a main tractor which tells a second tractor without a driver to follow its path.
In addition, the systems are tractor-centric which means the tractor is the main focus of development. As a result, implements attached to the tractor can be passively dragged behind and may veer off path, hence significantly reducing the productivity and efficiency of the implement.
Katupitiya and his team recognised this issue and had their focus set on the implement instead of the tractor from the start. From being the prime mover, the tractor is now a pilot vehicle with no capacity to pull but instead acts as a guide for the implement to work along its designated path.
In turn, the previously passive implement is now made an intelligent unit equipped with a range of sensors enabling it to steer and propel itself as well as plough and seed without any human intervention.
By using advanced GPS technology, each seeding tine can be controlled to seed at an exceedingly high level of accuracy, Katupitya says, within 1-2cm. 
To facilitate this, innovative approaches were developed to translate the GPS position of the vehicle sensed at the antenna, to the global position of each seeding tine with the desired level of accuracy.  
Sensors and actuators installed on the unit allow the implement to lift and lower its tines when the vehicle reaches the desired GPS coordinates.
Major benefits
Presented with the driverless system, thoughts of kicking back or busting out the golf clubs while the tractor works away on its own pop into mind, but the benefits are far more than that.
"We don't have many people residing in rural areas here in Australia and farmers are struggling to find people to employ to operate farm machinery," Katupitiya says.
"One main benefit of this machine is that you can address labour shortage."
Katupitiya adds this system is designed to work day and night which means extended hours of operation and having more done in a day.
"This machine can operate in complete darkness because everything is GPS guided and laser sensed and none of these technologies require light," he says.
However, an outstanding benefit is the accuracy with which the machine steers and plants.
"Who can drive a machine and plant to 2cm accuracy for 10km straight? No one can," Katupitiya says.
"If you know exactly where you plant your crops, you can revisit the crops with the same precision next time and apply fertiliser directly to the plants' roots instead of doing a blanket application across the entire field.
"That way you can cut down on spraying and fertilising costs by at least one-third."
From the get-go, Katupitya and his team's approach has been to use smaller tractors and implements to minimise soil compaction.
"Traditional approaches have always been around concentrating power in the tractor and making it enormously large which in turn causes a lot of ground compaction and you lose a lot of land to sow on," he says.
"If you make the tractor very small then the ground compaction disappears but at the same time you are faced with the issue of where the power will be coming from.
"So you put power at the back with the implement as well and the advantage here is the system is now being supported by many wheels of the implement. That way, the load is distributed right across the land so the individual compaction is smaller."
While the system has been designed as a seeding unit, Katupitiya says the navigational program can be used for a wide range of farming applications including spraying and spreading. You just need to change around the implement.
"More generically viewed, the underlying system is an autonomously-driven, pilot-vehicle-guided, force-controlled trailer that is self-powered," he says.
How it works
A complex web of hardware and software intertwine to create the system that is the SmartSeeder.
GPS sensors mounted on top of the tractor track the machine's location for various purposes but most importantly to map out the path it will follow.
"You drive the tractor around the paddock and do the surveying …you drive around obstacles, around anything on the field and all that data is fed into a database," he says.
"Through a simple interface the farmer can easily create a path and this path will have all the run lines laid out in the field.
"GPS is only accurate when it is obtained or linked up to a base station and from there you get very good localisation of the machine in GPS coordinates.
"We then use those coordinates in controlled algorithms to determine how to steer and propel the machine."
Once a path has been set and recorded by the computer, the operator need only select the desired path instead of having to remap the field each time.
When a path has been selected and the program starts up, motors and sensors on the machine start communicating with each other.
A motor attached to the tractor's steering wheel starts steering upon command from the computer when it leaves the shed and into the paddock.
A sensor installed just beneath the operator's seat detects tractor tilt on undulating terrain and sends signals to the computer to carry out terrain compensation and correct any deviation so the tractor stays on its path.
And then there is the seeding implement which is laden with sensors and actuators to control the steering of the implements' wheels as well as the lifting and lowering of the tines.
As the tractor starts to move forward, tension develops between the tractor and the implement. The resulting force is picked up by a sensor installed at the coupling. From there, a signal is sent to the computer which proceeds to drive the implement via hydraulic motors attached to the wheels. 
A steering sensor and actuator installed on the implement allows for accurate steering of the wheels.
In the field, when the GPS system senses that the machine is at the right position to deploy its ploughing tines, a command is sent to a hydraulic cylinder controlling the tines to lower them down into the ground.
Once it is time for the tines to come back up, the same cylinder is activated and the tines are lifted up off the ground.
Safety first
At this point, several questions remain unanswered. First of all, what happens if the tractor encounters an issue such as low fuel levels or overheating of the engine?
To answer, Katupitya explains that an advanced diagnostic system monitors the machine's condition at all times and will slow down or halt operations when a problem such as low fuel level, flat tyre or low seed level is encountered.
 "These issues will be detected and reported to the people responsible who will then need to go the machine to replenish quantities or fix the issue," he says.
What about unmapped obstacles like an animal or person that pops up all of a sudden in front of the tractor?
"There is a laser sensor installed at the front which can sense anything in its way up to 30m ahead to an angle of 270 degrees," Katupitiya says. "It will detect any obstacles that come up in front of the tractor."
"As it senses anything within that range, it will signal the tractor to stop."
Seeing is believing
With an Xbox console controller, Katupitya guides the SmartSeeder like a remote-controlled car from the shed into the paddock which for some reason tickles my funny bone and I have to stifle a giggle.
Once out on the field however, my giggle turns into a gasp as the unit starts running without any human intervention.
 It's a little unsettling to watch a piece of machinery rumble along with no one in the drivers' seat, making turns at the end of the run line on its own and lifting and lowering its tines automatically.
As it approaches me standing at the end of the run line, my first instinct is to duck out of its way, but being slow to react however, I suspect any other tractor would have hit me. But to my amazement, the SmartSeeder simply slows down, makes a turn and continues on its way down the next run line.
The thought of this incredible technology working on fields as early as next year and opening up endless possibilities for the agricultural industry is truly exciting.
Ready for the market
UNSW is currently holding the patent for the technology.
Late last year, the university's commercialisation arm formed a partnership with startup auto-steer technology company Aurotron to commercialise the steering system Katupitiya developed.
Since getting its hands on the technology, Aurotron has developed a complete autonomous farming package which includes a suite of technologies specifically designed for spraying operations.
After 12 months of research and development using a 44hp Kubota tractor and a Weed-It spot sprayer, Aurotron says the technology is now ready for the market and will be available to the public in the first quarter of 2016.
The Aurotron autonomous farming package includes:
• Collision avoidance system which uses laser sensors and optional thermal sensors to detect unmapped obstacles.
When an obstacle appears in the way, the tractor halts its operations until the obstacle moves out of range. Once that happens, the unit continues working along its path.
• Weather station which monitors several weather elements such as wind speed, humidity and temperature which are important for spraying.
When the station detects that certain set parameters have been exceeded, it signals the tractor to stop and informs the farmer via text message.
• User-friendly interface similar to Google Maps which allows operators to easily map their paddocks to create a path for the autonomous system to follow.
• Tractor health monitoring system which constantly monitors the vital functions of the tractor such as fuel levels and engine temperature and reports back to the operator via text message should any anomalies occur.
• Live back-to-base machine tracking and telemetry control system which allows operators to remotely monitor the machine's whereabouts, health and statistics at all times via their mobile devices.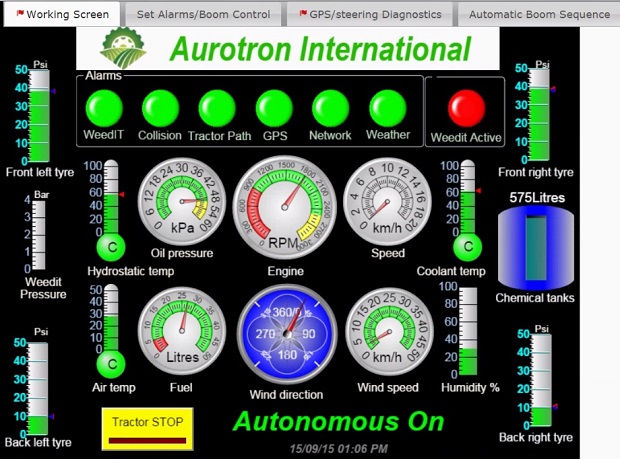 • Three on-board cameras: one forward-facing and two rear-facing for operators to perform visual checks should a problem arise.
• Weed-It spot spraying unit, which Aurotron recommends for a more cost efficient spraying operation.
Aurotron co-owner and director Luke Schelosky says the company has just signed a deal with leading sprayer distributor Croplands to market the product in Australia and New Zealand.
"We're also partnering up with NuFarm, Croplands' parent company who deals with larger corporate clients and they can certainly see demand growing in the market for this technology over the coming years," he says.
While the company currently has its sights set on autonomous spraying, it is certainly looking to expand into other agricultural applications in the future, thanks to the versatility of the navigation system.
"(Spraying) is the first application we're looking at and in the future we will definitely diversify and expand the technology for new applications with a progression from less to more complex," Schelosky says.
"Spraying, mowing and slashing are fairly straightforward, and from there we'll look into planting, seeding and harvesting.
"Harvesting is a whole different ball game from a complexity point of view in terms of what you need to supervise on the machine itself as well as the individual tasks a harvester performs.
"That will be something for the medium rather than short term."
While the package provides farmers with a comprehensive spraying solution, the question remains whether or not farmers can retrofit the technology to their existing machines, regardless of make, power and model.
The answer, according to both Katupitya and Schelosky, is yes. However, it won't be without some customisation.
"The software is flexible in that it can be customised to suit different machines, makes and models but that will depend on market demand," Schelosky says.
"The first system we developed here is suited to a Kubota tractor with 44hp, so do we diversify the technology for different tractor makes in the same horsepower range,  or do we diversify it to a larger tractor range?
"That's all possible but market demand will steer us in the right direction."
As for Katupitiya, commercialisation does not spell the end of his work on the SmartSeeder or autonomous steering technology.
"Our current research is directed towards increasing the speed of the machine which is currently at 15km/h," he says.
 "The technology is not only applicable in agriculture but also in goods transportation and mining; and machines in these operations cannot go at 15km/h and make a profit so they need to operate at much higher speeds. "
"So we're focusing on not only getting better speeds but also better precision."
At this rate, it looks like agricultural machines are winning the autonomous race against cars, with Katupitiya expecting this kind of technology to be commonplace on farms in five years' time.
However, he thinks cultural change is one of the biggest obstacles to overcome in order for the technology to be seen, heard and most importantly, accepted.
"Australian farmers are usually very progressive but everyone is sceptical in some way," he says.
"Farmers need to be looking over the fence to see how it can work for them and then make their move from there.
"But once cultural change occurs, the floodgates will open."
When it does, Australia will see its name big and bold on the world agricultural map.
You can also read the full feature in Farms and Farm Machinery magazine issue 328. To subscribe to the magazine, click on the relevant link below:

Subscribe to our newsletter
Sign up to receive the Trade Farm Machinery e-newsletter, digital magazine and other offers we choose to share with you straight to your inbox
You can also follow our updates by liking us on Facebook. 

Graders For Hire | Cranes For Hire | Telehandlers For Hire | Excavators For Hire