Top Australian agricultural inventions
---
In conjunction with Australia Day, we take a look at some of the most innovative agricultural inventions ever created in our own backyard.
If we take a look at the current state of the Australian agricultural machinery market, it is apparent that big overseas brands are taking up a huge chunk of the market and local products are almost nowhere to be seen.
In fact, locally built machines are few and far between, with factors such as rocketing manufacturing costs getting in the way of businesses possibly turning around any profit.
However, several local warriors are certainly not deterred by any of that, having successfully recognised market needs and coming up with their own products that have taken the local agricultural sector by storm.
We take a look at some stellar examples:
Soilkee renovator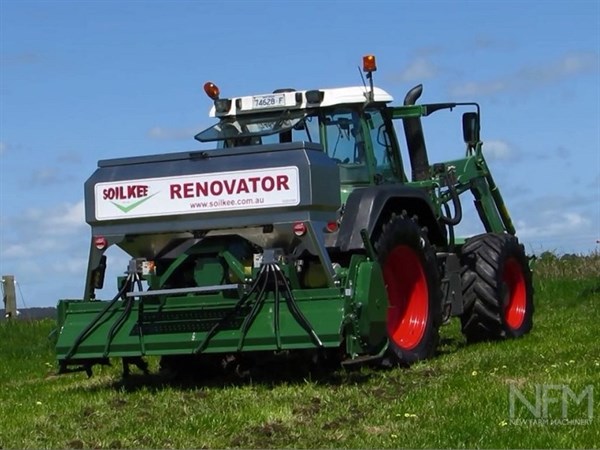 West Gippsland dairy farmer Niels Olsen's wrecked paddock changed his life forever. After ruining his soil and pasture by adding fertiliser to already acidic soil, Olsen decided to learn everything he can about soil biology and from there started up a successful fertiliser business.
Enter the Soilkee Renovator, a machine Olsen created using his new-found knowledge which improved his soil so much, pasture and crop yields are doubling in just a few months.
"I wanted to work up a little area that would give the seed a good go in the pasture situation. We developed the renovator to aerate out on the sides so it actually helps the pasture as well," Olsen says.
Watch our exclusive video interview with the brilliant inventor.
Heath Rowe Family Trust Combine Harvester Fire Prevention Shield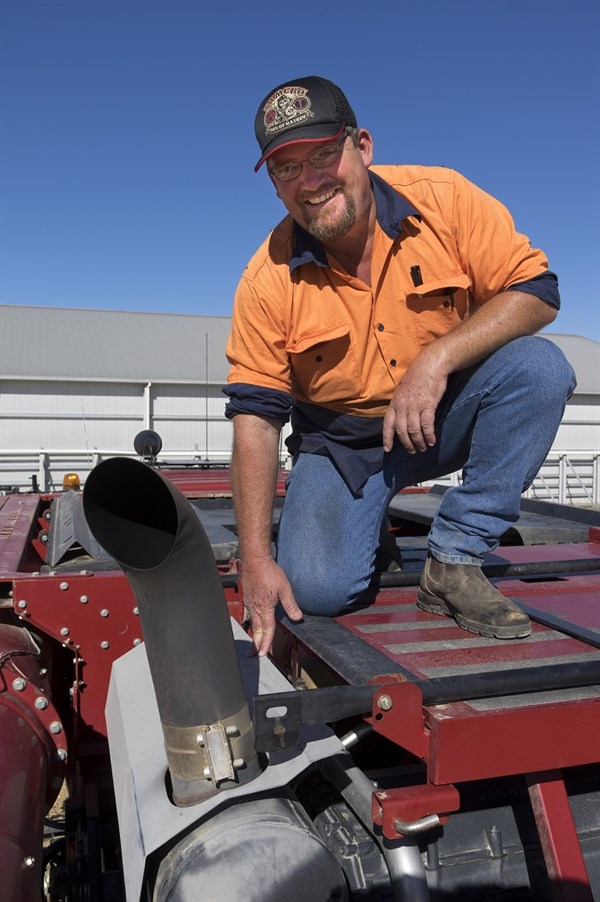 Self-taught engineer Heath Rowe was harvesting a mate's chickpea crop when a near miss gave him an idea for a way to prevent heat building around a combine harvester's muffler.
It wasn't anything complex but it has helped prevent heartbreak from combine harvester fires right across the country.
After some tinkering around and three years in development,  Rowe managed to create the Fire Prevention Shield, a marine-grade aluminium attachment which fits over the muffler of a combine with a bracket.
What it does is simply redirect and increase the velocity of airflow around the muffler.
Find out more from our exclusive video interview with the inventor himself.
Farm Pro self-folding triple paddock roller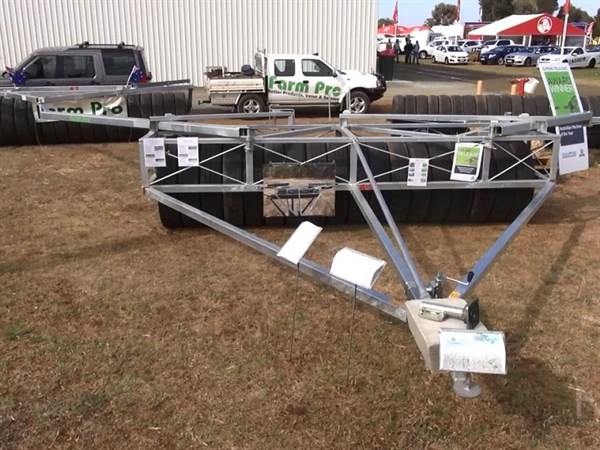 Another simple yet effective device, the Farm Pro triple paddock roller even snagged a prestigious award at the Elmore Field Days for its innovation.
The device, designed and manufactured by St Arnaud based business Farm Pro requires no hydraulics to run, and serves to lightly compact the soil after sowing, allowing for better germination.
"It is what we call a controlled traffic management machine. It's 12m wide and collapses down to less than 4.5m which is a magic number with VicRoads," says Farm Pro managing director John Cochrane.
Find out more about the Farm Pro triple paddock roller.
Flatrac wheel track renovator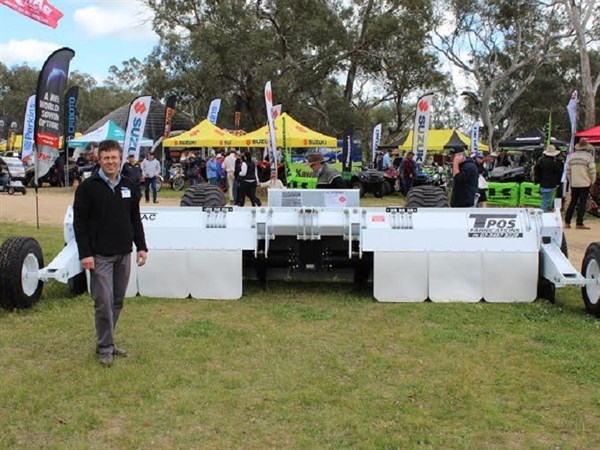 Another award-winning machine, the Flatrac wheel track renovator is as unique as it gets.
The machine, designed by Victoria-based TPOS Fabrications, has been designed to repair wheel ruts in controlled traffic farming operations without disturbing soil structure.
It features augers that sweep the soil into the middle of the track; a hydraulic drive that operates the augers; gauge wheels on each side of the machine that sets its working depth; and large packing wheels at the back of the machine which serves to compress the soil to make a flat and level track.
TPOS Fabrications director Neale Postlethwaite says interest in the machine from the public since the winning of the award has been phenomenal.  
Watch our video interview with Postlethwaite from the Henty Machinery Field Days and stay tuned for a detailed review on the Flatrac on TradeFarmMachinery.com.au soon.  
Haze Ag spreader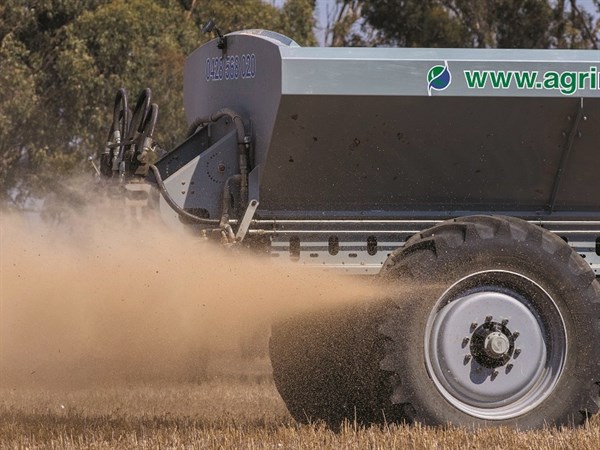 More than 35 years ago, New South Wales contractor Richard Hazelton purchased two new spreaders he now describes as absolute duds which let him down badly.
From that time he decided to make it his personal challenge to design, build and distribute a machine that would service his needs and also those of the wider farming and contracting community.
Hence, the Haze Ag fertiliser spreader was born. Perhaps the most defining feature of his machines is the spinners which rotate in the opposite direction to that of many of its opposition.
Hazelton says rotating the spinners in an inward direction creates an overlap in the centre resulting in a really even spread pattern.
Word about his invention really spread (no pun intended) and as a result Hazelton received a 'Highly Commended' award for his spreaders at the 2015 Henty Machinery Field Days.
Watch our video review of the machine.
DAFF dual herbicide sprayer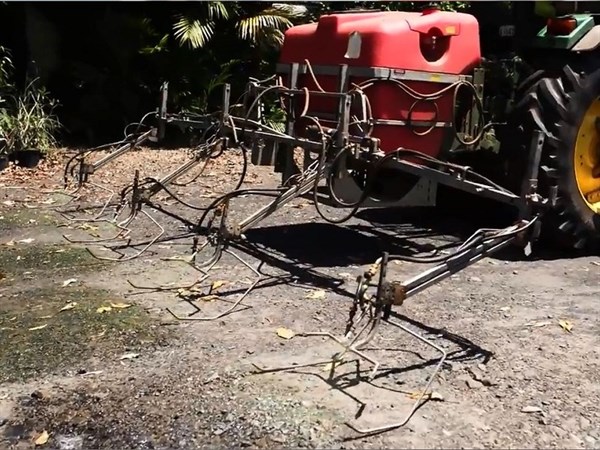 When Australian cane growers asked for a fuss-free and effective sprayer, the Queensland agricultural department went to work and came up with the innovative dual herbicide sprayer (DHS).
Make no mistake, it is nothing complex and massive but in fact is just a small stainless steel bit of apparatus with a few nozzles that can direct one herbicide to the inter row and another to the row.
The apparatus was designed by Jack Robertson and Allan Blair who are both employed by DAFF as  extension officers.
"Cane farmers were looking for a system for applying non-residual herbicides like glyphosate and Roundup to the inter row while utilising pre-emergent residual herbicides for the row," Blair explains.
"The idea is it can replace the usual mix of more expensive residual cane herbicides which have to be sprayed over the whole paddock.
"It can be fitted to an existing Irvin type boom spray and is particularly useful for controlling difficult weeds that occur in the inter row, such as sour grass and guinea grass."
Watch our video review of the sprayer.
CropScan 3000 grain analyser
This is an outstanding example of an innovation that has successfully attracted the attention of big fishes like Case IH and New Holland.
The CropScan 3000 grain analyser differentiates itself by measuring protein and moisture in grains which no other product on the market can do.
The award-winning system was developed by Sydney based business Next Instruments which manufactures and exports its range of analytical instruments worldwide.
Besides winning an innovation award at the 2015 Wimmera Machinery field days, the CropScan 3000 has also scored several big wins recently by securing partnerships with leading manufacturers such as New Holland and Case IH to offer the grain analyser on all the companies' new combines.
Find out more about the innovative product.
Subscribe to our newsletter
Sign up to receive the Trade Farm Machinery e-newsletter, digital magazine and other offers we choose to share with you straight to your inbox
You can also follow our updates by liking us on Facebook. 

Graders For Hire | Cranes For Hire | Telehandlers For Hire | Excavators For Hire