Achacha fruit: the new superfood
---
On top of providing a unique taste sensation, the virtually unknown Achacha fruit is also packed with health benefits. COL JACKSON visited the world's first commercial plantation in North Queensland.
An Achacha tart recently took the prize in a popular national cooking program, and on a farm near Giru in North Queensland while a husband and wife of 49 years were witnessing another step forward in their venture to commercially produce a virtually unknown fruit native to Bolivia.
The Achacha tree is similar in appearance to the mango, and from a distance, they meld into the local environment where mango plantations compete with fields of sugarcane.
It can grow to 10 metres, but for ease of picking, the tops are trimmed to 3.5 metres and bases are 'skirted' to access the sprinkler system.
Achacha and its origins
Its origins are in the tropical lowlands of the Amazon Basin of Bolivia, in the Santa Cruz region.
The Achacha is closely related to the Mangostein, which is acknowledged across the globe as the queen of tropical fruit.
A delightfully tasting fruit not unlike the lychee in size and inner flesh, the Acacha's husks are incomparable in many ways.
It is the size of an egg, golden in colour, and described by taste experts as having a unique flavour — sweet, tangy, delicious, much like a sorbet.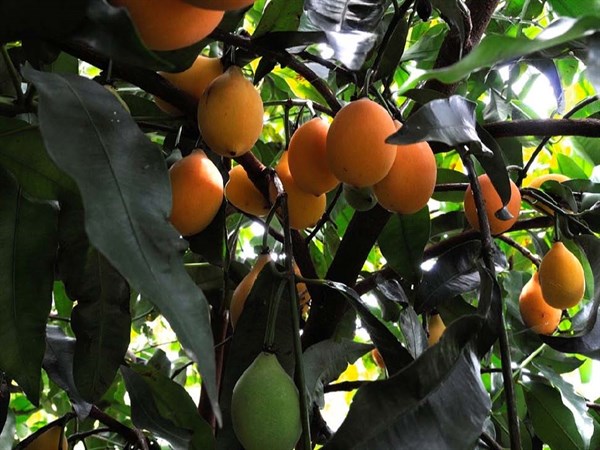 There are believed to be approximately 7,000 fruiting trees in Bolivia; there were more, but a forest fire a few years ago destroyed a large number of mature trees in the key growing area.
While the general botanical name for the fruit is Garcinia humilis, in Bolivia it is known as the achachairú, meaning 'honey kiss' in a local Indian language.
There are 10 or more similar varieties, but the one with the most flesh per kilogram is the one being grown in Giru.
In Bolivia, the Achacha is a relatively basic crop, where individual orchards generally have between 100 and 200 trees, and are tended by community groups.
Closer to home
Yet, on a 300 acre farm at Palm Creek between Townsville and the Burdekin, Helen and Bruce Hill and their small yet dedicated team of farm workers, have an extreme faith in the future of an Achacha industry in the tropics.
It cannot be grown in areas where the temperature gets below seven degrees.
Here in the foothills of Mt Elliott, they have developed the largest Achacha plantation of its type in the world (that they know of), and have become international pioneers in growing the South American fruit.
Their operation is one of continual research and development, where even the Bolivian authorities cannot offer any knowledgeable advice relative to its horticulture and traits.
Bruce and Helen moved onto their farm in 2002, and currently have 16,000 trees. Helen is the marketing executive while her husband maintains the farm with a small band of workers.
Initially they started the plantation with a commercial grower, but when he returned to his first love, growing vegetables, they took the opportunity to relocate to the plantation and directly manage the farm activities.
"I have always been interested in good health and eating well-grown food, but I didn't think I would end-up actually doing the growing and becoming passionate about healthy soil," says Helen, a former artist and curator of fine art exhibitions.
The trees take seven years to grow, and are now in their sixth year of production. Some trees were lost in Cyclone Yasi and recent floods.
"Each year, as the trees mature, the crop increases, and so does the demand," Helen relates as we drive along the 1km long rows.
The farm is not just about Achacha; there are 3,000 African Mahogany trees, up to 20 metres tall, that serve as wind breaks, plus coconuts, soursop, jackfruit, lemon, star apple, star fruit and lychees. There is also a small herd of Brahman cattle.
A delectable side-product of the farm is Achacha Honey, which has become an extremely popular by-product.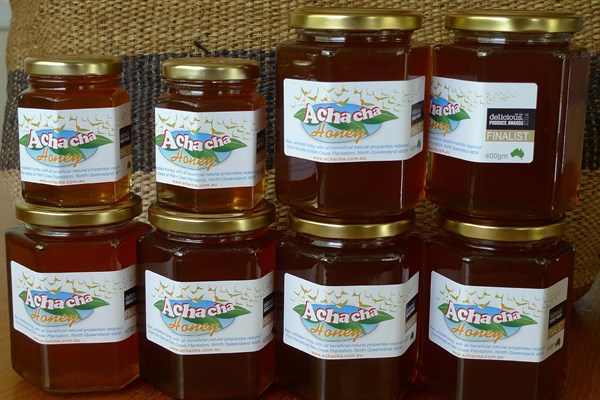 Swarms of bees are attracted to the flowers, and last season 40 triple hives were installed within the plantation to take advantage of this tasty resource.
Also in the value-added mix is an Achacha Tropical Conserve.
Nutrition packed
Helen sees a big future for the tropical fruit industry in northern Australia, and her drive and motivation is palpable.
Helen stops the ute and walks to a group of trees, returning with hands full of fruit.
"There's an art to opening them," she advises: "Just pierce the outside with a fingernail, then take with two hands and twist."
For someone who doesn't have a sweet tooth, they are divine.
"After you've eaten the flesh, you can put the skin in water; this draws the goodness out of the husk and provides a refreshing and nutritious drink after about 12 hours.
"We're working on the manufacturing processes for the drink," she says.
Refering to the Achacha tart made by Rose Adam on Masterchef aired June last year, Helen adds "The pulp makes an excellent dessert." 
"And the fruit can be frozen in its skin, and used as a palate cleanser during the off-season."
The health benefits of the fruit have long been recognised in Bolivia, its country of origin.
Now academic researchers from the School of Science and Health at the University of Western Sydney, who have been studying the properties of the fruit, its skin and pulp over the past year, found
"high levels of hydroxycitric acid (HCA) and surprisingly high levels of arginine (which) can be extracted simply by soaking the Achacha skins in water."
"In moderate to high concentration," the report notes arginine, an amino acid, "can help improve blood flow and other aspects of cardiovascular health. It may also prevent excess accumulation of fat in the fat cells."
Helen is the fruit's most ardent advocate: She describes it as a unique taste sensation for fruit lovers, which makes delicious sorbets and granitas, amongst other things.
It has a long shelf life provided it is kept above 10 degrees in an enclosed container. It is not to be refrigerated.
The Achacha is non-climacteric: once picked, it does not continue to ripen.
This creates an issue with the right time to pick, yet the fruit can stay on the tree for quite some time after ripening.
"Fruit ripening is consistent with the amount of sun and temperature available," says Bruce, "which makes it an ideal fruit for the tropics."
Machines and soil
"Because we're pioneers, there isn't the machinery, so we have had to design our own," she adds.
Back at the packing shed, former Burdekin cane harvester operator and cane farmer, Gary Parker, with local farmer Graeme Bussey are checking equipment they have already manufactured — some of which is innovative, even ingenious.
"The fruit is very easy to pick, that's the easy part," says Helen. "It's maintaining the crop that takes much more work."
The farm has become totally organic though not certified, and Helen went into some depth as to why they deem this to be a better way:
"We found the trees had become dependent on chemical fertilisers, resulting in unwanted pests and other problems and the trees required more and more herbicides, pesticides and artificial fertilisers each season.
"Our costs were unsustainable. The soil was effectively a carrier of expensive inputs, no earthworms, no beneficial microbes, or fungi, no organic matter, no humus, nothing to absorb carbon from the atmosphere. That was when the steep learning curve kicked in," she said.
She quotes Soil Food Web Ingham founder Dr Elaine Ingham: "Basically, her message is: if you are interested in your health, you have to be interested in soil.
"Soil is this hidden world under our feet that allows our planet and our society to thrive. But far from nurturing the soil that feeds us, modern agriculture often destroys it."
Importing the seeds
While the Bolivian Government zealously protects its native products, after extensive negotiations with government agencies, Bruce and Helen Hill, through their company, Achacha Fruit Group (AFG), were able to establish protocols where permission was granted for them to take seeds out of Bolivia.
As a result, AFG was required to obtain Plant Breeders' Rights to the Achacha in Australia to protect its propagation here.
The Australian Quarantine Inspection Service (AQIS) was also involved in the negotiations prior to the importation of the seeds, and had them fumigated upon arrival in Australia.
From here on, every step they made was research and development, and this continues today.
The fruit has never been grown in plantation conditions anywhere in the world — even Bolivia — and while they are grown in semi-shade in their native country, in the foothills of Mt Elliott they grow in the open.
Selling and exporting the fruit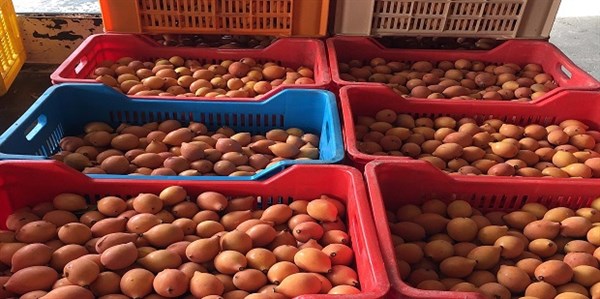 This year marks the fruit's sixth season in the Australian market. During a 15-week picking season, which runs from December to March, up to 30 backpackers are hired to pick the fruit.
The majority of the fruit is consigned to markets in Townsville, Brisbane, Sydney and Melbourne; small quantities are sent to the United Kingdom and Europe, especially Paris, where they end-up in upmarket stores like Harrods and Marks & Spencer.
Their drive to take this domestic Bolivian fruit to an international audience has been a journey into the unknown, but every step they take is a step forward.
And with two sons working in Europe, it has become a family affair that has led to some enterprising discoveries.
Europe had never heard of the Achacha until horticultural trader Wayne Prowse, then of Horticulture Australia Limited (HAL) and now with the Southern Hemisphere Association of Fresh Fruit Exporters, took some boxes of the fruit to the world's largest fruit and vegetable fair, Fruit Logistic Berlin, which attracts 75,000 trade visitors.
The following year, AFG was invited to enter the Innovation Awards run by Fruit Logistica. Despite the large number of entries, they made it into the top 10, which entitled them to a very small stand.
Sweet success
Helen added: "To our surprise and absolute delight, we came in at number three, over some of the biggest names in the business."
Bruce and Helen have two sons, who work in Europe and Thailand, and although so far away, are integral to their Achacha project.
Son Adrian is an urban designer who lives in Brussels, and uses his computer skills to design all advertising and promotional material, taking it to the print stage. He worked on the Achacha stall in Berlin.
Their other son, Justin, is a mechanical engineer who, with the use of a Thermomix, has discovered a method to pulp the fruit by taking the skins off, and allows for readily made sorbets and commercially-produced gelato.
 "It's simply astounding ingenuity how it gets the skin off," says Helen.
There is much potential for the future for Achacha Fruit Group as the sole commercial operator in the world, and they are seeking to license the operation in Australia.
There is no limit to their expertise or faith in future prospects for the fruit: lack of capital is their only barrier when it comes to exploiting the available opportunities.
Helen can be found addressing conferences and seminars down the east coast, and her marketing approach has been extremely successful — despite being carried out with no budget.
Subscribe to Farms and Farm Machinery magazine for more farm machinery news, reviews and features:

Subscribe to our newsletter
Sign up to receive the Trade Farm Machinery e-newsletter, digital magazine and other offers we choose to share with you straight to your inbox
You can also follow our updates by liking us on Facebook. 

Graders For Hire | Cranes For Hire | Telehandlers For Hire | Excavators For Hire