Old vs new: Toyota Hilux hay run across the outback
---
In a battle between old and new, MATT WOOD and STEVE BROOKS took a 1989 Toyota Hilux and its 2016 successor, the HiLux SR 4x4 on a hay haul across drought-stricken outback Queensland to see how they both stack up.
Find Toyota Hilux for sale on WhichCar.com.au
"Queensland!" exclaimed the fella in the bush hat. "That ute hasn't been past Hurstbridge for over 15 years!" 
My neighbour Adrian is aghast. I'd bought his beaten up old 1989 Toyota Hilux as a wood getter for $1000, and now I'm telling him I'm taking it on a trip to drought-affected Outback Queensland with a load of hay on its back and a couple of big bales towing behind on a trailer.
To be fair, Adrian had bought it new back in 1989 and put over 300km on the clock. It still even has the owner's manual in the glove box. It just looks a little … used!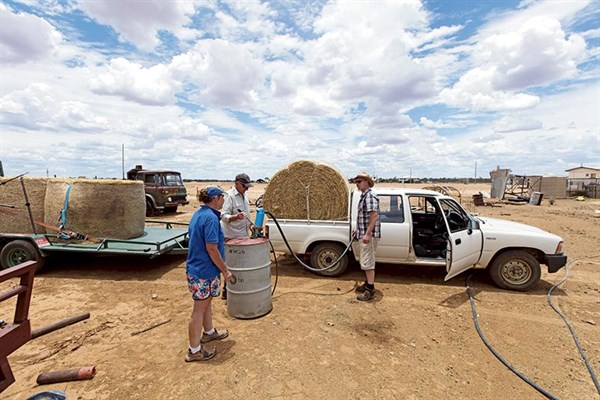 "Well," I reply, "they reckon these old bangers are pretty tough, so I guess we'll see just how tough."
More to the point perhaps, 2015 saw the much awaited arrival of an all-new Toyota HiLux. And Toyota has made much of its 'unbreakable' reputation following its launch.
So I figured, what better way to have a look at both the heritage and the future of the venerable Hilux than with an extended trip out into the bush? Two tandem trailers, six round bales of hay, and 2600 kilometres of sweltering highway.
It's a big enough trip for a brand new vehicle, but it was going to be a mammoth task for a 25-year-old, 2.4-litre petrol powered two-wheel-drive farm hack with 306,000 kilometres on the clock.
Those in the know reckoned the old girl would be just fine. Others thought I was going to kill it for sure.
However, very soon a shiny new HiLux SR 4x4 tray back also arrived in my driveway, complete with roo bar, snorkel and tow bar, and looking every bit like the intrepid outback traveller.
The old HiLux in comparison seems every bit like it was two steps away from a trip to a scrap metal yard.
The New: 2016 Toyota HiLux SR 4x4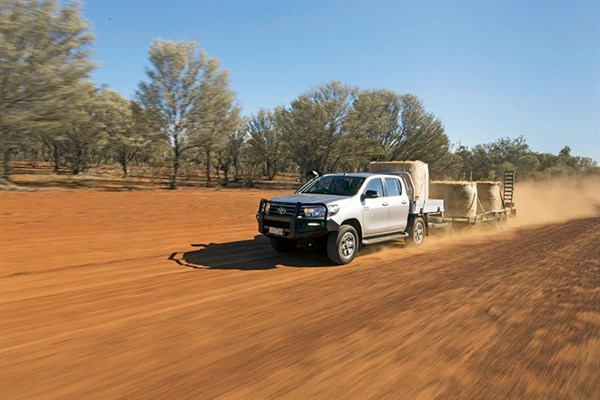 The new ute shares its platform with the new Fortuner SUV, and both have a new 2.8-litre diesel engine that is, in turn, common to an updated Prado.
The HiLux impressed on my first drive not long after its local launch. The chattering old 3.0-litre donk has been turfed, with 6-speed manual or 6-speed auto transmissions now on offer.
Four-wheel-drive models now use a shift-on-the-fly transfer case selector, and the interior owes more to modern day car buyer expectations than those of the traditional work truck.
For some time I've been trying to get my head around the loyal following that the Toyota brand has built out in the bush.
Even as trucks like the HiLux face sales challenges from usurpers like the Ford Ranger, rural Australia stands loyally by the brand, even when others may be better equipped or represent better value.
Other vehicles may be pretty quick to bring a smile to the face when you're planted in the driver's seat – yes, I've been guilty in the past of pointing out some of the more boring qualities of driving a Toyota, using words like bland or beige.
However, my first drive of the new HiLux gave me cause to stop and ponder some of my preconceptions. 
RELATED: Ute Shootout part 2: Toyota Hilux vs Ford Ranger vs Volkswagen Amarok vs Mazda BT-50
RELATED: Ute Shootout: The Verdict
Drought-stricken
The drought in Western Queensland has been in the news quite a bit of late, as well over 80 per cent of the state squirms in the parched grip of a drought that is now entering its fourth year.
In fact, some parts of the state have been dry for nearly five years, and many have been calling this drought the worst in living memory.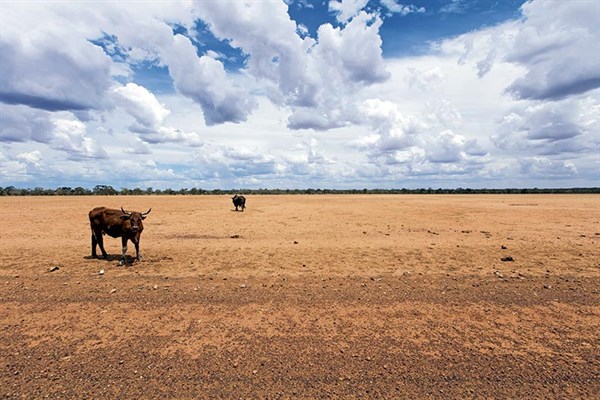 Farmers have been battening down the hatches in an effort to stave off the inexorable creep of the drought, with some destocking as much as possible, yet still clinging to their breeding herds.
Others have completely destocked to ride out the dry. The personal toll on farmers and their families is massive.
Basic necessities are being skimped and machinery is being sold off as some attempt to keep their heads above water. 
Aussie helpers
A few non-profit organisations have been endeavouring to provide help to those in need, and Charleville based Aussie Helpers is just one bush charity that has been working hard to give some meaningful aid.
Brian Egan runs Aussie Helpers and has been working seven days a week to keep assistance flowing out where the rivers and creeks run dry.
The Aussie Helpers team clocked up over half a million kilometres during 2015 and helped over 1100 people.
So we took the opportunity to meet up with Brian on a pre-Christmas hamper run to some properties in the Quilpie and Adavale areas to see the severity of the drought first hand, and we thought we'd deliver a little hay along the way.
Coincidentally, our modest load of hay came from the Central Victorian property that used to belong to my grandfather.
It seemed rather poignant to be taking the product of my ancestral soil to properties two states away, even if it was just a token gesture at this stage.
Off we go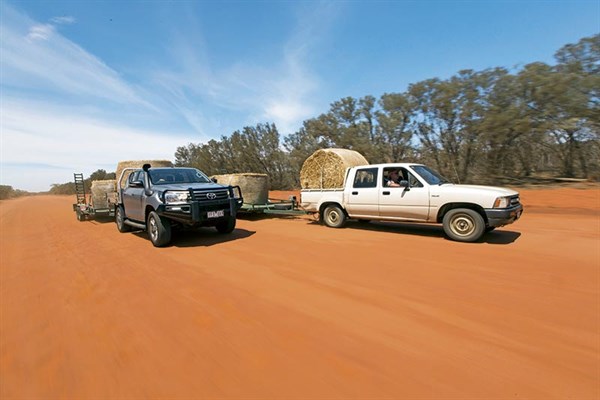 I enlisted the help of respected colleague and long-time transport journalist Steve Brooks to help out with driving duties.
We agreed to switch vehicles along the way to gain a bit of insight into just how far the HiLux has come over the years.
As we loaded both vehicles, I must admit to being a little concerned as I watched the towbar of the old ute sink towards the ground with a load on its back.
But a little shuffling got the balance right, and with both utes loaded we hit the road.
As we headed towards the Victorian border, I was again a little worried that I may have been asking a bit much of the old banger.
A head wind saw me stuck in 4th gear at about 80km/h, and a thunderstorm saw me back to 3rd as I peered through the lashing rain.
With a tonne of hay on board and nearly a tonne of tandem trailer behind, the old Hilux was pretty much at maximum legal payload.
By contrast, the new SR was just idling along with the same load. The trend towards taller gearing in virtually all new vehicles meant that the new HiLux rarely saw any time in 6th gear when loaded.
But even in 5th the tacho needle was under 2000 rpm while cruising at the limit.
Handling the heat
The mercury stayed in the high 30s as we headed through Cobar and on to Bourke.
Steve had his stint behind the wheel of the old dual cab while I took advantage of the air conditioning in the new beast.
Road speed was pretty much determined by the temperature gauge of the old ute, however it still just plugged away, only needing a stop in the shade to cool off on a couple of occasions.
Parking the two vehicles side by side was a pretty good indication of just how much has changed in the ute market.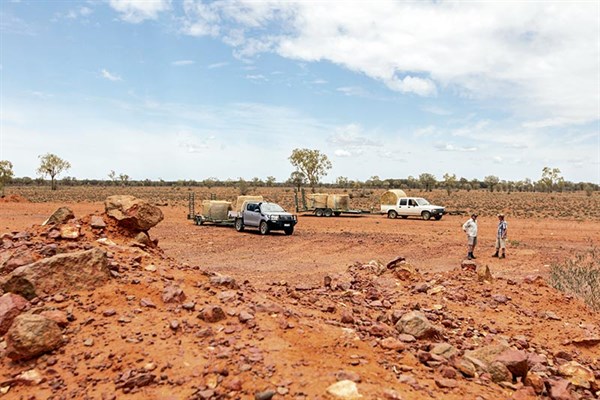 The bare bones old workmate is smaller and lighter – the current model dwarfs it.
Today's dual cab utes now stretch beyond five metres in length and the back seat is no longer just a cramped afterthought.
Airbags and all manner of electronic stability aids aim to prevent accidents and protect occupants if there is a collision.
We roll to a stop at the turn off to the remote hamlet of Adavale (population 20). Brian is already waiting for us in his tinsel covered LandCruiser troopie, eager to get going and deliver some Christmas cheer.
Spreading Christmas cheer
Brian and his wife Nerida started Aussie Helpers over 13 years ago after Brian was hospitalised with depression and post-traumatic stress disorder (PTSD).
A Navy veteran and later a farmer, Brian and Nerida lost their own farm on the Darling Downs due to drought.
During his recovery, a counsellor suggested that Brian should find someone worse off than him and help them.
It was this suggestion that saw the birth of Aussie Helpers. From humble country pub hamper raffles to thrift shops, the organisation has grown to run a modest fleet of vehicles distributing everything from toiletries and food to hay to those in need out in the bush.
With Brian leading the way, we set off up the 125 kilometres of dirt road leading to Adavale. It soon had me thinking that maybe I really was going to kill the old ute.
With the exception of a couple of optimistic stretches of asphalt, it was like an endless cattle grid that had my teeth jumping in my head. I was sure something important, like maybe the gearbox, was going to fall out. Yet with a bit of care it still continued to chug along.
By this time, Steve is at the wheel of the new ute and enjoying the air con, while I quickly become coated in a film of red dust. North of Adavale we pop in to see Debbie and Ben Pegler at their 190,000 acre property.
The Peglers are weathering the dry stoically, putting out licks and holding onto their 900 head breeding herd.
This area has the advantage of some artesian water and Debbie keeps the garden around the house lush.
"It just makes you feel better to look out the window and see some green," she says. Son Darcy is helping sand floorboards upstairs in the absence of any stock work to do. After the holidays he's off to university.
We drop some more hay at Leopardwood Park, which is owned by Vin and Jenny Richardson.
Like many of the stations in this area, Leopardwood Park was historically a sheep property, though cattle mainly dominate now when times are good.
The 77,000 acre station is relatively modest in size by local standards. We have a cuppa with Jenny and son Max.
Brian distributes his hampers and chats to both mother and son. Leopardwood is now pretty much destocked while the family contracts with the local shire, carrying out road maintenance with their own heavy machinery.
This sees the family away from home quite a bit while earning a crust. Again, sulphurous sub-artesian ground water keeps the house block cheerfully green.
It's an unlikely green dot on an otherwise parched red and brown patchwork landscape.
Our last stop was the historic Milo station. Established in the 19th century, Milo was a massive sheep property well into the 20th century.
The beautiful homestead is surrounded by slowly buckling outbuildings warping in the fierce heat.
Nobody is home so Brian just unloads his cargo of hampers and leaves them for the family to find when they return.
Steve and I manhandle the last bales of hay into a shed and listen to the old Hilux almost sigh with relief as it slowly springs back up on its suspension.
Homeward bound
With both utes now empty, Brian is keen to get back to Charleville before roos get too bad on the evening run home.
We head back to Adavale for a cold drink before hitting the road.
It has been a hell of a journey. Desiccated road kill baking in the sun as big trucks thunder out of the heat haze on lonely highways.
And stoic country dwellers, reluctant to complain too much about their circumstances, just riding out the storm, searching an empty horizon for rain clouds.
Toyota's reign in the bush
My crappy old farm hack gamely chugged from Melbourne to Western Queensland and back to Brisbane, a 3000km round trip, without even a hiccup.
I found myself getting strangely attached to the ugly old bucket.
Nevertheless, the new HiLux seems a worthy successor.
Some may say that it's gone a little soft in an effort to compete with other offerings on the market.
But after spending hours behind the wheel of the new jigger, both loaded and unloaded, and on a variety of road surfaces, I have to say that my initial impressions haven't changed.
It's quiet and comfortable with highway legs for a big country. Yet it still retains that Toyota kind of pragmatism about its operation.
It really does feel at home on an Australian country road. And maybe that's why virtually every property we stopped at along the way had at least one Toyota in the shed.      
Specifications
2016 Toyota HiLux SR 4x4
Engine: 2.8 litre turbo-diesel
Power: 132kW/420Nm (man) 450Nm (auto)
Transmission: 6-speed manual/ 6-speed auto
Payload: 925kg
Towing: 3,500kg (man) 3,200kg (auto)
1989 Toyota Hilux Workmate 4x2
Engine: 2.4 litre naturally aspirated petrol
Power: 84kW/ 192Nm
Transmission: 5-speed manual
Payload: 981kg
Towing: 1,800kg
Subscribe to our newsletter
Sign up to receive the Trade Farm Machinery e-newsletter, digital magazine and other offers we choose to share with you straight to your inbox
You can also follow our updates by liking us on Facebook. 

Graders For Hire | Cranes For Hire | Telehandlers For Hire | Excavators For Hire