Profile: A switch from farming to tourism
---
Longreach tourism operator Richard Kinnon took to the industry after five years of drought. He talks to Col Jackson amid a mass of memorabilia and a publicity-conscious menagerie.

For someone who has never seen the inside of a classroom, Richard Kinnon is, if nothing else, a shrewd businessman with a keen eye for opportunity. He's the epitome of the old-style entrepreneur that once roamed the bush providing slapstick comedy where no two shows were the same.
The names George and Grace Sorlie and Bobby Le Brun came to mind as Kinnon relates the objective of his old-time tent show that utilises a small patch of dirt directly behind an old pub shopfront in Longreach's main street.
"It's not a circus, and I'm not trying to follow the types of shows that abound in the United States," he emphasises. "I don't want it to be perceived a circus. Neither is it a rodeo; and I don't see myself as a showman."
I relived that past while watching Kinnon and his sons ad-lib their way through the show, supported by a camera-conscious dog, a smart white horse that responds to particular comments and plays the fool, plus an array of farm animals that entertain and amuse. There is always a packed 'house'.
In a strangely unique way, he tends to epitomise Harry Redford. Not in an idiosyncratic way, but evidenced by a strong respect for his skills as a bushman and drover at a time when the outback was still to be conquered.
The show is the prelude to a Cobb & Co coach ride through Longreach streets (including the main thoroughfare) and a gallop on the Town Common. Upon their return, tourists sit down to smoko or lunch catered by mother and daughter. The entire cast is dressed in period costume of Australia in the early 1900s.
Having been invited to Longreach especially for the red carpet launch of the Starlight Spectacular Sound-and-Light Show that runs in conjunction with an extension of its tourism base — the Thomson River paddle steamer cruise — I begin to analyse the man: he's definitely a fan of renowned cattle duffer Harry Redford, otherwise known as Captain Starlight.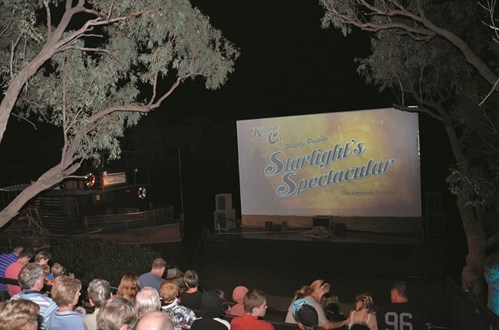 The light show tells the folklore behind the charming bushman and expert drover who calculated that outback stations, like the Scottish-Australian run Bowen Downs, were too large to manage stock properly. Redford and his cohorts drove stolen cattle 800 miles (1,300km) down the Cooper through country (now thought to be the Strzelecki Track) where Burke and Wills had perished 10 years prior.
Redford's undoing was a magnificent white imported bull, which culminated in a trial at Roma on February 11, 1873, where a "not guilty" verdict drew the now famous statement from Judge Blakeney: "I thank God that the verdict is yours, gentlemen, and not mine".
The more viewers know of the Captain Starlight legend, from which history and myths have survived and multiplied, the more they will understand the story behind the superbly produced film shown on the banks of the Thomson after night falls.
It is a credit to all involved, especially Kinnon, his wife Marisse, daughter Abigail, and sons Jeremy and Lane.
There are others working within the company who, combined, create a family atmosphere within the business: Kinnon's aunt, Fran, is in charge of the Station Store, one of those old-time outlets that boasts just about everything. Glenda Daly is the marketing manager; her husband, Grant, drives one of the river boats. Michael Pole drives a company coach; his son 'Poley' gets a cameo role in the show during the school holidays.
"I'm so fortunate to have the kids in the business. It's got to work for us to survive," Kinnon adds.
Yet to over-view the Kinnon & Co tourism operation, and its share of tourism awards, is to realise that they are carving a path to a future that will give Longreach 'another string to its bow,' while adding further value to corresponding tourism ventures in western Queensland.
It is also an example of how rural and outback towns can harness value from tourism.
As he relates his life story from grazier and stud breeder to Longreach tourism operator, Kinnon cracks a wry smile as he tells of studying by pedal wireless.
"Mum didn't understand how the terminals worked, and if we didn't want to do schoolwork, we would switch the connections and the radio ceased to operate."
He was brought up on the family's long-established Bungoona Brahman Stud at Clermont. When he went to work, Kinnon's father ensured he had a tough upbringing.
Of those years, he includes discussion of the legendary Jack Stanton, who taught him the ropes the bush way — and definitely the hard way.
He then bought a run-down sheep property.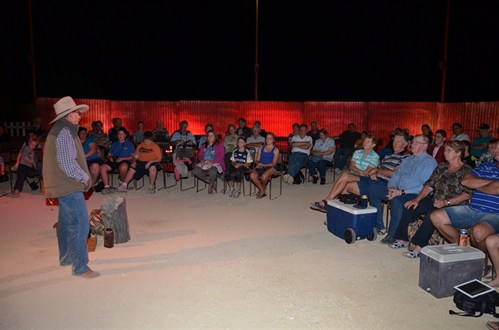 "I spent a lot of money; then came the drought, and I sold-off all the sheep," Kinnon tells.
He then bought 2,500 head of cattle, and drove them down the 'long paddock'. He later admitted defeat and sold the herd for 'peanuts'.
Kinnon decided to diversify, and with the tourism seed planted firmly in his mind, he ultimately constructed a stagecoach. The plans came from an original Cobb & Co coach that lay rotting in a western creek bed. Like so much memorabilia from early Australian history and its development, the original stagecoach holds pride of place within the building and is on display for all to see.
The year was 2006, and The Station Store was created in a former hotel that now stands as its headquarters. In another shopfront 150m away is a vital component of the Kinnon tourism strategy — its own travel agency and booking office.
In the same year the real-life Cobb & Co galloping experience was created. The coach is now utilised up to three times a day carrying 14 passengers at a time on an experience that leaves tourists with an array of memories of how travel was done in the days of horse-drawn carts and wagons. Each passenger has a headphone to hear Kinnon's commentary of how passengers spent up to four days in a confined space alongside the elite through to the down-and-out drunk.
Sons Jeremy and Lane recently built a new coach in nine days; it has passed a rigorous inspection and approval process, and is used when required.
Teams of four Percheron stock horses haul the coaches. Kinnon boasts of the feed regimen designed to keep them in fine fettle.
His overall story of the outback is one of feast or famine, trial and tribulation.
"That's how Australia works," he relates.
With all his money sunk into tourism, he recounts how the basic message has been built about heritage, live content, characters and landscape.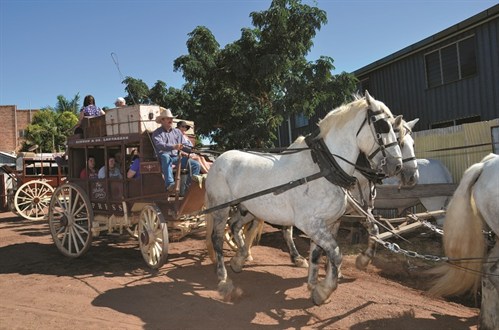 "Without this, the outback's got nothing," he says.
It was when he began to package the entire tourism operation that life became fast-paced, and every day presented a new set of challenges. Innovation was the key, and this led to the million star 'Clancy's on the Thomson' overnight tour.
This progressed further when Kinnon made an offer on a paddle steamer that plied the Thomson; this expanded the river segment of the package and ultimately led to the Starlight Spectacular Sound-and-Light Show.
It's a BYO evening that begins with the company coaches picking-up tourists from their accommodation houses and caravan parks, transporting them to the river for the first stage of the evening — the Thomson Belle paddle wheeler and the Thomson Princess Riverboat.
Afterwards, in an historical and mystical setting, there is poetry and a few bush yarns over a dinner of magnificent stew, damper, sweets, billy tea and coffee.
Then comes the latest innovation; the Harry Redford story is transformed onto a large screen mounted on a pontoon in the river. It's a portrayal of the Captain Starlight story that envelopes the audience into the natural bush that surrounds them.
It is a continuation of the old-time tent show that entertained tourists behind the town store into the natural Australian setting.
While the entertainment aspect was in place, Kinnon then discovered that if he was to have tourists as clients, it was essential that he be able to provide ready access to accommodation.
Established accommodation in Longreach came on the market, which he purchased and renamed Kinnon and Co Outback Lodges. They are within walking distance of the Stockman's Hall of Fame, and its outstanding Cattleman's restaurant and bar, and over the road is the Qantas Founders Museum, which also boasts a restaurant.
While Kinnon detailed plans for future expansion of the Lodges to complete the whole experience for the traveller, this was not to be the end of his plans, as I was about to realise.
He has just purchased a historic property on the outskirts of Longreach, and elaborates further on his plans for the future of tourism in the area.
He envisages heritage property tours that will take visitors back to the property's 1910 era. It will have cattle and sheep, and will include a horse stud.
At the launch of the Sound-and-Light show, Longreach Mayor Joe Owens paid tribute to the Kinnon family and all those who contributed to the success of the business in its seven short years.
"The work you have put into tourism here in Longreach has been an inspiration and a gamble, and you are to be congratulated.
"Though I'd hate to be your bank manager," the mayor quipped.
"We are all in tourism here in Longreach, and we do have some good tourism operators."
CEO of the Qantas Founders Museum, Tony Martin, which employs 35 locals, said that more than 40,000 tourists bring $9.3 million into the community each year.
"Tourism is built on three elements: colour, characters and integrity," Richard Kinnon says.


Subscribe to our newsletter
Sign up to receive the Trade Farm Machinery e-newsletter, digital magazine and other offers we choose to share with you straight to your inbox
You can also follow our updates by liking us on Facebook. 

Graders For Hire | Cranes For Hire | Telehandlers For Hire | Excavators For Hire