Profile: Australian chilli in high demand
---
If you're shopping for a quality, authentic chilli paste in your local supermarket chances are the puree ingredient is a product of Australia.

Jokes and anecdotes abound of the after-effects (or aftermath) of eating chilli. We've all experienced the mild/medium/hot experience, but these are the relatively simple, ordinary flavours these products bring to supermarket shelves.
Chilli varieties rate from sweet and mild to extremely hot, with potent adjectives used to match the experience of even higher levels.
The more well-known names include red and green cayenne, bird's eye, jalapeno and habanero; while the latter rates 8 out of 10 for hotness, it's still far from being the hottest.
Then there are the milder bullhorn, anaheim and Mexican poblano, the most popular in the central American nation — but still they get hotter.
In 2007, Guinness World Records certified that the ghost pepper (bhut jolokia) was the world's hottest chilli pepper — 401.5 times hotter than Tabasco sauce and rated at more than one million Scoville heat units (SHUs). The effect has been described as "like a thousand burning needles stabbing the tongue".
Classic Tabasco sauce ranges from 2,500 to 5,000 SHUs.
However, in 2012, the ghost pepper was superseded by the Trinidad moruga scorpion.
On December 26, 2013, the Guinness World Records rated the Carolina Reaper as the world's hottest pepper, relegating the ghost chilli to third place; it is now believed to have gone further backwards to fourth place.
Like many spices, the chilli and its reputation go back to the era of the Silk Road. In more recent times, it took a journey to Europe by a Bundaberg farmer, mechanical engineer and passionate innovator to be the catalyst for the humble chilli to become big business in the Burnett.
In the fields bordering Goodwood Road, just outside the city, are some 400 acres (162 hectares) of chilli used to keep the adjoining Austchilli factory working 360 days of the year. There are more than a million chilli plants in the ground at any one time.
Every two to three weeks some 20,000 chilli seedlings are planted to maintain a production schedule that requires 100 pickers in peak periods. They are permanent staff, supplemented by backpackers when required, who work 6am to lunchtime, six days a week. Some pickers have been with the company for more than 10 years.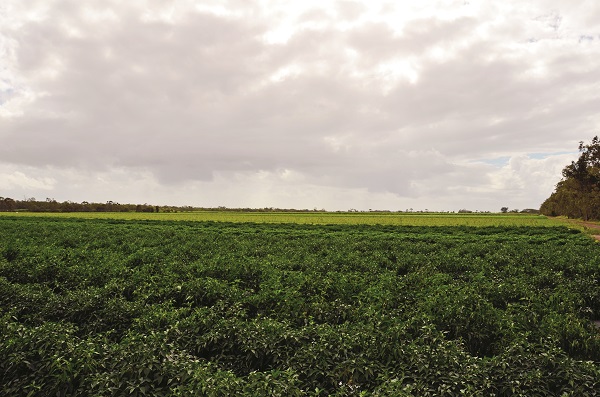 "Chilli fields forever," sing The Beetles
"We grow many varieties to suit many meal occasions," says Peter Hanigan, Sales Development Executive at Austchilli, as he describes the workings of the fast-expanding business.
It all began in 1995 when Bundaberg innovator and farmer, David De Paoli, took a trip to Europe looking for new ideas that would find appeal in Australia. Anyone who has visited the trade exhibitions and shows across Europe will realise the scope for agricultural production that can be adapted for Australian conditions.
De Paoli realised there were exciting opportunities to be had in the Burnett region, especially due to the fertile land and innovative people who are forthcoming with new ideas.
Upon his return, he began the process of establishing and developing a business based on value-adding agricultural produce that is readily grown in the region. Already Bundaberg was a source of herbs, sweet potato, pumpkin, capsicum and avocado.
He identified the potential for fresh chilli varieties in the Australian market and set about developing Austchilli, which has now become the largest company of its type in Australia, and leaders in hi-tech food manufacturing.
It is the largest fresh chilli grower and supplier, and the largest producer of chilli puree in Australia.
What produce is not grown on company farms is sourced close by.
When the soil is too hot to plant, farmers in the Stanthorpe region are contracted to grow for Austchilli. When it's too cold in Bundaberg, contract farmers in Home Hill and Bowen are engaged.
Premium grade chilli is certainly at its best when it arrives at the supermarkets and market agents. What's picked in the morning is dispatched that evening.
Sugar, ginger and rum aren't the only products that bring prosperity to farmers in the region, and chilli is not all that is produced on Austchilli's farms.
David De Paoli initially set about developing a unique processing and business approach. Having identified the market — no one manufactured spices and ingredients in puree form in Australia — within two short years he had engaged a small, dedicated team pioneering ways to value-add the fresh product, ultimately to supply chilli purees for the food manufacturing industry.
Aseptic chilli puree was developed and is now exported to multinational food companies globally. Extension of the developed technology led to the further value-adding of fruit, vegetables and herbs, which are also processed using similar technology.
As the largest enterprise of its type in Australia demand for its fresh and puree varieties continues to grow on the local and global market. Today, Austchilli manufactures and supplies 35 varieties of products to the food manufacturing industry, including leading international companies.
Peter Hanigan talks to Women in Sugar amid the chilli fields

"In thousands of products across supermarket shelves in Australia, customers are sure to find some puree ingredients that have been produced in the Bundaberg factory," Hanigan says.
Export markets include the Middle East, United States, Japan, Malaysia, New Zealand and across Asia.
To maintain ultimate freshness, the entire Austchilli ingredient range of fruit, vegetables and herbs is aseptically packaged; a technique that has revolutionised the way manufacturers maintain a consistency that preserves the unique freshness and taste of the products.
The innovation continued, and has since been applied to other produce, including on-farm produce like basil and lemongrass.
Austchilli's sister company, Pressure Fresh Australia, utilises an innovative and relatively new technique to Australia to manufacture Avo Fresh, which is available on supermarket shelves. It comes conveniently packed in tubes and tubs, making it easier for the consumer to use and store.
High Pressure Processing (HPP) allows food to be processed without preservatives, which achieves greater benefits for the consumer.
The mix of expertise within the company is perhaps its greatest asset, with skilled professionals, Quality Assurance officers, food technologists and agronomists to list just a few. David De Paoli was born into a sugar cane farming family. His son, Trent, is a director of the company.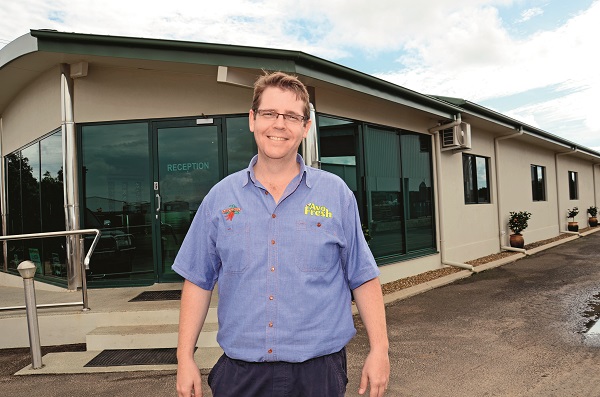 AustChilli Director Trent De Paoli, who also won a Nuffield Scholarship in 2013
Peter Hanigan is at the forefront of the company when dealing with the inventors, the food technologists and research and development people seeking puree ingredients.
"We want Austchilli to be the first name that comes into a client's mind when considering a new product. Communication is most important between supplier and manufacturer," Hanigan says.
"We will help make it happen. We're a solution to a lot of people's problems."
He says there is a future for Australians who want to work in with the processor.
"Not all products need to be sourced from overseas.
"People buy Australian because it's clean and green and supports Australian farming families.
"We have a group of suppliers from whom we buy on an annual basis, and that circle is continuing to expand.
"Austchilli buys the seeds, and supplies the nursery. The seedlings come back as month-old plants; they are harvested five months later, and then can be processed to as fine as 1mm in size.
Where to from here?
Austchilli plans to increase its range of spice flavours to meet the demands of food manufacturers.
According to what is arguably one of the world's largest food manufacturers, a Sichuan flavour will hit the market in the near future. No doubt the chilli puree will be from Bundaberg.
Hanigan says that Australia has the ability to grow better crops than many parts of the world, and in that way the company can aim for continual improvement alongside world-class sustainable farming practices.
Demand for Austchilli products will also see the company consign its chilli puree in 230kg drum, a sign that the market is on the uptake and that some chilli products gain extra flavour when heat is applied.
He also talks about new products designed for expanding markets that include chunky beetroot, onion and garlic.


Subscribe to our newsletter
Sign up to receive the Trade Farm Machinery e-newsletter, digital magazine and other offers we choose to share with you straight to your inbox
You can also follow our updates by liking us on Facebook. 

Graders For Hire | Cranes For Hire | Telehandlers For Hire | Excavators For Hire