Profile: Beef farms go organic
---
Turning his family's beef farms 100 per cent organic and being crowned a 2015 Nuffield scholarship winner has made for an interesting year for Alpha grazier Fred Appleton.

Just like many of our resilient farmers, grazier Fred Appleton endured the big dry.
"It was a pretty tough two years out here," he admits.
The 37-year-old farmer from Alpha, nearly 450km west of Rockhampton, was among the many producers that had their back against the wall with the devastating drought of 2012 that has still not wholly relented.
But Fred's commitment, passion and positive outlook helped he and his family weather the tough times. That same determination and attitude also played a large role in securing the honour of being named a Nuffield Australia Farming Scholar for 2015.
Fred was one of 26 farmers awarded scholarships with the purpose of furthering practical knowledge on-farm, management skills and learning new techniques on a series of upcoming worldwide trips to meet with foreign counterparts and participate in study tours of international farms.
Fred, and his wife Anna, along with his brother Loid and wife Zabby, and their parents, Dale and Kris, operate Appleton Pastoral Company, a beef cattle enterprise that encompasses 190,000 hectares, and is home to about 45,000 head of cattle.
Fred oversees the day-to-day running of two of the properties, and the managers on additional properties. Working with family can throw up challenges at the best of times, and he says working alongside his is no different, but there are some advantages.
"It's a pretty big operation so I guess we're not in one another's pockets," he laughs. "I am at Islay Plains and Craven, south of us there's Tango and Star Downs, and to north of us is Albinia and Bulliwallah. I handle the southern end, while my brother, Loid, is to the north; so it makes it pretty easy."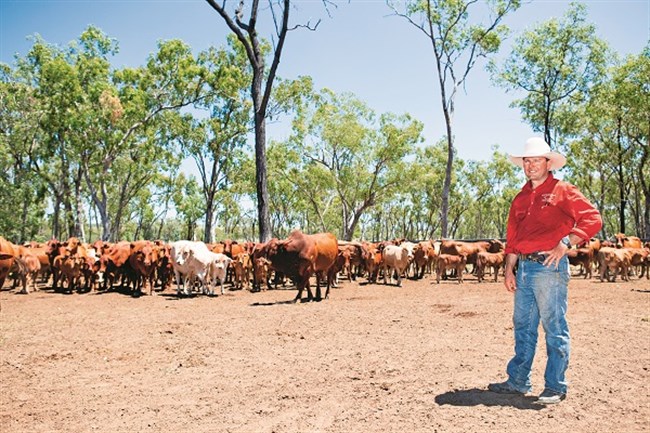 Appleton Pastoral Company is a beef cattle enterprise that encompasses 190,000ha, and is home to about 45,000 head of cattle
The Nuffield Australia Farming Scholarships are awarded annually, with a $30,000 investment to each applicant, who are required to demonstrate to selectors 'the qualities to make the best use of an opportunity that is only given to a few', giving keen farmers the chance to pursue their interest in an agricultural practise and the perspective in viewing their own practices in a new light. 
Fred is extremely grateful to his investor, Rabobank, and Nuffield Australia for giving him this once in a lifetime opportunity.
As part of the scholarship program, Fred will be traveling to France for two weeks, to the Contemporary Scholars Conference, where he will, along with the other Australia and international scholars, participate in discussions with industry heavyweights.
This will be followed by a six-week Global Focus program in June/July, which is still being finalised, and will see a smaller group of around eight scholars, visit countries such as China, the Philippines, the United States, Canada, Ireland and the Netherlands.
While it sounds like canapés and jet setting, Fred knows it's anything but. 
"The scholarship is a 16-week contract, so I'll have an additional eight weeks to complete my individual study program," he says.
"I don't know exactly where I'll go yet, and that's a lot of what the six-week Global Focus program is about. You might see some changes to your study topic, as you see something that grabs you elsewhere."
Animal husbandry practices are at the forefront of study.
"I'd like to focus on dehorning and castrating in cattle and how various cattle producing countries regulate the process," he says.  "While having healthy animals is essential, cattle production also needs to be financially viable." 
Fred says the financial implications for Australian cattle producers could be of concern if unnecessary strict regulations were applied. 
"I'd like to see a balance struck which sees good animal welfare that is both appropriate for Australian conditions and economically achievable," he adds.
Recent and significant changes on the Appletons' properties, have also added to an area of interest, which he is keen to pursue.
In 2014 the properties underwent their first organic audit and with this new move Fred is hungry to learn as much as he can from his foreign peers on his study tour.
"I've tied my organic farming into it and I haven't even left here yet," he laughs.
"I'd like to go to Uruguay, which has a large organic beef herd. With a subtropical climate I'd be interested to see how they get on with their parasites, what regulations, what sort of ideas they have to get around that stuff, and if there's anything we could introduce over here.
"My interest is primarily on beef production, but also the supply chain as a whole. It's going to be a great opportunity to see how producers around the world market and sell their beef, just to see how they make a dollar and get ahead."
The process to gain organic certification began in September 2014 for the Appletons, with available funding under the Australian Organic Beef Project, jointly funded by Meat and Livestock Australia (MLA) and Australian Organic Meats (AOM Group), which alleviate some of the outlay.
The livestock are at the mercy of a different set of rules, with the all the properties being USDA (US Department of Agriculture) certified organic as of January 1, however they won't receive Australia organic certification for another three years, due to differences in the countries regulations.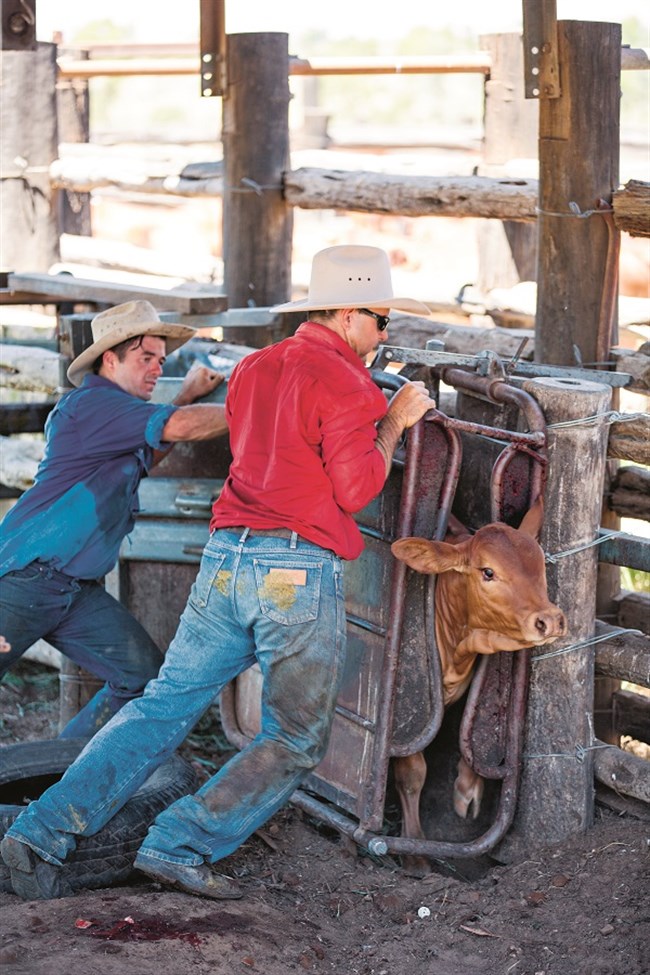 Fred, right, and Justin Bannister get to work branding the cattle
Any of the Appletons' calves born after January 1 will be classified USDA organic, and will be sold into the USDA market when they reach optimum weight.
The properties will be regarded as 'in conversion' as per the Australian regulations until January 2018, and all livestock born after this date will be certified as both Australian and USDA organic. 
The Appletons' shift to organic beef farming is in sync with the growing popularity of the market; the latest annual report from Australian Certified Organic, the country's largest accreditor, shows the organic beef market was valued at $198 million and was the second fastest growing organic sector in Australia behind dairy.
While the move to organic looks appealing on paper, the work to get land, livestock and practices certified can be arduous for some farmers.
For the Appletons, however, with their land and practices already largely free from inorganic substances, it was more a question of why not.
"Well that's why we went organic — it basically is organic," Fred reasons.
"We have stopped HGPs [hormone growth promotants], we don't feed any supplements, and we don't put any chemicals onto the land. With a few minor adjustments to our operating practices, the conversion will hopefully see us improve our land management, and also reduce stock handling times.
"The HGPs, they do their job, there's no two ways about that, but hopefully the price differential will well and truly outweigh that. When you start adding up thousands of cattle it's a lot of money. When we made the decision to convert, the organic price at the time was $5.50 and the beef price $3.25 for the same animal, so it was a good incentive."
On the subject of welfare, Fred is adamant there is still work to be done to enhance the relationship between farmers and consumers.
He says the love that he and farmers like him have for their animals is tainted by past misnomers, likely brought about at the height of the live export bans a few years ago when livestock welfare was put under the microscope.
"To me, we're out here because we love it, but at the end of the day people down in the cities are the ones who are going to be buying our beef," Fred reasons. "It is a business for us too, and our focus is on breeding good quality cattle, in a stress free environment"
The price of organic beef on the supermarket shelf is again evidence that the market is booming and the trend has a lot of mileage in it yet, which is why more producers are coming on board, as they are receiving a greater premium for their product.
"Australia has one of the cleanest and greenest images in the world for our beef production, with our clean environment and lack of diseases, which are present in many other parts of the world — and I feel that we haven't been getting paid for it," he says.
"The prices have been the same for the last 10 to 15 years however, the cost of production has continued to rise.  
"We can breed them out here but it costs money, so we need to be seeing the return at the other end. We've got the product but the benefit is not making its way back to the producer.
"However, it has been a positive start to 2015, with the market starting out at around $4.50 per kg, whereas last year it was down to $3.20."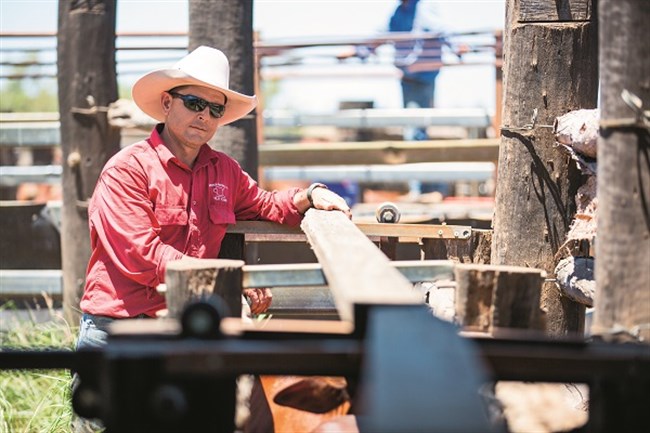 Fred is adamant that there is still work to be done to enhance the relationship between farmers and consumers
Despite these issues, and even with the chance of a lifetime coming up for this passionate young farmer, Fred keeps an even manner.
But when the rain starts dropping then pelts down in a deafening din, that's when the farmer who has endured many a dry time during his life on the land gets excited.
"It's pouring rain, it's bloody bucketing," he laughs. "Can you hear that on my roof?"
Fred's faith in his newly configured farming operation is backed by strong figures and a confidence in the US beef market, but even so, that nothing-ventured, nothing-gained attitude suggests whatever lays ahead his passion and smarts will see him and his family business right.
"You feel like you're chasing the rainbow sometimes but I guess you've just got to have a go don't you?"


Subscribe to our newsletter
Sign up to receive the Trade Farm Machinery e-newsletter, digital magazine and other offers we choose to share with you straight to your inbox
You can also follow our updates by liking us on Facebook. 

Graders For Hire | Cranes For Hire | Telehandlers For Hire | Excavators For Hire