Profile: Cattle industry identity reflects
---
For central Queensland grazier, Libby Homer achievements in the beef cattle industry and efforts in bringing rural women together are all part of celebrating her life on and love of the land.

Going back many years to when bush roads resembled the proverbial goat track, a young medical microbiologist was returning 'home' to Rockhampton for a visit. Her tired old Renault was bouncing along the unformed roads, and the steering was equally unsteady — even more than usual.
She stopped along the route from Sydney on at least three occasions for mechanics to address the steering problem, but nothing could be found. It was close to the small community of Banana, 150km west of the central Queensland city, that she took a spanner to the wheel nuts, and found that they were loose.
It took a woman to find what the mechanics — mere males — could not. Would it not be the first item to address?
While in the area, she contacted some friends, and someone suggested that she look-up another long-time acquaintance, Philip Homer, of Barfield.
She did — and six weeks later Libby and Phil were engaged, and she is now entrenched on a property surrounded by 120 years of history, including the original blacksmith shop, butchery and gravesites of Phil's forebears.
Libby lives in one of three original homes on the property, and describes how it looked when she first arrived — having to step-over dead goats and wondering how she would ever renovate this relic of the past, even to the point of suggesting Phil put a match to it.
Now, sitting on the verandah looking out over a beautiful, well-maintained garden, with the mosquitos satisfying their hunger, Libby began her story.
They commute between two stations, Barfield and Wongadoo covering 30,000 acres, and they have four children.
As I ask about the children, Phil walks away to answer his mobile: "Will the children return to the property?" Still in earshot, there comes a definitive reply from Phil…"No!"
Libby is more optimistic: "Maybe, hopefully, one may come back.
It's the conundrum of the bush that Libby and Phil know only too well. Both daughters are in nursing (London and Brisbane), one son works in Brisbane as a civil engineer, and the other is a boilermaker in Western Australia.
"There are so many opportunities for young people these days," says Libby.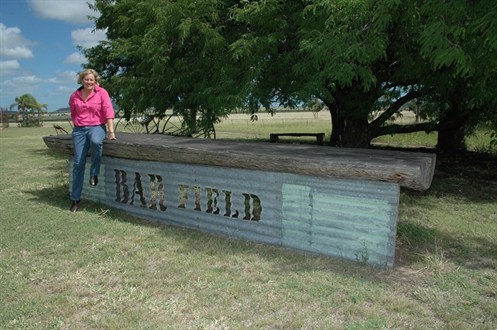 Recently, Libby Homer was nominated for the Rural Industries Research and Development Corporation (RIRDC) Awards, and while not the eventual winner of the Queensland section, her achievements in the beef cattle industry and her efforts in bringing rural women together are a stand-out.
The Rural Women Awards is Australia's pre-eminent award for rural women — identifying and supporting emerging leaders and change agents who have the capability and resources to drive innovation, productivity and sustainability within primary industries, and build economic and social development within rural communities.
It acknowledges that women offer a unique approach to leadership, which involves connecting and collaborating to effect change and influence, often without the need for position or authority.
The award also encourages primary industries and rural communities to embrace diversity in leadership to successfully navigate future challenges. The award supports women with demonstrated leadership capabilities who have the desire and commitment to make a greater contribution to their industries and communities. It provides women with financial and professional support to implement their visions for primary industries and enhance their leadership capabilities.
Each State and Territory winner receives a $10,000 financial bursary to implement their award vision. Those winners and runners-up also have the opportunity to participate in the Australian Institute of Company Directors (AICD) Company Directors Course, and are given support to develop an individual integrated leadership plan.
The award provides an outstanding opportunity to further leadership development, to make a tangible difference and to inspire others.
The 2012 Queensland winner was Annette Smith (Central Highlands Regional Resources Use Planning Co-operative) and runner-up was Michelle Deshong (National Rural Women's Coalition).
Other finalists were Annabel Tully, Kris Trevilyan, Pip Courtney, and Libby.
Women have long held sway on Barfield as Libby relates the story of the original family settlers, Edward Thomas and Sophia Homer.
It was Sophia who made an indelible impression on the homestead in those early days, outliving her husband by 22 years.
Now a new generation of the women who have made their mark on Barfield is now making an impression on the beef industry throughout Queensland.
Libby Homer's first foray into the event that is so representative of the Australian beef industry, Beef Australia, was when she organised the social activities in 1988. This year, with Beef Australia 2012 about the take place, Libby will be overseeing the International Visitors Lounge.
She also began organising a women's luncheon — Beauty and the Beef — but its popularity meant that it has now been extended into two functions, running consecutively and featuring the same speakers.
"It's about ordinary women doing extraordinary things," she says, and highlights the high-profile speakers and guests such as Raelene Boyle, and Katrina Goldsworthy who will present the Lady McCamley Memorial Address.
Shirley McCamley, wife of well-known pastoralist and cattle breeder Sir Graham McCamley (he was knighted in 1986 for his contribution to the Australian cattle industry), tragically died in a plane crash in 2010 and was an inspiration to Libby.
"Shirley had an amazing grace, dignity and humility, and she had so much time for younger women," Libby says. "It will be lovely to honour her."
She hopes the Address will carry on into all future Beef Australia events, held triennially in Rockhampton and attracting more than 75,000 Australian and international visitors eager to celebrate innovation and collaboration at this great beef cattle event.
"I would love to meet more rural women, and have them involved. This is why I want to promote a 'Women in Beef' conference," Libby says.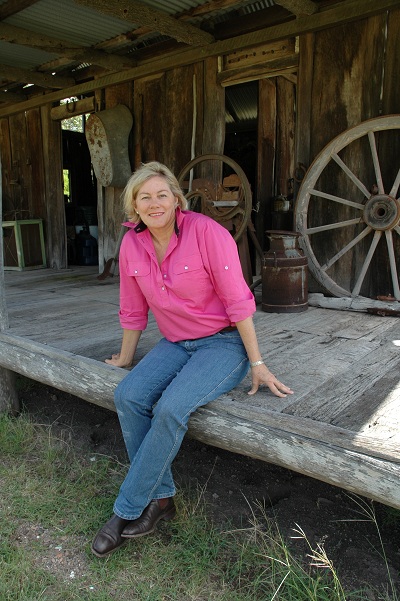 Libby looks back over her 28 years on Barfield and says life on the land is very colourful.
"I've seen the worst droughts, the best floods and serious mice plagues.
"In 1994 I was fortunate enough to win a [Department of Primary Industries']-run bursary, the Building Rural Leaders Program, similar to the Australian Rural Leaders Program — which offers nuts and bolts leadership skills that builds self esteem and gives the ability and confidence to change and lead people," she says.
After decades of working with people, Libby has seen the results of their combined efforts — and can see the younger women coming into their ranks, but without anything substantial by way of training and incentives to assist them.
"Women in rural Australia are calling out for leadership skills training," she emphasises. "Not only in cattle, but right across the agricultural industry.
"With proper leadership skills training, women can go back to their properties and value-add — to use the knowledge gained to understand their own production systems."
Libby certainly has the runs on the board. She is on the Northern Australian Beef Industry Committee, which covers 11 regions and considers proposals put by Meat and Livestock Australia (MLA). She also sits on the Northern Australian Beef Research Council, which comprises representatives from CSIRO, cooperative research centres, universities, state government departments and industry bodies.
The Council is a major reference point used by MLA to evaluate research being undertaken in northern and southern beef programs. It represents a significant number of cattle producers, and its members in Central Queensland alone run 2.2 million head of cattle.
Libby Homer looks forward to Beef Australia 2012 in Rockhampton. She is excited at the prospect of overseeing the International Lounge at the event, with indications showing good numbers coming from overseas.
 "For the first few Beef expos, we struggled to make ends meet," she says.
"It was the people's belief in the future of a major national beef exposition that prompted former Deputy Prime Minister and Leader of the Nationals, John Anderson, to encourage the Federal Government to substantially invest in Beef Australia in its initial years — support that has been forthcoming from all three spheres of government ever since.
"There were many organisations and individuals who also got behind the venture — especially when funds began to dry-up — and that support has now resulted in the development of essential infrastructure that has included paved roads, major pavilions and facilities to cater for the exhibition of some 2,500 head of cattle.
"With amazing support from people across the industry, we have found success," Libby says.


Subscribe to our newsletter
Sign up to receive the Trade Farm Machinery e-newsletter, digital magazine and other offers we choose to share with you straight to your inbox
You can also follow our updates by liking us on Facebook. 

Graders For Hire | Cranes For Hire | Telehandlers For Hire | Excavators For Hire