Profile: Micro farm dreams big
---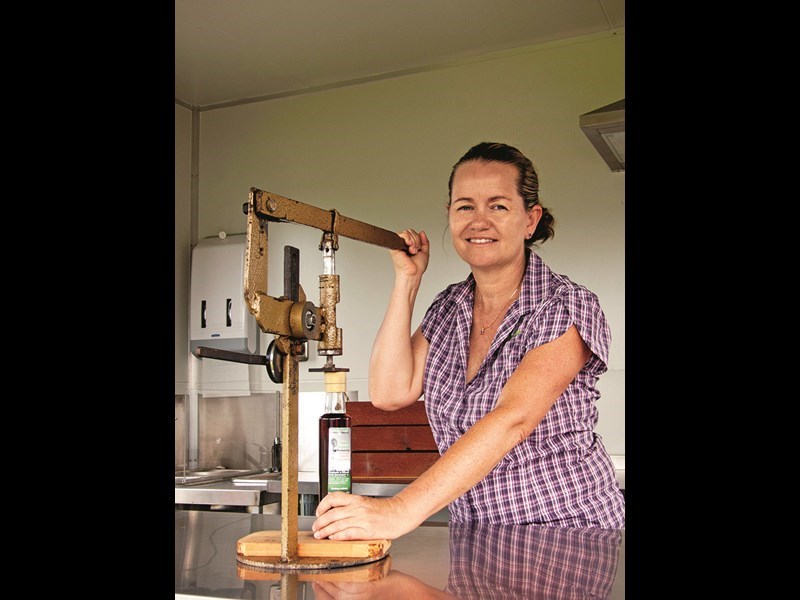 Karen bottling with a handmade bottling press.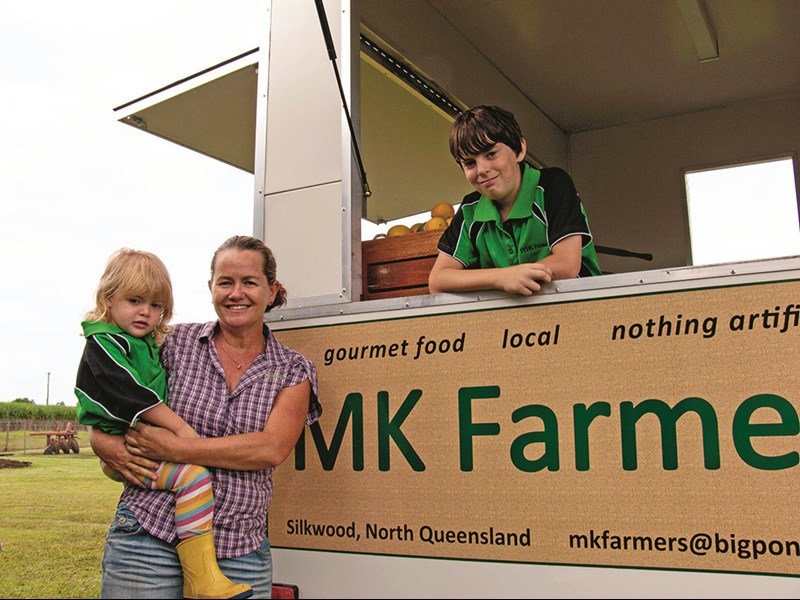 Sapphire Colesso, in arms, Karen and Zen Colesso ready to hit the road.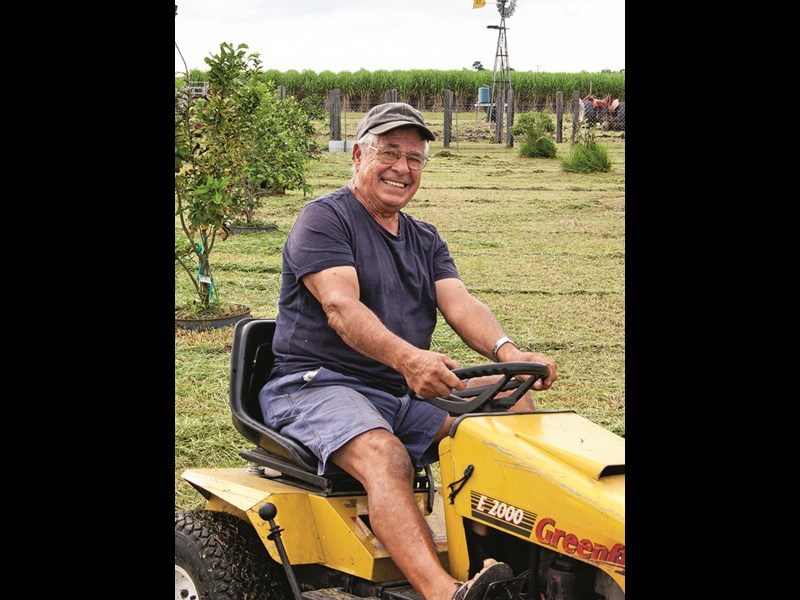 Ireno Colesso on grass patrol.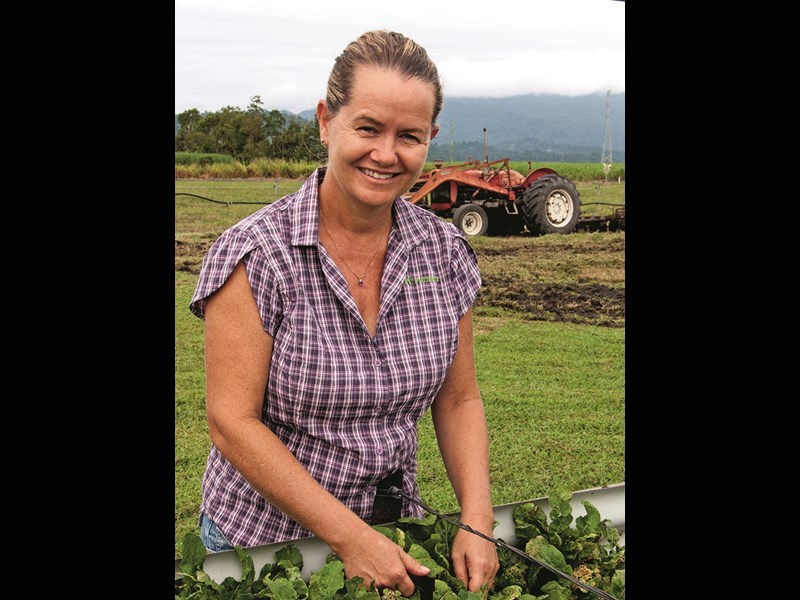 Karen tends to the raised beds.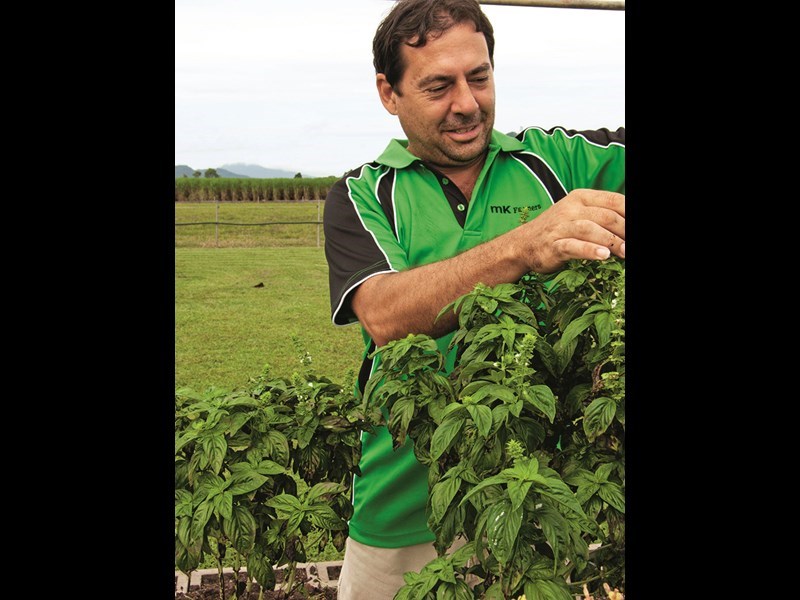 Morris looks after the basil.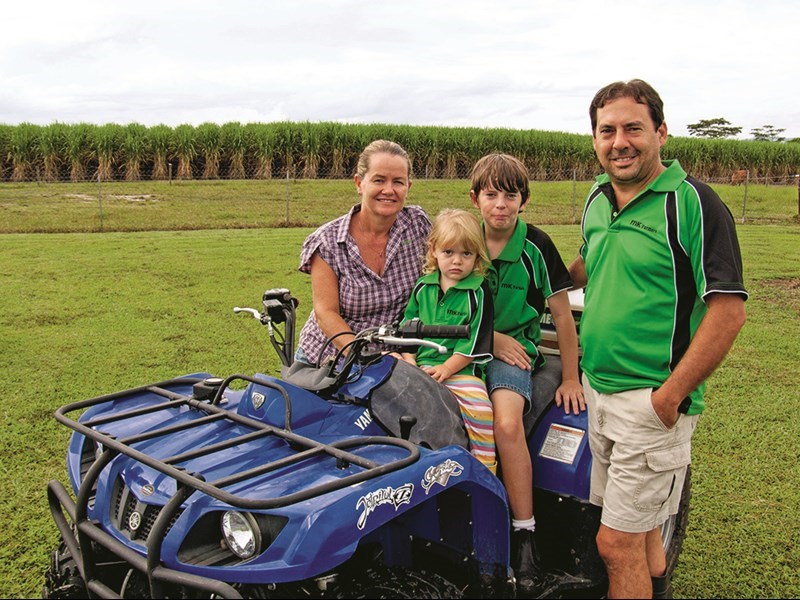 Karen and Morris with children Sapphire, left, and Zen, right.

In traditional farming terms 12 acres has always been considered neither your nose nor your nether regions. Too small to be 'a real farm' and too much mowing for a house block, but one couple from Silkwood are looking to test this time-honoured assertion.

Cabinet maker Morris Colesso bought his 12-acre (0.4-hectare) block on the edge of Silkwood in north Queensland about 10 years ago with no real plan in mind, but with his partner, Karen Vidler the couple has formed MK Farmers, a micro farm with strong emphasis on value adding products.
"The block was carved out of a well-established sugarcane farm quite some time ago and around 10 of the 12 acres are actually usable," Morris says. "We have approximately an acre for the house block and an acre or two, which has our iconic windmill and fruit trees, the rest is fenced for cattle."
For those wondering about the windmill Morris says, "It's become MK Farmers business logo but it's fully functioning. My father Ireno Colesso — better known as 'Reno' — and I put it together, and with a good wind coming through it supplies all our water needs.
"We've never really had to use the back-up pump, which Dad maintains; he does a lot of work around here, he's the man behind the scenes.
Morris says like all farms everyone plays their part.
"The kids help with planting and picking and already know about the different herbs but mostly for them it's about getting dirty," he says.
Cattle in the corn
 While the MK block is still surrounded by cane, Morris and Karen are growing an impressive variety of fruits to be utilised in their value adding products.
"The trees are very young yet so there is a lot of room for growth. Currently we are growing a few varieties of mango, lemon, lime, finger lime, kaffir lime, olives, guava, macadamia, cocoa, lychee, ice-cream bean, Burdekin plum, quandong, oranges, mandarins, mulberry, grumichama, pecan, and carob," Karen says. "We also grow dragon fruit [pitaya] and a wide range of different herbs and chilli's. I don't know exactly what we're going to do with all these but it's what we like."
Ideally the couple would love to grow everything organically, but their proximity to the cane paddocks means organic certification wouldn't be possible. 
"We still only use natural products on the place and despite the soil being black, sandy, clay everything is doing really well. It's a bit soft in parts but with average annual rainfalls of between three and four metres I can tell you the grass has certainly grown alright in the last 10 years," Morris says.
In an effort to control the grass and improve the pastures Karen and Morris have been running around a dozen cattle on the place. In the mix at the moment are six Brahman and six Wagyu.
"We'll probably move the Brahmans on and just stick with the Wagyu," Morris says.
"They were sourced from the Burdekin and are really good cattle. Down the track we may use the meat commercially so we have to maintain the quality breed, but I've got to cell manage the blocks a bit better as well.
"We've just purchased all the equipment we need so before long we'll start to grow corn and other crops, once harvested we'll let the cattle loose in them. Each year the pastures — with just having cattle on them — have gotten better but this will improve them a lot," Morris says.
The right track
 While the farming and produce side is in the growth phase Karen has been working tirelessly on a huge range of value adding products.
"It's amazing where this is all going at the moment. The idea came from making sauces and cordials for ourselves, family and friends but it's grown very quickly," Karen says. "I've put some rules in place to make sure we stay on the right track. Each of our creations has to have a product from our farm, be a food we enjoy eating and be made using quality ingredients with have nothing artificial in it."
With a recent product sell-out at Innisfail's Feast of the Senses the team at MK Farmers seem to be catering to Australia's developing palate.
There are distinct modern Italian and Asian influences in their best-selling Rosemary, Garlic and Chilli Balsamic Vinegar and their Mango Chilli Sauce. 
"The process hasn't been easy but you can do it on a small scale. It just takes time and a bit of persistence, and then let the product speak for itself. A lot of people are tired of the factory made stuff that doesn't have much taste," Karen says.
There's also some creative naming in products such as the 'Salad Bling' range, one of which is an all organic pepita, coconut, cranberry, lime, garlic and chilli sprinkle to spice up your plate of rabbit food.
Feast for foodies
 While the 'Feast of the Senses' was a success for Karen and Morris, the Innisfail festival is also becoming well known in food circles across the country. As such there are always quite a few stockists on the prowl. This made the market day even more successful for the couple. 
"On the day I was approached by a gentleman who started asking a lot of questions regarding our products, how they were made, what went into them. After I answered all his questions he introduced himself as the owner of a number of stores. We're now in discussions with him about stocking a range of our products," Karen says.
With the MK Farmers range now stocked in Townsville, Ingham, Tully, Silkwood, Innisfail, Daintree and Cairns, consolidation and expansion is the next logical step for the couple.
"I'd like to have more small shops on board as well as getting into the Friendly Grocers chain. If we achieve this we'll be doing well," Karen says.
Overall Karen is quite cautious about expanding too quickly and is looking at sustainable rather than rapid growth. 
"At the moment we do all the deliveries and marketing ourselves so it's a lot of work. We've had quite good growth just through word of mouth, taste testings at markets and via Facebook but I'm concerned about getting too big to quickly."
She says they already buy in seasonal fruit to satisfy the demand.
"Morris and I want our business to be about quality not quantity," Karen says.
In the van
While cautious about expansion the latest venture for the couple has been buying a food van. The van is set to serve as Karen's commercial kitchen (once approvals have come through) and as a 'pop-up café', showcasing local produce and wholesome gourmet food at markets and festivals across far north Queensland. 
Freeing up time will also let the couple focus on other products such as a tomato passata, drinks and dips which are now in the pipeline. Currently the dips are made fresh for festivals as they contain nothing artificial and have no preservatives. 
"Along with our sauces and salad bling range we eventually want to use the meat from our Wagyu cattle in some form of value adding product," Morris says. "For now though I might have to be satisfied with fattening them on all the fruit scraps from making the sauces".


Subscribe to our newsletter
Sign up to receive the Trade Farm Machinery e-newsletter, digital magazine and other offers we choose to share with you straight to your inbox
You can also follow our updates by liking us on Facebook. 

Graders For Hire | Cranes For Hire | Telehandlers For Hire | Excavators For Hire