Profile: Philanthropy in the bush
---
"To be a woman in this world you need to take a bite and start chewing." It was sage advice from a young woman who has achieved much, which she attributes to 'networking'. Col Jackson writes

"In some ways it's easier being a rural woman because you are unique," the head of the Foundation for Rural and Regional Renewal told women attending the recent Queensland Rural, Regional and Remote Women's Network (QRRRWN) conference in Charters Towers.
From a young age — and for much of her life — Alexandra Gartmann has travelled far and wide, had challenging experiences, had her mentors and detractors and places much value in networking "because of the mysterious ways you get 'found' or 'identified'.
"I want to share a few thoughts and offer some suggestions about what I think it takes to be a woman of the worlde [a reference to the conference theme] and why I think being a rural woman means you've already got a head start," Gartmann says.
She spoke of her belief that 'rigor, relevance and relationships' should be at the forefront of people's minds. Rigour: Doing what we do well. Relevance: Making sure that we spend our time on things that matter. Relationships: Because nothing is achieved on our own.
Alexandra Gartmann speaks from experience. She grew up on a hobby farm and for four of those defining years travelled throughout Australia, south-east Asia and Europe — before returning to live on a 'real' farm, which ignited her passion for the land.
She attended university in Canberra while volunteering and working to support her studies.
Her first turning point came when she wrote a thesis about the 'legitimacy' of the New South Wales Catchment Management Structure and the people purporting to be leaders.
"It was then I realised that while people can make things happen, people can also hinder," she says.
While exploring a 'real' job, Alexandra decided on Western Australia, and the remote community of Calingiri (population 130).
"This taught me so much," she says.
"My mentors were key community leaders, or future leaders. Some were 'starters', others were 'finishers'; some were behind the scenes, others just ploughed on through. There were the people who backed me."
Then came more than three years as Landcare Coordinator in the northern wheatbelt, which grounded her in the fundamentals of community-led success, the importance of people and the importance of finding the 'thing' they could get excited about.
Her second job was as an ambulance officer.
"One of the things I got excited about was having a direct impact on someone's life," she notes.
Wanting to add more 'balance' to her professional career — "I knew I lacked production and marketing knowledge" — a timely phone call from the Birchip Cropping Group (BCG) in the Victorian Mallee Wimmera, a farmer-driven research group, enticed her back east
Just three months into her role with BCG, Alexandra was ready to quit.
"I remember that moment: lying on the couch and crying. I realise now, the harder the ask, the more I can dig my heels in.
"I followed a mentor's advice of 'take a bite and start chewing'. I am so glad I did, as a decade of personal development and growth followed."
Gartmann speaks of key turning points during that time. Her first argument was with the Chair "when he hung up on me in exasperation at being challenged"; her first trip to lobby in Canberra, alone; and an AusAid project in Western China.
Gartmann says that about this time a few things happened, which created ripples and have, on reflection, created the current in which she was caught up and navigated around hurdles.
She won the Not-For-Profit CEO of the Year providing both media and profile; and when she was approached for suggestions of potential women for the Women in Primary Industries Advisory Panel, she boldly put herself forward, and ultimately acquired a long-term mentor.
She still does not know how she was nominated for and appointed to the Regional Women's Advisory Council — though she has much more appreciation of 'using networks'.
Other roles presented themselves, especially the Regional Telecommunications Independent Review Committee, which allowed her to practise her mantra on issues that she was passionate about, and to be able to learn from those around her.
While at BCG, Gartmann's focus was on translating science to practical knowledge.
"When I was offered the Chair of the new CSIRO Sustainable Agriculture Flagship Advisory Committee, I jumped at it; I was passionate about helping scientists connect and be relevant for the real world; they had plenty of scientific rigour, but often lacked relevance and relationships," Gartmann says.
Some 10 years later, the position of CEO with the Foundation for Rural and Regional Renewal (FRRR) beckoned, but not without much soul-searching and doubt.
"I was in my comfort zone, I had the networks, the knowledge, the brand — I knew what I was doing," she says. "But my mentors told me: 'if you don't move on now, you will be unemployable in the future'.
"The FRRR seemed like a natural fit — rural, regional and remote communities and the people, national playground, cross industry, develop my networks in a whole new arena.
"Some were even of the belief I was taking a 'retirement' job, because of the perception of philanthropy."
In her definition of philanthropy, "it is the giving of time, treasure and talent".
Gartmann explains that FRRR is a national grant-maker and advocate of rural, regional and remote communities.
"We invest in the key determinants that shape community viability. Natural disaster recovery and preparedness has been a large part of our work in recent times," she says.
The formation of the FRRR in 2000 can be directly attributed to the foresight, vision and determination of one of Australia's noted philanthropists, Bailleau Myer, and former Deputy Prime Minister, John Anderson, who worked tirelessly to create a vehicle that would enable rural Australia to benefit from philanthropy through business and government.
"We are the philanthropic toothbrush," Gartmann says. "We get into hard-to-reach places, and bring philanthropy, in its financial sense, to the bush.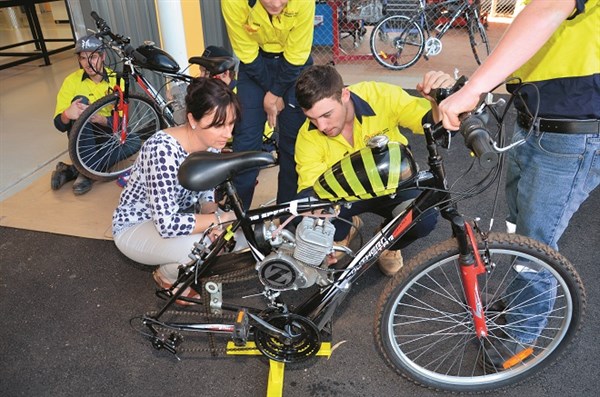 Alexandra Gartmann takes special interest in a motorised bicycle project at the Dalrymple Trade Training Centre
"In partnership with more than 60 investors, FRRR develops and delivers a range of programs that respond to the wide range of issues that affect rural, regional and remote communities — from early childhood to positive ageing; from small scale infrastructure that enables a community to function, to mental health, leadership and resilience program's that build social capital.
"Our experience and knowledge in medium- to long-term disaster recovery continues to be drawn upon as the frequency and intensity of disasters increases."
Gartmann says the FRRR collaborates to enhance the value of philanthropy and to build strong communities — and strong communities rely on strong community members; strong women and strong men.
She shared with those attending the conference many examples from across Australia, from Murgon SES in Queensland to Groote Eylandt in The Gulf; Theodore Revive and Thrive to 'Heywire' in Tennant Creek .
She gave the example of Hyden in Western Australia, which she described as a self-fulfilling prophecy.
"As a town they felt they had nothing to offer, apart from being close to Wave Rock — until one woman started telling other communities how amazing her own community was. Slowly, people started hearing about it; started to feel confident and believe they were special and have great stuff to offer. They had new confidence in their own community and themselves and became more responsive and proactive — all because someone started talking themselves up. You don't have to necessarily do anything different; even just talking about it externally can change things," Gartmann says.
It was in Charters Towers itself that Alexandra Gartman re-acquainted herself with an FRRR project that started some six years ago, and has resulted in the Dalrymple Trade Training Centre becoming the peak vocational training venue in the former gold mining town.
The centre's dual goals are to provide enhanced training pathways for people leading to employment and to support the economic development of the region.
She wanted to see the long-term flow-on effects of the FRRR support of rural communities, exemplified in the training centre that started with the provision of salary and administration support and draft planning to the North Queensland Public Education Association.
During the lead-in time many partnerships were established, funding and resource support sought from all tiers of government and planning based on employment and economic data instigated. Building commenced in 2013, the Centre commenced operations in February and is now operating at full capacity.
Partnerships involved in the establishment and operation of the Centre include four secondary schools representing public, Catholic and Independent sectors; regional local government providing land and ongoing services; Queensland Government providing recurrent building maintenance and facility costs; local industry bodies providing their expertise and understanding of the employability needs; the North Queensland Public Education Association through the provision of the seed funding and planning support; and the University of Central Queensland with the formation of a tertiary study facility.
The governance of the Trade Training Centre is through a board with representatives drawn from the four partnering bodies: Charters Towers State High School, Colombia Catholic College, All Souls and St Gabriels' College and Charters Towers School of Distance Education.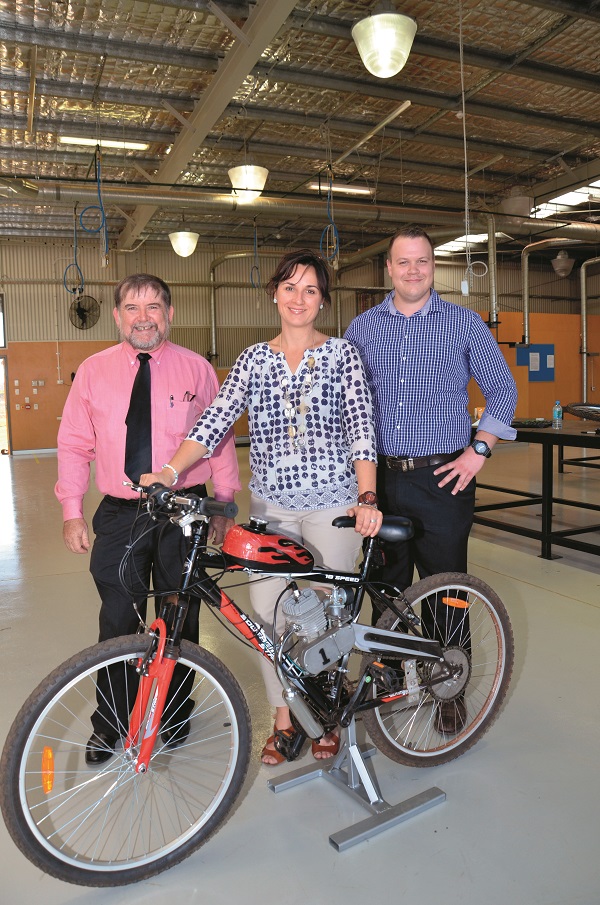 John Clarke, Principal of the Charters Towers School of Distance Education; Alexandra Gartmann; and Michael Keck, Manager of the Dalrymple Trade Training Centre, Charters Towers
In its first six months of operation, a wide variety of training and development programs have been conducted, ranging from childcare through to week-long mining-focused courses.
Providers of training and accreditation programs have readily attached themselves to the Centre as partnering providers. Currently, courses are offered through Careers Australia, TAFE, Queensland Minerals and Energy Academy, TEIA and others.
Gartmann says that connected communities are more resilient, creative and vibrant.
She encourages rural Australia to challenge, debate, aspire, inspire, encourage, pull apart, criticise, reflect, critique — to mould and shape new ideas, attitudes and visions — sophisticated thinking, whether it be for incremental, disruptive or transformative change.
"The benefits of collaboration are significant," she says.
"The energy that goes into collaboration is also significant, so don't underestimate it. A fatigued community — or fatigued leader — will stick to whom they know.
"It takes time and therefore patience. When I am developing a partnership with an investor, it is generally 18 months to two years. Sometimes I have to learn to fight and hold hands at the same time.
"Regardless of the time and effort that goes into them, partnerships reap rewards," she says.
"Deep and long-term relationships and partnerships create richer and stronger communities that have greater capacity to handle life's challenges."


Subscribe to our newsletter
Sign up to receive the Trade Farm Machinery e-newsletter, digital magazine and other offers we choose to share with you straight to your inbox
You can also follow our updates by liking us on Facebook. 

Graders For Hire | Cranes For Hire | Telehandlers For Hire | Excavators For Hire