Tom's Tips: Used tractor buyer's guide
---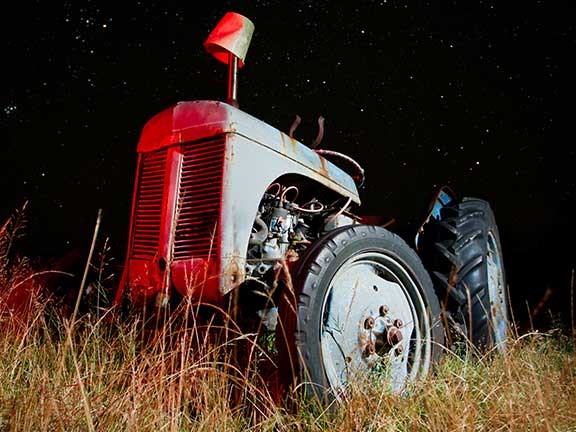 A well-maintained tractor can still be performing well after 30 or 40 years.

In the first of a new series of Tom's Tips, technical editor Tom Dickson gives a beginner's guide to the things to consider when buying a used tractor.


Have you recently entered the farming industry? Are you a lifestyle or hobby farmer looking to get your hands dirty on the weekends? Maybe you're a city businessman who employs staff to run your agricultural investments, but you also want be involved with the purchase of the farm's machinery.
Either way, here are a few tips to help guide you through the experience of buying used equipment with the aim of getting best value for you money.
The Basics
Keep in mind that a tractor has always been, and always will be, essentially a mechanical device used to pull, carry or provide drive to the equipment performing the actual task.
Therefore, the engine, transmission, hydraulics and power take off remain the most important components to be considered when making a purchase. Everything else is purely cosmetic and can often be better described as frills.
Engine
No matter what the situation – clearing sale, auction house, private sale or dealer — always, without fail, jump on the tractor, start it up and see how it runs.
Black smoke coming out the exhaust when the engine starts is quite normal, but should clear fairly quickly. Light grey or white smoke is not preferred and may indicate that there is water getting into the system.
Transmission
The best advice I could give regarding the transmission is jump on and go for a drive. A syncro gearbox should shift up and down through the gears with relative ease.
The gear stick should feel reasonably firm. A little bit of play is acceptable but excessive slop could indicate loose or very worn linkages and can result in the transmission jumping out of gear. Not ideal.
While driving, apply the brakes to make sure the clutch doesn't slip under load. This is a good opportunity to test both the left and right turning break.
Hydraulics
Have a look to make sure there are enough sets of hydraulic rear remotes to run your current collection of implements and any you plan to purchase in the future.
If there is a front-end loader attached, see if it will lift the front of the tractor off the ground at medium revs. If it does, you can assume that the hydraulic pump is performing well.
Power take off
The priority here is to make sure it works, so give it a run in each speed. Listen for any unusual noises that may reveal wear and tear. 
Have a close look at the PTO spline to make sure it hasn't been damaged. Excessive or sudden overload on the PTO shaft can cause bending or twisting of the spline. 
Maintenance
The visual condition of the tractor will often give you a good indication of how well it's been looked after. Always ask for the service records or documentation that support claims of regular maintenance.
If no record of servicing has been kept then you will have to look for signs of regular maintenance and carry out a few basic checks.
Oil
Check the dipstick to see if the oil is at the correct level. Have a sniff; if the oil has an excessively burnt smell it may indicate it's well overdue for a change and can reflect poor service history.
Black is OK, but it should still have an oily odour and feel smooth when rubbed between your fingers. Be very cautious if the oil on the dipstick is frothy or milky in appearance, as this is often an indication of water making its way into the sump.
Radiator
The water in the radiator should only ever be clear or the colour of a cooling additive. Coolant that is milky in colour or has oil present is never a good thing and could suggest a fault in the engine's structure.
Filters
A lot of dirt and grease built up on the lids of the fluid reservoirs and on the oil and fuel filters is a good sign that they haven't been touched for a while. Good operators will use a permanent marker to write the date and engine hours on the filters when they are changed.
Dirty, dusty or damaged engine air intake filters will restrict the performance of the engine and eventually cause damage.
Dirty cabin filters won't affect the mechanical performance of the tractor, but will expose an owner who did not take the time to perform complete servicing and maintenance.
Front axle and steering
Have a look at, but, more importantly, feel the steering linkage points. Loose, sloppy joints are a sign of wear and can cause unpredictable steering behaviour.
Apart from reducing safety, damaged and worn steering equipment can result in premature and uneven wearing of the tyres. If you can get the front of the tractor off the ground then you should test the front axle and wheel joints for firmness.
Tyres
A good set of tyres can make a huge difference to the performance of the tractor. Assess if there is enough tread left – at least 50 per cent. If not, you need to factor in the cost of replacing the tyres.
Without sufficient tread, the tractor's overall performance will be reduced due to lack of traction.
Age
Keep in mind you are not buying a brand new tractor, so be prepared to overlook some degree of ageing and damage.
Find out how many hours of work the tractor has done and make an assessment on whether the hours match the degree of wear and tear showing on the machine.
Considerable wear showing on the steel treads on the brake and clutch pedals, tyres with little life left in them and a well-worn pin hole in the tow hitch can sometimes be signs that the tractor has done more than 3000, 4000 or even 5000 hours.
But remember that age is not always a deterrent. It is not uncommon for a well maintained tractor to still be performing well for 30 or 40 years. If you are interested in, or capable of, repairs and restoration then you may be prepared to overlook some degree of deterioration.
Final points
Treat the purchase of your tractor the same as you would your car.
Remember it's your money, so don't be frightened to get your hands dirty. Have a thorough look over the tractor, always request a test drive and, if you're not confident in your own judgment, take someone with some mechanical experience with you.
Use all your senses. Look for wear and tear, listen to the engine, and feel for loose and worn components even smell the oil for freshness. Perhaps leave taste out.
Find out who the previous owner is and don't be frightened to ask them what sort of work it's done, if there are any problem areas and why they are selling it. Ask about everything that will help determine if it's the right tractor for you
If you're at a clearing sale listen to the comments that other people are making about it.
Under no circumstances ignore damage or excessive deterioration of the ROPS (Roll Over Protective Structure).
If in doubt, walk away.
If you are after a bit of peace of mind consider buying from a licenced machinery dealership where you will get some after-sales support. 
 If you're looking for used tractors for sale, check out our listings.
Subscribe to our newsletter
Sign up to receive the Trade Farm Machinery e-newsletter, digital magazine and other offers we choose to share with you straight to your inbox
You can also follow our updates by liking us on Facebook. 

Graders For Hire | Cranes For Hire | Telehandlers For Hire | Excavators For Hire