2016 Quad Bike Buyers' Guide
---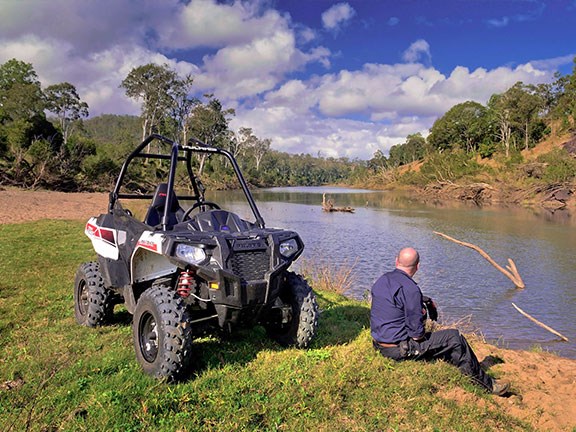 Polaris's ACE has a rollbar, seatbelts and a steering wheel, and makes an excellent farm vehicle if you need to cover long distances with some expectation of comfort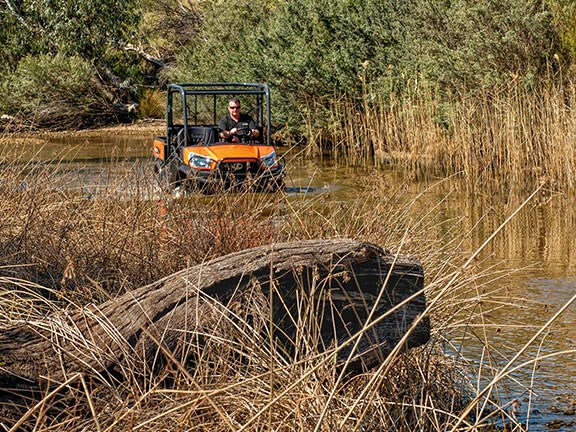 The Kubota diesel is a highly capable UTV and, with a roof, windscreen and winch, more or less typical of the breed. A UTV won't cope with tight access as well an ATV but is far more practical when you're in the saddle all day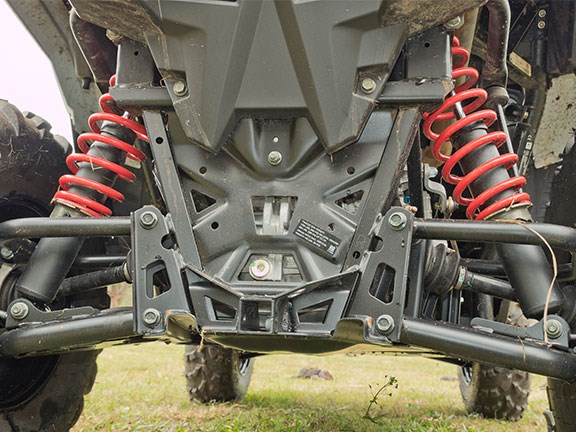 This is what you'll see at the rear end of most modern ATVs: double-A-arm independent suspension, off-road tyres and coil-over shocks with preload adjustment only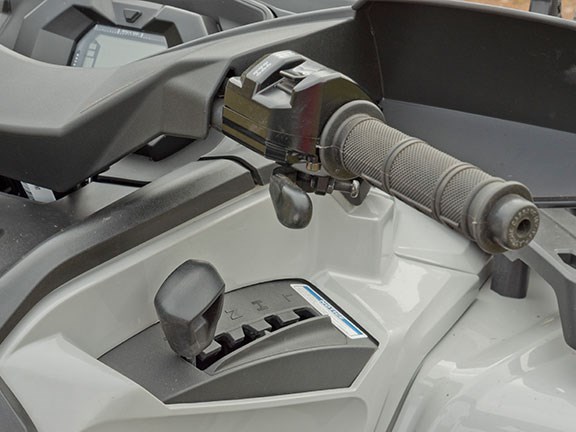 The modern 4x4 ATV is a masterpiece of ergonomic engineering. Although technically complex, it's easy to operate, comfortable, reliable, and capable of traversing varied terrain, even in awful conditions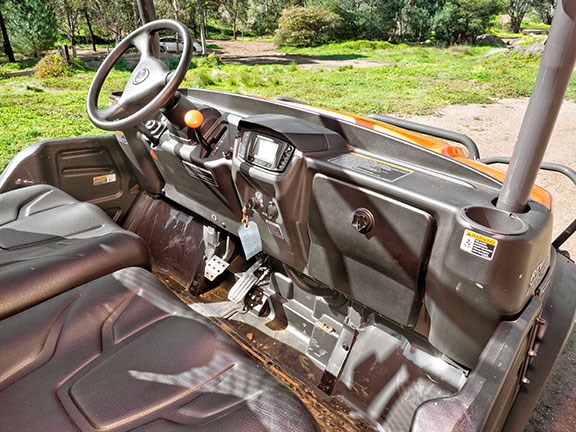 In the form of shelves, gloveboxes and cup holders, UTVs have useful storage space in the cab. They require little driver skill to operate in flat country, but in rough terrain the same common sense you'd employ on an ATV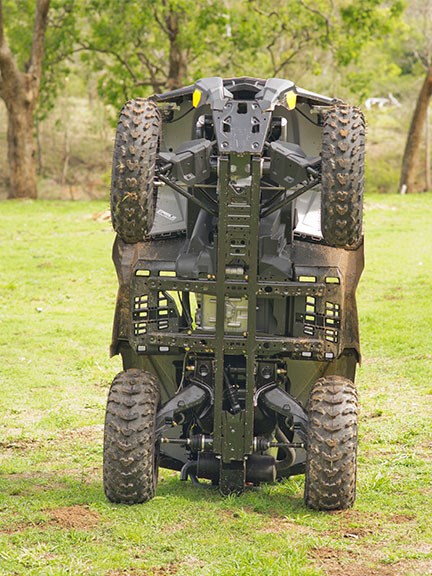 Every ATV has underbelly protection but exactly how much varies with brands and models. This Can-Am is generally well protected, though there's not much armour around the rear CV joints

Buying an ATV or UTV is confusing if you don't know a lot about them, so Barry Ashenhurst wrote this guide for quad bike beginners
Since we put together the last ATV buyers' guide, things got complicated. As if there weren't enough models to choose from, now there are more. There are 2x4, 4x4 and 6x6 models. There are diesel and petrol engines from 24 to 100hp. There are one-, two-, three-, four-, five- and six-seater models across the ATV and UTV ranges.
There's more of everything, although a few brands – like Arctic Cat – have come and gone. All in all, sales are up and everyone's happy. According to the Federal Chamber of Automotive Industries, motorcycle and quad bike sales went up 5.5 per cent between January and September this year. The strongest growth was in ATVs and UTVs (side-by-sides). So far, the dealers have shifted nine per cent more in 2016 than they did in the same period last year. No wonder they're happy.
The pecking order is interesting, too, or it would be if the number nerds could decide who's pecking who. One report says Polaris is selling more ATVs than anyone else, while another says Honda. There's not much in it, though: 26 per cent versus 25 per cent market share apparently, but what makes that particular shootout interesting is that while Polaris advertises vigorously, Honda never says boo to anyone.

WHAT MAKES 'EM DIFFERENT?
Back at the coalface, unless you know what you're doing or have immutable brand loyalty, you're faced with deciding which ATV to buy – or, more pertinently, which type of ATV to buy. So we'll lay this thing out for you.
Most 4x4 quads look the same and, on the face of it, feature similar equipment. They have similar body styles, independent suspension, front and rear racks, tow hitches, off-road wheels and tyres, and, these days, automatic transmissions.
That's what makes them the same. What makes them different is build quality, longevity, parts supply and dealer support. The fanciest quad in the world ain't worth sixpence if you can't get parts for it.
On the other side of that sixpence, even the best brands have problems. We came close to giving a 4x4 ATV our quad of the year gong a while back, before discovering it suffered diabolical electrical problems. So there's no such thing as a perfect machine.
Don't buy a brand you've never heard of, and don't buy it from a guy whose dealer network is a garden shed next to a wrecking yard. Get your quad from a trusted dealer. And don't be a scrooge. Grant the man the right to earn a decent living by paying him what he's worth, and in return receive professional service for the life of the machine – and the next one you buy from him.
BIG OR MEDIUM ENGINE?
Sports riders like quads with 800 and 1000cc engines that make it easy to slide and wheelie. Farmers don't. They want a dependable engine that is easy to service, and can pull loads and carry supplies all day in a quad that provides a comfortable ride.             
Here's proof that size doesn't matter: Suzuki'smost popular working ATV is not the 750, but the King Quad AXi 500 4x4 with power steering. Polaris's most popular ATV is the Sportsman 570 HD (Polaris's most popular side-by-side used to be the diesel 1000HD – it's now the Ranger 570HD petrol). Yamaha's most popular working ATV is the WFM450FAP: a 450cc, 4x4 unit with power steering.
You don't need heaps of power to get the job done. Torque does all the work. Powerful machines with sporty engines might feel good but they have touchy throttles and light up quickly. That makes them difficult to manage in slow going across rough terrain where acceleration is irrelevant and throttle control is everything.
Quad bikes are wonderful things, but they're not wonderful when they frighten you. Engine-wise, buy a machine that you and other users can handle, and by that I mean it has power that comes on gradually in a machine that doesn't feel too big or too heavy.
Rely on your dealer to advise you. They know how to match a novice rider with the appropriate ATV, and you'll be happy to know it's in their interests to get it right.


TWO-WHEEL OR FOUR-WHEEL DRIVE?
Four-wheel drive is not an indication of your virility or manhood. If your property is small and largely flat, you'll get by with a two-wheel drive machine – unless some of that property is flood prone. You'd be surprised where a skilled rider can take a 2x4 machine. Two-wheel drive isn't much use, and can actually be dangerous on steep hills where an eventual lack of traction will prevent a 2x4 from climbing any further – at which point you must turn around and ride back down.
Four-wheel drive is superior if you tow a lot. A 4x4 quad is heavier than a 2x4, so it's less likely to be pushed around by the object you're towing, and all-wheel drive will make the machine more sure-footed in slippery conditions.
People who need four-wheel drive generally have larger properties with greater variety in the terrain. Properties with steep country, creeks or any kind of deep and/or flowing water need the added traction provided by all-wheel drive.
DO I NEED POWER-STEERING?
Good question. And here's a good answer. Yes!
Electronic power steering (EPS) was introduced by Yamaha and now every manufacturer has it. Power steering makes a big quad easier to manage and less physically tiring to ride. Power steering is a blessing for people with less upper body strength and is very good at soaking up shocks that would normally be transferred to the rider through the steering.
Power steering has become so popular that some manufacturers have dropped models without it or responded to a measureable preference for assisted steering among their customers. Suzuki sells two versions of the admirable King Quad 500 AXi, one with and one without EPS. In 2015 it sold nearly twice as many with EPS.


AUTO OR MANUAL?
You can still buy quads with manual transmissions, but most working ATVs these days are belt-driven autos. And they're very good. The modern auto transmission can make all the decisions for you about which gear to be in, and how many drive wheels need to be engaged to extract you from the sludge pit in which you've parked.
Again, we suggest you consult your dealer about which ATV to buy. Rural dealers know their customers well. If they didn't, they wouldn't have a successful business. They also know which quad will get the job done in terrain typical of their region. In short, whether you live on a large property or have a boutique address, they know what you'll need.


IS RIDER TRAINING IMPORTANT?
Without doubt. It could save your life. The majority of ATV-related accidents are not caused by the machine itself but by rider error, ignorance or misjudgement.            
ATVs are not like motorcycles. If you fall off a dirt bike, there's every chance you'll fall away from the bike and not be hit by it. Quads are different. When you fall off a quad, you normally 'highside' or fall in the direction in which the quad is leaning. For example, if you come into a corner too fast and lose control, the quad will roll towards the outside of the corner, and so will you.
Don't take risks with your life, or the lives of others. Learn how to balance a quad in turns, how to ride safely up and down hills and across slopes, how to calculate the best path through an obstacle, and how to recognise at which point in a difficult manoeuvre your optimism is likely to exceed your talent.
Seriously folks, learn how to ride before you ride anywhere.  
 
ATV OR SIDE-BY-SIDE?
Another good question. A side-by-side or utility task vehicle (UTV) is larger than a quad, and typically accommodates three occupants on a single-bench seat (some models can take up to six people, but these are usually employed on commercial rather than farming enterprises).
Here's a breakdown of why many believe UTVs are better than ATVs:
• Because they're larger and more complicated, side-by-sides are more expensive than the average 4x4 ATV.  But they can do a lot more. They have a large ute-type tray in the back so they can carry bigger loads. Some will take a full-size pallet. They also have more occasional storage space
• UTVs are more carlike in their controls. They have a foot brake, an accelerator, and a steering wheel, so those who would be intimidated by a large ATV will feel more confident in a side-by-side
• Side-by-sides have an integral rollbar, known as a rollover protection structure (ROPS), which makes the UTV safer in an accident. You're not as prone in a UTV as you are on a quad. All the new models have seatbelts as well
• Because of the rollbar, a UTV can be fitted with doors, a roof, and a windscreen. In other words, it can be weatherproofed, and that could be crucial if you live and work in a place like Tasmania where whatever you touch is either cold or getting colder
• For those who live in a hot climate (everywhere but Tasmania), a roof protects them from the sun. The roof can also be used as a mounting point for a radio, speakers and communication equipment
• You can't put two people on a single-seater quad. Well, you can if you're stupid, but you can easily fit three people in most UTVs, while some are built to take four or five passengers
• Dealers tell us there's been a noticeable swing away from ATVs and towards UTVs for all the above reasons. 
If you're looking for used ATVs or UTVs for sale, check out our listings.
Subscribe to our newsletter
Sign up to receive the Trade Farm Machinery e-newsletter, digital magazine and other offers we choose to share with you straight to your inbox
You can also follow our updates by liking us on Facebook. 

Graders For Hire | Cranes For Hire | Telehandlers For Hire | Excavators For Hire