Case study: Komatsu dozers vs the Outback
---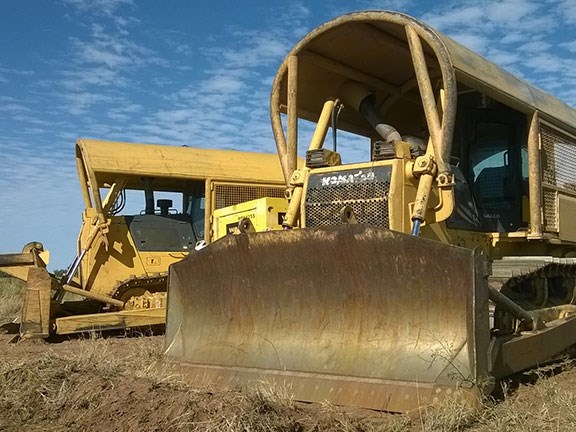 Komatsu D85 dozers on the 11,000ha Trebarney Station in Outback Queensland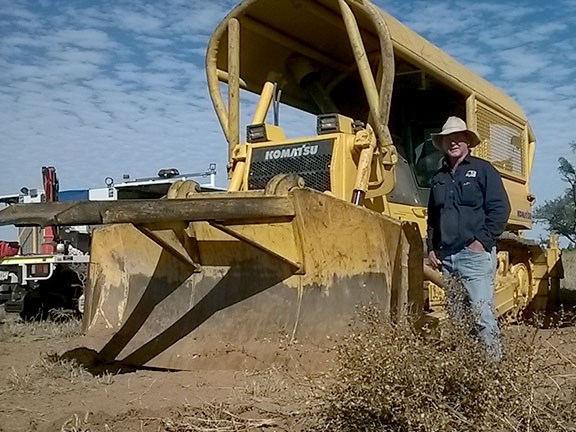 Ian Donaldson with one of his four Komatsu D85EX dozers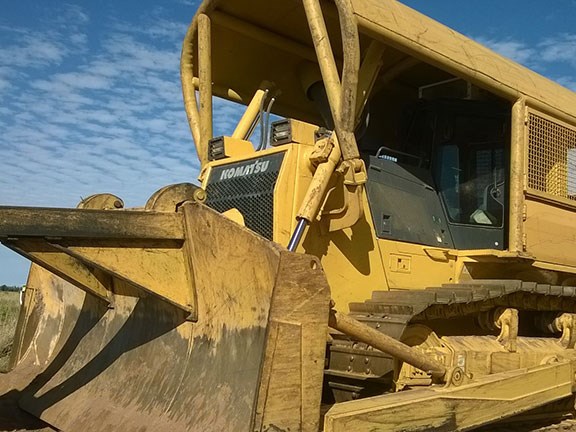 The Donaldsons' D85EX-15EO has been modified for the hot, dusty conditions with a high capacity engine and hydraulic radiator cooling system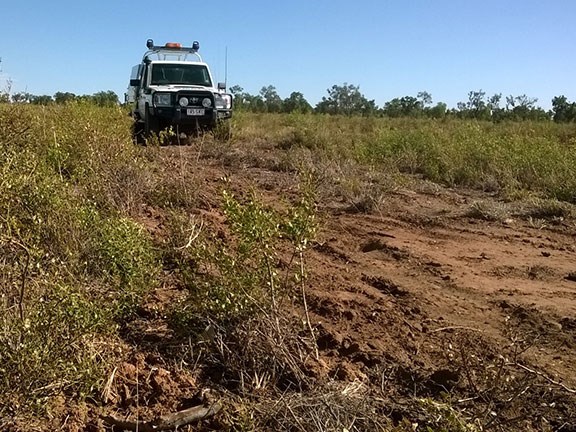 And they want to give me a RAV 4 – seriously?

Large and mid-sized bulldozers are an important workhorse for graziers and pastoralists on western Queensland's large properties, carrying out a range of tasks from land clearing, ripping and ploughing paddocks to maintaining and forming roads and fence lines, grading yards and general maintenance works.

Among the dozers used is a Komatsu range with the unique 'lockup torque converter' transmission feature that is ideal for the frequent long, straight runs in hot dusty conditions which are typical of the large station operations in western Queensland.
At the push of a button, the transmission on Komatsu D65AX-16 through to D375A-6 dozers can be switched from manual or auto powershift operation, to manual or auto powershift including torque converter lock up mode.
In essence, this means that engine power is directly (and mechanically) linked to the dozer's final drives, rather than via the hydraulically based torque converter and powershift transmission.
Komatsu says the end result is reduced fuel consumption, increased useable engine power and – importantly for machines working in hot, dusty farming conditions – significantly reduced overheating of the transmission system.
Komatsu Australia sales account manager John Frater says this lockup torque converter has become a very popular feature among property owners who have used Komatsu dozers.
"It definitely stops the transmission overheating," John says. "When a dozer is in standard torque converter mode, you get slippage going on within the torque converter, which heats the oil up.
"That doesn't happen in direct drive, and that's a great advantage when you're doing those long, straight runs, particularly blade ploughing, in the high ambient temperatures we get in the Outback."
John says Komatsu has a number of customers in central and far western outback Queensland who have multiple Komatsu dozers – one has 13 of them – with some customers going back decades.
"They will all tell us that Komatsu dozers will out-push and out-rip any other dozer on the market, model for model," he says.
Backing up its push to promote Komatsu dozers to western Queensland graziers, the company has significantly expanded its service and support operations in the region.
This has included adding two resident technicians in Clermont and one in Barcaldine along with increasing capabilities at its Emerald branch.
These increased capabilities have allowed Komatsu's Emerald branch, which has been in operation for the past 10 years, to move to a full 24/7 operation, allowing it to improve response times to customers.
"At a time when other equipment suppliers have been reducing their presence in central and western Queensland, we've been actively growing ours, allowing us to better service and support our customers in remote areas of Queensland," John Frater said.
Wendourie Station
One long-time Komatsu customer is Doug Carruthers who, with his wife Sharon and three children – Lachlan, Brant and Lily – runs Wendourie Station north-west of Alpha.
Wendourie is a 39,600ha property running beef cattle. It includes 300km of roads and three sets of cattle yards with formed up and gravelled roads between them, allowing triple roadtrain access to each of them.
The property also has 38 dams, ranging from 15,000 to 300,000 cubic metres of water capacity.
The family has been on Wendourie since 1963.
Doug's late father, Mervyn, was brought up in Sydney, and spent four years in New Guinea during World War II. After the war, he started a sandwich shop, then a newsagency, then a dairy and earthmoving business, mainly pulling logs out of the Blue Mountains west of Sydney.
Then in 1963, he drew Wendourie in a ballot, and started developing it with a couple of old dozers that he spent more time fixing than working with!
Mervyn and his wife Betty (Doug's mother) bought a second property, Skye Station, in the mid-1970s, just before the start of a beef 'depression'.
In 1987, he bought his first Komatsu dozer, a D150A-1, and he and Doug began blade ploughing on Skye, working it day and night for the first two years.
"We bought our first D375-1 in 1991," Doug says. "The extra weight of this dozer, plus the modular design, made it much more efficient than the D150, plus it was so much easier to work on.
"We were so happy with that machine, we bought a second D375A-1 and another blade plough in 1994 and started blade ploughing Wendourie.
"We bought a third D375A-1 in 1999, and over the years, we've blade ploughed more than 80,000 acres," he adds.
"We've worked out that the Komatsu D375A dozer with its lockup torque converter is 30 per cent more fuel efficient than a machine without lockup, and will run on the hottest of days all day without overheating."
Today, the Carruthers' Komatsu equipment consists of three D375A-1 dozers (two of which have been refitted with -2 engines and -2 lockup converters), along with their original D150-1, a WA16 scraper, and their two most recent machines, a D155AX-6 dozer delivered in August 2015 and a GD655-5 grader delivered in September 2011.
Trebarney Station
Another Komatsu dozer owner, in Queensland's  Alpha region, is Ian Donaldson, who runs the 11,000ha Trebarney Station with his wife Bonny and son Kemp.
They use four Komatsu D85EX dozers for a wide range of tasks around the property, including pulling regrowth, general earthworks, dam construction and maintenance and fence line clearing and grading.
The dozers are also hired out to other stations in the region, offering what Ian describes as a "land development business for graziers".
The Donaldsons' latest model is a new D85EX-15EO which Komatsu has specially modified for the hot, dusty conditions the dozers work in with a high capacity engine and hydraulic radiator cooling system.
"When you're driving through grass three foot high, and pulling a chain, you through up a lot of dust and the leaves and stuff just turns to powder," Ian says.
Because of these conditions, he says prefers to change oils more frequently than the OEM recommendation.
"We try to do our engine oils every 250 hours, our transmission oils at 500 hours and hydraulics at 1000 hours – which is half the recommended intervals," Ian says. "That's because our conditions are a lot different to what they have in Japan."
He says the family has been buying this size of dozer since 1992, when they bought their first Komatsu – a D85-18.
"We've done nearly twice over a million bloody acres of regrowth since I've been in the game," Ian says, "and that was all done with Komatsu dozers.
"We find these mid-sized dozers are ideal for the regrowth work; big machines are good for big timber, but middle-size machines are good for the regrowth."
Ian says his operators appreciate the comfort of the Komatsu dozers.
"In terms of comfort, the blokes who drive them for me can't believe how good they are to operate compared with other makes," he says.
"They are also pretty good with their power and power-to-ground ratios, and they are very efficient machines.
"The other reason we've kept buying them is because I now know them inside-out!" Ian adds. "I do all my own servicing and minor repairs, and we get Komatsu to do the major repairs and the warranty servicing.
"They look after us pretty well, and their department in Emerald is just getting bigger."
Subscribe to our newsletter
Sign up to receive the Trade Farm Machinery e-newsletter, digital magazine and other offers we choose to share with you straight to your inbox
You can also follow our updates by liking us on Facebook. 

Graders For Hire | Cranes For Hire | Telehandlers For Hire | Excavators For Hire