Buying an ex-Army Land Rover Perentie
---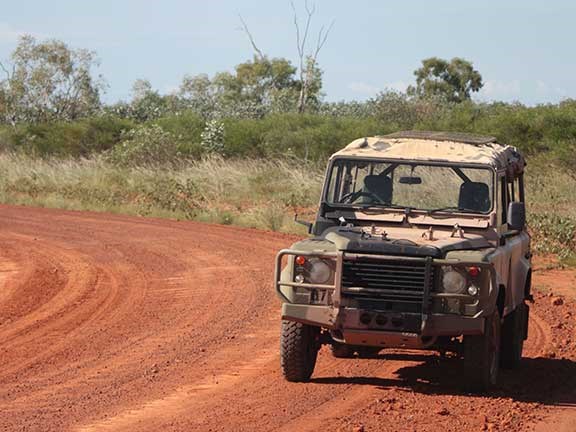 A squirt in the dirt and the Land Rover Perentie was as much at home as its Outback lizard namesake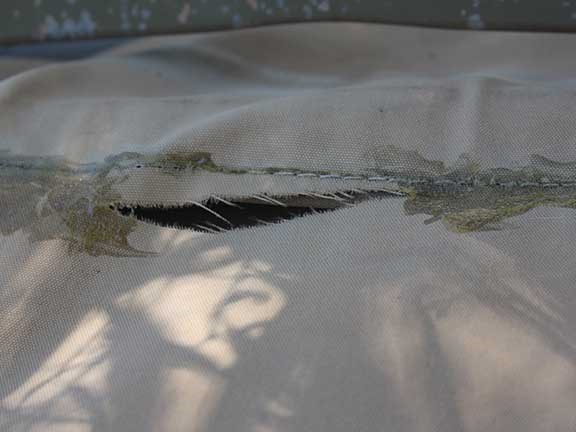 A pinhole in the canvas top was in danger of turning the roof into a spinnaker, but a bit of superglue around the edges stopped the rot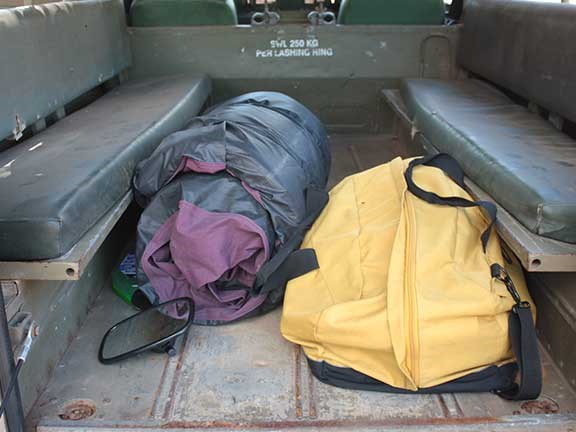 Home sweet home for three and a half days

Named after the largest Aussie lizard, Land Rover Perenties have proven themselves with the ADF for the past three decades. Now that the Army is selling them off, Matt Wood has realised a dream by buying one and setting off on a 3600km road trip across the Outback.


As some of our readers may or may not know, the Australian Defence Force has been upgrading its transport and machinery fleet over the last couple of years, and has been offloading its surplus stock – Land Rovers, Mercedes Benz Unimogs, Mack 6x6 trucks, forklifts, cranes, shipping containers, ATVs, and even dirt bikes – to the public.
These military machines are being sold by Australian Frontline Machinery, a subsidiary of scrap metal recycling group Sell and Parker. The auctions themselves are handled by internet auction house GraysOnline.
The excitement of this equipment hitting the market has died down a little, but the process is set to continue to 2020 and there are bargains to be had if you're patient and do your homework.
The auction itch that I needed to scratch was getting hold of an ex-ADF Land Rover 4x4 Perentie of my own.
In off-road circles, the Land Rover Defender 110-based Perenties have been much sought after for both private and business use. These 4x4 and 6x6 workhorses were designed and built in Australia exclusively for the ADF and feature, on top of the usual Land Rover kit, a 3.9-litre Isuzu engine, a 2.5-inch suspension lift, and a galvanised chassis.
All goods are sold on an as-is, where-is basis, though transport can be arranged for a price.
Land Rovers sold through the Sydney site are ready for rego with a NSW blue slip. As such, these vehicles command a price premium. For many people Sydney is a little more of a convenient location to collect the goods from, or cheaper to arrange transport from.

Feeding the fever
Common sense tells you that you should go to the auction yard on a pre-auction viewing day and inspect the goods. The auctions are held online but, before the clock starts, each site has a couple of viewing days when you can make sure you know what you're bidding on.
There's common sense, though, and then there's what I did.
Instead of being immersed in churning out entertaining and informative content for this esteemed publication, I must confess that I had an auction window open on the computer.
Like a desperate addict I kept glancing at the auctions around the country as the countdown to the end of the auction began. Sorry, boss!
I threw caution to the wind. I placed a bid, then another. My pulse edged higher. There's a "going, going" period where, even after the auction clock has finished counting down, the item isn't sold until 10 minutes after the last bid.
This is to compensate for slower internet speeds in regional areas, and to snare unsuspecting punters like me caught up in the emotion of buying their very own Land Rover.
At that last minute, when I was so wound up that I thought a bit of wee might come out, I won. I was now the proud owner of a Land Rover Perentie GS Cargo 4x4 … located in Darwin.
Road trippin'
I began contemplating how to get the Landie to my place, but then had a brainwave: what better way to get acquainted with my new wheels than to drive it back to Brisbane? It's only 3600km across the outback. What could possibly go wrong?
Of course, said Land Rover was unregistered but the Motor Vehicles Registry in Darwin issued me a permit to allow me to make my way back to Brisvegas. 
According to the logbook, my truck had spent the bulk of its operational life in either Queensland or the Northern Territory with 161 Recce Squadron. It may have been kicked out of a Hercules on East Timor or it may just have been used to go down the shops for sandwiches.
It did, however, get a new engine and odometer at 130,000km; the new odometer was showing 93,000km when I jetted in to take possession of it.
Territory greeting
GraysOnline Darwin manager Dave Souter greeted me in typically friendly/dry Territorian fashion and we then completed the formalities around paperwork.
I'd say that he then handed me the keys, but army vehicles don't have any keys for obvious reasons. You clearly don't want to be trying to find out who has the keys when under fire.
As it had been sitting in the tropics for a while, my chariot was cosmetically a bit shabby; some bits and pieces were a little corroded. The mighty Isuzu 4BD1 engine, however, fired straight away.
It was actually quite comforting climbing into the Landy. It had an old grease scent, like a farm shed; it smelt like an old tractor.
My first hurdle was to stop the constant four-wheel drive intermittently jumping out of high range. I didn't have time to explore too much as I needed to be back in Brisbane in reasonable time. So zip ties got me out of trouble here.
After a check over (oil, coolant, leaks etc.), I fuelled the old banger up and pointed it south to Katherine.
The 6x6 models use a turbocharger on the same Isuzu engine, however in naturally aspirated form it makes just 66kW but with a respectable 245Nm of torque. High-range gearing is actually quite tall, meaning the Perentie will quite happily sit on 100km/h all day.
Tent on wheels
Speed wasn't a problem, but noise was: a flapping canvas tent on military-run flat wheels with no sound deadening whatsoever means that at 100km/h it would be hard to have a conversation. It reminded me of flying in an old De Havilland Beaver.
But I was alone and couldn't keep the smile off my face.  At least nobody would be able to hear me singing!
As I rolled out of Katherine the next morning, it finally occurred to me that I was going to be crossing through some fairly remote country.
Dave had wryly suggested that I take the Savannah Way, which had its appeal (read: 'remote dirt road'), though common sense finally kicked in. I was in no way equipped for a trip like that, though I know it's amazing what you can achieve with a packet of zip ties, shifting spanners, screwdrivers and gaffer tape when you put your mind to it.
As it was the tail end of the wet season the air was heavy, hot and humid, so I cranked up the air-conditioning … which entailed rolling up the sides of the canvas roof. The old Perentie, however, just rattled and rolled its way down the road without a care in the world, completely unstressed.
I planned to just swag it wherever I pulled up along the way. However, I figured that parking a camo vehicle in a truck rest area in the dead of night was a good way to end up with a road train parked on my head.
So I pushed through to Barkly Homestead. It was rather amusing when I caught up to an army convoy just north of Three Ways NT. Soldiers kept looking over their shoulders with puzzled looks on their faces at the arrival of another addition to their number.
Snakes slithered across the Barkly Highway in unison with the heat haze shimmer as I approached the Queensland border. Abundant feed stretched to the vast horizon – a legacy of the recent rains.
Still the old Landy buzzed along happily.
Place names that read like the sleeve of a country music album slid past in the mauve twilight and into Winton. I was really starting to enjoy the simple bag-and-swag existence and was harbouring a secret fantasy of seeing if there was any station work around. In my mind's eye, I could see myself hauling six decks of cattle across the Barcoo.
I reluctantly rolled into the hurly-burly of Brisbane 3609km later. The Perentie had served me well, with the only mishaps being a flat tyre and a burnt-out headlight switch.
Not bad for a 30-year-old jigger that had been sitting around for a couple of years. It just reinforces the reputation for these things being tough. Fuel economy wasn't bad either, just shy of 11 litres/100km.
Now the real fun begins …
Subscribe to our newsletter
Sign up to receive the Trade Farm Machinery e-newsletter, digital magazine and other offers we choose to share with you straight to your inbox
You can also follow our updates by liking us on Facebook. 

Graders For Hire | Cranes For Hire | Telehandlers For Hire | Excavators For Hire