Case Study: Agrison 100hp CDF Tractor
---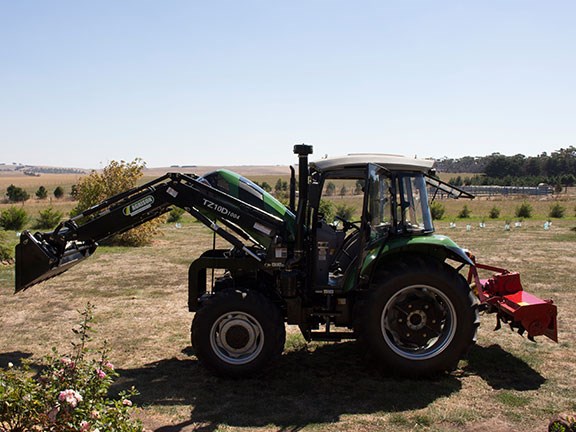 Christopher Ardron and his Agrison 100 horsepower CDF tractor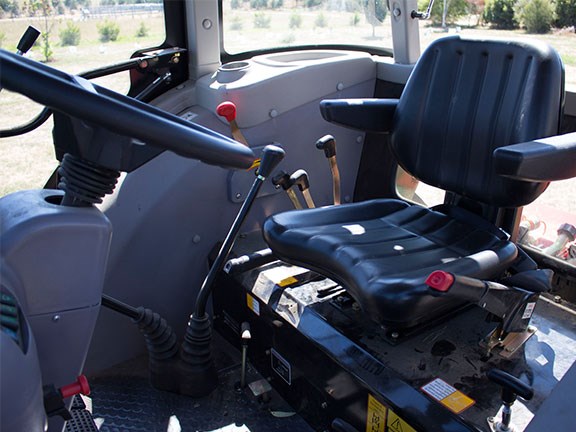 Christopher Ardron and his Agrison 100 horsepower CDF tractor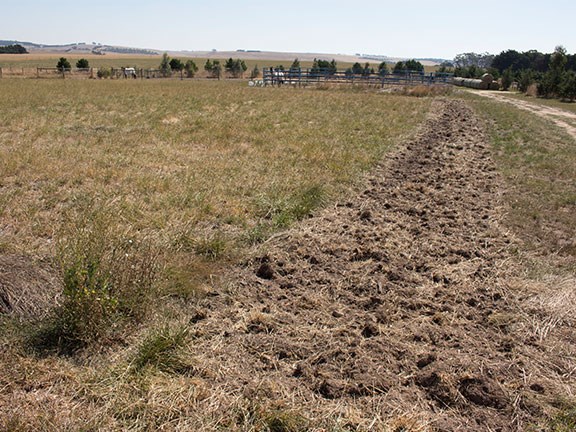 The Agrison 100hp CDF has made easy work of this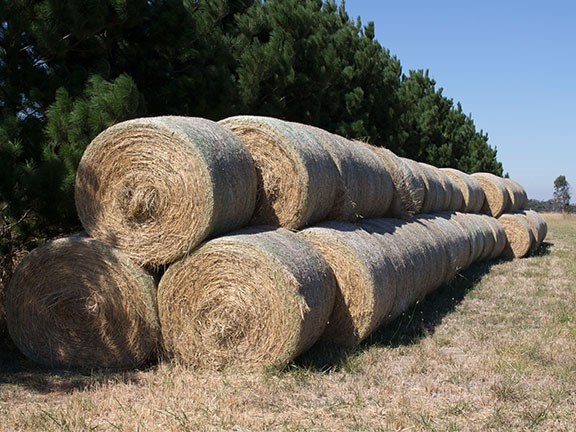 Hay bales on Chris Ardron's farm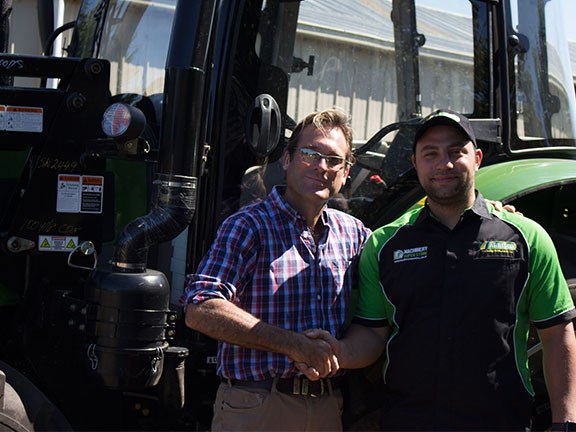 Chris Ardron and Ray Yayintas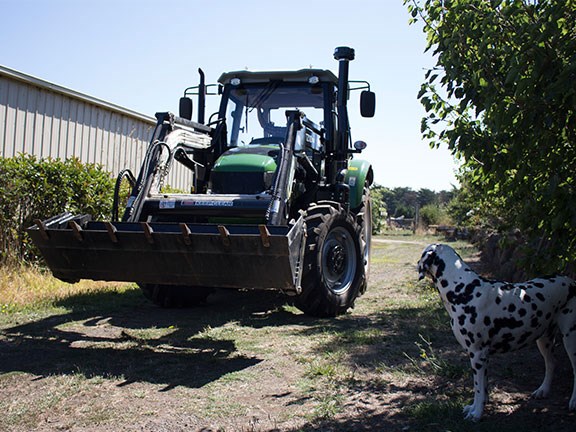 Christopher Ardron and his Agrison 100 horsepower CDF tractor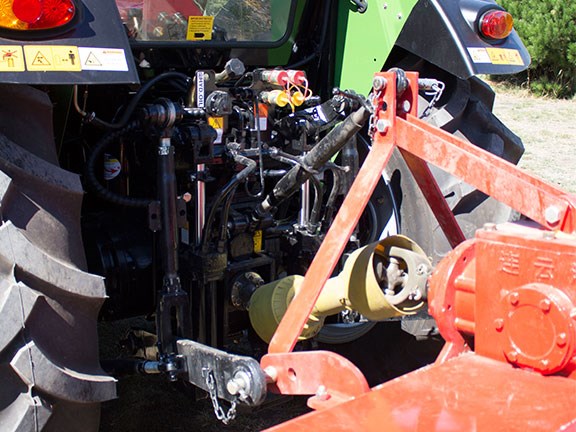 Christopher Ardron and his Agrison 100 horsepower CDF tractor

How an Agrison 100hp CDF tractor has made life easier for a Victorian horse breeder and trainer
After a long search for the right tractor, Victorian horse breeder and trainer Christopher Ardron is now running an Agrison 100hp CDF tractor for tasks like hoeing, slashing and moving bales.
Ardron, who is also a dressage judge and horse classifier, has owned his 57ha (140-acre) farm in the town of Darraweit Guim in Victoria, about an hour north of Melbourne, since 2002.
Although that's over 15 years of ownership, it wasn't until recently that he decided that he needed a tractor to help him out with everything he does on his property.
"I wanted something that was overpowered for the work that I needed to do, so I was never worried about not having enough power to get the job done," Ardron tells Farms & Farm Machinery magazine on a visit to his property.
With many different makes and models to choose from, he had his work cut out trying to find the tractor that was right for him.
"I've looked at a lot of tractors," Ardron admits, adding that, while his farm is not a fully-fledged professional enterprise, any tractor needs to do a fair bit of work.
"We do round bales, rotary hoeing, slashing, raking, grass prepping, rolled bales and also pasture improvement," he says.
When Ardron did end up buying a tractor, he chose an Agrison 100 horsepower CDF.
"What's brilliant about Agrison is that they were welcoming right from the word go, and happy to come backwards and forwards to my farm," Ardron says.
"What was also appealing to me was that they have a diesel mechanic on-hand who can come out to the farm and do servicing on the tractor whenever it needs it."
According to Ardron, the 100hp CDF tractor has not only competently performed all the tasks on his farm, it has does so with comfort and relative ease.
"The tractor is very comfortable, very pleasing and easy to use and I can't imagine life on the farm without it now," he says.
"I've been very pleased with what I got. It has done a lot of work in its 45 hours of use – I've done just over 400 round bales, and I've been able to load them all up from the back paddocks with the forks I got from Agrison."
Ardron is keen to point out that Agrison was able to fabricate certain parts of his tractor specifically for his farm's needs.
"I've got very heavy bales, and Agrison even went out of their way, at no cost to me, to make more industrial sized prongs to go on the hay forks," he says. "They've been fantastic."
Agrison general manager Ray Yayintas says the 100hp CDF tractor is by far their most popular seller because it suits people like Ardron perfectly.
"The 100 horsepower CDF sits perfectly in between the hobby and business end of farming," Yayintas says.
"A lot of people buy it for the same reason that Chris bought it, for things like rotary hoeing, moving hay bales and slashing."
Yayintas says that, as a value proposition, the tractor offers a lot for the money.
"Our 100-horsepower CDF comes with a front-end loader and a 4-in-1 bucket with bucket teeth for extra digging, and an awesome three-point linkage system," he says, adding: "In the cabin you get air-conditioning, media player and an ergonomic seat.
"People can't believe the price of the 100-horsepower – at $43,990 with a five-year parts warranty, it represents great value."
Yayintas says that, while the tractors are made overseas, the engineers who supervise manufacturing are Australian-trained and make sure quality is always maintained.
"We also have qualified engineers working overseas for us, ensuring quality control at our manufacturing locations," Yayintas adds.
Ardron says that Agrison and Yayintas have been great to deal with at all points of the customer experience.
"The service has been fantastic at Agrison," he says. "Chantelle behind the desk has been more than welcoming, and Ray has been great in general. Whenever I have a problem I just give Ray a call and he sorts it, and that's been great."
Ardron now reckons that he couldn't be much happier with his 100hp CDF and couldn't imagine life on the farm without one.
"I've had the farm since 2002 and this is the first tractor we've had on it … now that I've got one I can't believe I went this long without one," he says.
Agrison is family-owned and run Australian business offering a range of tractors, wheel loaders, diesel generators, farming implements, portable cabins, engines and water pumps. Established in 2005, it currently has 15 staff working at its premises on the Hume Highway in Campbellfield, Victoria.
Subscribe to our newsletter
Sign up to receive the Trade Farm Machinery e-newsletter, digital magazine and other offers we choose to share with you straight to your inbox
You can also follow our updates by liking us on Facebook. 

Graders For Hire | Cranes For Hire | Telehandlers For Hire | Excavators For Hire