Product focus: Farmscan Ag Canlink 7500 seed-rate controller
---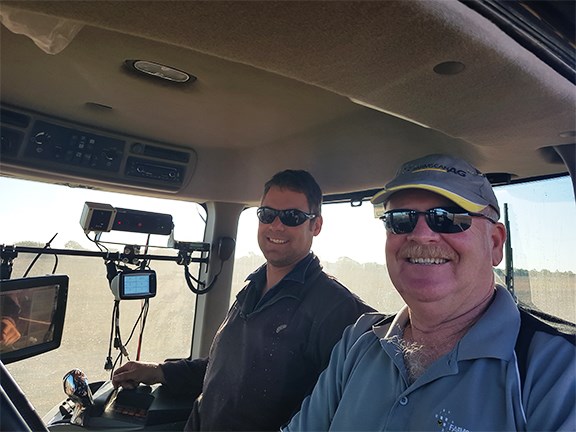 Darren and Ray inspect the compact 7500 seed rate controller in the cab of the family's Case Steiger 500 tractor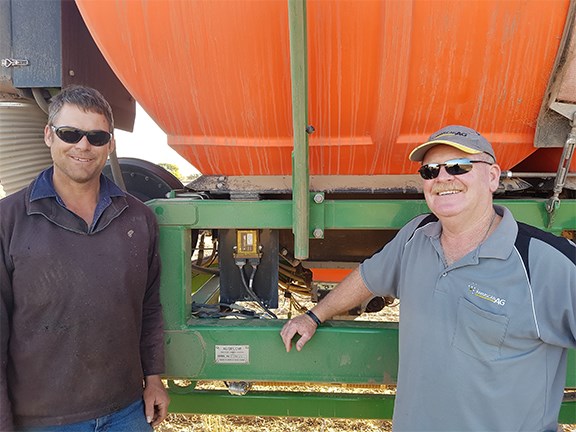 Darren and Ray look over the 7500 rate controller's UniPOD on the Lee's Ausplow Multistream air seeder

It can do just about everything else, but WA farmer Darren Lee just wishes his new Farmscan Ag Canlink 7500 seed-rate controller could control the rain.
Lee and his wife, Nadia, together with his parents, Garry and Marj, crop about 80 per cent of their 2500ha 'Rosalea' farm to wheat, barley, canola and some lupins, although they pulled up with 300ha to go in their program this year due to the dry conditions. They also run about 1000 Merino sheep plus lambs.
Their sowing rig includes a 12m (40-foot) Ausplow DBS Auseeder set on 25cm (10-inch) spacings and 14,000-litre Ausplow Multistream, triple-bin air seeder pulled by a Case Steiger 500 tractor.
The Ausplow system came with a Farmscan Ag Canlink 3500 seed-rate controller which the family recently upgraded to the new-generation 7500 controller.
The latest model incorporates significant enhancements to the long-popular Canlink 3000 and 3500 units and already has attracted strong early interest, while some quick retrofitting was also carried out for some growers before seeding this year.
The new controller is available for a range of air seeders, including Morris, Horwood Bagshaw, Simplicity, Gason and Smale, with its CANbus system catering to granular and liquid systems.
Its unique onscreen 'Tile' and 'Tab' layout allows users to customise the view on the 4.8in colour touch screen.
In any field conditions, the Farmscan Ag 7500 controller compensates for changes in speed to maintain the target rate selected. Rates can be increased or decreased on-the-go and a master switch allows instant stop/start control when required, such as at headlands.
In the event of any rate deviation or problems with calibration or sensors, alarms can notify the cause of the problem and action can immediately be undertaken to rectify it. To attract attention, the status tiles flash red with an audible warning to alert operators.
Key features include flexibility, user-friendliness, easy calibration and the ability to hold onto calibration factors per seed rate.
Lee says the cable that comes with the new controller also makes the job of calibrating easier.
"You can now take it down with you when calibrating. It saves having to climb up and down the tractor," he says.
"The 7500 is also a bit more compact, which helps to not block up your windscreen."
Lee says controlling seed and both granular and liquid fertilisers with the new model is easy: "The tab style and the touch icons are a lot easier to use, it's more intuitive."
Lee says he occasionally changes rates depending upon the volumes of seed and fertiliser remaining and the area to be sown.
"The 7500 has certainly done what it is required to do and we have good backup from Farmscan Ag, which is important," he adds.
The Lees' sowing system also uses a Farmscan Ag 1020 zone blockage monitor for further peace of mind.
In Victoria, Mallee dealer Brad Petschel, of Brad Petschel's Auto Elec at Hopetoun, says the new 7500 seed-rate controller is prompting users of existing Farmscan Ag controllers to upgrade to the latest model.
"Sales have made interest stronger," says Petschel, who also operates a 485ha cropping enterprise in the area.
He said the flexibility to customise the front-end and set it up to individual requirements, whether liquids or granular, was a big plus.
"The 7500 does more than the previous controllers, it has different set-up functions for different applications and the new display is much easier to read," he says.
Farmscan Ag sales and service manager Ian Giles says the 7500 controller is also able to work with shapefiles for variable rate applications. These can be imported from most geographic information system (GIS) programs supplied by agronomists and easily uploaded via USB.
Simple logging and mapping helps further simplify operations and verifications, ensuring compatibility with GPS and Quality Assurance (QA) requirements. The data can be exported via USB and imported into farm management software for printing, verification and record keeping.
Subscribe to our newsletter
Sign up to receive the Trade Farm Machinery e-newsletter, digital magazine and other offers we choose to share with you straight to your inbox
You can also follow our updates by liking us on Facebook. 

Graders For Hire | Cranes For Hire | Telehandlers For Hire | Excavators For Hire