Two Dogs Barking | Praise V8 Diesel!
---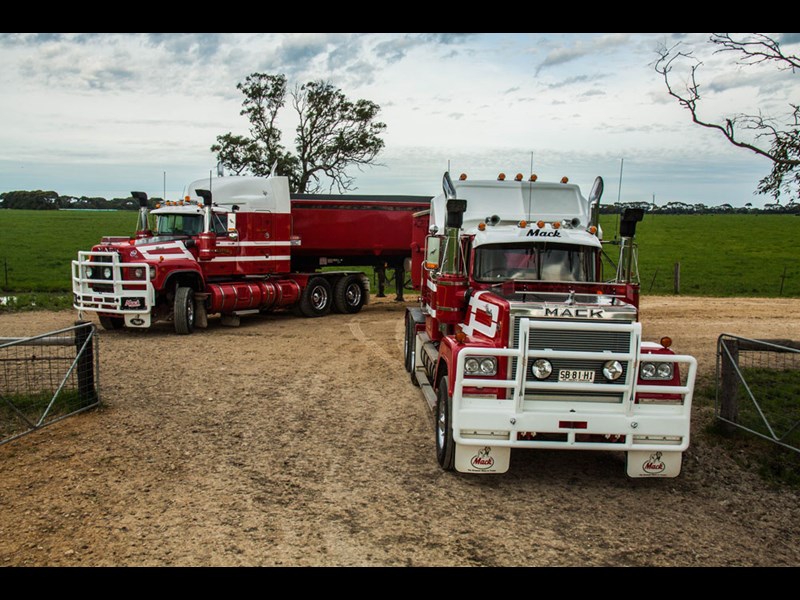 This couple of tidy old girls are still up for a hard day's work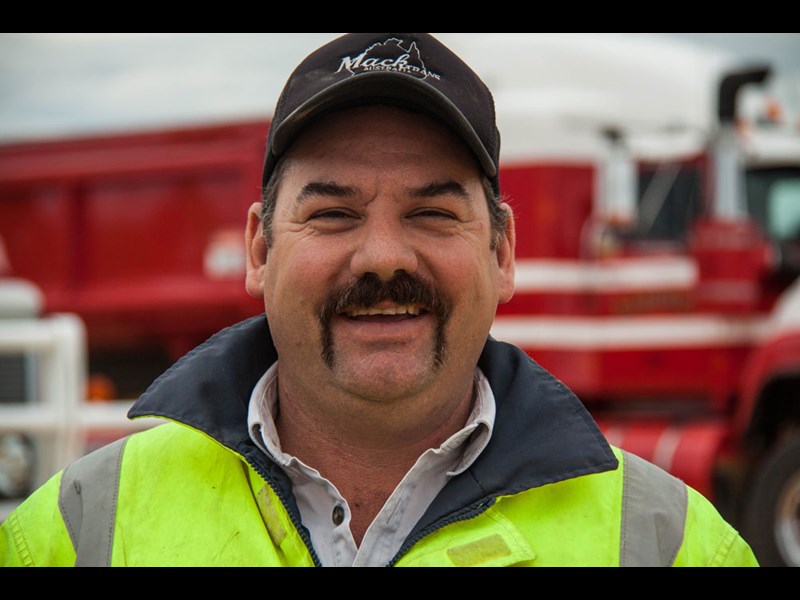 Nick Radford grew up against a back drop of outback trucking and heavy machinery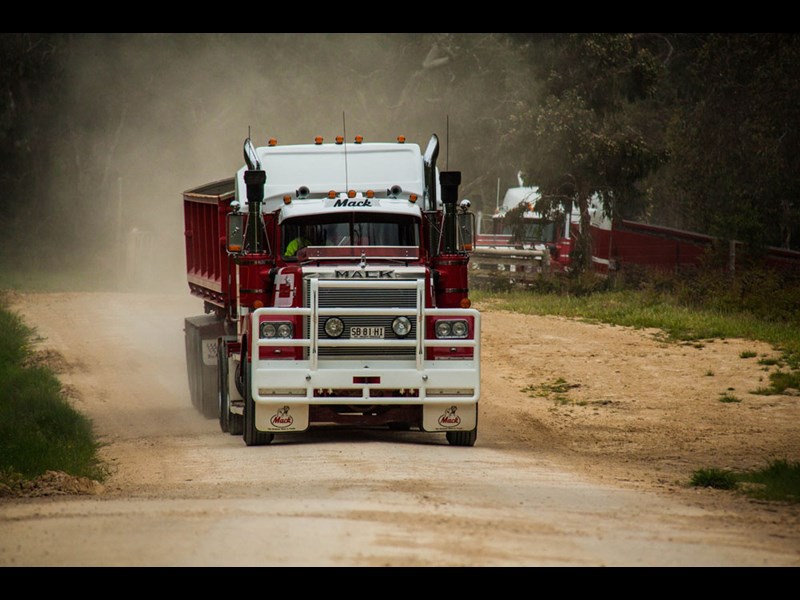 Rumbling into the quarry for another load of road base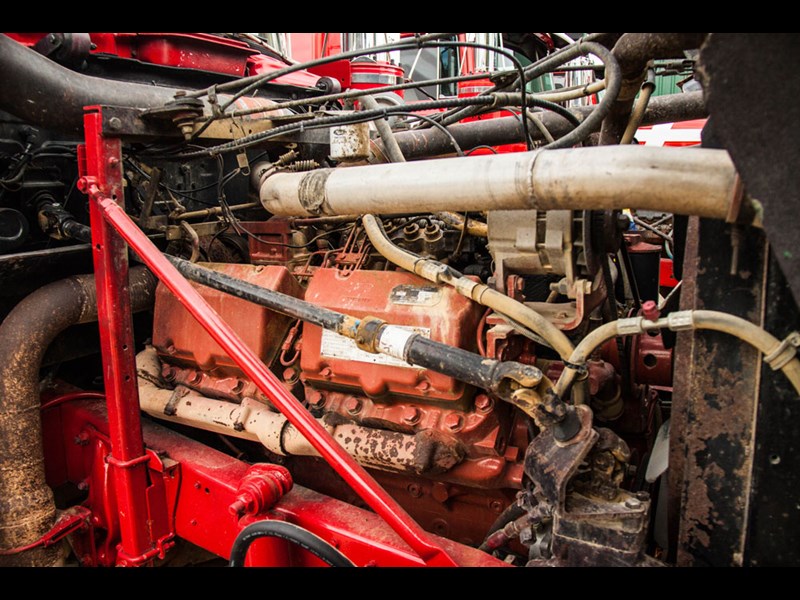 The EA9 V8 sure is a big lump of iron!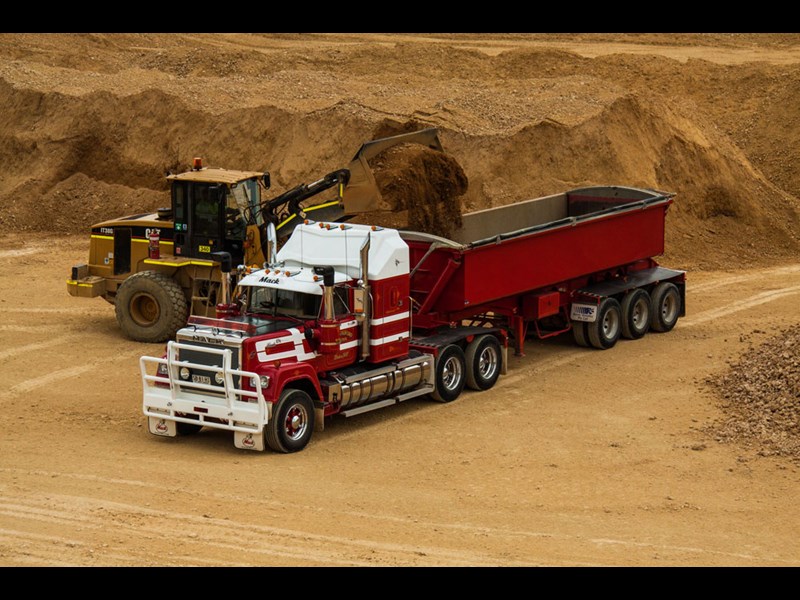 Loading up for the first trip of the day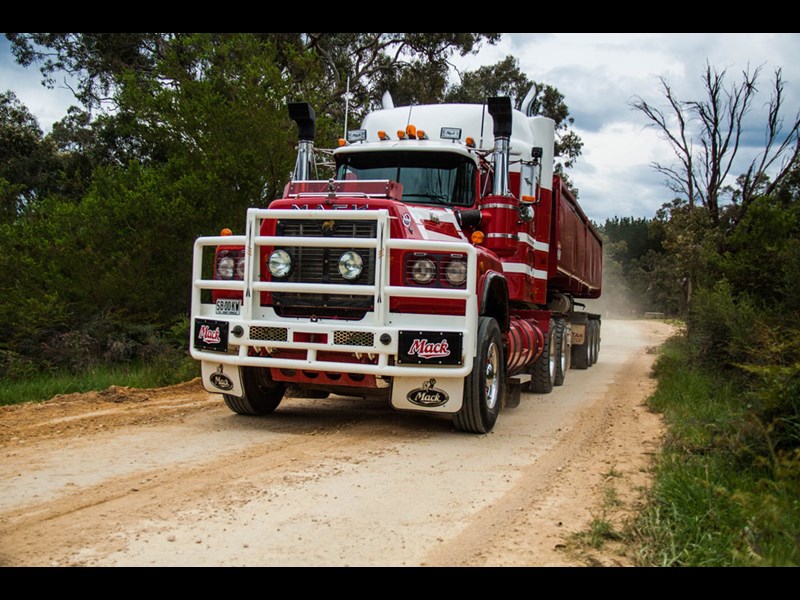 This Valueliner would have to be one of the nicest trucks I've ever driven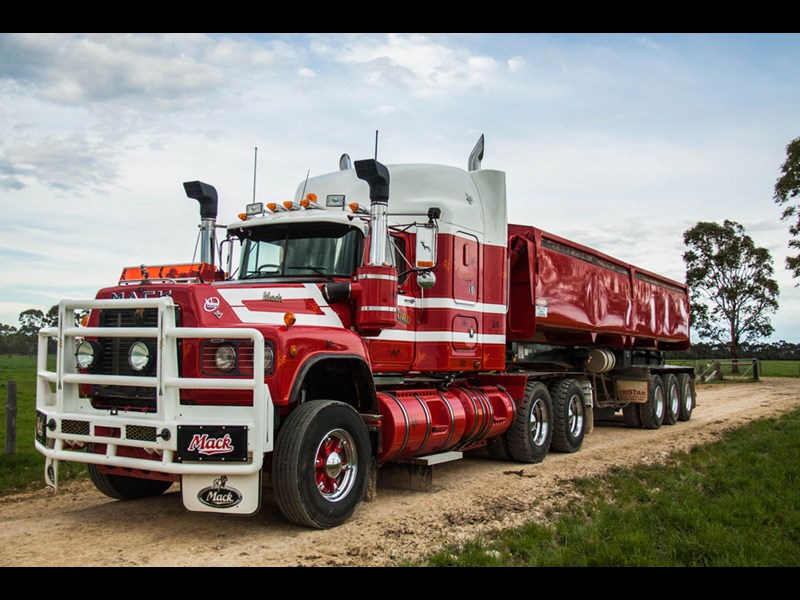 The Radford resto belies a history of hard work in the back blocks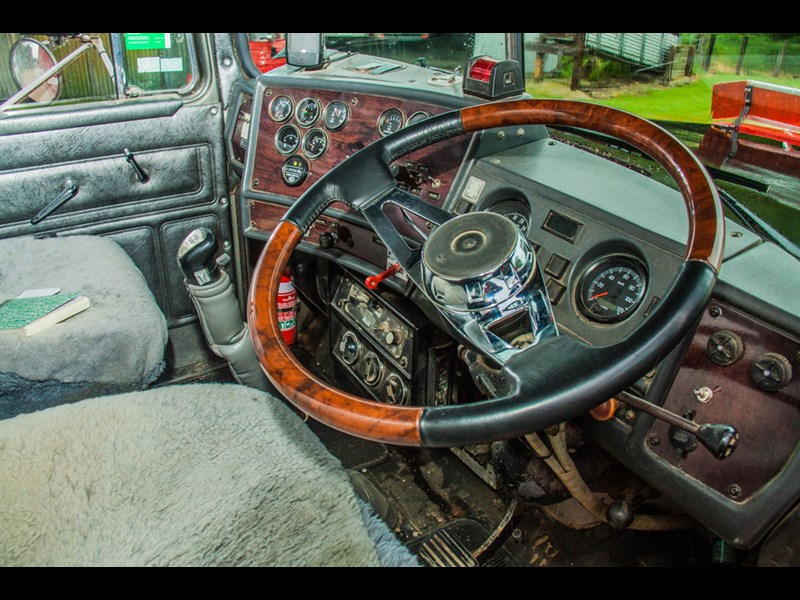 Even with countless outback miles on the clock this Valueliner is still as tight as a drum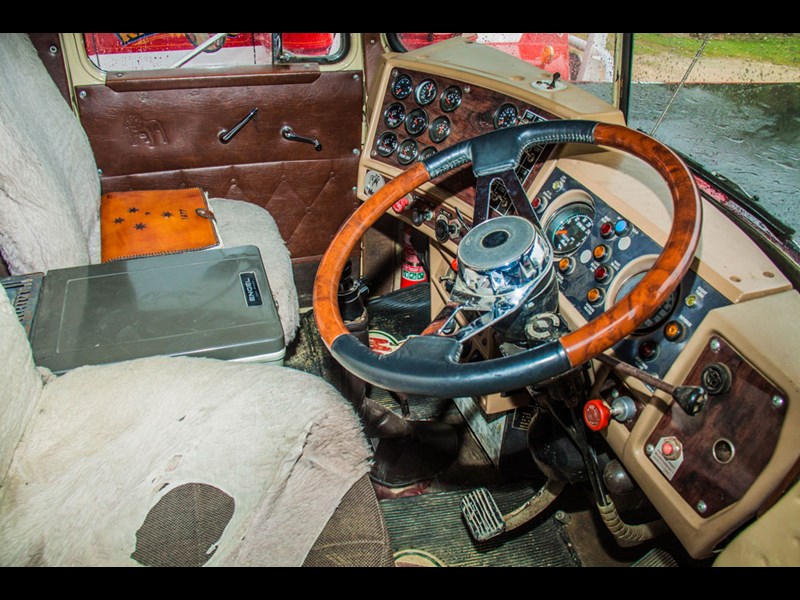 This Superliner would've been pretty swish back in '81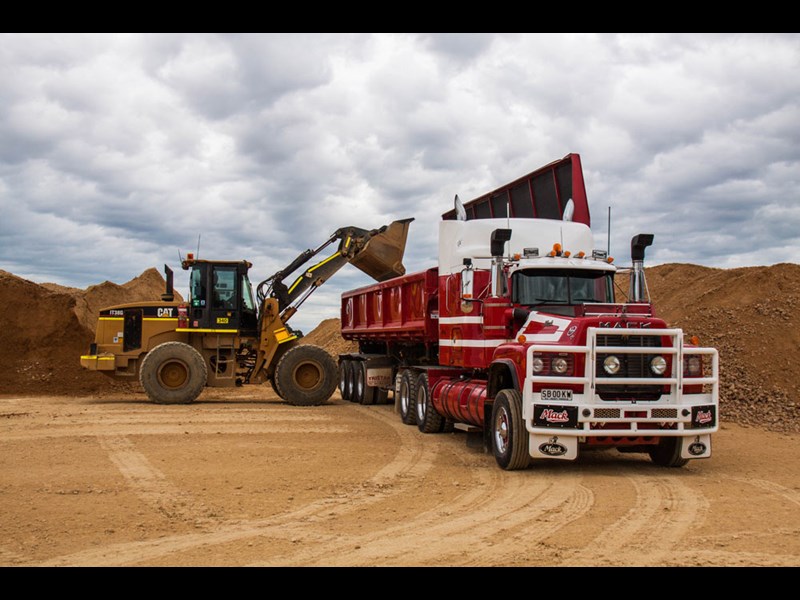 Another load ready to go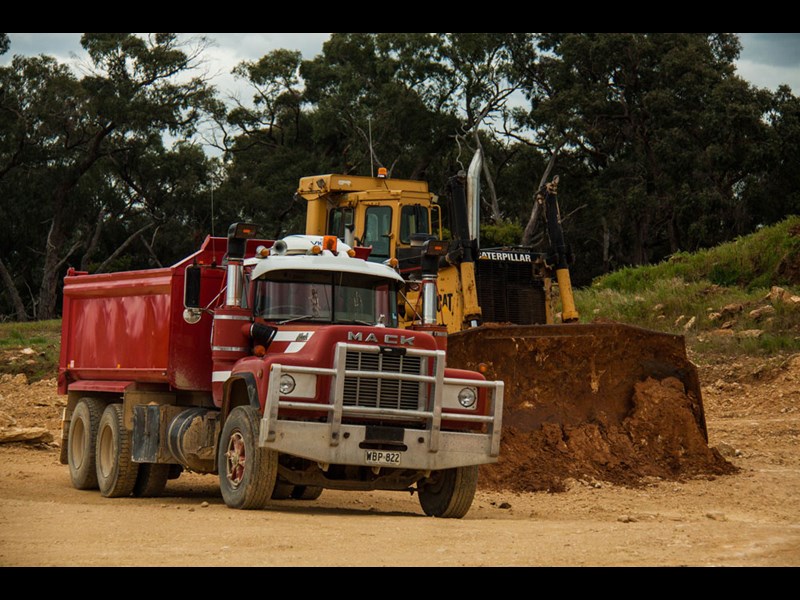 This old R model still gets a run on occasion too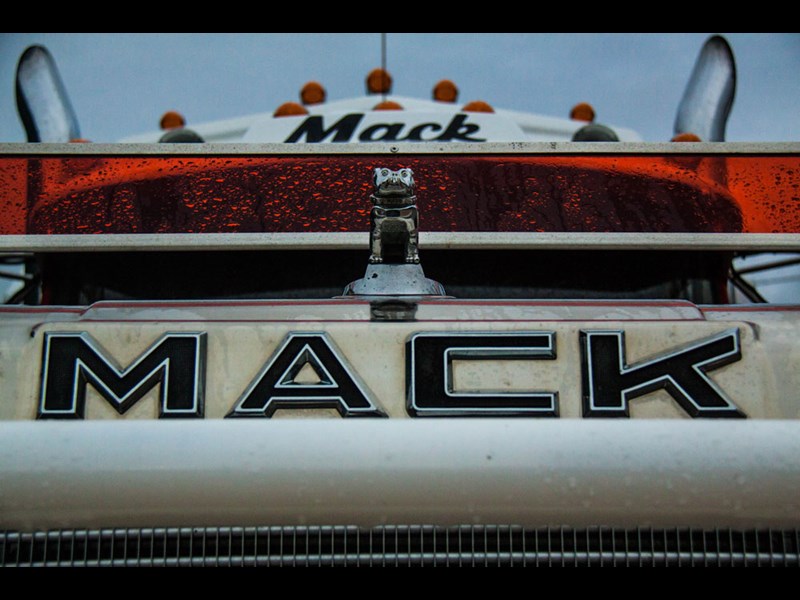 That bonnet and grille is a timeless classic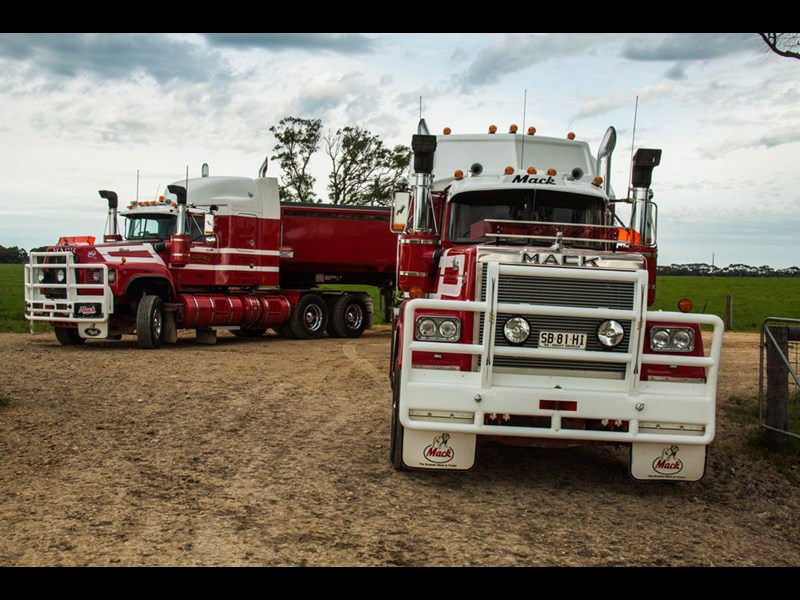 Both trucks still see plenty of country miles in varied applications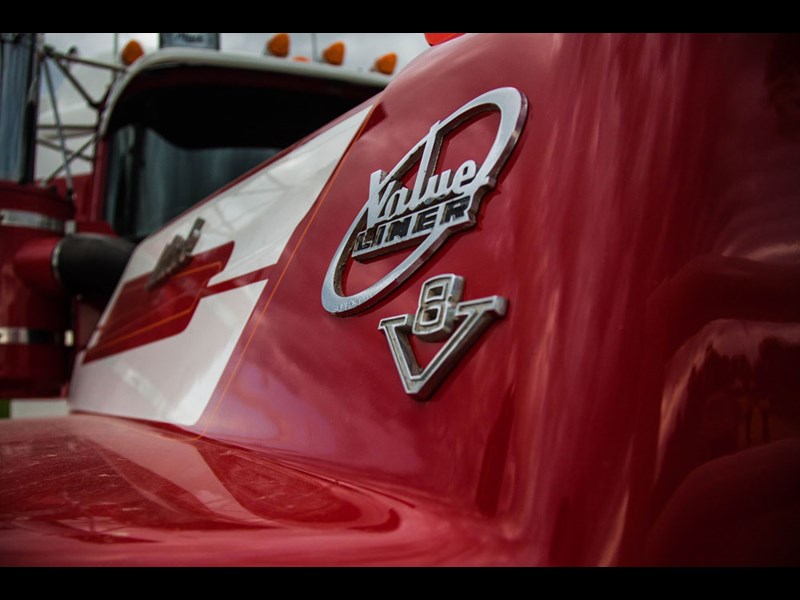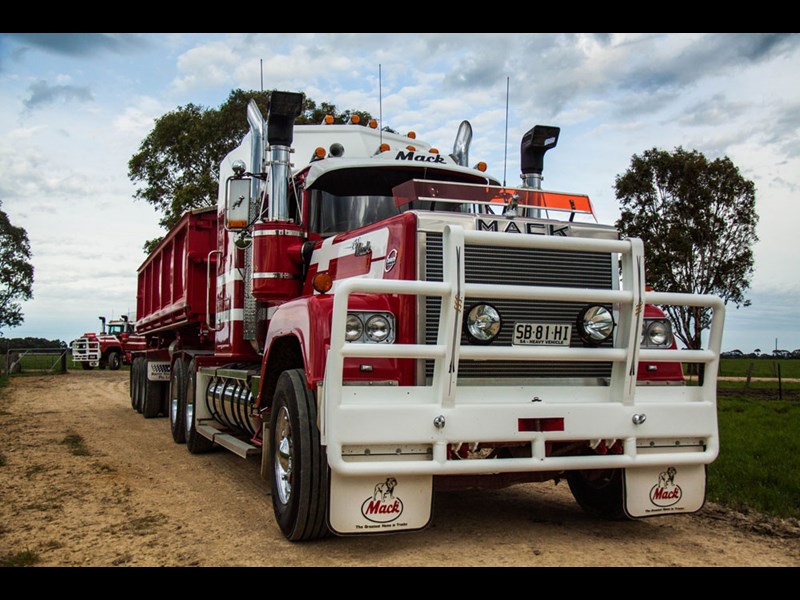 This Superliner sounds just awesome inside and out


The bulldog!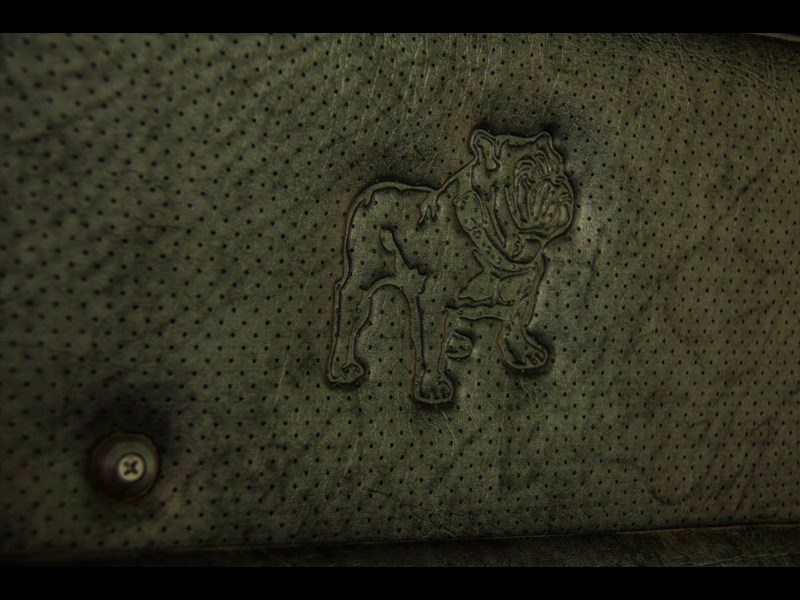 Gotta love the door trims!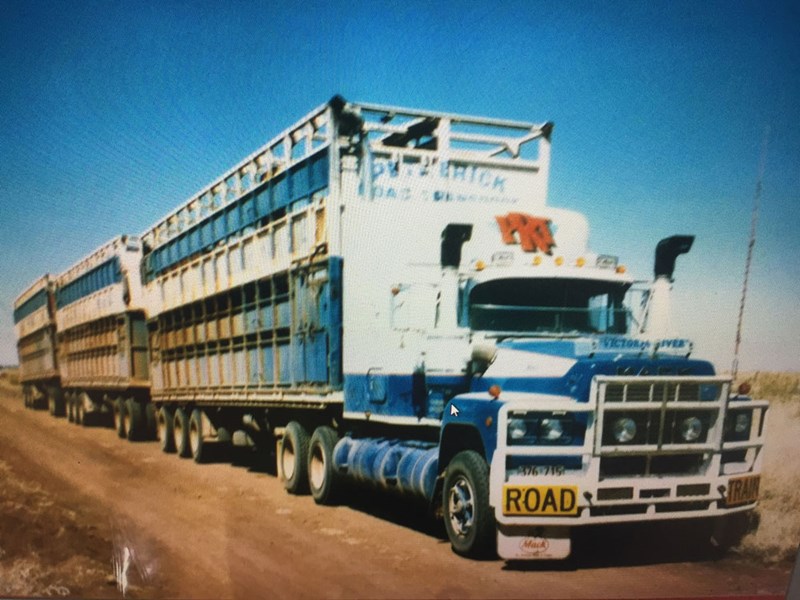 The Valueliner working hard for Pethericks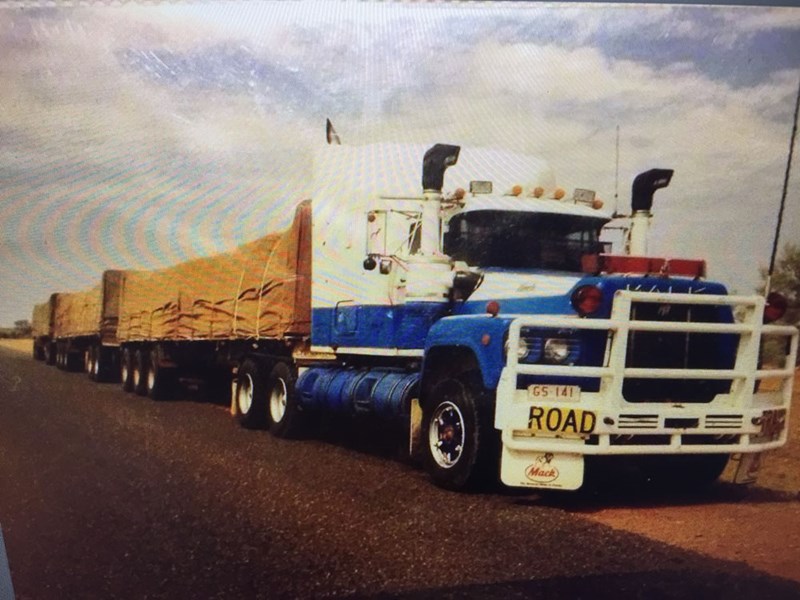 6-decks or 3 tarps still equals hard work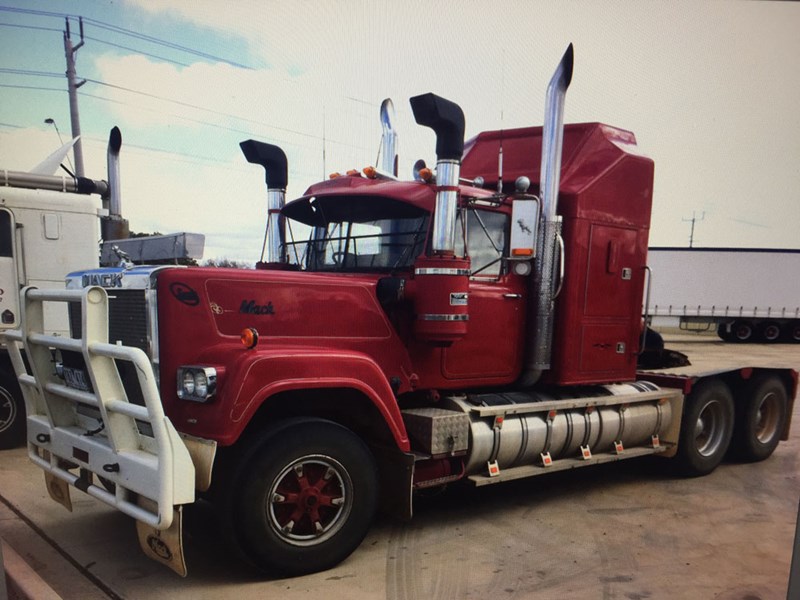 The Superliner as it was when Nick bought it, he hasn't touched the driveline

The distinctive rumble of a Mack V8 has all but disappeared from Australian highways. Matt Wood heads to South Australia and indulges in some sooty E9 worship

It was a strange sight. Here I was in the middle of nowhere, rumbling down a dirt road through the lashing rain. I swung out to turn into the gateway of the quarry when I noticed a bloke standing beside his car in the rain just inside the gate.
I rolled to a stop and stuck my head out the window, "How're ya going?" Old mate was a little damp, his hair was plastered to his head and rain trickled down his face, but he smiled benignly, "Nice truck," he said before handing me a magazine, "Just spreading the word."
I must admit that the gateway of a rural quarry was the last place I'd expect to encounter a Jehovah's Witness. But, with the good lord on his side I suppose he didn't need an induction.
Praise Diesel!
Little did he know I was already having my very own religious experience, I was at the wheel of a 1981 Series 1 Mack Superliner. 16 litres of old school V8 burble and a 12-speed Mack 'box was my particular church on this wet South Australian day.
I was worshipping at the altar of down 'n dirty diesel while the choir was singing a 400hp 16 litre tune to the angels.
And yes, I was in heaven.
The town of Penola in southeastern South Australia is a pilgrimage destination for many Catholic devotees. It was here that Mother Mary McKillop, Australia's very own saint first taught.
My very own pilgrimage to Penola however, was driven by the desire to climb behind the wheel of a legendary truck I'd never driven before, yet had heard so much about. I'd heard the stories from old-timers who grew misty eyed as they'd recalled the sound and feel of steering a V8 Mack.
However, I'm a bit young to have ever driven one in anger. I'd admired clouds of diesel smoke erupting from twin stacks and I'd delighted in the deep-throated slow revving bop of the bulldog 8 huffing and hauling. But I'd never had the chance to take one for a drive, until now.
Why Do You Ask 2 Dogs?
Nick Radford owns both trucks you see here, a 1981 Series 1 Superliner and a 1990 Valueliner.
A childhood spent in hanging around the workshop of the Radford family's Broken Hill based earthmoving and transport business fed a desire for diesel dreams in an impressionable young Nick.
"I was out in the yard when ever I could as a kid," Nick recalls. "I used to like getting out there, washing the trucks and talking to the drivers." He smiles at the memory,  "I'd ride the pushy out there and annoy the mechanics, I liked Macks when I was younger while they liked Kenworths, it was like a Holden-Ford showdown."
"I don't think there were many trucks in Broken Hill at the time with polished tanks and bull bars, but I'd go and pinch a packet of steelos from under Mum's sink and try and polish a bull bar."
It's pretty clear that Nick was somewhat truck obsessed as a kid, "If you asked my teachers I was always going to drive a truck," "In art class, if they asked me to draw an object, it was a truck, if they asked me to draw something made of steel, I'd draw a truck, if I had to draw something organic I'd draw a truck in a forest!"
Of course I had to ask what truck Nick drew back then, with a laugh he replies, "A Series 2 Mack Superliner!" Of course he did.
Outback Apprenticeship
On leaving school Nick went to work on the family station, however drought saw him move back to town and working in the Radford trucking and earthmoving business.
Growing up in big truck territory on the edge of the outback was a hell of an apprenticeship. But I did have to ask what drew him to trucking in the first place. Was it just the machinery? Or was it life on the road? "It was a bit of both really, I mean there was nothing better than being at the wheel of a shiny red and white Superliner." "But when I was younger I'd go out with the drivers if they were on a livestock job and on those back dirt roads you were the gate opener." "I'd tag along talk shit, I'd take my swag along." "I'd help load sheep then come home again."
Nick's father Gary had built the family's earthmoving and transport concerns into a sizeable business, however Nick still had to learn the ropes of outback trucking along the way. "The job entailed a bit of everything," Nick says, "Gas pipeline work, bulk cement and livestock, there was also the earthmoving gear, there was a lot of variety"
These days however, Nick is based in the South East of South Australia and looks after Radford Pastoral, a sprawling 9,200-acre concern spread over 3 properties in the Penola area. While Nick may spend the bulk of his time tending to pasture and looking after 4000 head of Angus he has never lost the trucking bug.
As a farmer now he reflects that his trucking passion really is about the machines themselves, "Nowadays it really is just about the trucks, it's more abut the trucks that were king of the road back then."
His passion for old-school heavy metal has clearly been influenced by his family trucking heritage. In fact, the trucks you see on these pages have been restored as a tribute to that history.
His father, Gary Radford has a beautifully restored W model Kenworth at home in Broken Hill which has been painted in the original Radford fleet colours. Nick has followed suit with these two Macks. "Dad's W model is what gave me the bug, just seeing it restored and in the old fleet colours."
Number 1
The Series 1 Superliner was the first of the two trucks pictured here to find it's way into Nick's possession. He'd seen the truck in Mildura a number of times over the years where it worked seasonally during the grape harvest. "It's got a million kays on the clock, I'm not sure how accurate that is though." "But we haven't touched any of the driveline."
Back when Nick was a young fella working out of Broken Hill his first big company truck was an 83 Series 1 Superliner. "It did 85 kays an hour at 1900 revs but I thought I had it made," he recalls, "Dad said, "have a go at this one you shouldn't tip it over."  He laughs, "It got about 1 litre per kilometre, but I loved it"
Before hitting the road solo however, Nick had spent many an hour in the passenger seat watching and learning from other company drivers. "I used to go for runs with Peter "Peterborough Pete" Malycha." "Pete died a while ago so we called this Superliner Peterborough Pete as a kind of tribute."
This truck is fitted with a 42-inch Bayline bunk while, as you'd expect an EA9 Mack V8 sits under the bulldog bonnet and is rated at 400hp. Behind that sits a 12-speed Mack 'box.
A Second Addition
A couple of years later Nick came across this 1990 model V8 Valueliner. This old girl had definitely done some hard yards; it started out hauling road trains for Petherick Transport before they were bought out by RTA. After a couple of years in the wilderness, Adelaide based Horry Nicholls used it to haul triples out to Moomba. "It had a really good history."
The old 500hp donk had grenaded at some stage so a 400hp V8 now resides under the bonnet. Behind 16 litre sits an 18-speed Roadie. And behind the cab sits a 42-inch bunk.
"Because of the double skinned chassis rails there was a bit of rust around the rear of the chassis," Nick says, "It needed a bit of love and a bit of tidying up."
Two fuel tanks were re-engineered and the front bar was sandblasted and painted. A new interior was also fitted.  The restored Vauleliner was christened the "Petho-Liner" as a nod to its original owners.
And as you can see, both trucks have been faithfully re-sprayed in the Radford fleet livery.
Working Examples
As a farmer, you may be wondering if Nick keeps these trucks purely as toys. However, everything in the shed here in SA has to earn it's keep, along with 2 Kenworth T908s, a set of B-double side tippers, a set of road train step decks and dolly, a water tanker, B-double stock crates and 2 single side tippers.
The fertile yet silty clay soil of this area makes road building a challenge, however a while back Nick stumbled across a large limestone deposit of their Waterfield property. These days the farm is also home to limestone quarry and crushing plant that makes perfect road base for both the local council and private property access roads.
Hence the selection of tippers in the farm fleet.
Of course I wasn't going to miss the opportunity to go hauling dirt in a couple of old dogs so with a side tipper behind both trucks we set to work moving hauling road base out of the Waterfield quarry.  
I climbed into the Superliner first. The Series 1 cab sits about 5-inches lower than the later Series 2 model. But once in the driver's seat it's hard not to admire that big square bonnet out front.
Mack 'Box Virgin
The E9 grumbled away as I pondered the 12-speed 'box. This was the first time I'd had a crack at one. I've driven Spicers but mainly Eatons and was keen to take my best shot.
Surprisingly it didn't take too long to get it, the main thing I picked up was using a bit of clutch when using the splitter. The slow revving nature of the E9 engine makes it very forgiving.
But with these old dogs it really is about the sound. Aside from old GMs or possibly a Commer Knocker there's probably no more distinctive engine sound than one of these old 16.4 litre V8s.
In this day and age of low torque curves the Mack V8 feels a little strange, it's a low revving lugger, yet needs to be kept above 1300-1400 revs to stop it from laboring. Trying to idle along in too high a gear results in the engine hunting and surging. At 1600rpm with a load of dirt on the back this thing sounded glorious.
As a cold front slammed into the South East wind and rain started to hammer in earnest. This still didn't make me wind the window up! I was too enamoured with the lazy bop-bop exhaust note of the big bent 8.
Windscreen Whackers
A down side, I soon found of these old bangers are the pneumatic windscreen wipers. As water sluiced down the screen I struggled to find a wiper speed that didn't result in the blades slashing violently at the screen. That said, it seemed a small price to pay for the joys of piloting such a classic.
With one load under my belt, I climbed aboard the Valueliner. What a bit of gear this thing is!  The howl of the air start pierced the curtain of wind and rain as the engine sprang to life. The 18-speed and E9 combo seemed perfectly matched and this truck is as tight as a drum. The only niggle is that the stacks are mounted behind the bunk so you don't have the same immersion in the V8 burble that you got with the old Series 1.
After the Superliner this later model dog felt a little twitchier, mainly due to the set back steer axle. However I'd honestly have to rate this as one of the best trucks I've driven. It had plenty of grunt for the application and just sat beautifully on the road, whether dirt or asphalt.
Heritage
Both these trucks are a credit to their owner's passion to preserve his own small part of Australian road transport history. And they are a fitting tribute to the Radford family's heritage of trucking.
At the end of the day with the trucks parked up we have a yak over a Bundy or two. I nod towards the now mud streaked Macks, the setting sun flaring on bulldog mascots and chrome. I ask if he has a favourite.  Nick grimaces, and looks down at his boots before meeting my question. "Don't make me choose mate," He says, looking back out the shed door, "don't make me choose." 
Subscribe to our newsletter
Sign up to receive the Trade Farm Machinery e-newsletter, digital magazine and other offers we choose to share with you straight to your inbox
You can also follow our updates by liking us on Facebook. 

Graders For Hire | Cranes For Hire | Telehandlers For Hire | Excavators For Hire