Profile: Rick Seeds, the farmer who's bouncing back
---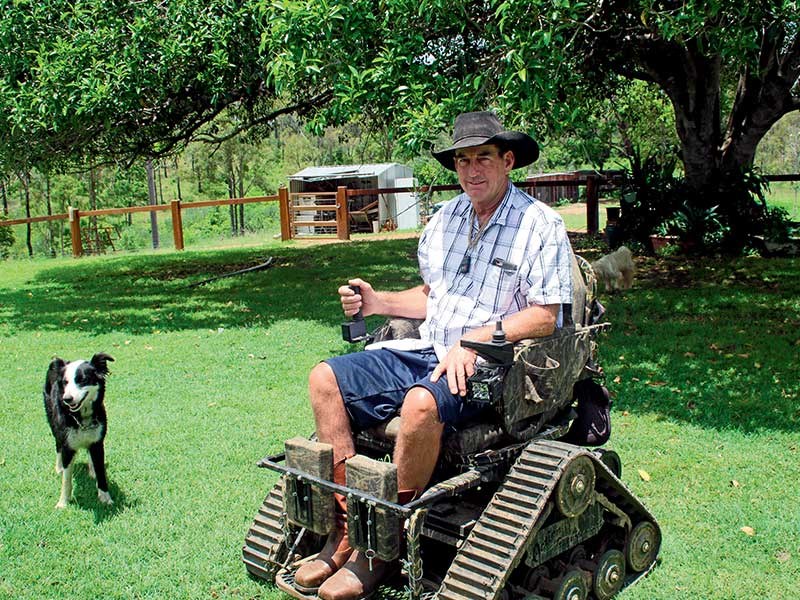 Rick Seeds and his all-terrain Action TrackStander Wheelchair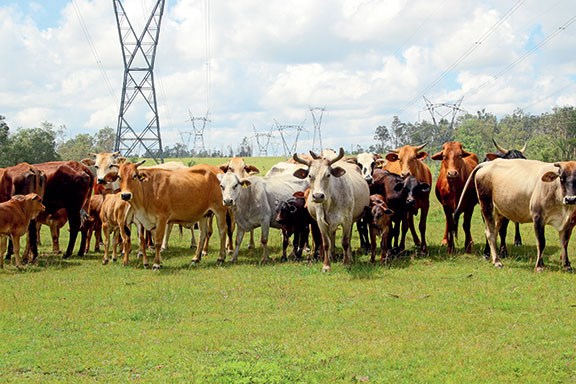 They aren't horses, but Rick has a soft spot for his cows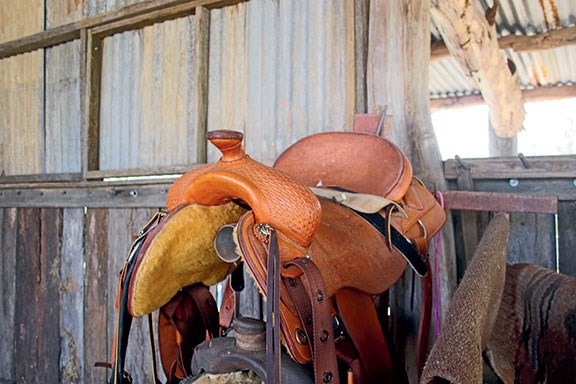 Rick's custom made saddle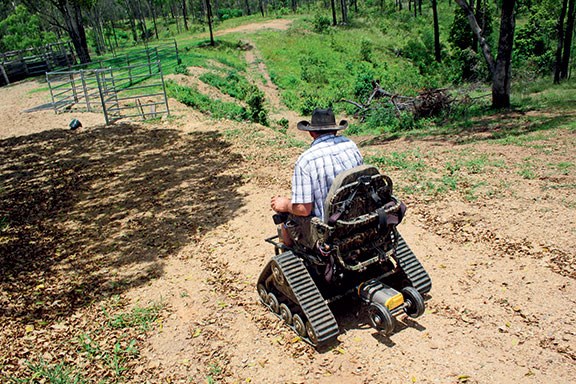 Rick gets around his farm in the TrackStander Wheelchair, though he admits he wishes it was a bit faster

You can't get much tougher than Rick Seeds, a paraplegic farmer in the rural Queensland town of Gin Gin, who's taking to the land once more.
Queensland farmer Rick Seeds epitomises that Aussie notion of hard work, resilience and grit.
Nearly a year ago to the day, the horse on which he was riding suddenly bucked, falling back on Rick, breaking his spine at T11, T12 and L1 vertebrae and leaving him a paraplegic.
A retired bull rider, Rick was also an accomplished horse rider, having carved a solid career breeding, breaking in (training horses to be ridden) and selling horses.
But an error of judgement may have led to his life-changing fall, he believes.
"The horse I was working had a few days off, it had rained and I saddled him up just outside the gate," Rick explains.
"I rode him down the hill about 100 yards," he says casually. "We were just walking along so I asked him to go and he just stuck it into me and got bucking, falling over backwards onto me."
Rick concedes that if he had his time over again he'd have prepared his horse better.
"I have told people for years not to just hop on a horse after it hasn't been worked for days and the horse was young in the head," he says, disappointment showing in his face and voice.
Most at home on the back of a horse but now bound to a wheelchair, Rick can only dream of returning to his previous life.
"I've been with horses all my life; my dad had cattle and horses, and broke in many horses when I was a young fella," he says.
But despite his lack of movement and the doubts of doctors and friends, he has remained active on his 121-odd-hectare property.
Every day he attacks the rocky terrain and paddocks of his Gin Gin property using a government-funded all-terrain Action Trackstander wheelchair and a heavily modified, hand-operated Kubota UTV.
With this equipment, Rick is able to maintain his active lifestyle and passion for the country.
His focus has recently shifted towards a new passion – his dozen Border Collies, which he is training to help him herd his sheep and cattle.
"I want to show you something, Harrison," Rick says excitedly, and leads me to the front of his house which overlooks his and his neighbours' hills and paddocks.
With a whistle and a holla of "Go round!", his favourite dog takes off down the hills, and within five minutes has a flock of sheep at the front gate. His response? "She's still learning."
I was impressed.


Jumping back on
While his dogs are taking up his days for now, Rick is still eyeing off a return to the saddle, as his brand-new working arena was completed just before the accident and has never been used.
But it's a confidence thing for Rick. He still loves horses and has a custom-made saddle that incorporates a seat-belt-like strap to hold his lower body to the saddle and horse, but it's the now 'foreign feeling' of riding that seems to deter him from literally getting back on the horse.
"Since I've been home I have been on the back of a horse about half-dozen times or so," Rick says. "I probably should get on him again; I'm feeling like I'm a lot more stable through my core.
"It's definitely confidence. I can watch the video of me riding and I look alright, but when I'm actually in the saddle it doesn't feel right.
"If my son or my daughter come over and they want to ride then I'd hop on, or if I had to get on and grab a cow from next door, but other than that I don't really want to."
He thinks a bit then reframes that thought.
"It's something I want to do, but it's something I want to do down the track when I'm more organised," Rick says. "I also want to have someone here with me for a week or two, so I can do it every day instead of doing it once in a blue moon.
"I think if I did it every day for a week or two, then I would know if I really want to do it or not."
Rick's wife Sally remembers his first time back on a horse just months after the accident.
"He first hopped on when we were still down in Brisbane, which was only two-and-a-bit months after the accident," she says. "They laid the horse down, and he hopped up out of his wheelchair onto the horse and rode around.
"And he thought he was doing really well, until he sort of ... fell forwards because he couldn't feel his legs. He was all cocky until that happened," Sally jokes.
Rick explains: "It's because I've got no legs; that's what makes it hard. I used to just push the horse along with my body but it's not there now so I can't feel it."
Just six years earlier he suffered another serious accident on a bucking horse, being left with a split pelvis after hitting the horn of his western saddle.
Rick does see a lighter side to the two injuries.
"I've got a plate in here with screws in it, and now I have two rods in my back that are screwed in (from the recent accident)," Rick says, signalling to his pelvis and back.
"So I've got a bulbar and a towbar."


Back to work
The Queensland government's Back to Work program has been a key factor in helping the Seeds roll back into everyday life.
"They have been very helpful," Rick says. "They helped in funding my wheelchairs, these boots I'm wearing, the saddle and the Action Trackstander."
Back to Work also sourced the special electric gates that are scattered around the property and that Rick is able to open with a remote control that hangs around his neck.
The new solar pump on the Seeds' bore system is also thanks to Back to Work.


Stand and deliver
Rick's all-terrain Action Trackstander is truly one of a kind. It has tank-like tracks and the ability to bring Seeds into a standing position. This allows Rick to work his horses upright, as he would have done prior to his accident.
It is one intimidating-looking bit of gear and resembles something the army would use, but Rick jokes that it isn't all it seems.
"It's a bloody good thing but it's not as tough as it looks," he says. "It's a little bit slow for working with horses and cattle; if it just had a bit more go it would be good."
The US-made wheelchair is popular with outdoor users; paraplegic hunters commonly use it. It's powered by two 12V batteries which, much to Rick's dismay, give it a top speed just shy of 5km/h. It is joystick controlled and highly customisable.
It's been one year since the accident, and Rick is keen to thank the many people who have worked to get him where he is today. From the doctors and surgeons of the Princess Alexandra Hospital, to the Back to Work staff and the endless number of family and people who have sent support and love his way in a time of need, Seeds has one person he cannot thank enough: his wife, Sally.
Rick is by no way a soppy man; he's a country bloke with a knack for hard work and no fuss. But when asked how much Sally has done for him over this past year, it is obvious he is stuck for words.
"She's done everything for me," he says, smiling at her.


Subscribe to our newsletter
Sign up to receive the Trade Farm Machinery e-newsletter, digital magazine and other offers we choose to share with you straight to your inbox
You can also follow our updates by liking us on Facebook. 

Graders For Hire | Cranes For Hire | Telehandlers For Hire | Excavators For Hire