Lindsay Australia: Old dogs, new tricks
---
Over 65 years, Lindsay Australia has grown from transporting fruit and veg around Coffs Harbour to becoming one of Australia's largest trucking companies. CEO Kim Lindsay discusses the company's impressive achievements
If it were the Royals, then 65 years would justify a sapphire jubilee celebration. As Lindsay Australia is practically transport royalty, perhaps such celebrations should have been in order?
That's right, 2018 marked 65 years of operation for one of Australia's largest trucking companies, Lindsay Transport, and what a journey it has been.
Lindsay Transport has served this big brown land since 1953, when brothers Tom and Peter Lindsay purchased three second-hand trucks from their father.
Starting off as Lindsay Brothers Transport, carting fruit and vegetables around Coffs Harbour, the company transitioned into chilled freight, where they would make their name. The rest is history.
Now, the Lindsay name operates in three distinct divisions – Lindsay Transport, Lindsay Rural and Lindsay Fresh Logistics – all under the banner of Lindsay Australia. And while the celebrations weren't quite as extravagant as one would see for the Queen, a stunning location in the Lindsay historical heartland of Coffs Harbour made for a perfect night of mingling and nostalgic story telling between colleagues, customers and industry folk, as they celebrated the remarkable milestone of an iconic Aussie company.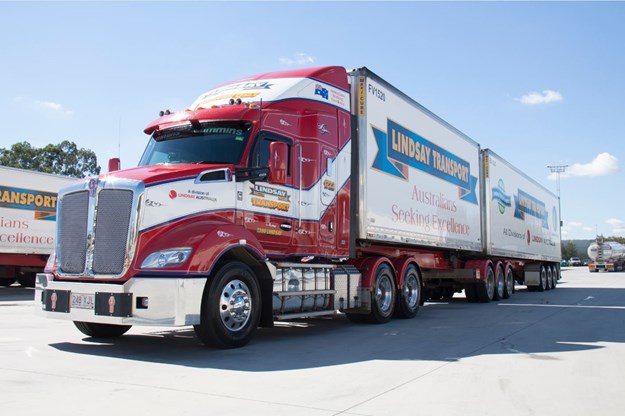 FRESH FACILITY
Rewinding back a few months, at their newly constructed headquarters in Acacia Ridge Brisbane, I was treated to a thorough tour of the company's operations by Lindsay Australia CEO, Kim Lindsay (son of Tom).
This state-of-the-art facility cost millions and it encompasses everything from administration, a rural supply centre, transport logistics, and cold and freezer facilities, to driver's quarters, a refueling depot and fleet maintenance services, just to name a few. 
To say this facility is large would be a massive understatement! Through cold rooms and storage spaces, to inspecting the incoming fleet, this 11,000 square metre facility I was witnessing is the functioning body of Lindsay Australia.
In appreciation of such a facility, I suddenly wanted to know more about this company. I wanted to know what's kept Lindsay Australia and its divisions ticking for decades in an industry that continues to change and transform.
The simple answer: pride. Pride in their performance, pride in their equipment, pride in their people. It might read a bit cliché, but the response is sincere.
---
Transport arm lifted Lindsay profits in 2018. Read more, here
---
"We pride ourselves on running 98 per cent on-time performance," Kim says. "We distinct ourselves from others in the industry and we don't look over other people's fences to see what they are doing.
"We are pretty damn proud of this achievement [over 65 years], but we wouldn't be where we are today without our people," he adds.
"We've had a lot of people who have been with us for 20 to 30 years, which shows that we run a public business virtually like it's a family."
But, for a transport company, you must also respect the equipment you use, another factor Kim instils.
"We really pride ourselves on our equipment – our prime movers have an average age of around 4.4 years, while our trailers are 5.5 years.
"This might shock you actually because our fleet isn't as big as most," Kim says as he glances at his stats.
"Our fleet consists of about 300 prime movers, 700 trailers, 107 forklifts, 85 rigids and 57 rail containers."
Of these 300-odd prime movers, 85 per cent bear the Kenworth badge: "Because they last and their resale value is great," Kim adds when questioned why.
"But we also run a few Western Star's, a few Macks and Volvo," he adds.
I don't think he gave himself much credit there – that's a fair bit of machinery if you ask me.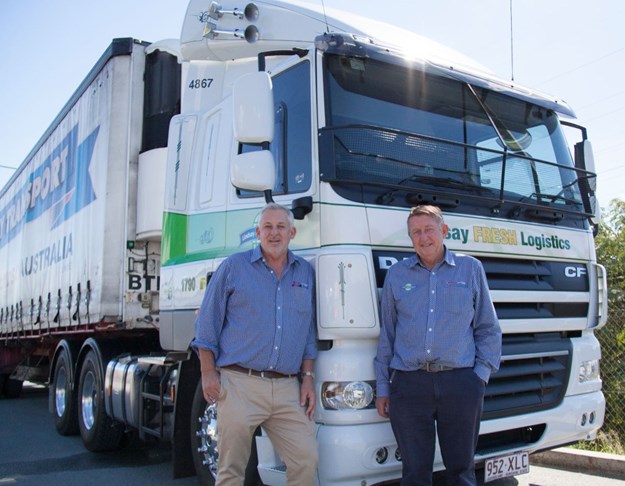 RURAL ROYALTY
The year 2018 also marked the 35th anniversary of Lindsay Rural, Kim Lindsay's baby, which he started back in 1983.
Supplying agricultural goods including packaging, fertilisers, chemicals, and irrigation equipment, Lindsay Rural aims to provide an "integrated end-to-end rural solutions package".
Lindsay Australia claims to be the first rural merchandise company in Australia to obtain Hazard Analysis and Critical Control Points (HACCP) accreditation in the packaging, storage, and transport requirements for the horticultural industry, ensuring customers receive the highest standard of service.
Rural has more than 20 stores scattered across the country and is certainly a pivotal point in the Lindsay Australia wheel.
And I say wheel, because all three Lindsay divisions link to each other, like cogs in a finely-tuned machine. Which leads us to Lindsay Fresh – the newest division of Lindsay Australia.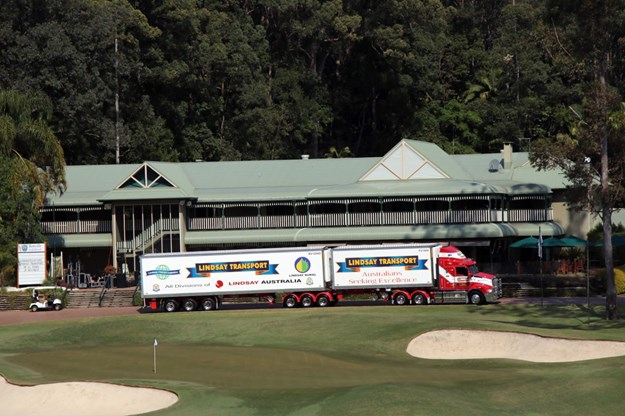 NEW TRICKS
Operating from a purpose-build factory in the heart of the Brisbane markets at Rocklea (which we also toured), is Lindsay Australia's latest venture, Lindsay Fresh Logistics.
Launched in 2014, and managed by Kim's older brother Glen, 'Fresh' is the final piece in the Lindsay puzzle, complementing both Lindsay Transport and Rural.
You can see the enthusiasm Kim has for the 'Fresh' side of the business as he guided me through the Brisbane markets facility.
"We always wanted to do it," Kim explains. "We have agronomists in paddocks helping our farmers grow, we sell all the packaging for the farmers [having recently signed a multi-million dollar deal with Visy].
"So, we help grow the product, we help them package and transport the product and now with Lindsay Fresh we put it anywhere in the world for them, by sea or by air."
Equipped with large, state-of-the-art cold storage rooms, rapid cooling equipment, fumigation rooms and designated DOA (Department of Agriculture) inspection rooms for import/export, Lindsay Fresh Logistics adds the import and export string to the Lindsay bow.
It offers customers a range of services, including unloading, cross docking, storage, ripening, fumigation, sterilisation, quarantine and inspection-related services for produce export.
While still young compared to the rest of the business, Lindsay Fresh is already seeing huge results. Kim reveals 'Fresh' transports around 1000-tonne of fresh produce every day. One of Lindsay Fresh's biggest clients, 2PH farms, has certainly been a driver of this growth.
"By 2020, 2PH farms will do more than 1.2 million kilograms [citrus] a week for export, which will translate to 20 B-doubles a day for us out of their farms.
"We do all of their packaging, all of their fertilizers and chemicals, we do all of their freight and export through Lindsay Fresh – there is only red and white trucks on that farm.
"I've never seen quality like it," Kim adds. "Their stuff is a premium in China, they can't grow enough – that's how good their product is."
Lindsay Fresh last year did 24 shipping containers a day of export around the world, with more expected in the coming years – showing the company's push for growth in new markets.
"It's quite amazing what we've put in over there," he says, referring to the Brisbane markets site.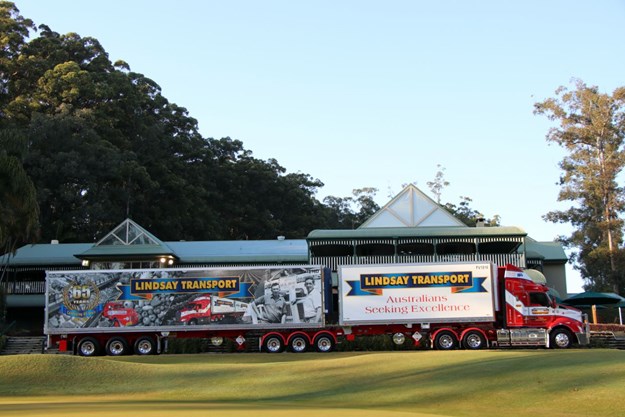 MOVING FORWARD
As milestones come and go, one thing is certain: Lindsay Transport is here to stay.
In 2017, the company turned over more than $360 million, and they don't seem to be slowing down as the company expands with the construction of new facilities nationwide.
"If you have a look the past two years we've spent over 20 million just in properties," Kim says.
"The fit out here [Acacia Ridge HQ] was about $8 million, our Adelaide depot was $8 million also."
Lindsay Australia's spread of properties also includes a Mildura depot, which cost another $4.5 million, and another $8 million more for a Mareeba facility, just to name a few. A lot of money, but it works.
"It seems wherever we build it also grows," Kim says. "All of those places have seen 30 per cent increases in the last 12 months."
Something that founders Tom and the late Peter Lindsay would never have dreamt of, all those years ago.
So, to Lindsay Australia, congratulations on 65 years of transport and 35 years or rural. From humble beginnings in one of Australia's sleepy cities, Coffs Harbour, to one of the country's biggest road warriors is a remarkable achievement.
It just goes to show what a bit of hard work and pride can do.
Subscribe to our newsletter
Sign up to receive the Trade Farm Machinery e-newsletter, digital magazine and other offers we choose to share with you straight to your inbox
You can also follow our updates by liking us on Facebook. 

Graders For Hire | Cranes For Hire | Telehandlers For Hire | Excavators For Hire