Mighty Machines TV Episode 2: Tractor Pull
---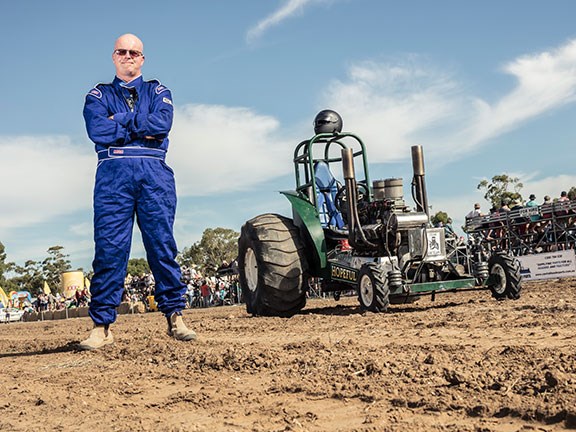 I came, I saw … and I pulled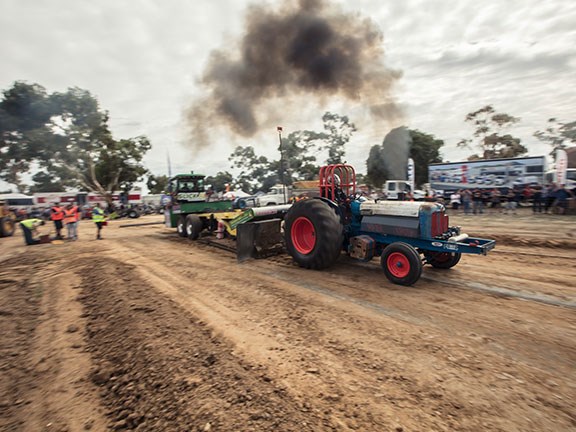 That would have to be the fastest I've ever seen a Fordson Major move! It's a far cry from running a saw bench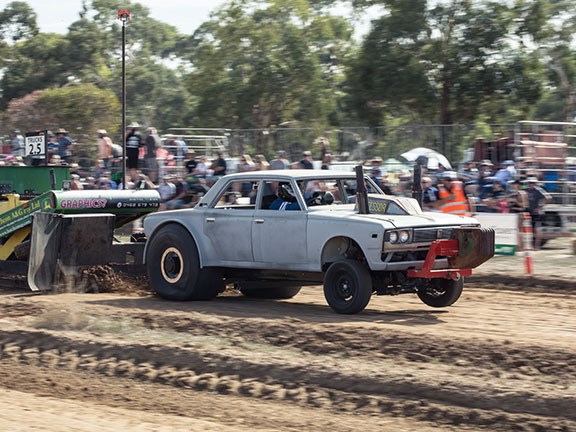 Dad's Toyota Crown has had a little makeover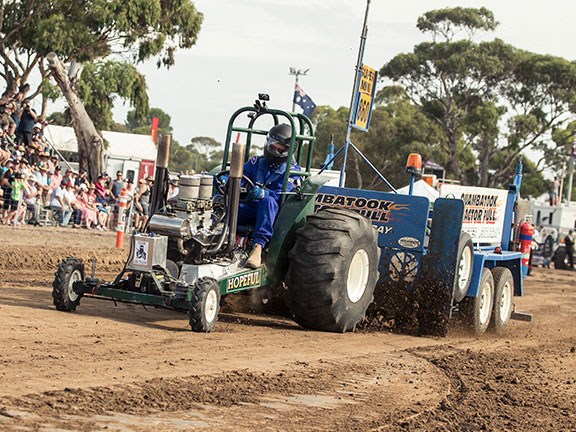 I spear down the track with my race face on and my right foot planted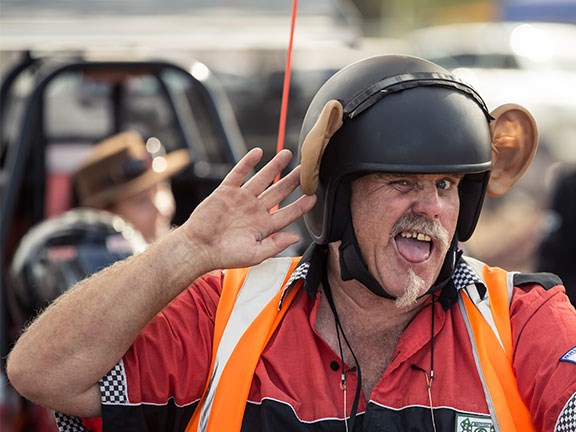 Yes, tractor pulling is that loud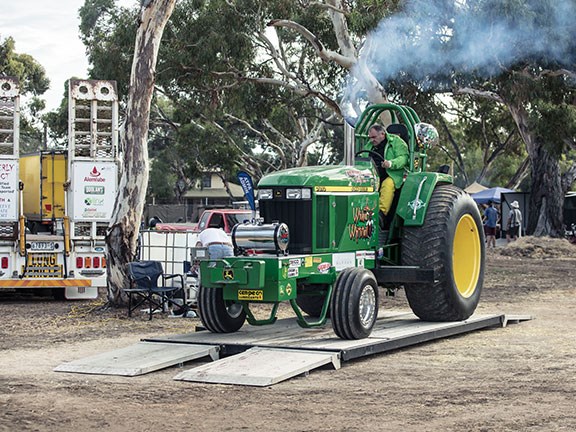 All competing machines are weighed before the event to make sure they are within the weight range for their class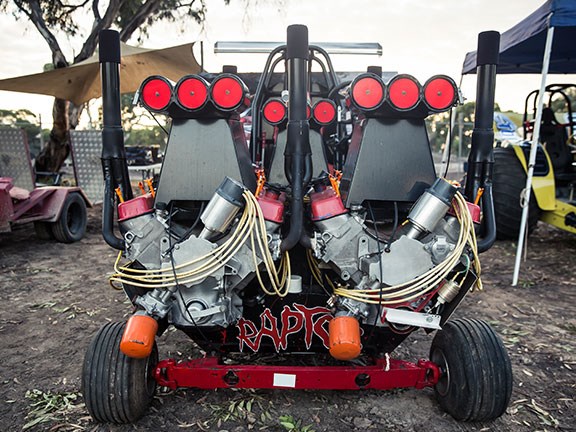 The driver sits in there… somewhere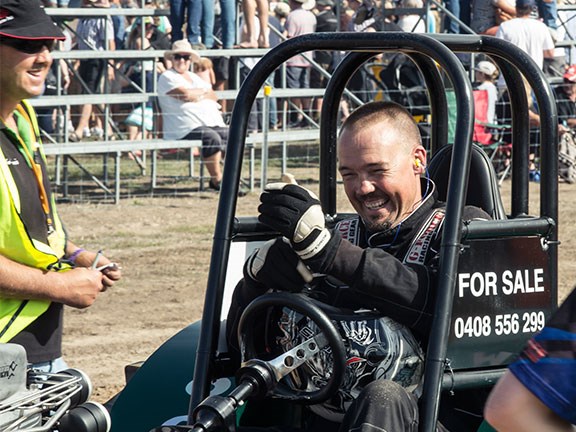 I know how he feels. Competition pulling does that to you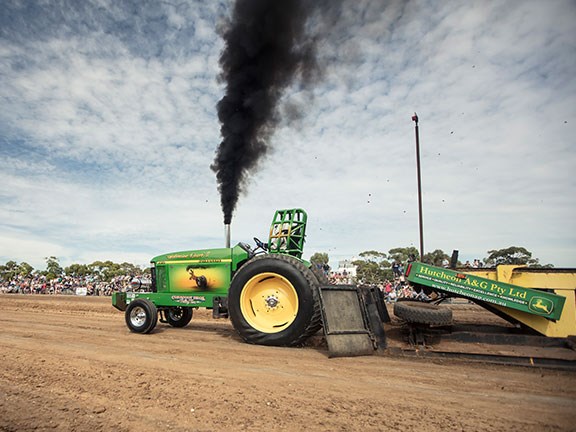 It may be a green machine but it ain't Euro 6 emission-compliant, that's for sure

Missed the second episode of our new Mighty Machines TV show? Check out the segment where Matt Wood has a crack at steering a Mini Modified pull tractor at the Diesel and Dirt Derby in Keith, South Australia. And Make sure you don't miss episode 3 airing this Saturday @ 4:30pm on 10 Bold!

It's my Top Gun moment. A terrible Steve Stevens guitar solo cranks up in my head and do-or-die resolve courses through my veins as I drop the visor on my helmet and flex my gloved hands around the steering wheel. Behind me the sled chain clanks into place, holding me fast. 
And then an unwanted memory pops into my head and the wailing mental guitar disappears with a pop. An interview with top fuel legend Don Garlits takes its place – the year was 1970 and the image is of an exploding transmission that took half of 'Big Daddy' Garlit's foot off.
I push the unbidden memory out of my mind. Focus. I watch the marshal at the end of the track, awaiting the green flag.
My mind conspires against me again as it occurs to me that I have a 550hp small block stroker between my legs and an ageing Toyota diff under my arse. Anything that explodes is going to hurt.
I remember querying the need for a flame-proof balaclava. "If it goes up you don't want a face full of hot engine parts" was the reply. Not helpful.
I hit the starter button and the tunnel rammed 383 Chev stroker coughs into life, spluttering at the heavens through twin stacks. The cammed-up, 105-octane chugging idle blends into the heavy metal soundtrack of the diesel pro-stockers on the track next door as they blot out the sun. The syncopated beat of horses straining to haul.
Luke Skywalker had Jedi Master Yoda, the Karate Kid had Mr Miyagi and I've got Kelvin 'Jobbo' Jobling, a former Australian champion tractor puller, on my side. Out of the corner of my eye through the quickly fogging visor Jobbo gives me the thumbs up and his words come back to me: "Take up the slack and nail it after the first five metres or so," and "Don't let the sled catch ya."
I've got this.
The road to Keith
This was my first time competing in a tractor pull. In fact it was my first time at a tractor pull, full-stop. I was shitting myself just a little.
Just a couple of weeks earlier I'd caught up with Jobbo in his home town of Quambatook for a … er… crash course in tractor pulling. (You can watch the video here.)
The Super Mini tractor is called Hopeful and is owned by Team Outlaw which consists of Jobbo and his Melbourne-based teammates Bob Kinnersley and Kenny Patterson.
Jobbo gave me a run down on the tractor and I took it for a squirt bob-tail. It was a hoot, just like driving a dirt dragster but without the important stuff like brakes … or effective steering. I was hoping that my first competition drive in Hopeful wasn't going to be Hopeless.
So that's how I found myself at the Diesel and Dirt Derby in Keith, South Australia – a wholesale celebration of horsepower and dust-laden farm-fuelled hoonery.
As well as the tractor pull there were trophy trucks, jet boats and, my favourite, a header demolition derby. What better place to have a crack at dragging a 3.5-tonne sled 100m down a dirt track with a super mini-modified tractor?
Fat man's class
A Super Mini tractor generally tips the scales at 860kg and is often referred to as the Fat Man's class. Apparently fat drivers fit into this weight category just nicely, which works for this particular fat bastard! The next class up is the Open Mini class where all manner of supercharged, turbo charged, nitro-powered, chassis-twisting madness can be found.
Heading up the size ladder you'll find multi-engined behemoths in the Limited, Super and Open Modified classes.  Then there's the diesel fuelled Pro-Stockers, also known as the 'Smokers', that are roughly based on an existing production tractor. And there's the spectacular wheel-standing, two-wheel-drive truck class where competitors are limited to one naturally aspirated engine, in most cases a big-block stroker.
Jobbo has a history with the sport that stretches back to 1982 when tractor pulling was in its infancy here in Oz. A handy wielder of a spanner, Jobbo built this country's first pro-stocker, the T&I Terminator for Swan Hill based T&I Tractors back in 1998.
The rules are relatively simple: attempt to haul the sled as far down the track as you can.
The sled gradually tries to stop you by either dragging on the track surface or by throwing the weight forward on the sled, weighing down the pulling vehicle. If you crack the 100m mark or 'Full Pull' you then go in a 'Pull-Off' with any other tractor that manages to make the 100.
Apparently, according to Jobbo, quick reflexes, a strong tractor and knowing what part of the track to use are the main qualities required to be competitive in pulling. I push this to front of mind as the green flag drops at the end of the track.
Go! Go! Go!
With my best race face on I squeeze the go-pedal as the sled chain pulls taut. I pick up some momentum, then nail my right foot all the way down to the floor. The stroker answers with a hairy-chested bellow, tyres digging at the track surface.
All of a sudden those dicky little steer wheels out front seem woefully inadequate for keeping the tractor in a straight line. The Chevy's V8 thunder reaches fever pitch and emits a yammering howl as it hunkers down and hauls. We gather pace down the dirt. Clods of earth hammer the sled.
I start to get out of shape, and instinctively I button off briefly – not recommended as the sled can grab you. There's a pucker moment before I nail it again and the tractor thankfully pulls straight.
The sled starts to dig in and I've got my foot flat with the small block attempting to gulp in fuel and air through the twin Holley centre squirters perched atop the tunnel ram manifold.
Then it's over. I'm dragged to a stop at 94.2m. I kill the ignition and hear my heart thudding in my temples. What a blast! A high-horsepower homage to haulin' hay! And I didn't even quite suck as much as I thought I might. 
Subscribe to our newsletter
Sign up to receive the Trade Farm Machinery e-newsletter, digital magazine and other offers we choose to share with you straight to your inbox
You can also follow our updates by liking us on Facebook. 

Graders For Hire | Cranes For Hire | Telehandlers For Hire | Excavators For Hire