LEGENDARY IOWA 80 TRUCKSTOP TRUCKERS' JAMBOREE
---
The Iowa 80 Truckstop is a beacon for US truckies, with everything you could want and a fair bit more. Warren Aitken took one for the team and flew over to catch the legendary Truckers Jamboree in action
I don't want to sound ungrateful, but sometimes I don't think you guys appreciate the lengths I'm willing to go to bring you the comprehensive stories that I do. I mean, I have very limited journalistic 'skills' but what I do have, I try and put to productive use. All I'm asking for is the occasional thank you for volunteering to suffer through some atrocious working situations at times, all in the interest of entertaining you guys.
Take this story you are about to read now for example. As a lifelong truckie and truck fanatic I know we all have a grizzle about some of the truckstops we encounter, sometimes it's the food, sometimes it's the parking, sometimes it's the facilities and sometimes it's the fact we need to grizzle about something. So, what did I do for you guys? Well, being the nice guy that I am, the dedicated journalist that I pretend to be, I decided to investigate other truckstops to get an overview of the situation.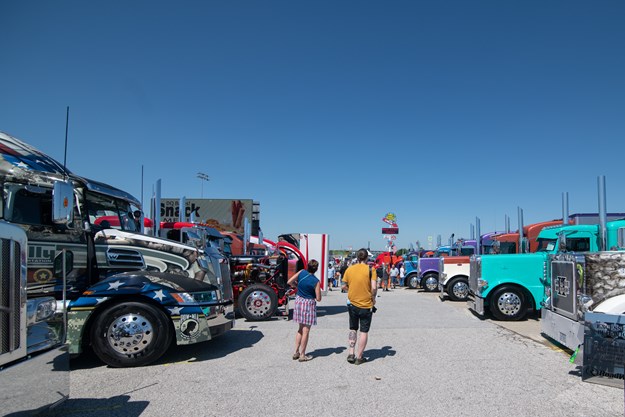 I could have headed 10 minutes up the road to see one of Brisbane's 'biggest' truckstops, but I wanted to get my hands dirty, do the hard yards and thoroughly investigate a broader array of truck stops and their set ups. I selflessly offered to jump on a big tin taxi and with minimal complaints sat through several tedious movies and TV shows to pass countless hours at 35,000ft. I then hired a car with the steering wheel on the wrong side and braved the Chicago traffic for a three-hour drive, just so I could report back to you guys about what an American truck stop is like in comparison to ours. I know, you are already thinking what a true selfless journalist I am, and you'd be right. It's the kind of thing I am willing to do for the readers. Sure my investigative journey may have coincided with the world's largest truck stop having its 40th Truckers Jamboree, and yes there was a Truck Beauty Competition featuring some of the coolest working and show trucks the USA has, but I still believe a thank you from you guys, for the suffering I put myself through just to get a story, isn't too much to ask. Is It?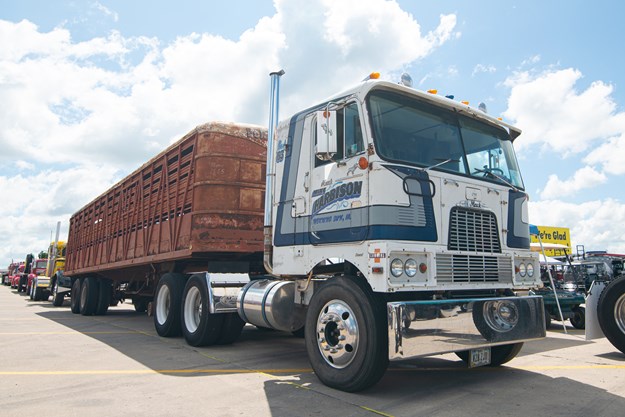 Iowa 80 Truckstop
So, what did I learn whilst I put myself through such hellish work conditions? Quite a lot. Starting with the fact the Iowa 80 Truckstop has solid ground for claiming to be The World's Largest Truckstop. Sitting on a 220-acre lot off exit 284, Interstate 80, this second-generation family business has all the facilities a truckie could hope for and a few you didn't even know you wanted.
Bill and Carolyn Moon were the happy couple that kicked the whole thing off back in 1964. Bill, a lifelong fan of trucks and truck drivers, was working for the Standard Oil Company and as the new interstate system was being laid across America he decided to build a small truckstop on a four-acre block near Walcott, Iowa. The idea was to put someone in to run it; unfortunately the man they employed was looking for a retirement kind of job and a truckstop on I80 turned out not to be as quiet and relaxing as he thought. Six months after opening, Bill and Carolyn packed up the kids and moved to Iowa to run it themselves.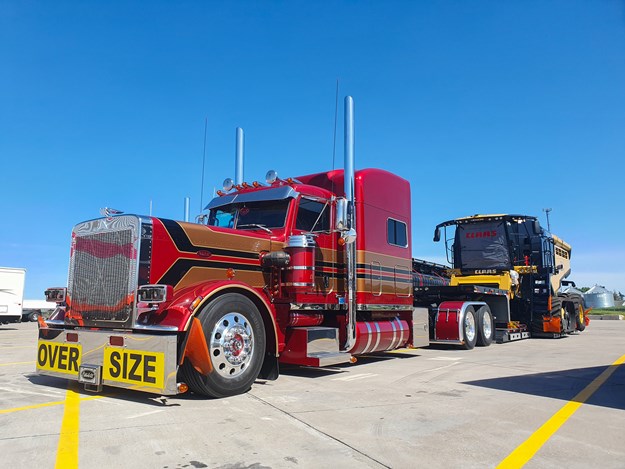 It has been 55 years since that truckstop first opened with six fuel bays, a 50-seat restaurant, a small shop and parking for a handful trucks. Since that day there have been constant expansions, constant upgrades and constant additions. The one thing that has never changed since the truck stop doors opened in 1964 is that the doors have never closed. Sure, they have been widened and replaced many times, but for near on six decades truckies crossing the countryside have been able to rely on 24 hours a day, 365 days a year service from the Moon family and the Iowa 80 team.
Are you ready for a rundown on what you will find now once you take exit 284? There are 15 diesel pumps, excluding the petrol (gas for the American readers) pumps. There is parking for 900 trucks. There is a fully staffed four bay truck wash, a full workshop and repair centre as well as a certified CAT scale centre on site.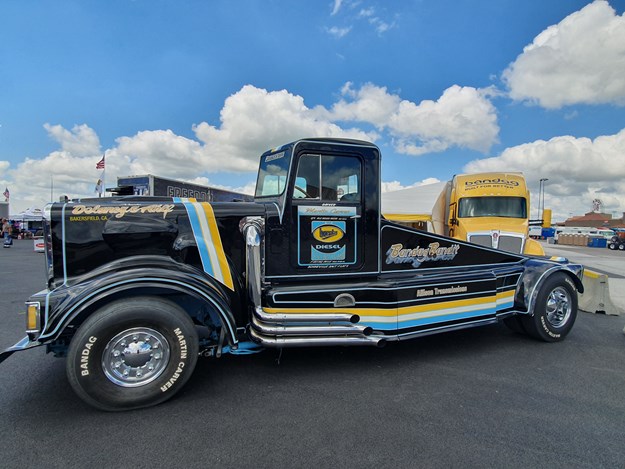 That's just the outside. At the driver's fuel area there is the usual facilities as well as several food outlets, like a sandwich shop called Blimpies. Over at the main building is where the fun really starts. There is a full-sized convenience store with everything from bacon jerky (oh my god it's good too!!) to scorpion lollypops (literally scorpions inside a lollypop). There is a full service, 350-seat restaurant, as well as seven other fast food restaurants in the food court area. Through the main store you wander into a massive souvenir shop with anything and everything truck and/or Iowa related. From there you go down to the SuperTruck show room. Alongside two tractor units and a full semi on display is damn near anything you could want for you or your truck. Let's not forget the screen printing and embroidery shop where you can get shirts, hats, models… in fact anything can be printed onto anything down there.
Does it sound like I'm done? Not quite, we haven't moved upstairs to the driver's area. Here there are 24 private drivers' showers (with 10 fulltime cleaners working the bathrooms by the way). There is a laundromat big enough to look after a major hotel. Did I mention the large TV room or the 50-seat movie theatre? How about the fulltime dentist, the chiropractor and chapel there as well? I'd better not forget to tell you about the barber either; the lady now running the barber shop is third generation Iowa 80. Her grandmother started the shop, her mother took it over and now it's all hers.
I think I've covered it all… oh wait, I didn't even mention the amazing museum did I? There is half a day of wandering and years of memories through the doors of that building as well.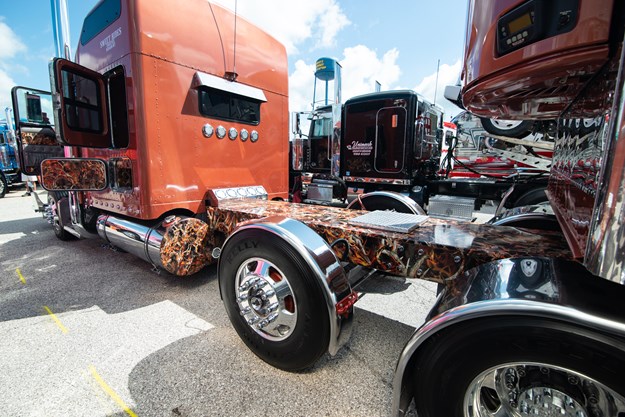 Truckers Jamboree
As I mentioned earlier, I was over there purely to do the hard yards for you guys and investigate different truckstops. I guess it was just pure luck that I arrived at the same time as the 40th Annual Iowa 80 Truckers Jamboree.
So, what is a 'Truckers Jamboree'? Well according to Delia Meier Moon, daughter of Bill and Carolyn and one of those at the top of the Iowa 80 food chain: "It's just a big party."
The party started in 1969 when Bill wanted to put on a little thank you sausage sizzle for all the drivers passing through. He also decided he would display a few of the old trucks he had collected. This in turn led to some friends showing off their trucks and then the local truck dealers asking to display their new trucks. From that point it just snowballed.
Forty years later it is still motivated by the Moon's desire to thank all the truckies that pass through and give them an opportunity to experience the fun festival atmosphere that a life on the road normally doesn't allow them to experience.
Yes, there is some amazing working trucks and show trucks shined up for display but there are also interactive experiences, a truckers Olympics, a strongman contest, several top name artists doing concerts each night and even a Trucker's Pet look-a-like competition. Did I mention as well the annual Iowa Porkchop Cookout? They are known for their pork over in Iowa, so as a responsible journalist I had to test out their claims. As a thorough journalist I made sure I tested their claims more than just once, don't worry.
After a great chat with Delia Meier and after talking to numerous Iowa 80 staff you soon realise the secret to the Truckstop's success isn't its size, it's the fact the whole place still carries Bill and Carolyn's passion for trucks and the cowboy trucker lifestyle, through everything they do. It's a home away from home for those passing through and when they run the Jamboree it's a giant family party without the obnoxious drunken uncle and with plenty more lights and fireworks.
It may sound like I had an absolute ball over there and met amazing people and saw incredible trucks and ate some mouth-watering food ... wait, where was I going with this? That's right, just remember guys. I did it all for you. You are welcome.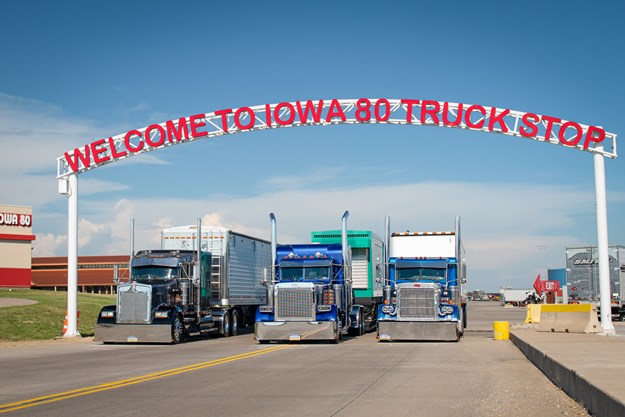 Subscribe to our newsletter
Sign up to receive the Trade Farm Machinery e-newsletter, digital magazine and other offers we choose to share with you straight to your inbox
You can also follow our updates by liking us on Facebook. 

Graders For Hire | Cranes For Hire | Telehandlers For Hire | Excavators For Hire