Big things coming for the Case IH Patriot
---
We sat down with Case IH global product manager for Patriots Brent Bast recently to talk all things Case IH, future technologies and Australia's role in development.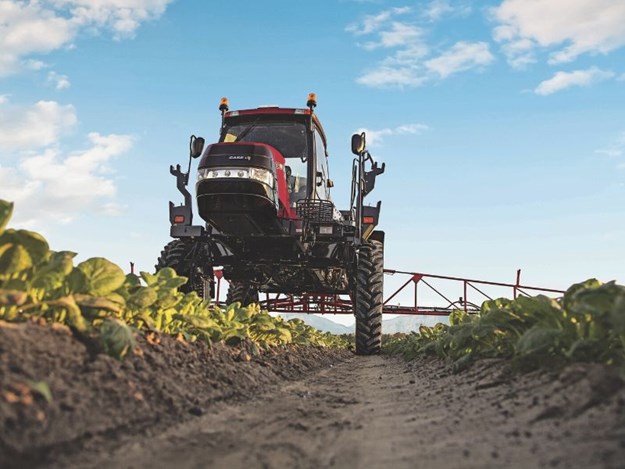 The Case IH Patriot is one of the most popular self-propelled sprayers on the market
Case IH's Patriot self-propelled sprayer is a flagship on many Australian farms. However, these big, red beasts are competing in one of the hottest and most congested machinery segments in the world.
We caught up with Brent Bast recently to talk all things Case IH, future technologies and Australia's role in development.
FFM: First question, how much focus does the Australian market get when it comes to the Patriots? Are we a big market or do we just get trickled fed the technology? 
BAST: No. You're a very significant portion of our business. I'll say it's definitely increased since I've taken over this position. Not that we didn't have a lot of focus on sprayers, but I think we took our eye off the ball for a while and we didn't invest like we should have. 
North America, South America and Australia are absolutely the top regions that we work with. Australia specifically, I feel like you're always pushing us for advancement.
FFM: That's interesting. The design of Case IH products has seen some change over the last few years, most recently the Maxxum range where they're getting this European facelift. Is it something that we might see in the future with the Patriot?
BAST: Yeah, absolutely. We're just rolling out all the new Magnums as well and the Steigers are coming. So, yes, the Patriots are coming. It's been a little bit of a staggered launch approach between all the product lines – obviously we can't get it all done at once. 
But yes, people can expect to see the new Patriots in the near future. They will have the same looks and genes as what we are seeing with the new Magnums and the new Maxxums. Everything will be with the AFS connect, everything will be connected. New displays as well.
(Editor note: Unfortunately, we can't give you a date of arrival as yet).
FFM: You've been in the sprayer game for a while, can you tell us a little bit about where you started?
BRENT: So, I started out in the sprayer industry in January 2004. I actually started working for Raven Industries (precision ag manufacturer) and went through its engineering department and basically handled half of the OEM business with Raven.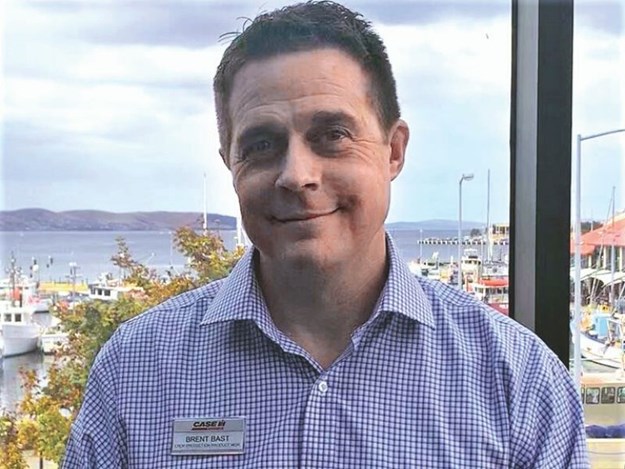 Brent Bast has worked closely with Patriot Sprayers and Case IH product lines for the last 16 years
FFM: And how long have you been with Case IH?
BAST: Nearly two years now. Ironically, I have always dealt with and handled the Case IH business ever since I started at Raven. And then by my last six years at Raven with my team of 12 sales and system engineers we handled all 38 OEMs globally that Raven has.
So, I've been pretty intimate with the Patriot and their Case IH product lines for the last 16 years.
FFM: Are there any plans to move Case IH Patriot to electric power or alternative fuels?
BAST: I think it's a little way off. Obviously, our company just announced this year about investing more deeply into alternative propulsion systems and obviously we as a product line within that product line will eventually look to utilize that new technology. 
You know, I don't think diesel is going away anytime soon, but I do see ways of using diesel plus other stuff to help make these machines more efficient, for sure.
FFM: In terms of size, here in Australia we're seeing rigs get up to that 50m boom mark and tank sizes growing to 9,000L. Is Case IH committed to keep growing, or do you think the industry has hit its peak in regard to size?
BAST: I definitely see there's room for a little more growth in both tanks and booms. Talking specifically about booms first, the 36m boom fits so many farmers well.
Between the header and the seeder and the sprayer, logically, farmers are wanting to get to 48m, some even larger. But yes, there is a need in a lot of broadacre regions to get bigger than 36, we've just announced our 41m aluminium boom recently.
This new boom is about 500kg lighter than our current 36m; there's a lot of benefits in it. I know it doesn't fit everybody in the market down here for all the tramline growers, but for the more strictly broadacre guy, the bigger the better.
In regards to tanks, we've got to keep our nose to the grindstone on both sides. As you know, 8,000L is becoming super popular, but the tough part that I deal with globally is that I feel like 6,000L has reached a pretty good limit in a lot of regions we deal with because of rainfall amounts. With a lot of other regions being a lot wetter, running around with a super heavy fat machine doesn't lend itself well, unfortunately.
FFM: So, you think the 6,000L tank fits a lot of farms?
BAST: It fits a lot of farmers; it fits a lot of regions. I mean, it's no surprise that America is our largest region and you know there is a lot of fields that are split up into quarter sections which are 160 acres, and 10 gallons an acre is a very common theme in North America. 
So, it fits the 1,600 gallons (6,000L tank). They can fill it up and spray the whole field.
But when we come down here and other parts of the world that don't have field sizes like that, they're much bigger, then obviously customers want as big as they can get.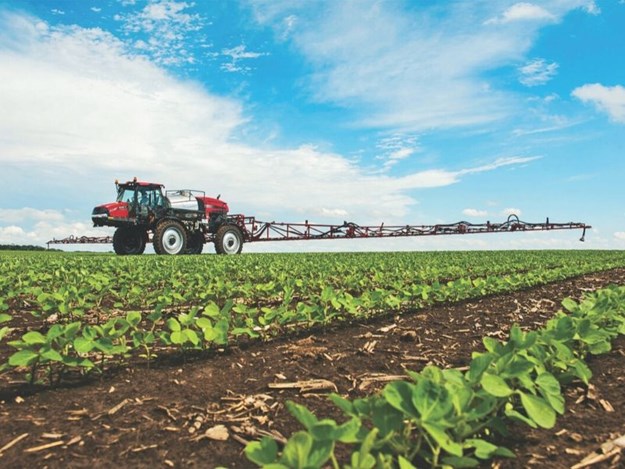 The Patriot is set to receive a facelift soon
FFM: Is it a bit of a juggling act?
BAST: Yeah, I guess it's a bit of a juggling act to get the perfect weight and size balance.
After talking to dealers and the Case IH representatives from Australia, we feel that if we had to choose which part of the machine to propel forward than it's definitely the boom size. We've got to get a larger boom offering to better line up with growers and their tramlines, etc.
FFM: The Patriots over here run Tier 2 and Tier 3 engines; will this be changing in the near future?
BAST: Yes, I think so! Fortunately for us, having a sister brand as an engine company helps.
You know, I do not see it coming right away. I see it coming within the next five years, maybe, but it will certainly change in the near future.
FFM: Who do you see as currently your biggest competitor in the self-propelled market? Obviously, there are a lot of players in Australia.
BAST: I'll say it's a pretty level playing field. I think there are a few manufacturers that have a decent portion of market share, us included with the Patriots.
But the Rogator is popular in some areas. The improvements Goldacres have made to their self-propelled line has definitely propelled them into a decent portion of machine sales. And whether we like it or not, John Deere has a portion of machines over here.  It's definitely not as popular as it is in North America, but we can't exclude them.
So, you have the Australian-made Goldacres and then you have big three companies: Case IH, Deere, AGCO, etc. But it's the new players to Australia we have to look out for, like Agrifac. Can't forget Hardi but they've been here for a long time. 
Agrifac especially because they have a fairly sophisticated, fairly technology-savvy machine. And there's a fair amount of farmers that are forward-thinking and want the newest of the newest and the Agrifac machine has some of that, and we need to bring it into the Patriots in the next few years. 
FFM: Final question, could we see a Patriot in the near future with 'See and Spray' technology?
BAST: There's no denying it. The buzz in our industry and the spray industry right now is all about 'See and Spray', and whether or not it's become a commercially viable product.
We've got a good handle on the 'Green and Brown' spraying but I think the nearest term advancement in technology is tying the 'Green on Brown' spraying with PWM spraying (pulse with modulation). As you know, we've had the Aim Command and Command Flex systems now on our sprayers for 20 years actually, in 1999 we launched it.
But we are also investing time in the 'Green on Green' spot spraying, that's where we identify weeds in a totally green paddock and spray them, but there's a lot more to that than 'Green on Brown' spraying.
FFM: Well Brent, it's been a pleasure. I can't wait to see where the Patriots go in the future.
BAST: No problem at all! I can promise you you'll be excited – everyone is excited and we're looking forward to it.
Subscribe to our newsletter
Sign up to receive the Trade Farm Machinery e-newsletter, digital magazine and other offers we choose to share with you straight to your inbox
You can also follow our updates by liking us on Facebook. 

Graders For Hire | Cranes For Hire | Telehandlers For Hire | Excavators For Hire