Aussie farmers among the top buyers of Massey Ferguson's Global Series tractors
---
Sturdy and straight-forward, Massey Ferguson's all-purpose Global Series tractors are in peak demand and with features and performance like this, it isn't difficult to see why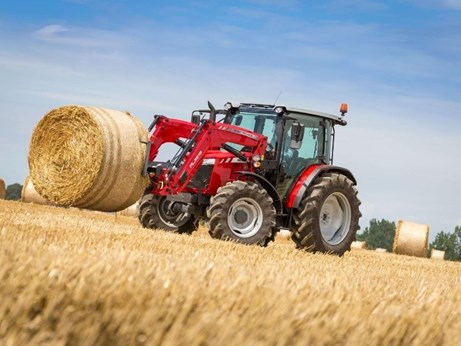 The cab is designed to be roomy inside with large access on both sides
Australian farmers have been among the top buyers of Massey Ferguson's Global Series tractors since they were first released in 2014, and demand is showing no signs of slowing down.
Massey Ferguson Australia and New Zealand product marketing manager Simon Van Kruining says the company set out to create something different in the three, all newly designed MF 4700, MF 5700 and MF 6700 ranges.
"Locally, we have seen our order intake double in 2020 thanks to the Global Series' rugged design, premium comfort and class leading performance," he says.
These traits come from a US$350 million (A$508.4 million) investment in tractor design, with more than 90 per cent of parts redesigned and manufactured specifically for the 70–130 horsepower (52–97kW) range.
EFFICIENT ENGINES
Described as "the epitome of reliability and integral dependability", all Global Series engines have a long stroke design that provides high levels of torque across a broad speed range, with maximum torque achieved at low engine speeds – helping to minimise diesel use.
All tractors come powered by the world renowned, powerful and reliable AGCO Power engines, which provide exceptional torque, power, fuel efficiency and extremely long life. These are powered by the same engine design that powers the higher end Massey Ferguson tractor range, from 70hp all the way to over 400hp (298kW).
Comprising the 74hp (55kW) MF4707, the 82hp (61kW) MF 4708 and the 95hp (71kW) MF 4709, the MF4700 range is the smallest within the series and powered by a powerful and dependable 3.3 litre, AGCO Power three cylinder engine.
In the higher end of the series, the 90hp (67kW) MF 5709 and 102hp (76kW) MF5710, together with the heavier duty MF 3711 (112hp/83.5kW), MF 6712 (122hp/91kW) and MF 6713 (132hp/98kW) all boast a 4.4 litre AGCO Power four cylinder engine.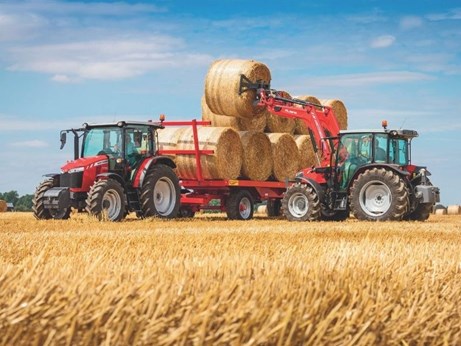 All Global Series models offer an independent PTO clutch that helps to control the rate of engagement
"It was important to us that we had a range of tractors tailored to this range of horsepowers. We quickly realised we needed to start fresh and as such we decided we needed to manufacture these in a facility that was state-of-the-art and built from the ground up" Van Kruining says.
"The investment has proved incredibly successful, with demand globally for these tractors so great that we now have simultaneous production in three separate state-of-the-art factories across the world. Development in the range is happening daily and it's an exciting time to be involved!"
Whilst the MF4707 and MF4708 are the only two models available that offer the option for a smooth and simple 12x12 mechanical shuttle, all models in the range, from the MF4707 to MF6713 , offer the incredibly unique Massey Ferguson fingertip power shuttle transmission control – providing unparalleled driving comfort and control throughout the ranges.
Offering a simplified, high performance 12x12 transmission, six gears are within the 4–12km/hr typical fieldwork range, while maximum speed is 40km/h, and 30km/h on MF 4700 ST models. The larger gear spreads mean less shifting and more flexibility.
The non-ST models also have a Super Creeper option, travelling at 140m/h, for when the lowest speeds are needed, making it perfectly suited to vegetable markets.
TOP GEAR
Simon van Kruining says the redesigned transmission is the reason for the Global Series' success, making the tractor easier to use on a day-to-day basis.
"An all new redesigned transmission and drive line, the Global Series boasts some of the lowest power losses to the PTO [power take-off] available on the market, all thanks to the technology behind the clean sheet design," van Kruining says.
These changes help achieve maximum efficiency, exceptional fuel economy and premium driving pleasure, he adds.
The Global Series also has three de-clutch options on offer, meaning the operator can shift gears without needing to use the clutch pedal.
For power shuttle models, unique to the Massey Ferguson brand is the left hand fingertip Power-Control lever, providing unprecedented control and comfort. The lever also allows the operator to shuffle between forward, reverse and neutral and lift up to de-clutch.
For greater accuracy, shuttle responsiveness can be adjusted using the Comfort Control selector, the ultimate combination for working with a front loader.
All Global Series models offer an independent PTO clutch that engages electro-hydraulically, helping to control the rate of engagement regardless of the engine speed or size of the implement.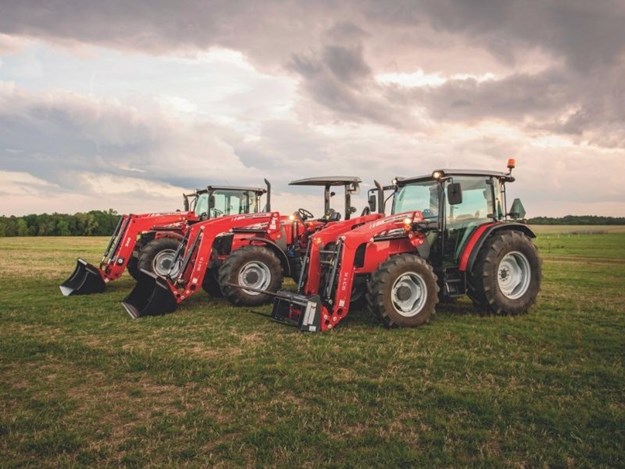 The range boasts excellent manoeuvrability, making them flexible range for a wide variety of applications
It is controlled by a three-position rocker-switch on the operator station which can also be 'braked on' – preventing it moving during transport, or an 'off' position in which the shaft can be turned.
Modern implements can be handled from the rear with ease, as all models in the series are built with the same rear axles as the latest advanced MF 5600 and MF 5700 S Series tractors.
Special linkage arm sensors provide accurate and reliable draft and position control through Massey Ferguson's well proven electronic hitch control (ELC), while epicyclic gears on the axle help ensure maximum engine power is transmitted to the ground, to maximise traction and performance.
All three tractor ranges in the series have a simple open-centre hydraulic system, providing up to 98L/min on the larger MF5700 and MF6700 ranges. Thanks to its dual pump design – one provides internal services and the other allows the electronically-controlled rear linkage to lift 3,000kg, 4,300kg and 5,200kg respectively.
HANDLE ANYTHING
The Global Series tractors can be bought fully front end loader ready – complete with loader subframe and factory integrated joystick - to allow for maximum manoeuvrability and easy maintenance access.
The mechanical lever fitted on ST variants is ideal for basic loader work, while the optional Power Control lever is perfect for frequent loader use – bringing clutching and shuttling to your fingertips with Comfort Control.
Van Kruining adds that high flow hydraulics and OEM design on the factory-integrated front end loader options give them "incomparable control and comfort".
In both the cab and ROPS variants, a profiled bonnet and dash profile improves visibility, while van Kruining adds that the new Visio roof option for the cab "provides incredible loader viewing and operation".
"We understand that for farmers, their tractor is their office, so that's why the Global Series comes with a premium comfort cabin and one of the largest cabins on the market," he says.
"The cabin and controls are all based on the high end design from the existing higher horsepower ranges out of France, so there's no compromising on quality, finishes or comfort in the Global Series cabins."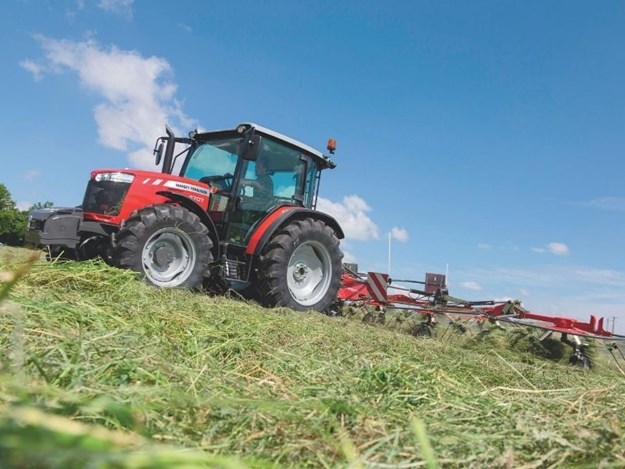 The Global Series comes with a premium comfort cabin, which is the largest cab on the market
With a pillar-to-pillar distance of 1,300mm, the cab is designed to be roomy inside with large access on both sides and a flat floor on the MF 5700 and MF 6700 – while the MF 4700 has an ultra-low transmission tunnel.
Frequently-used manually-operated controls, such as the hand throttle and gear and range levers, are located close to the driver's seat, making them more comfortable to operate on a regular basis.
More rarely used controls, such as work lights, starter key, ELC panel and rear windscreen wipers are located on the right hand B-pillar.
Boasting excellent manoeuvrability, including tight turning angles, with a flexible range for a wide variety of applications, the Global Series is currently available from Massey Ferguson dealers across Australia.
Subscribe to our newsletter
Sign up to receive the Trade Farm Machinery e-newsletter, digital magazine and other offers we choose to share with you straight to your inbox
You can also follow our updates by liking us on Facebook. 

Graders For Hire | Cranes For Hire | Telehandlers For Hire | Excavators For Hire