Colac Ag brings Elho bale wrappers to Aus
---
[SPONSORED CONTENT] Australian importer Colac Ag has brought a new range of automatic bale wrappers Down Under, along with other hay tools from Finnish manufacturer Elho.
Demand for automatic bale wrappers is increasing every year, the team from Victoria's Colac Ag says, and a new range of equipment from Finnish manufacturer Elho is set to help them meet customer needs.
Local distributor and Colac Ag product and sales manager Jon Allan says Elho's range of manually controlled, semi-automatic or fully automatic/computer-controlled bale wrappers – either mounted or trailed models – are a good fit for the local market.
Elho uses computer technology to help make the bale wrappers easier to adjust and faster at working, with a more reliable wrapping technique, he says.
"This takes the stress off the operator and allows them to focus on driving," he says.
"Faster wrap cycles also mean more bales wrapped per hour and per day, increasing productivity."
Impressed by the company's "commitment to create technology and product advancement", Colac Ag introduced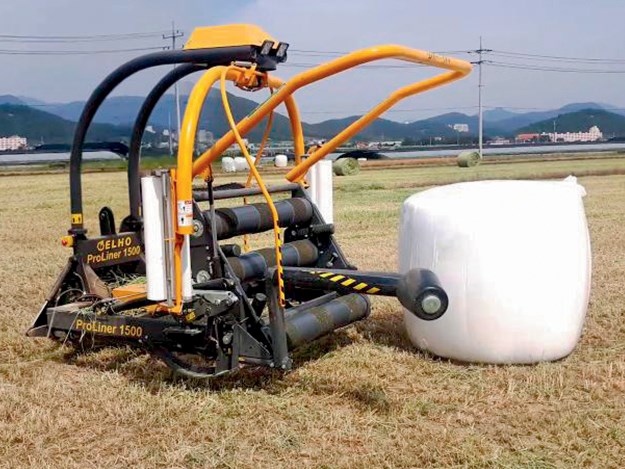 It can wrap six layers of plastic around a bale with a diameter of 1.2m in approximately 35 seconds.
Elho's latest wrapper models to the Australian market in July, with Allan saying they have much to offer Australian contractors looking for a flexible range of machinery to suit their harvest operations.
"Elho were introduced into Australia by Landpower and we took it on a few years ago," Allan says.
"We have been getting a good response to the Elho wrappers since we began importing them and we are now working to grow our network of dealers and customer base."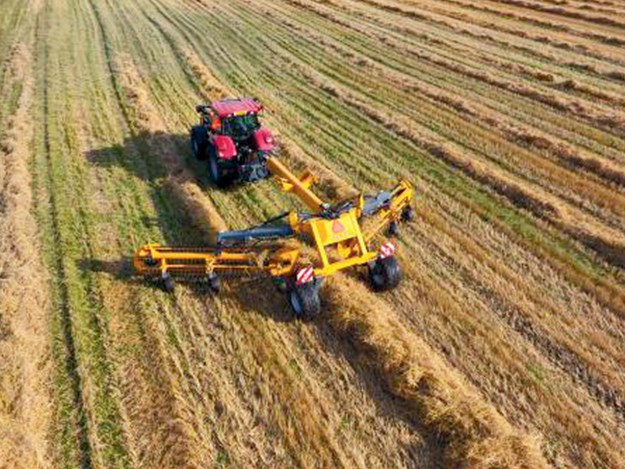 Elho also manufactures a range of V-Twin basket rakes.
The newest of these, and also the biggest, is the Elho Sideliner 1790 Pro.
It can easily wrap bales in sizes between 1.2 and 1.8m in diameter. The bale loading capacity is an impressive 1,600kg.
The strong loading arms automatically align the bale to the centre of the wrap table.
The Elho SideLiner 1790 Pro is a fully automatic bale wrapper and the intelligent control system is developed by Elho.
Also in the range is the Proliner 1500, which can wrap six layers of plastic around a bale with a diameter of 1.2m in approximately 35 seconds from loading to offloading.
The wrap cycle is fully automatic all through this process. The Elho Opus control system enables high speed wrapping up to 60 bales per hour, depending on the availability of bales.
The machine is equipped with two 500/750mm plastic prestretchers with film break sensors.
Aside from the wrappers, Elho also manufactures the Scorpio rock picker, which can be used to prepare ground before seeding – heightening land productivity and reducing the risk of damage to harvest machinery.
Elho also manufactures a range of V-Twin basket rakes, with the heavy-duty Elho V-Twin 950 Super the largest model on offer.
A lot of crop can be collected with its working width from 4.5 to 9.5m, with an adjustment controlled from the cab.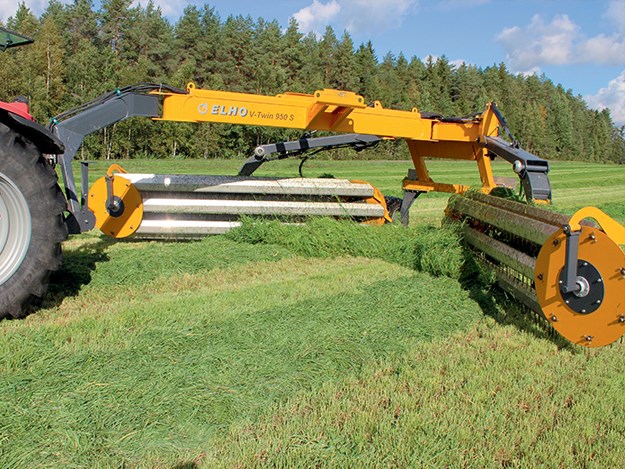 The heavy-duty Elho V-Twin 950 Super rake is the largest on offer.
The machine also has hydraulic flotation to ensure the raking units follow the ground contours, helped by three flotation tyres behind each basket. Material is brought into the swath and can be adjusted to have the swath up to 1.8m either side of the centre of the tractor.
The V-Twin 950S has seven tine bars per side and extra tines at the end closer to the swath end to tidy up heavy windrows.
Incab adjustment of the machine also gives the operator a swath width of between 1.3 and 2.2m.
Drive for the machine can be from power take-off, allowing a small tractor to operate. It has an optional splitter kit that will turn the crop under the windrow.
These rakes are gentle on the crop and their raking action limits the amount of foreign material in the windrow.
This machine is fast and easy to put in to transport or work position – there is no need to leave the cabin. The rake is narrow in the transport position, which makes it easier to drive on narrow roads.
Rounding out the range of Elho hay rakes is the smaller V-Twin 750, V twin 600 front mount and the Twin 4600 front mount rake, which can be used to turn windrows.
You can look at www.elhoaustralia.com.au for more information and to find your local dealer, alternatively contact them on 03 5231 6999. You will also find Colac Ag and Elho Australia on Facebook, Instagram and YouTube.
Subscribe to our newsletter
Sign up to receive the Trade Farm Machinery e-newsletter, digital magazine and other offers we choose to share with you straight to your inbox
You can also follow our updates by liking us on Facebook. 

Graders For Hire | Cranes For Hire | Telehandlers For Hire | Excavators For Hire