2020 Valvoline Truck of The Year winner announced
---
VIDEO: The 2020 Valvoline Owner//Driver Truck of the Year trophy has been won by G&D Inverno of Dalmore, Victoria for their immaculate Kenworth Legend 900
The 2020 Valvoline Truck of the Year recipient has been decided and, due to another COVID lockout, belatedly presented to the Inverno family of Dalmore, Victoria for their sparkling Kenworth Legend 900.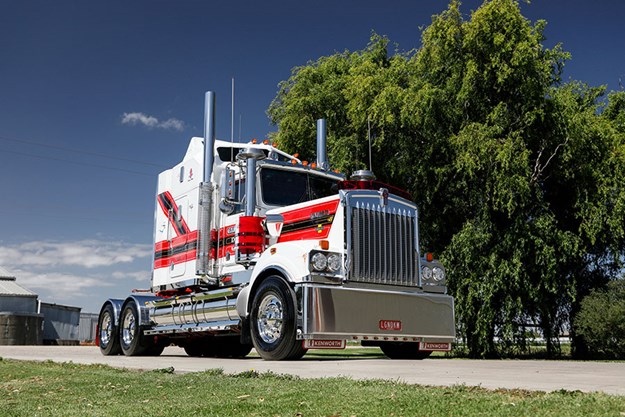 With the high calibre of Valvoline Truck of the Month winners it was a pretty tight race to the flag but in the end, much like The Highlander, there can be only one and Farms & Farm Machinery sister title Owner//Driver magazine, along with Valvoline, are proud as punch to award the trophy to the entire Inverno family and their stunning Kenworth 900 Legend.
With 2020 being such a strange, screwed-the-pooch kind of year, it seems almost poetic that it has taken us so long to be able to get down to surprise the Inverno family and hand over the Valvoline Owner//Driver Truck of the Year trophy. In truth I had snuck down earlier but another quick-fire Victoria lockdown had me out of the state before I could get the trophy delivered. Therefore it was an absolute pleasure for me and a bit of a shock for Peppi, Danielle, Jeremy and Chris, when I finally got to rock up and break the news to them.
So a quick rundown on the Inverno 900 Legend. G&D Inverno runs a fleet of five trucks with the 900 being the boss's workhorse. Sorry, I should clarify, the family will actually tell you Danielle is the boss, so I should say 'the 900 is driven by Peppi'.
There is a custom-built B-double tautliner set that sits behind the Kenworth when it undertakes its weekly runs, predominantly between Melbourne and Adelaide. In a quirky turn of fate the day I rocked up to deliver the good news to the family it was bang on three years since Peppi picked the truck up. Over those three years he has racked up over 300,000 kilometres and, if anything, the truck is almost looking better than new. That is our segue into introducing the young man who is really responsible for not just the state of the truck, but for the fact we were able to photograph it and get the whole story behind it as well – Jeremy Inverno.
Jeremy spends all his spare time cleaning the G&D fleet, specifically the 900 Legend. That's not to exclude Jeremy's younger brother Chris who helps out as well. However, Jeremy has been the driving force behind all this.
We shall just take a little detour here to include a little story that Jeremy's mum Danielle told me while I was in town. The story explains how Jeremy got into cleaning trucks because it was never something he particularly enjoyed doing. Truth be told he started because he was shockingly bad at AFL.
"Jeremy and Chris were out the front of the house kicking the ball around," Danielle explains. "I warned them to be careful, then Jeremy kicked it to Chris and its gone straight through the front window.
---
RELATED ARTICLE: Inverno family feedback drives Legend 900
---
"Jeremy was told he'd have to clean the trucks to pay them back for the window."
It's worth noting here that Jeremy is adamant it was Chris's bad hands, not his wonky kick that led to the broken window. Either way, Jeremy took to cleaning quickly and with a skill level far exceeding his AFL abilities. He soon repaid his parents for the window but remained dedicated to cleaning after school and on weekends.
His passion for trucks and his work ethic saw him garner a highly prized apprenticeship at Hallam Truck Centre in Melbourne at the start of this year – a highly sought-after opportunity. Even this didn't stop his desire to look after the company fleet though.
Such was his pride in the trucks that when the family was approached for a story, it was Jeremy that pushed his publicity-shy dad into running with it.
"We were just overwhelmed when the truck got picked for Truck of the Month (last July)," Danielle exclaims, going onto to say it was a real honour considering the standard of trucks throughout Australia.
It really was a pleasure when I was able to tell the family that their truck had been voted the 2020 Valvoline Owner//Driver Truck of the Year.  At some stage throughout the afternoon I think I heard exactly the same line from everyone – Peppi, Danielle and Jeremy. "I just can't believe it; I never thought ours would win."
Well it did, and it is well deserved. Even on a random Saturday in early March when I rocked up, the 900 was in pristine condition. Apparently as is usually the case Jeremy had already been out washing and polishing after work. Getting the truck ready for his dad to head out again on Monday.
Full credit to the Invernos. They are a hard-working Australian family that take huge amounts of pride in what they do and how they do it. It was a real honour to award them the 2020 Valvoline Owner//Driver Truck of the Year.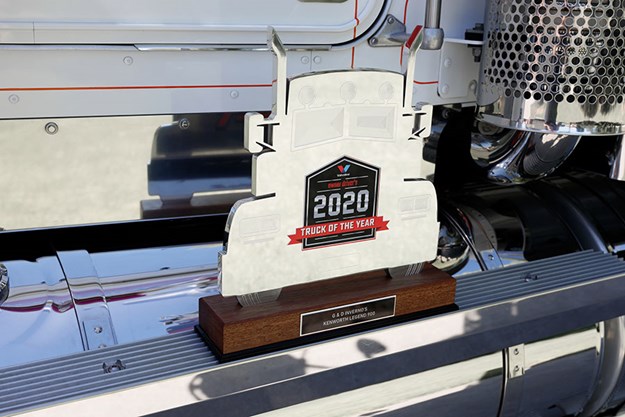 For more on the 2020 Valvoline Truck of the Year, see the April edition of Owner//Driver magazine.
Subscribe to our newsletter
Sign up to receive the Trade Farm Machinery e-newsletter, digital magazine and other offers we choose to share with you straight to your inbox
You can also follow our updates by liking us on Facebook. 

Graders For Hire | Cranes For Hire | Telehandlers For Hire | Excavators For Hire