Leading disaster specialists combined to combat bushfires
---
As Australia looks to summer and another bushfire season, some of the nation's leading disaster specialists got together to share research. Lincoln Bertelli reports.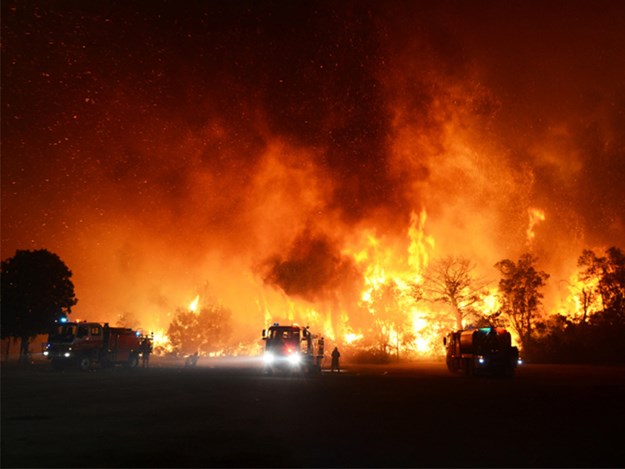 The latest research into managing bushfires was shared
Managing bushfire risk, lessons learned from previous disasters and how technology is changing weather forecasting were among the discussion topics at Australasian Fire and Emergency Service Authorities Council's (AFAC) annual conference.
Held as a virtual event due to border closures, keynote speakers included well-known bushfire survivor and mindset coach Turia Pitt and former New South Wales Rural Fire Service commissioner Shane Fitzsimmons.
AFAC'S conference included sessions held across three days and ran simultaneously with the Australian Disaster Resilience Conference and the Institution of Fire Engineers National Conference.
Some of the highlights from three days of presentations included:
Reidentifying when to prescribed burn
The ideal prescribed burning windows, or 'prescriptions' as they are known, have not accurately represented all opportunities to burn.
These were the findings of Country Fire Authority senior research scientist Thomas Duff, shared during his presentation.
Duff's research showed that in Victoria between 1990 and 2020, burns were often safely undertaken during time windows outside of the recommended dryness levels.
In recent years, there have been fewer days considered 'ideal' than are actually needed for prescribed burning, which has meant some burns are undertaken outside the window by necessity – but these have been done safely.
Duff referred to the 'Goldilocks conditions' as being ideal when it is not too hot or not too wet.
Research has shown the autumn burning window to be fairly consistent, however the spring window appears to be getting shorter, said Duff.
About 30 per cent of all planned burns throughout the year are cancelled, he added. 
He concluded by saying better dryness metrics and more record keeping about why some burns were cancelled would help researchers have more knowledge into the future.
New ways of predicting bushfire conditions
Bureau of Meteorology (BOM) senior research scientist Andrew Dowdy explained a three-year collaborative project that has helped to better forecast dangerous bushfire conditions.
Dowdy's presentation outlined a new modelling system that data humidity, wind, temperature and rain to provide long-range fire weather predictions.
After being trialled over the past two summers, these are now being provided to fire agencies.
"The reason why the long-range fire predictions are quite skilful in Australia relates to the strong influence of various large-scale modes of climate variability such as the El Niño Southern Oscillation," he said.
"These modes of variability can be predictable by our climate models several months ahead and they influence the weather conditions throughout Australia."
Dowdy showed models which described how certain areas of Australia were influenced by El Niño and La Niña climate events.
He said knowing when these were occurring was a good indicator of whether higher or lower than average localised temperature, rainfall, humidity and rainfall should be expected for each part of Australia. These were combined to create a Forest Fire Danger Index (FFDI), which in simple terms concluded that El Niño created more dangerous fire conditions than La Niña.
BOM's modelling could also predict the likelihood of the FFDI being above average, and whether the number of 'very high' fire danger days would also be above average.
Drones as firefighting tools
The role that drones can play before, during and after fire disasters was discussed by Disaster Resilience and Research Foundation director Mukta Girdhar.
In a presentation called 'Equipping with latest technology in reducing risk of life during  
fire operations', she described the range of opportunities firefighters have while using drones.
Among these are to supply essential medicines to people cut off by damaged roads or infrastructure, plus as a means of helping to restore damaged communication infrastructure.
"In this, drones can play an important role where they can quickly assess the damage so that repair teams could be deployed to restore service," she said.
Girdhar also said drones containing water could be used as direct firefighting tools in difficult-to-access spaces.
While not bushfire-specific, she highlighted an example of a drone which could reach heights of 984 feet (300m) and was used to help fight a fire at the top of a high-rise building.
Subscribe to our newsletter
Sign up to receive the Trade Farm Machinery e-newsletter, digital magazine and other offers we choose to share with you straight to your inbox
You can also follow our updates by liking us on Facebook. 

Graders For Hire | Cranes For Hire | Telehandlers For Hire | Excavators For Hire