Product Focus: IFM
---
The range of sensors on offer from ifm allows farmers to develop their own independent monitoring systems – and that's just the beginning.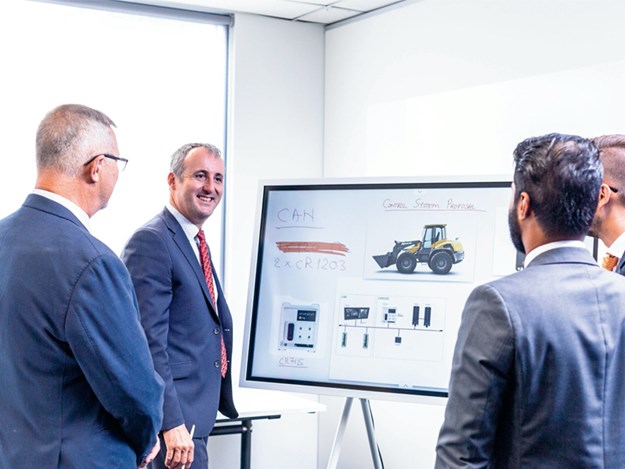 Dan Buzatu (presenting) explains that ifm's io-key allows for easy and convenient remote monitoring of water systems
In a world where remote monitoring and automation is becoming increasingly common at all levels of industry, there are still simple problems – and straightforward solutions.
Dan Buzatu is the national technical sales manager for the Australian arm of ifm, one of the world's leading specialist automation technology developers, and a person who has worked with some of Australia's largest factories and mining groups.
How, then, to deal with the age-old problem of monitoring water levels in a stock dam, as the company was asked a few years ago?
Buzatu says a complex device might not be the best solution – noting the one being used by the farmer in this example was not only complicated but required a specialist to install.
Instead, ifm's io-key was able to take data from two water-monitoring sensors directly, sending it to the farmer by SMS.
It's one of many uses for the miniature monitor, which can connect to up to two sensors and send information direct to the farmer at anything from daily to 10-second intervals.
"With this device, the farmer can go there and put it there with a solar-powered battery, if he hasn't got a power supply, and that's it – leave it on," says Buzatu.
"You don't really need IT infrastructure, it has got an electronic SIM, like most new phones usually have, and it connects to whatever network is available."
Buzatu adds that the units have also been used to monitor the function of pumps – alerting the owner to anything out of the norm, as well as refilling water tanks once they reach a certain level.
"Basically, you can also do some early mod controls – if the farmer wants to control a gate or a pump, they can do that too, but it is primarily used for remote viewing," he says.
"There are a few applications that it has been used on around the world – level measurement on tanks like feed silos and water trucks [for example]. They all have one thing in common:  they should be refilled at some point. So, if it is as simple as saying "I am becoming empty" without requiring a person to go all the way there and check, that is a good thing."
The sensors may also be used for predictive maintenance, he adds, detecting vibration caused by damaged bearings or unbalancing in motors or pumps situated remotely.
"Up until now it has been quite time consuming and expensive to equip the remote systems part of monitoring with sensors in order to analyse the signals afterwards," says Buzatu.
"Simply, we want to make a farmer's life less complex and more efficient, and that is what this unit does."
The io-key can be powered by a solar battery when operating remotely, sending reports via a choice of SMS or email alerts – or to ifm's user-friendly dashboard, which can be viewed on a computer or mobile device.
All-round solutions
Ultimately, Buzatu adds, while the io-key is a starting point for complex applications, it is just one component of a much wider product offering with potential applications for farms.
With sensors and data-sharing devices developed for a range of purposes, he adds that the company takes pride in advising on the solutions it can offer.
"Most of the time the advice that comes up for a simple application is: yes, we can develop a package for you – whether you want two sensors or if there is one sensor required for this one… we can even put together a video, and advise the positions to mount the sensors if required," says Buzatu.
With experience covering small enterprises to some of the world's leading factories, global automation specialists, ifm has the systems in place to develop solutions to almost any problem.
For agricultural applications, these include water flow sensors for pumps and irrigators, heat and humidity sensors for silos and storage, inclination sensors for fences and other infrastructure – and many more.
"We know very well lots of farmers buy a second-hand tractor and tow implements – they can't all afford to have 20 new machines in the back," says Buzatu.
To that end, ifm is also developing a new ISOBUS gateway system that the company is hoping will be available in Australia in 2022.
Adi Kunder, ifm's product sales manager for mobile control systems, says the initial plan is to aim the product towards Australia's ag machinery manufacturers, but added that research and development work is still underway.
"Over the years, we have found that there are a number of small- to medium-sized original equipment manufacturers [OEMs] that make implements – they may make 12–20 per year, and that is a lot for them."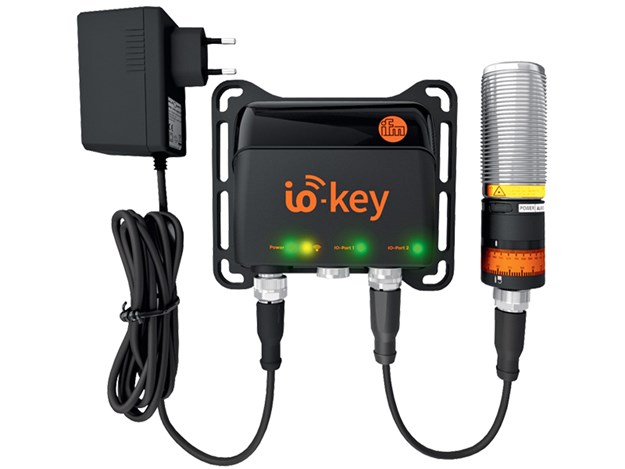 Information can be sent to the user with a frequency of up to 10-seconds
Kunder adds that while every equipment manufacturer knew the ISOBUS communication protocol technology that allows data to be shared to a control panel in tractors, the system remains very complex, and out of reach for some of the smaller developers.
"Usually, the end user will have a tractor and they want to connect this implement to the tractor, and then make whatever information is available on the implement available on the tractor screen," says Kunder.
"From speaking to most of the small OEMs, it is very hard to get that information on the tractor screen because it is really complicated."
The ifm ISOBUS Agrimate is a gateway system, Kunder explains, that allows manufacturers to connect ifm's automation systems to ISOBUS displays – saving OEMs the time and effort of developing brand new software systems on their own.
"We take that complexity away by having this gateway where they don't need to know anything about ISOBUS, they just need to know how to code and control their system using our PLC – which we can train them on – and that's it, and this will just display the information on the tractor virtual terminal or display," says Kunder.
"They can also have some sort of automation on their implements as a starting step and they can even display everything on the screen – it's basic, but it can be displayed.
"We want this to be a starting step for some of those small to medium OEMs as a step towards automation and then more automation and evolve with it, but we offer a basic section at the start, so that is where we fit in."
As the company continues its development of the product, Buzatu says he's confident that it will join a range that offers a series of new opportunities across the Australian agricultural sector.
"We are really happy to talk with people so we can work out what they need – often there is a need behind that need as well, so then we can work it out and we can address it," he says.
 "We are happy to talk with people and to discuss their applications with them and ultimately come to a solution."
Subscribe to our newsletter
Sign up to receive the Trade Farm Machinery e-newsletter, digital magazine and other offers we choose to share with you straight to your inbox
You can also follow our updates by liking us on Facebook. 

Graders For Hire | Cranes For Hire | Telehandlers For Hire | Excavators For Hire