Veldonas Pumps offers the right irrigation solution
---
Veldonas Pumps has years of experience designing the right systems for farms across Australia. We pick up some tips.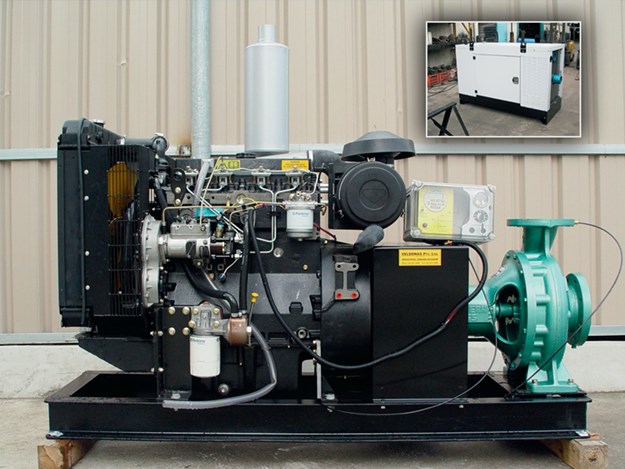 Veldonas offers a wide range of pumping systems
One wrong decision with a choice of pump system and the result could be "tens of thousands of dollars replacing pipes" or even property loss, according to Veldonas director Gatis Gregors.
The Melbourne-based business, which has 25 years of history and a customer base across Australia, builds pump systems to order, with more than half of its customers being from the agricultural sector.
Gregors says the benefit of having a system built to order is the knowledge that it has been customised to fit your individual needs.
"Every setup is different, and we work with the customer to determine exactly what flow rates and what pressure is required for their piping installations, which could vary dramatically," he says.
"It could be something that is quite local, and you need quite a lot of water for discharging through sprinklers or some other measures, or it can be running many kilometres through different pipes.
"They have to really determine what sort of setup they are planning and have a very good idea of what distance they're trying to pump through, what pipe size they're trying to pump through, what heights they're trying to pump up to and also what distances they're drawing water from, what type of water and also the heights from the pump set to the water source. Those are all critical in determining the right solution."
The stakes are high when it comes to selecting the right pump system, with the consequences of a wrong choice ranging from unnecessary downtime and financial loss to potentially something more tragic if a bushfire was to occur.
"If you don't get the right solution, the pump literally won't operate," says Gregors.
"It won't pump the amount of water that is required and there is the possibility of the unit actually seizing up and not operating it at all.
"In certain circumstances, if their setup is not as per what they've discussed there's the prospect of over pressurising discharge lines and blowing them up. 
"There are a multitude of different things that can go wrong and you're looking at tens of thousands of dollars replacing pipes and things like that and there is also the prospect of losing properties and losing assets."
For anyone involved in the agricultural sector, change and adaptability are common themes in the quest to protect and grow these assets.
The evolution of technology, along with the need to adapt to nature's variability and unpredictable rainfall, has opened up possibilities and changed traditional methods in many ways.
One way this has enhanced pump systems is the addition of remote starting, which has particular importance in bushfire emergencies when physical access may be blocked.
"The primary thing we get from farmers is protect-ing their built assets from any fires," says Gregors.
"There are all sorts of systems to deal with that are automated starts and remote starts from a distance, whether it's by phone or by fob. 
"These units can be started up from a distance away just in case fire does encroach on the property. You can be in Germany and start a pump in Australia if you wanted to.
"In saying that, a lot of farmers also want some quite basic units they can work on without getting a computer engineer involved. 
"There are the old standards people want and there are other units that require a great deal of technology and planning."
While its base is in the western Melbourne suburb of Sunshine, Veldonas has customers across Australia.
This means the company deals with farmers in different states with different climate systems and whose needs can sometimes be the exact opposite.
"The market requirements change all the time, depending on the sets of circumstances," says Gregors.
"For instance, it can be drought in southern parts of Australia and you're looking at pumping water from whatever water source is available into dams to feed stock and irrigate crops.
"In the north, there can be a monsoon and you're looking at trying to get rid of water; basically, getting pumps to try and dislodge water that is flooding areas. 
"It can be different solutions for different localities and it just depends what circumstances exist at the time."
Gregors estimates between 50 to 60 per cent of Veldonas' total business comes from the agricultural sector but the company also deals with customers in mining, civil and power supply.
Within the agricultural sector, these climate and water supply differences, plus varying technological needs, means there is not a 'one size fits all' approach to the pumps Veldonas supplies.
Gregors believes what sets the company apart is the wide range of products that can be offered, plus the attention to detail in making sure the customer gets the best option.
"We do volume transfer units, we do multi-stage pumps for high pressure, we do centrifugal pumps, we do effluent pumps and we do helical rotor or positive displacement pumps," he says.
"We do all these sorts of things, whereas some other companies may only do one or two of them because they have a particular product they're linked to but we offer wide-ranging solutions.
"In terms of backup as well, if people have questions about their setup when it gets out on site, they can always give us a ring and we always try to be as helpful as possible in terms of giving  advice regarding the functioning or setup they might have."  
Subscribe to our newsletter
Sign up to receive the Trade Farm Machinery e-newsletter, digital magazine and other offers we choose to share with you straight to your inbox
You can also follow our updates by liking us on Facebook. 

Graders For Hire | Cranes For Hire | Telehandlers For Hire | Excavators For Hire