AGCO ramps up global strategy
---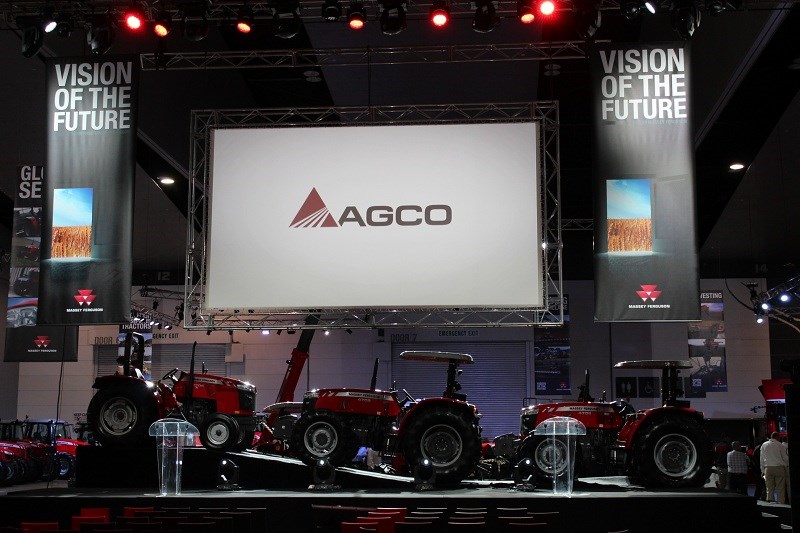 AGCO dropped the curtains on its new Global Series utility tractors in Melbourne this week.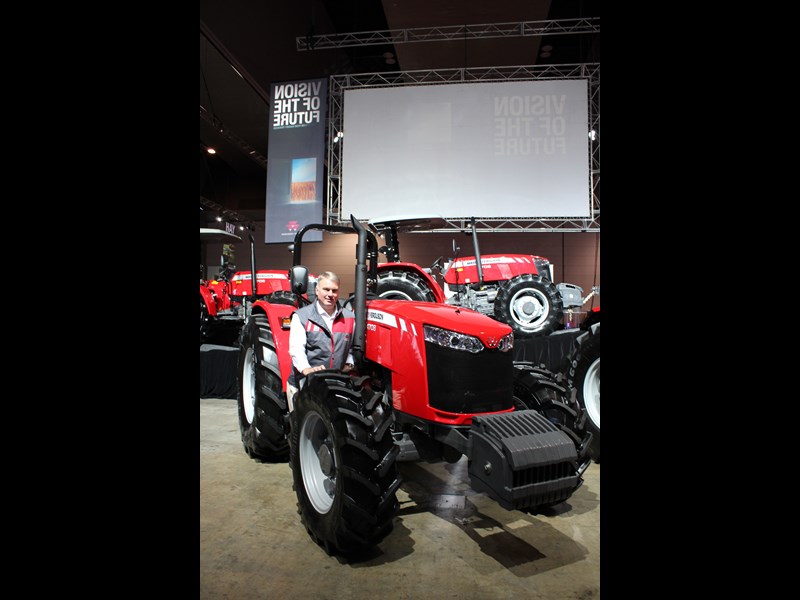 AGCO Vice President and Managing Director ANZ and Far East Warwick McCormick with the brand new MF 4708 tractor from the Global Series.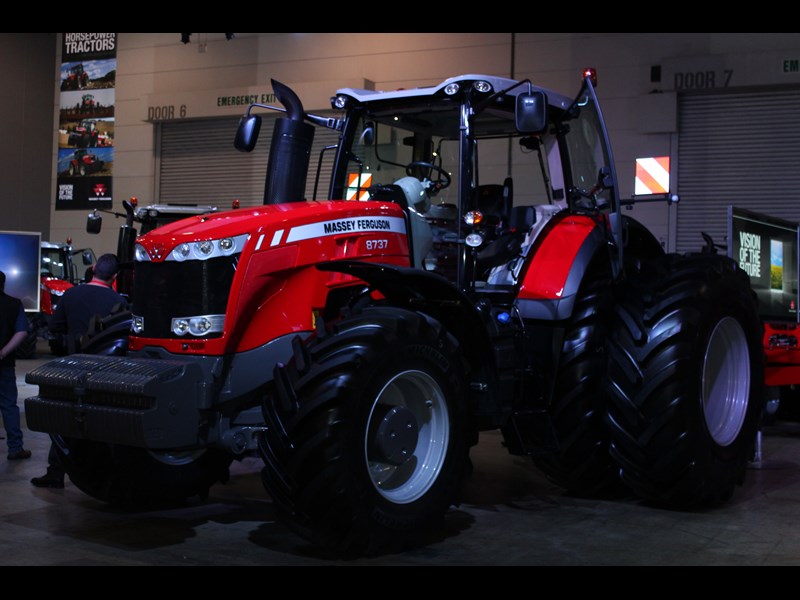 Massey Ferguson's new flagship, the high powered MF 8700 series.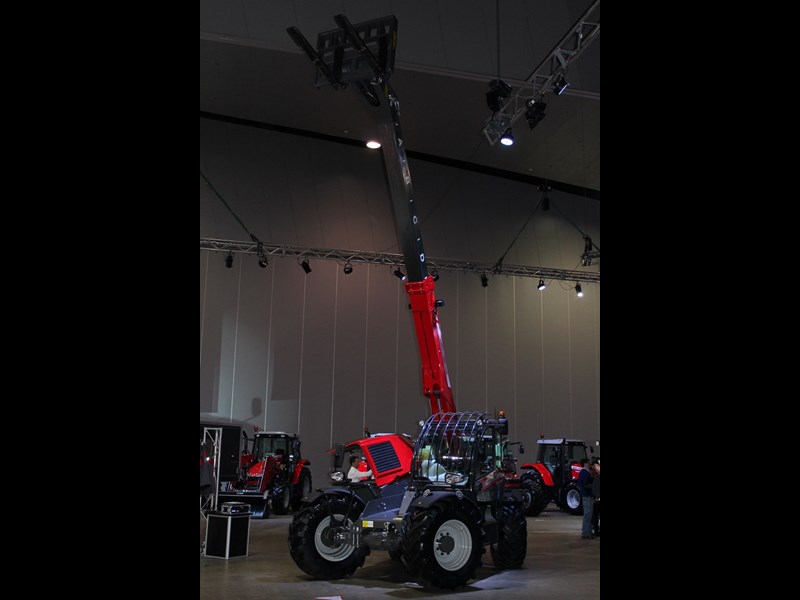 Massey Ferguson's first telehandler to arrive in Australia, the MF 9407.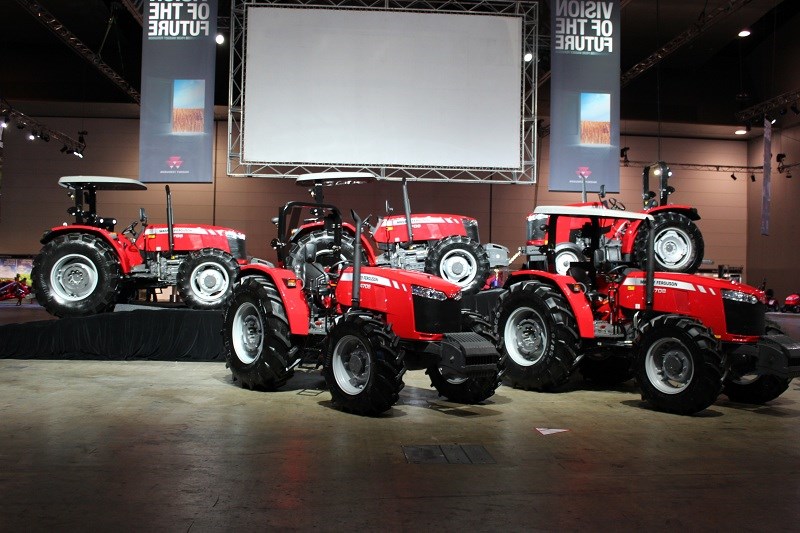 Australia is the first country to witness the brand new Global Series range Massey Ferguson has designed from the ground up.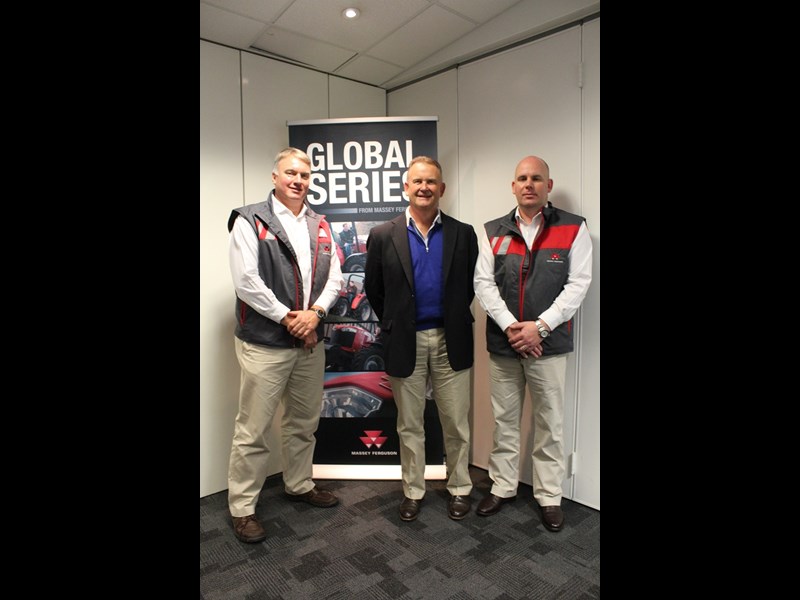 From left: Vice President and Managing Director ANZ and Far East Warwick McCormick, Senior Vice President APAC Gary Collar and Marketing Director Simon Hole
Agriculture equipment giant AGCO this week launched a major lineup of new Massey Ferguson products and a fresh strategy for the future at the Melbourne Convention and Exhibition Centre. Anna Game-Lopata was there.
When the curtains were hoisted on a dramatic expo of Massey Ferguson's complete equipment range, Australia became the first country in the world to lay eyes on six new tractor models kept tightly under wraps until now, and more to follow.
The result of a US $350 million (AUD$375 million) investment and five years of research and planning, the all-new Massey Ferguson Global Series utility tractors will eventually comprise three separate ranges.
Also unveiled was the high horse power 8700 series and for the first time, a Massey Ferguson branded telehandler, the MF9407S.
Launched at a gala dinner held at the Melbourne Convention and Exhibition Centre, the new Massey Ferguson products are particularly significant.
They mark the realisation of a new strategy and approach by AGCO to seize the major opportunities presented by the Asia Pacific region, dubbed "Vision of the Future".
With China accounting for 500,000 tractor sales per annum, India at a further 650,000 and the rest of APAC in the vicinity of further 250,000 tractors, the region is now recognised the largest global tractor and technology market.
As a major player in the space, AGCO has raised its revenue from $US 4 billion (AUD $4.3 billion) to $US 11 billion in the last five years and is determined to carve a greater share of the market in the lucrative APAC region.
Birth of a ground-breaking range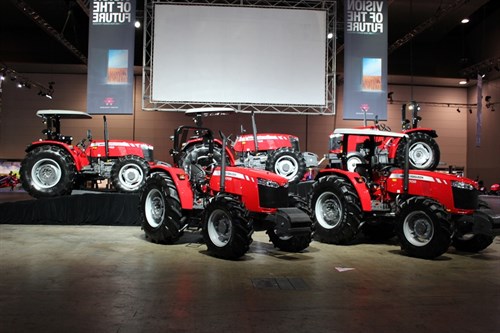 While the company's success in Australia is primarily in the mid to high horsepower range, research and customer input suggested a return to the utility sector would secure viability across Asian markets and the Far East.
"We've revealed six new product models today and we're continuing to grow particularly in the 80 to 100 horsepower market, which sells big volumes in Australia," AGCO Senior Vice President APAC Gary Collar confirmed at the launch.
The Global Series, tractors between 60 and 82hp, is also significant because for the first time in 20 years, AGCO has taken a "clean sheet" approach to the design and manufacture of the machines.
Collar says the series reflects the Massey Ferguson heritage of success in the utility tractor sector, which is based on dependability and reliability.
"But the Global Series is purpose-built for modern applications across international markets and tested in brutal conditions from Arizona in the USA to Lusaka in Zambia," Collar says.
Developed by Massey Ferguson engineers in Beauvais, France, the series features some completely new  traits such as a transmission with synchronised mechanical reverse shuttle and an open-centre hydraulic system.
 "We've got this great 'DNA' of tractors bred at Massey Ferguson and what we been able to do is update all of that with what we've learned from the high horsepower brands such as Fendt."
Made in China
Making it all possible is AGCO's new state-of-the-art factory built in Changzhou, China which when fully operational will not only manufacture the Massey Ferguson Global Series but also function as a logistics hub for spare parts and components.
Developed and constructed in three phases, AGCO has invested close to US $400 million (AUD$429.3 million) in the 190,000 square metre facility, which incorporates a further 30,000 square metres for expansion.
Collar claims the facility utilises the most modern manufacturing equipment and principles, making it one of the most technologically advanced factories in the world.
"The Changzhou factory is capable of building any machine or part AGCO requires to the highest worldwide standards," Collar says.
The last phase of the development, expected to be operational by 2015, will preside over 20-25,000 tractors per annum,  15 to 20,000 sets of transmissions, 42,000 gear boxes, 24,000 rear axles and up to 40,000 engines.
It will employ a total of 11,000 staff with 400 currently working on site.
"With all of these demands, we've put our best into the manufacturing technology in order to keep the operation cost effective," Collar says.
He says AGCO chose to build in China to take advantage of low cost materials and the cheaper labour rate.
Changzhou was chosen for its positive approach to an economic development partnership, good property prices, strong supply base and favourable position on the Yangtze River to facilitate heavy equipment logistics requirements.
Production of the Global Series began just a few months ago at the Changzhou plant.
"We're now ramping up manufacturing to build the three different new series of Massey Ferguson products including the Global Series by the end of this year," Collar says.
"We'll also continue to make introductions of more technical products as we go along."
Fuse it all up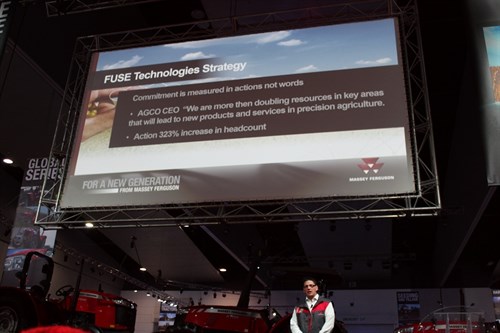 Also launched as part of AGCO's Vision of the Future was its new 'Fuse Technologies' strategy underpinning the company's development and integration of precision agriculture technology and services.
Inspired by the challenges of providing food for a world population expected to increase from 7 billion today to 11 billion by 2050, the Fuse strategy has attracted millions of dollars of company investment.
Vice President and Managing Director ANZ and Far East Warwick McCormick says Fuse is expected to produce several new products and long term projects in the next 12-18 months.
"Fuse Technologies is about connecting technologies, the commitment to provide products that optimise and seamlessly connect and integrating solutions to help farmers farm 'smarter'," McCormick says.
He adds the precision agriculture technology market is in a growth phase, verified by independent global research.
"By 2018, in Australia, the precision agriculture market is predicted to grow 122 percent to about $311 million," McCormick says.
"In New Zealand the growth will be 158 per cent and in Asia growth is expected to jump 137 per cent to reach $595 million industry. The growth is upon us."
In terms of the AGCO brand McCormick says Fuse is about getting technology right and making it simple.
"We're looking to build a common electronic architecture as a platform to connect all AGCO vehicles wirelessly with GPS technology," he says.
"We're planning to simplify on and off-board technologies and partner with software providers and other suppliers, such as spray and seed companies, to make sure the data customers are collecting is accessible."
McCormick says the strategy also involves a new global call centre to assist dealers with simple "how to" training, a new website and a global dealer certification program aimed at selling the "whole package".
"What we find from customers is they're not really interested in a steering system, or telematics or monitoring their airseeder, they want a total solution," McCormick says.
Back to the future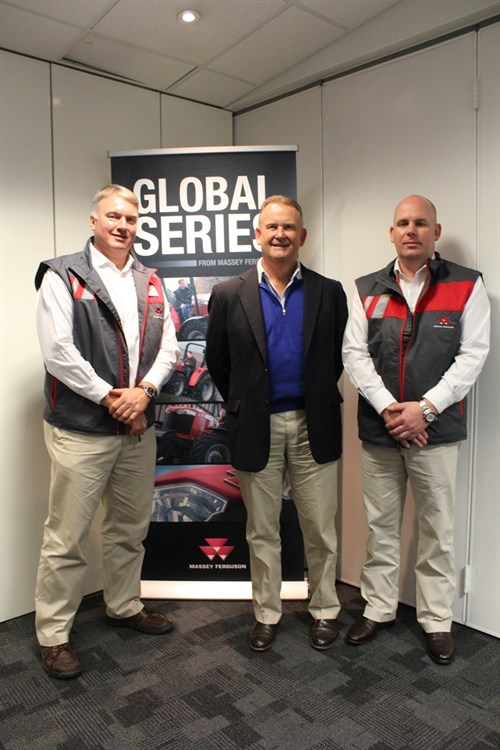 AGCO executives from left: Vice President and Managing Director ANZ and Far East Warwick McCormick, Senior Vice President APAC Gary Collar and Marketing Director Simon Hole
Gary Collar adds AGCO sees fleet optimisation through telemetry as the future.
"Ultimately we'll get to the point where a tractor is due for a 20 hour service and the system will send you a text message or email, saving costs for farmers," he says.
"Given labour shortages in rural areas we're looking to help optimise performance so farmers can do with less labour. That's what we're all about."
While AGCO has an existing telemetry product known as AgCommand, McCormick reveals the company will shortly introduce a 3G device for the first time, and its AgCommand 2 product will be brought in-house and upgraded to improve automated reporting.
The company will also introduce a hosted cloud based information storage service to allow farmers and agronomist an easy, private way of using and sharing collected data.
McCormick also predicts a new common look and feel across the AGCO stable of products.
"We're changing a lot of systems behind the scenes," he says.
"Most importantly, we're introducing the ability to be compatible across existing architecture functionality.
"As part of this, we're working with large GPS providers around the world to integrate different GPS receivers into the vehicle console.
He adds AGCO's focus for the next five years lies with integrating training with the integration of machines.
 "It's an interesting challenge and hopefully we can lower costs for farmers."
Find Massey Ferguson tractors for sale.
Subscribe to our newsletter
Sign up to receive the Trade Farm Machinery e-newsletter, digital magazine and other offers we choose to share with you straight to your inbox
You can also follow our updates by liking us on Facebook. 

Graders For Hire | Cranes For Hire | Telehandlers For Hire | Excavators For Hire