Australian dairy farmers to go bust as milk price falls
---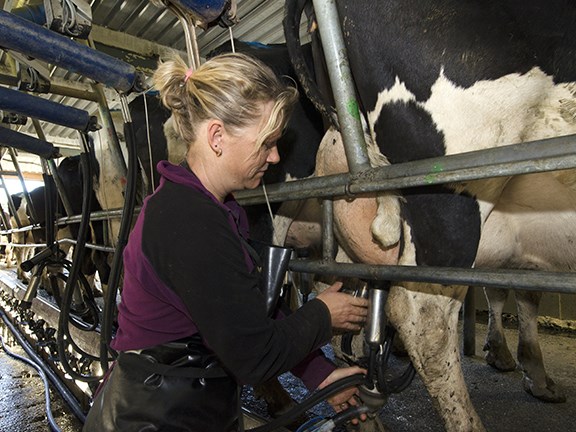 A dramatic drop in the price of milk has Australian dairy farmers on edge.

Australian dairy farmers say a 60c drop in the price paid for milk solids is likely to cause severe financial problems for many in the industry.

Dairy processors Fonterra Australia reduced its farmgate milk price for the 2015/16 season from $5.60 per kg of milk solids (MS) to $5.00 per kgMS earlier this month, while Murray Goulburn (MG) says it expects to pay between $4.75 and $5 per kilogram, a drop of around 10 per cent.
These are moves which the United Dairy Farmers of Victoria (UDV) says will cause dairy farmers to go out of business. The body is now calling on processors to end what it describes as 'pricing uncertainty' for dairy farmers.
"Not only have Murray Goulburn (MG) and Fonterra cut milk prices, they're clawing back what they've already paid to farmers, backdated to the start of the season (July 1, 2015)," UDV president Adam Jenkins says.
"The UDV wants MG and Fonterra to review and ultimately remove these claw-back clauses from their supply contracts, so we never see a repeat of what's happened this season.
"Why should dairy farmers pay for the poor management decisions of these dairy processors?"
UDV has sought legal advice on MG and Fonterra's legal obligations to suppliers under existing contracts and is calling on the processors to make announcements on the opening season price as soon as possible, so that farmers have the certainty they need to plan for the season ahead.
Fonterra Oceania managing director Judith Swales says the price change reflects the reality of the supply and demand imbalance that is affecting global dairy commodity prices, compounded by the recent strength of the Australian dollar.
"The reduction in the farmgate milk price is the last thing farmers want to hear – however, it is unlikely to come as a surprise," she says.
"With around 40 percent of Australia's milk exported, our ongoing message has been that Australia is not immune to the global dairy challenges, that the milk price did not reflect current reality and that farmers need to budget conservatively.
"Fonterra is committed to taking a leadership position to drive towards more transparency on milk price so that farmers have a clear line of sight to budget, plan and respond."
Bonlac Supply Company (BSC) chairman Tony Marwood is confident that, while the price reduction would be tough for Fonterra's suppliers, Fonterra has acted responsibly throughout the season.
"We know that Fonterra has done all it can to send the right price signals and keep suppliers informed," Marwood says.
"While this news will be difficult, it is good to see that Fonterra is showing its ongoing commitment to its Australian suppliers with the short term support and, importantly, longer term commitment to paying market returns.
"Fonterra will continue to meet the minimum benchmark milk price, as per the BSC Agreement."
The support he refers to is Fonterra Australia's Support Loan, which offers up to 60c per kgMS that is repayable from the 2018/19 onwards.
This is intended to provide suppliers with options to help them deal with the price drop, and gives them the ability to receive an equivalent of $5.60 per kgMS for the current season.
The Tasmanian Farmers & Graziers Association has said the retrospective milk price reductions have caused great concern among its dairy members.
"We understand that this is a result of world supply and demand issues, nevertheless many of our members will be left with a bill of six figures," it says.
"When in the business of farming such announcements at the end of the season can be devastating. It is clear that it is time for a broader discussion between producers and milk processors to look at a way to ensure that producers can have confidence in the prices set at the beginning of the season."


If you're looking for feeder wagons for sale, check out our listings.
Subscribe to our newsletter
Sign up to receive the Trade Farm Machinery e-newsletter, digital magazine and other offers we choose to share with you straight to your inbox
You can also follow our updates by liking us on Facebook. 

Graders For Hire | Cranes For Hire | Telehandlers For Hire | Excavators For Hire