Case IH is 'Red and Ready' with Farmall
---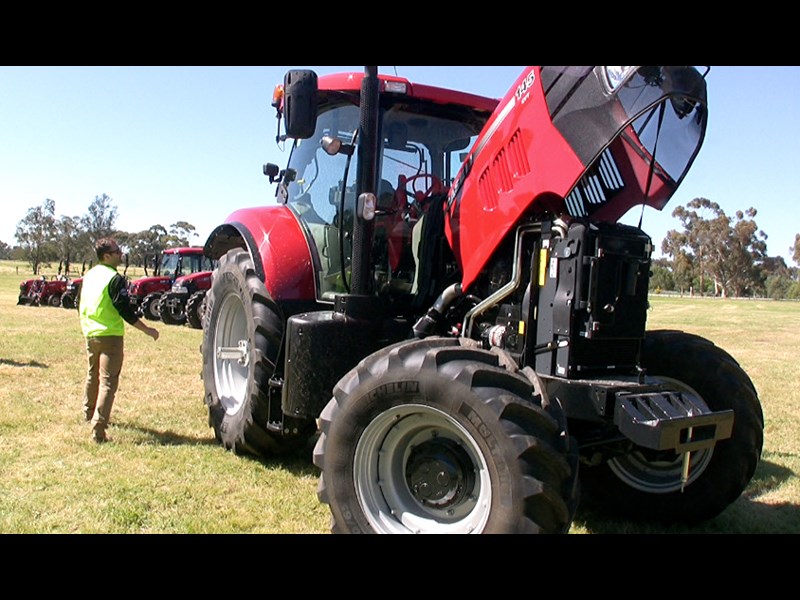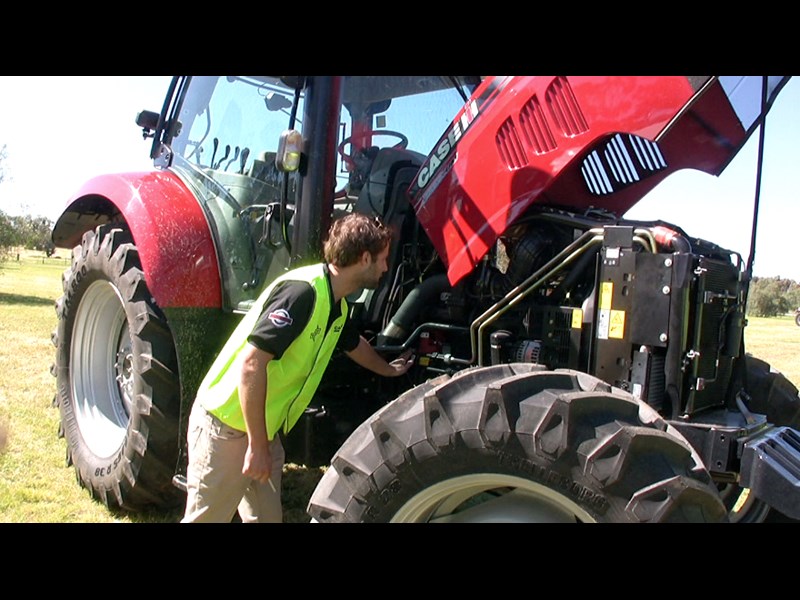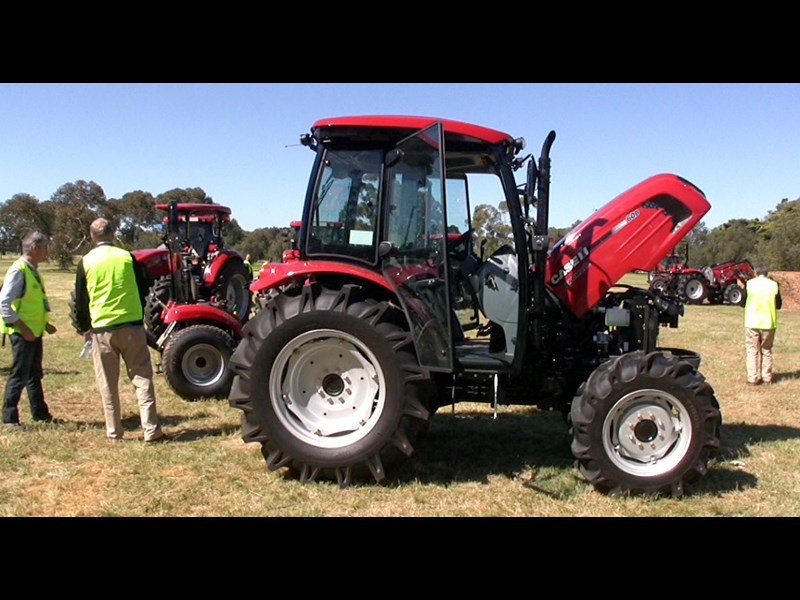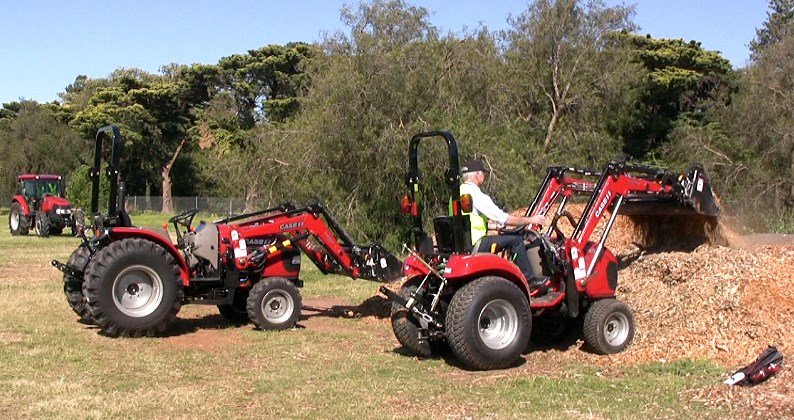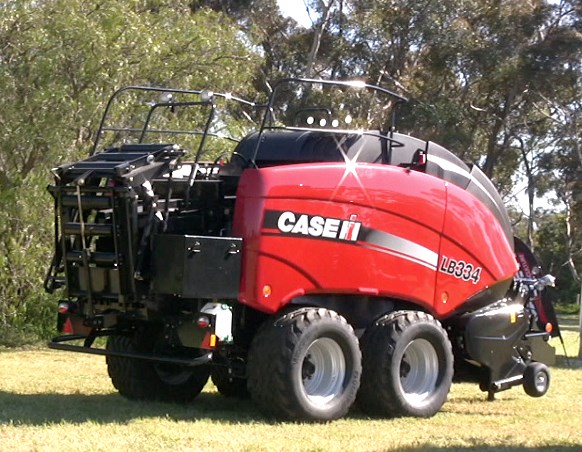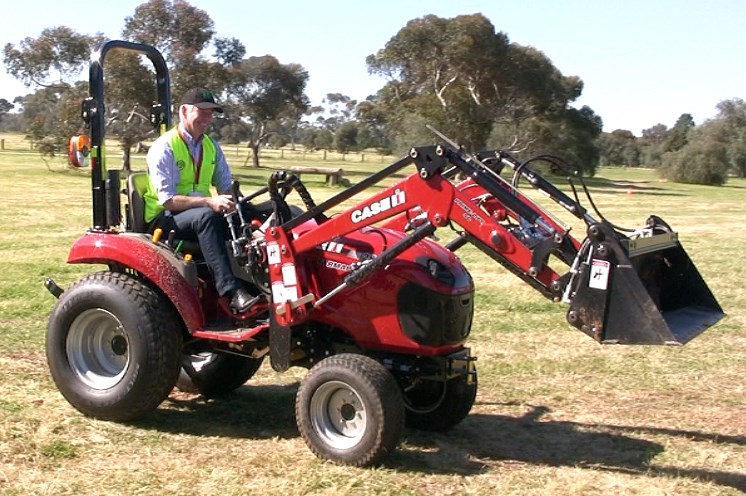 NewFarmMachinery's Tom Dickson attended the formal media launch of Case IH's new Farmall B and Farmall JX range of tractors, held on the back of a week's intensive training for the company's dealerships at Werribee Mansion in Melbourne.
Wandering through the front gates into the vast and perfectly manicured gardens surrounding the historic Werribee Park Mansion is like stepping back in time to a bygone era. It's back to the days where a family's wealth could be measured by the size of their house and the number of staff employed to meticulously tend to chores and the beautiful surrounding parks and gardens.
Today the family is gone and in their place is a grand accommodation and reception centre. The gardens have been thrown open to the public to enjoy and marvel at its beauty.
A mechanical army of power tools, subcompact and utility tractors has replaced the labour intensive workforce of gardeners that once manually tended to every task regarding the maintenance of this beautiful showpiece.
It's an obvious backdrop for the tractor driving experience I've come for as part of the launch of Case IH's new Farmall B and Farmall JX range.
The company's launch slogan, "Red and ready" signifies both red for Case IH and 'ready'  to acknowledge the significant investment the company is making to ensure its network of dealers is product-ready.      
The new Farmall B compact tractor range features six models from 23hp (17kW) to 57hp (42kW). This range is suitable for many types of applications: from hobby farming to grounds keeping, to utility work in larger operations.
Meanwhile, the new Farmall JX range also features six models, from 60hp (49kW) to 110hp (81kW) and appears to be a no frills, easy to handle utility workhorse.
Everyone is keen to try their hand at taking the controls of the bigger machines eager to discover the more advanced technology that is reserved for the higher horsepower machines.  
I however have already eyed off the littlest tractor available, a 23hp, hydrostatic drive tractor with an attached frontend loader. A huge amount of interest is being shown in the little end of the market so I am keen to see what all the fuss is about.
Simple, effective, strong, manoeuvrable and most of all fun are a few of the words that best describe my drive. I popped the two range gear selector into high, increased revs a bit and pushing forward on the hydrostatic foot lever is all that is required to activate really responsive forward movement.
Changing direction is as simple as moving foot pressure to the rear of the pedal. Bumping up the revs with a hand lever immediately increased my speed but also increases hydraulic oil flow which will be most important when I start using the frontend loader.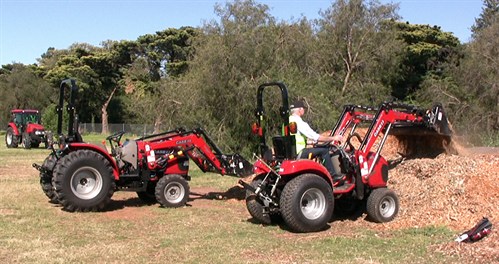 Operating the front end loader turns out to be a lot more fun than I had anticipated. Scooping up loads from one side of the pile of woodchips then darting around and dumping them off on the other was a very simple exercise but it highlighted just how manoeuvrable these little machines are when working in a small working space. 
Increasing the engine revs a bit gives me plenty of speed to get the job done quickly and also speeds up movement of the loader itself due to increased oil flow, this also gives the four in one bucket a really good grip if required to pick objects up.
Earlier in the day I saw a game of tractor basketball being played where a ball must be grabbed in the jaws of the bucket carried and dropped into a basket to score a goal. As soon as I ask for a go, a basket and ball appear and a crowd gathers to watch the show.
Already a bit anxious, my nerves escalate when informed no one has missed, no balls have been burst and a video appears to film the event. Thankfully a perfect slam dunk is scored, no balls are injured and my self-respect is intact. This little exercise does however highlight the little Farmall's versatility.
Equipped with a 540 rpm PTO means other implements can be attached to the rear for slashing and small scale cultivation jobs plus an under body mower can be run from an additional mid mount PTO drive.
Case IH Product Specialist Peter Elias says, "Farmall B tractors are real tractors – they are designed for durability."
I had a preconceived idea that I would be driving an overpowered lawnmower with attachments, but they are genuine tractors scaled down to meet the needs of small hobby farms, lifestyle properties, parks and garden maintenance.     
A final look at the magnificent rose gardens on the way back to our vehicle is a perfect way to finish off the day.
Farmall B compact tractor range key points                 
Easy operation and maintenance.
Great serviceability, visibility and manoeuvrability.
Large, comfortable operator's area.
Strong, durable and proven compact tractors.
Hydrostatic transmission for easy driving.
Farmall JX key points     
Hydraulic shuttle for comfortable direction change without using clutch pedal.
New cab provides improved comfort and ergonomics.
High visibility roof perfect for loader work.
Integrated joystick for front end loader operation.
Turbocharged engines provide reliable power.
Click here to find Case IH tractors for sale.
Subscribe to our newsletter
Sign up to receive the Trade Farm Machinery e-newsletter, digital magazine and other offers we choose to share with you straight to your inbox
You can also follow our updates by liking us on Facebook. 

Graders For Hire | Cranes For Hire | Telehandlers For Hire | Excavators For Hire