New Scania fire truck gives CFA an edge this season
---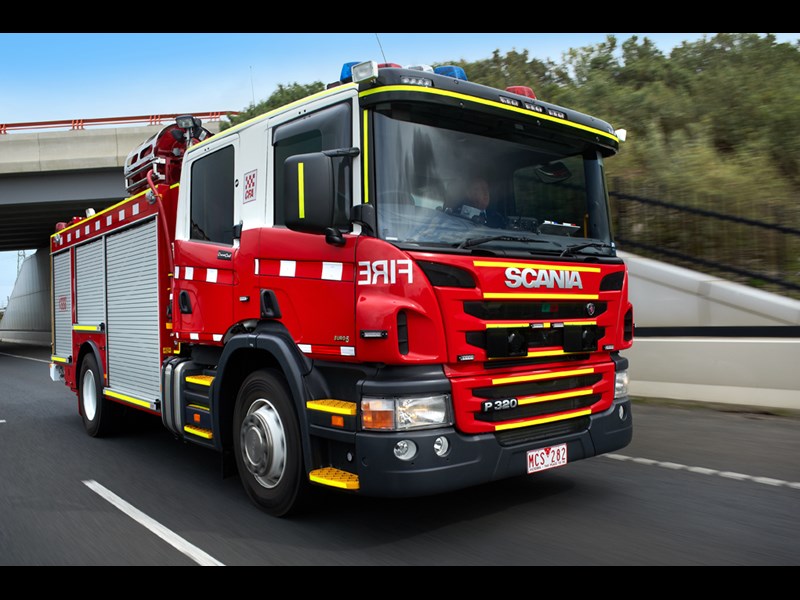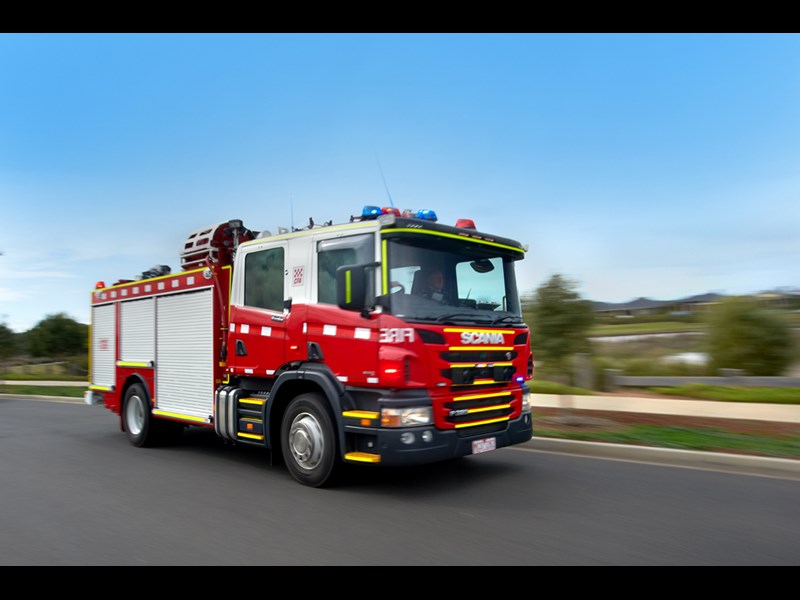 Selecting the P series Scania fire truck represents a major shift in preference for the Victorian Country Fire Authority (CFA) after many years of Japanese makes and models, Matt Wood reports.
Scania has been kicking goals recently with its ready to rock emergency vehicle solutions such as the CFA's newly commissioned P series fire truck.
The Scania P320 4x2 Pumper is about to go into service with the Geelong City CFA station, but I managed to get my mitts on it before it went into service.
The largest volunteer station in Victoria, the Lara CFA operation is usually home to two tankers and a pumper as well as a truck owned by the local community.
There are now 70 Scanias in the CFA fleet and 50 of those are pumpers.
Fiskville-based CFA Operations Officer Driving Glenn Jennings says the influx of Scania trucks is motivated partly by the fact that it is a purpose built out-of-the-box emergency vehicle.
This truck has a CP28 cab which translates into a 28-inch extension to a standard P series cab, there's also a CP31 version available that can accommodate an extra row of rear facing seats.
But even in the shorter guise I looked over there were some interesting improvements over past vehicles.
Fast Response
For a start, the rear seats can now house breathing apparatus, which means the crew are wearing their gear and ready to go when they get to the fire.
There's also a flip down rear step for the crew that deploys automatically when the rear doors are opened making it easier for the crew to exit the cab safely while wearing all of their kit.
"This means a crew can get water on to a fire about a minute and a half quicker than they used to," Jennings says.
In fire terms this apparently makes a big difference.
Another big plus for the Scania is the Electronic Stability Control (ESC).
 It stands to reason that in case of an emergency when the vehicle is in a hurry under lights and sirens safety is paramount, and Jennings admits the ESC is a great help keeping things on the straight and narrow regardless of the experience of the person behind the wheel.  
Pump it up
On the back of the Scania is a Mills-Tui pump unit with built in generator that has a water capacity of 2000 litres and a B class foam capacity of 200 litres. The foam is used for flammable liquid fires and flame suppression in vehicle accidents.
But this baby can be hooked up to 6 fire hydrants at once and can push out an astonishing 4,700 litres of water per minute.
That equates to about 4 ton of water every sixty seconds. Just quietly I reckon that would be more than enough to decapitate the neighbours' geraniums.
However, the unit generally only runs at 115 litres per minute on first response then pressure is ramped up once the crew are inside a burning structure.
Having the water on board means the crew can quickly get water onto the fire while the pump unit is being hooked up to the hydrants.
Startled Gazelle
With 1,600Nm of torque on tap from 1000rpm and a 4.88 final drive ratio acceleration is very impressive.
The job of translating power from the engine to the rear wheels goes via a 6-speed Allison GA766R (MD3066 ) automatic transmission.
 With the standard response time guideline for the first truck on scene is 7.7 minutes; Jennings says the new Scanias are blitzing it.
According to the CFA Lara's calculations the truck is nearly 2 kilometres further down the road in the same amount of time.
The Burning Question
The pumper boasts Exhaust Gas Recirculation (EGR) as a feature which does pose a challenge for vehicles that are used off-road.
The vast majority of Euro 5 (ADR80/03)EGR vehicles use active regeneration to clear the Diesel Particulate Filter (DPF) of soot when it becomes clogged.
A small diesel injector feeds a burner within the DPF which can generate temperatures of up to 650 degrees C.
Most EGR vehicles like fire trucks have the DPF underneath the chassis so it comes as no surprise that this could be a fire hazard in itself if the vehicle was parked in long grass as it moves into a regeneration cycle.
In answer to this Jennings points out standard procedure is that on high risk days or days of total fire ban all trucks are parked out front of the station and have a manual regeneration cycle performed.
This should mean that the truck will be ready to head into the bush at a moment's notice without any afterburner worries.
If a vehicle needs to undergo a regen cycle while fighting a fire, CFA procedure is that it must leave the fire ground and regenerate in a clear safe area.
Off-Road Interloper
Scania has also brought a Selective Catalytic Reduction (SCR) version of the 9 litre engine into the country in an off-road 4x4 crew cab specification.
Clearly this makes a lot more sense as this is the kind of vehicle that is most likely to end up out in the bush fighting bush fires in long grass. 
The 4x4 version however doesn't use the Allison transmission, in relies instead on Scania's Opticruise Automated Manual Transmission (AMT).
The CFA reckons that the P Series has taken fire engine ergonomics to a new level. But for me it was enough to live out a childhood fantasy of finally driving a big red fire engine.
Subscribe to our newsletter
Sign up to receive the Trade Farm Machinery e-newsletter, digital magazine and other offers we choose to share with you straight to your inbox
You can also follow our updates by liking us on Facebook. 

Graders For Hire | Cranes For Hire | Telehandlers For Hire | Excavators For Hire