Lely Cosmix M "best babysitter calves could have"
---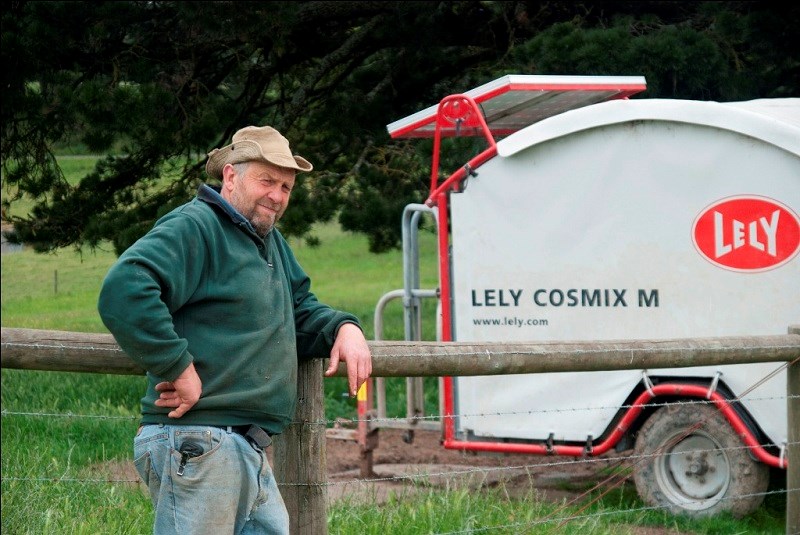 Gippsland dairy farmer Ian Hooker and his Lely Cosmix M feeding station.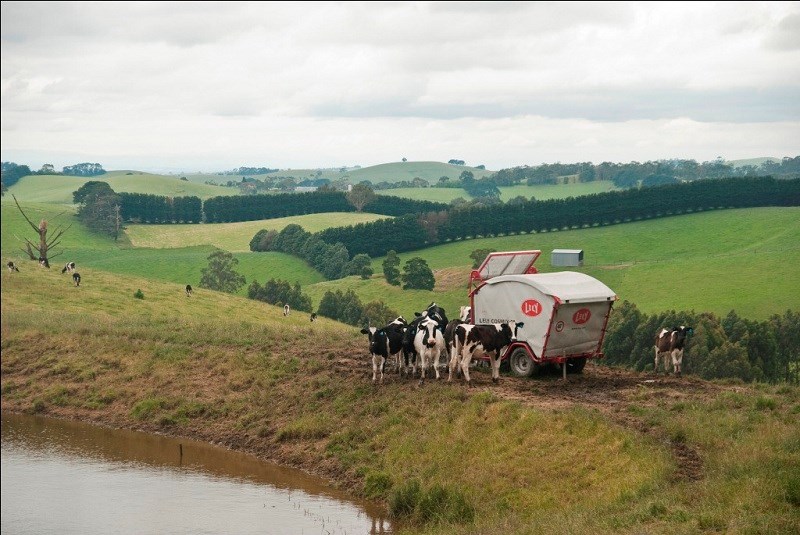 Calves flocking to the station come feeding time.

Gippsland dairy farmer Ian Hooker has had problems with his calves overfeeding on pellets and developing grain overload but since purchasing his Lely Cosmix M mobile feeding station, things have changed.
"They get a set diet and I only have to fill it up once a week," he says.
The Cosmix M is a one-tonne hopper on a trailer that can be towed to wherever the calves are, and left on the paddock.
The electronic scanner reads a calf's ear tag and feeds out 50g of pellets each time. The calf can come back as often as it likes, until, over 24 hours, it's received its full 2kg ration.
Ian got the Lely Cosmix M for his 190ha dairy farm at Loch, Victoria. He's had up to 80 calves feeding from the station although he thinks a maximum of 70 is better for optimal results.
"It has a stainless steel tray and the feed makes a rattle so all the other animals put their heads up and they quickly cotton on," he says.
The Cosmix M is powered by solar-charged batteries so the station can be towed and left anywhere for feeding. It takes one tonne of feed - either pellets, straight grain or mixed grain- and according to Ian is easy to load. Just roll back the canvas top and bucket the feed in with a front-end loader.
"It hasn't missed a beat," Ian adds.
"It runs perfectly, with no hiccups or dramas. It has coped well with Gippsland's rain and windy conditions."
In addition, the Lely Cosmix M can also be set up to give different sized ratios to different animals. Ian has used it for his calves and yearlings, and the Cosmix M keeps a record of who's eating what and when.
Although experiencing some programming problems with the station since Hooker first bought it, he hasn't looked back since.
He owes this to Daniel Upton from Trafalgar machinery dealership Traf Tractor and Machinery, whom Hooker bought the Lely Cosmix M from two years ago.
"Traf Machinery gives really good service. If there's been an issue, they've been straight out, even on a weekend," Ian says.
"Daniel is very switched on and he talks me through the programming over the phone."
On top of the Lely Cosmix M , Ian also owns a Lely Calm automatic calf feeder. He says he values being able to feed his young stock optimum amounts spread over a day, as would happen when they were with their mothers.
After weaning, the young animals are moved to the Lely Cosmix M which again feeds them optimum amounts of food over the day.
Ian says the Lely Cosmix M has become a vital part of his farming life. "Now I've had one, I wouldn't go without it," he says.
Click here to find livestock feeding equipment for sale.
Subscribe to our newsletter
Sign up to receive the Trade Farm Machinery e-newsletter, digital magazine and other offers we choose to share with you straight to your inbox
You can also follow our updates by liking us on Facebook. 

Graders For Hire | Cranes For Hire | Telehandlers For Hire | Excavators For Hire