Ford unveils Ranger XL-Plus models
---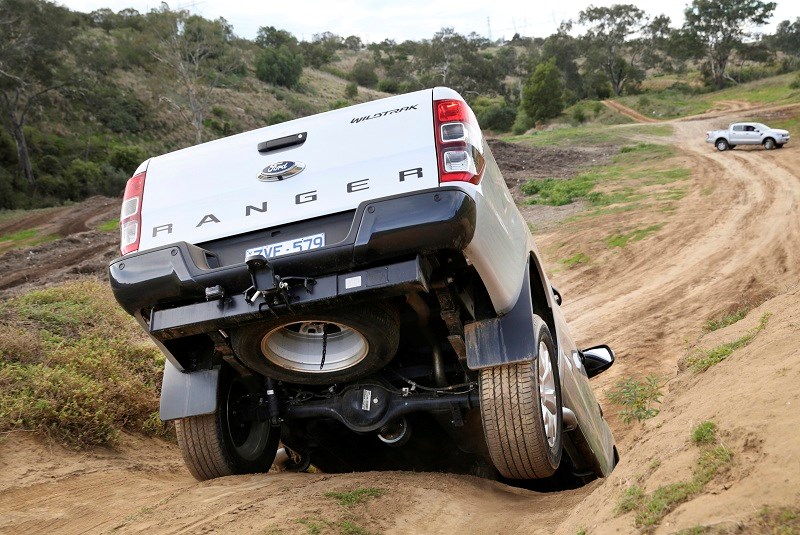 I nearly spilt my coffee at this point.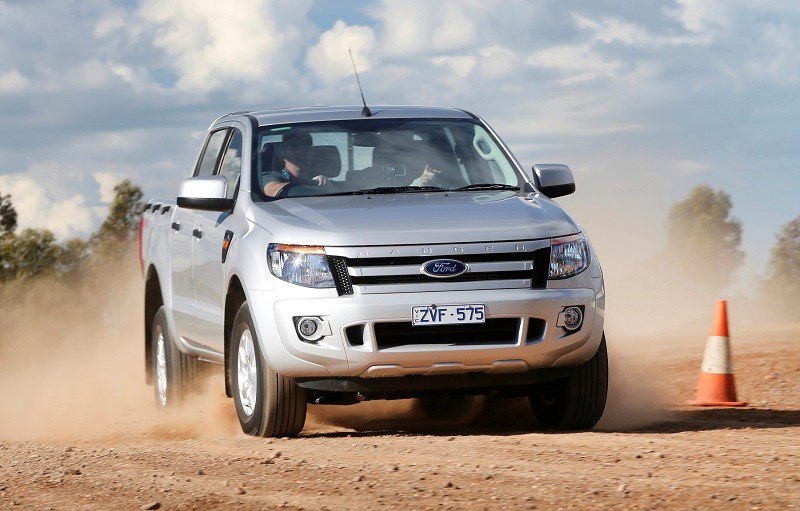 My passenger points out that photographers are valuable and should be treated with respect.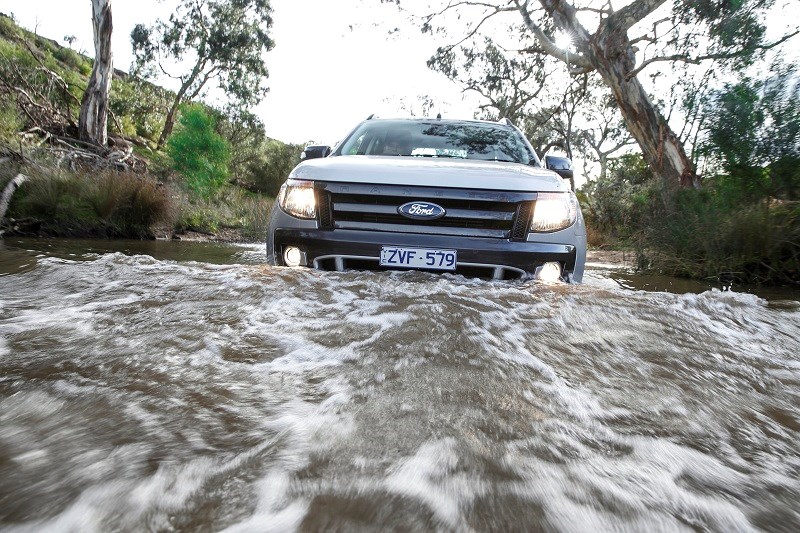 All this splashing around unearthed some old Landrover parts….and I'm not joking.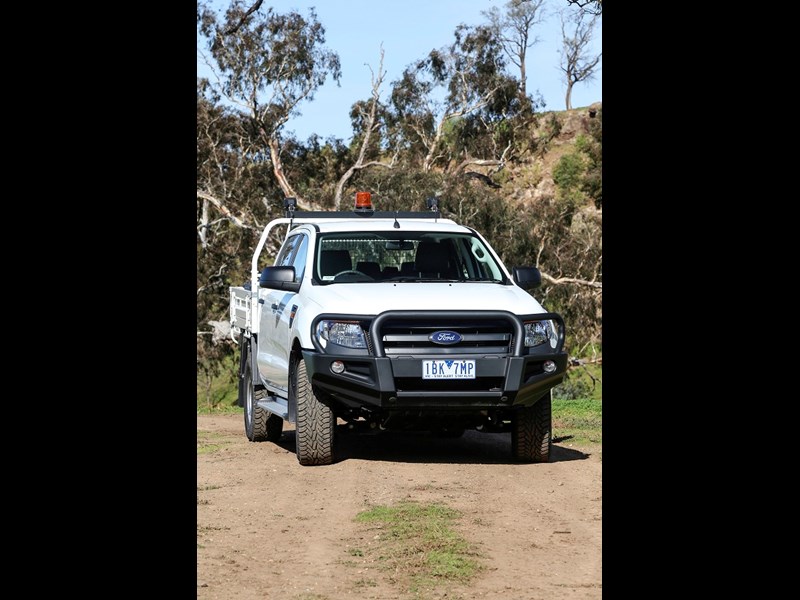 That chunky bar may not be so kind to wildlife but it maintains the Ranger's 5-star ANCAP rating.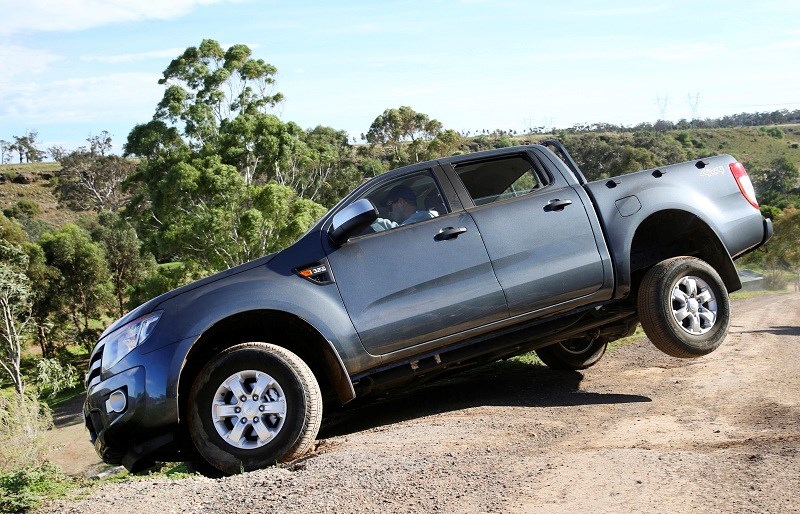 The Ranger's dynamic stability control (DSC) program has a lighter touch than some others on the market.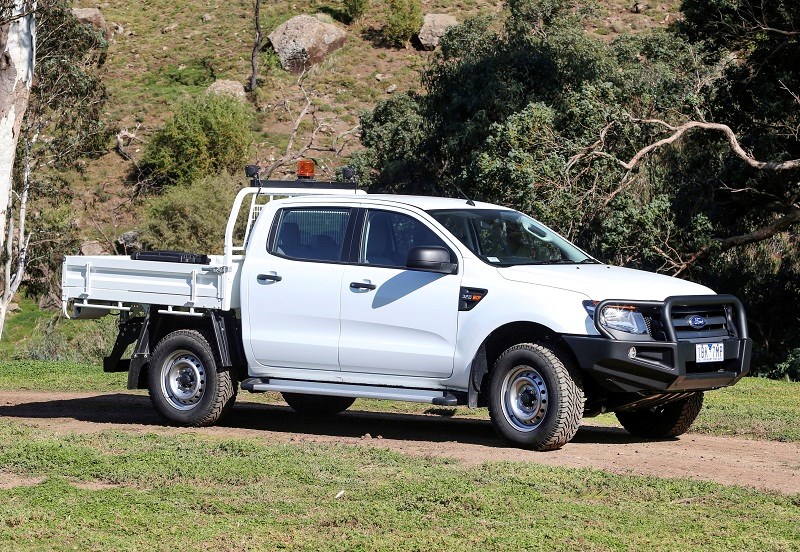 The new Ranger XL-Plus comes with steel cap boots and a site induction.

Ford has recently expanded its Ranger ute line-up to include the XL-Plus range, bringing the total Ranger model count to 26. Matt Wood clambers over obstacles and wades through creek beds in the new rigs to see how well they perform.
The Ranger has proved to be an able mud slinger to date.  
According to VFACT's recent figures on new vehicle sales, Ranger 4x4 sales have jumped 18.9 per cent so far in 2014, placing it behind the perennial market favourite -Toyota's Hilux.
And now, Ford has given the Ranger a pair of steel capped boots, a hard hat and a hi-vis vest with the introduction of the XL-Plus.
And the new variants are the best indicator yet of how serious Ford are toppling Hilux from its pedestal.
For a start the entire Ranger line-up is now 5 star ANCAP rated.
It comes with steel 17-inch wheels with all terrain tyres as standard, all seat are covered in canvas for durability and there's no girly carpet on the floor of this baby.
Additional wiring harness has been included to help with the installation of aftermarket equipment and a second 80 amp battery with isolator is also included.
There's also the option of a steel bull bar for an additional $1800.00 and a snorkel for an extra $995.00.
The bar doesn't affect the crash rating of the Ranger and also has plenty of mounting points for flags, aerials and lights.
The Plus also uses the 147kW 5 cylinder 3.2 litre donk and comes standard with the 6-speed auto cog box behind it.
And to add to its off-road cred a rear diff lock is also standard fare. It's pretty clear from the outset that the Plus is a drive-hard and hose-out proposition.
Pricing for the XL-Plus starts at $46,280 for the single cab-chassis 4x4 with the dual cab-chassis coming in at $51,760. The pick-up version will set you back $52,760. 
To push the Ranger point, Ford recently hosted a "Proceed With Purpose" media drive day at the Melbourne 4x4 Proving Grounds at Mount Cottrell, west of Melbourne.
The idea was to have another look at the Ranger and maybe play with some of the features that I hadn't fiddled with much to date.  
A decent cross section of the range was available from the base XL to the fancy pants WildTrak and in manual guise or in auto.
And I have to admit that I actually did get to play with some Ranger features that I hadn't given that much attention to in the past.
For a start I'd never really tried out the little 110kW 2.2 litre engine before, having in the past been seduced by the oomph of its larger 5 cylinder 147kW sibling.
This little Puma engine is also found under the snout of the new Ford Transit van. And I have to say that I was quite surprised how game the smaller powerplant actually is.
We spent a lot of time clambering over obstacles in the base XL and in some ways it was actually a smoother performer than the bigger donk.
At times I had various versions of the Ranger rocking on only a couple of wheels while climbing or descending in low range or wading through creek beds.
The 2.2 litre seems more delicate when putting power to the ground and easier to nurse over the rough stuff where the 3.2 was more likely to charge in with all guns blazing.
It was also the perfect weapon to terrorise a ute load of car journos with as we also put the Ranger's stability program to the test.
I'm admitting to being a bit of a dinosaur here but I'm guilty of at times being a little resentful of Electronic Stability Programs.
ESP can suck the fun out a nice drive in the bush when it intervenes too harshly, sometimes there can be a lack of subtlety in application.
It doesn't help that I'm a bit of a luddite at the best of times and can see nothing wrong with a good old fashioned gear stick, locking hubs and a bit of common sense. Bearing all of that in mind I found myself in danger of having to eat my hat.
The stability program in the Ranger is one of the sweeter programs I've used and it tends to be a tad more delicate than some of the others out there.
A good example was the descent control, I pointed the nose of various Ranger models down some pretty steep hills during the day and funnily enough the smoothest roll to the bottom was rolling in neutral on descent control.
There was no wild scrabbling of tyres on the mud or dirt just periodic gentle nudges from which ever wheel was in contact with the ground at any given point in time.
This function comes in really handy when towing as well and can help keep things in a straight line and under control in some steep situations with a van or trailer on behind.
It seems there is no stopping the Ranger from taking market leader position at this point.
Subscribe to our newsletter
Sign up to receive the Trade Farm Machinery e-newsletter, digital magazine and other offers we choose to share with you straight to your inbox
You can also follow our updates by liking us on Facebook. 

Graders For Hire | Cranes For Hire | Telehandlers For Hire | Excavators For Hire