Inside NFM's November 2014 issue
---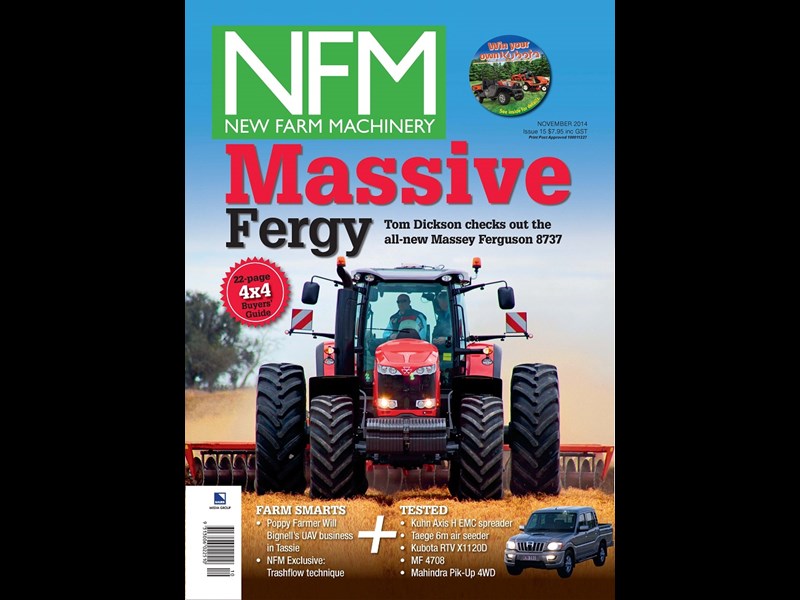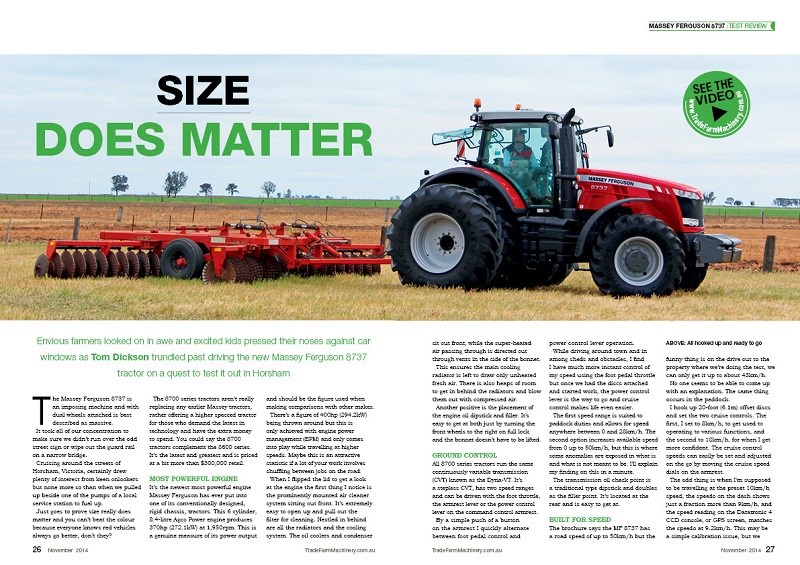 Tom checks out Massey Ferguson's new flagship model, the MF 8737.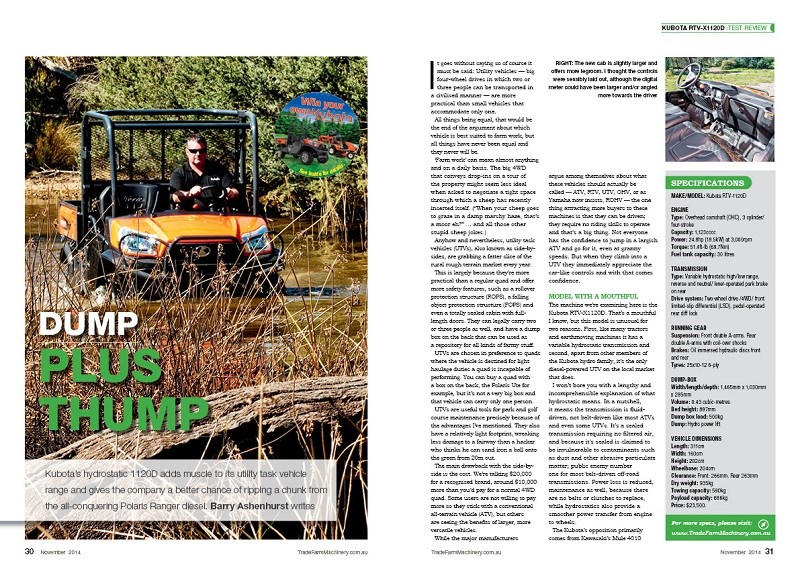 Barry thinks the Kubota RTV-X1120D utility vehicle makes a great farm vehicle. Find out how you can win one for yourself on www.tradefarmmachinery.com.au/competitions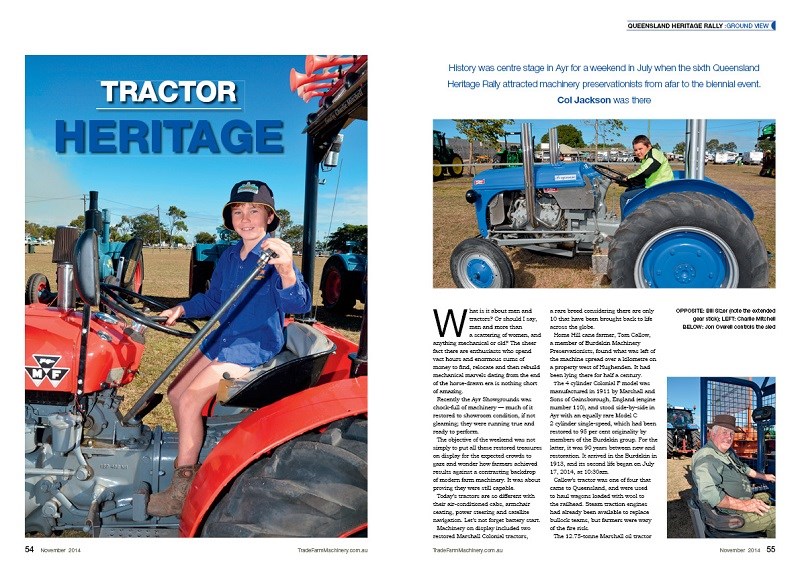 A first for NewFarmMachinery, Col Jackson takes a trip down tractor memory lane, checking out the fabulous antique machines displayed at the Queensland Heritage Rally.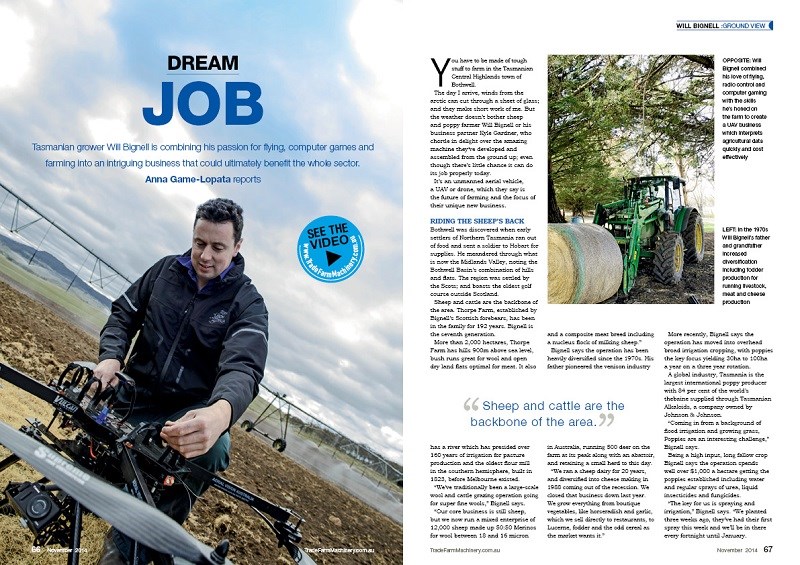 Read about how Tasmaninan poppy farmer Will Bignell has turned his computer game addiction and passion for flying into a career.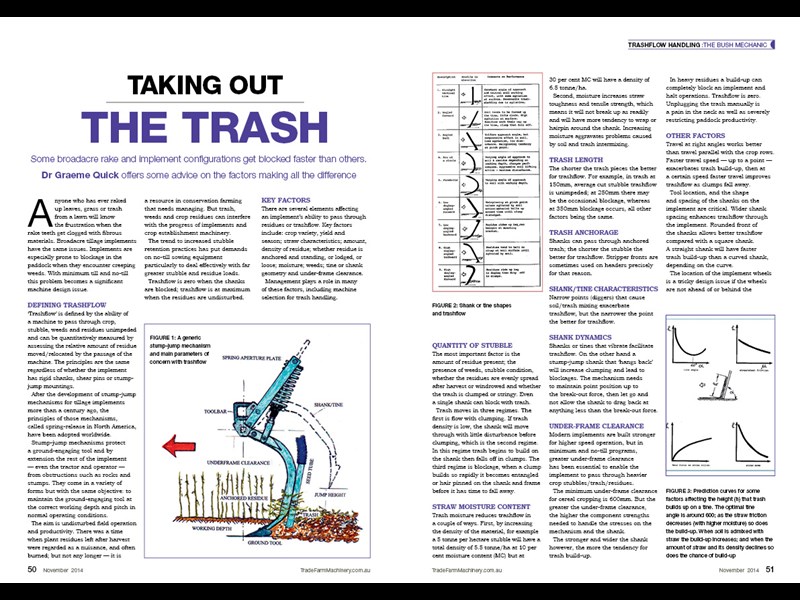 Dr Quick talks about trash flow management.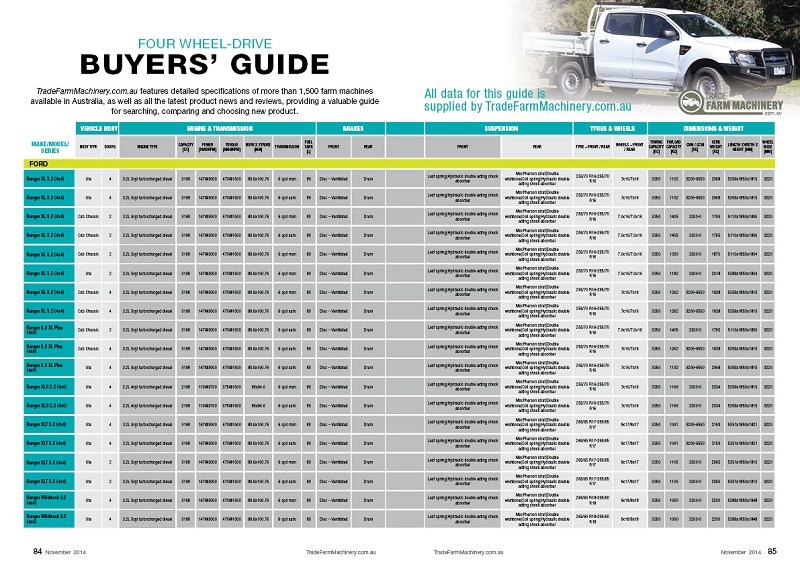 Our 4WD buyers guide features well-loved bradnds such as Ford, Isuzu, Nissan and more.
This month's jam-packed issue, coming to a newsstand near you on November 3, features a double dose of Massey Ferguson, a UAV pioneer, a vintage tractor extravaganza and more.
After learning that Massey Ferguson has unveiled its "most powerful" flagship tractor yet, we wasted no time in getting our hands on the model for a test drive. Anything massive and powerful excites us as much as it excites you.
Hence on one fine day in Horsham, Victoria, NFM tractor expert Tom Dickson took it out for a drive on the roads for a fuel stop before putting it through its paces in the paddock. Suffice to say, envious farmers looked on in awe and excited kids pressed their noses against car windows for a better look at the sleek machine. Find out what Tom thinks of the new Massey Ferguson 8737 in this issue. Watch the video.
In this issue, we also tested out the MF 8737's new little brother, the MF 4708 from the recently launched Global Series. Unlike the big brother, this utility tractor is much smaller in size and is therefore ideal for use on hobby farms. Watch the video.
Other machinery we put to the test include:
            PLUS Find out how you can win this fantastic UTV.
Mahindra Pikup 4x4 ute (watch the video)
Kuhn Axis 50.1 H-EMC-W fertiliser spreader
Our farmer profile for this month features Tasmanian poppy and sheep farmer Will Bignell who admits to computer game addictions of all sorts, with the worst affliction being FarmSim (farm management simulation).
But with the resulting tight handle he developed on software code, added to his equal passions for making machinery, radio control and flying, Bignell has developed an intriguing new farming business, DroneAg.
Bignell and business partner Kyle Gardner have built, developed and tested their own unmanned aerial vehicle (UAV) or drone which guided by GPS, can fly across hectares of paddock using infrared sensing to determine crop vigour and digitally model elevation at a fraction of the time and cost of a traditional surveying service.
Find out more about what Bignell is doing with DroneAg in this issue. Watch the video.
Also this month, Col Jackson discovers the world of herb farming and the remarkable collaborative growing and logistics enterprises of Bluebell and Odeum farms built by the Marinovich dynasty in Western Australia.
A first for NewFarmMachinery; Jackson takes a trip down tractor memory lane, checking out the fabulous antique machines displayed at the Queensland Heritage Rally and meeting some amazing people along the way. Let us know if you like this kind of feature and we'll include more.
Dr Graeme Quick presents the concluding part of his special on Chamberlain Industries; an exclusive to NewFarmMachinery. Also a first for farm industry publishing, we have Quick's research and subsequent advice about the management of trashflow and associated implements.
Our buyers' guide this month features a comprehensive list of 4WD vehicles from the likes of Ford, Isuzu, Mazda and more.
Don't miss out on a future NFM issue! Subscribe here now
Subscribe to our newsletter
Sign up to receive the Trade Farm Machinery e-newsletter, digital magazine and other offers we choose to share with you straight to your inbox
You can also follow our updates by liking us on Facebook. 

Graders For Hire | Cranes For Hire | Telehandlers For Hire | Excavators For Hire