JCB and Southern Spreaders form super spreading combo
---
JCB and Southern Spreaders' new fertiliser spreading combo hit the road recently in Victoria. Tom Dickson caught up with them.
Ballarat-based businesses JCB and fertiliser spreader manufacturer Southern Spreaders toured Victoria in late October to show off the benefits of a unit combining a Fastrac 8310, a Southern Spreaders 750 L linkage chain spreader and a ten ton side tipping fertiliser trailer.
Our New Farm Machinery team caught up with representatives of both companies at Derrinallum in Western Victoria to find out just what this union of products will bring to the agricultural industry.
We're also keen to check out the specific features of each product the companies maintain make it well suited for the combination.
In the past gravity fed linkage spreaders were restricted to granulated fertilisers only. But the 4000 litre hydraulically operating 750 L chain spreader now gives the operator the option of spreading lime, gypsum and manure fertilisers as well as granulated product.
Featuring a Topcon information and control unit, the spreader can apply at virtually any rate. It has a working width up to 34 metres single super, DAP and urea and up to 16 metres for lime and gypsum.
Southern Spreaders director Jeff Keyte says the company built its first linkage spreader about fifteen years ago down in Tasmania for a spreading contractor who was looking for a more universal machine to get around heavy black swamps.
"We later moved away from this kind of spreader because people were more interested in the self-contained units," Keyte says.
Keyte says the business came up with a new design for a machine which could actually spread compost manure as well as gypsum and limes in 2014.
"There are other machines out there but they don't perform as efficiently as ours, they tend to bridge and have more trouble getting those sorts of product out," he claims.
"The whole idea is to have one machine that will spread virtually any type of product."
To increase the potential of the machine Southern Spreaders has designed a ten ton side tipping trailer which can be attached to the tractor while the spreader is raised giving the unit a total carrying capacity of about fourteen tons of single super.
The hydraulics are driven by a petrol motor mounted on the trailer so the trailer operates fully independently of any other power source. When the trailer is fully raised it can tip product directly into the linkage spreader.
JCB Ballarat director and general manager Stuart Sealey adds his company's involvement is to raise awareness in the farming community and among contractors about the Fastrac 8310 and linkage chain spreader combination.
"The combo provides a good alternative to the Fastrac all-in-one spreaders, and when it comes time for a trade-in the 8310 conventional tractor has a much better resale value," Sealey says.
"The Fastrac 8310 is a great match because it has an incredible 70 klm/h road speed, ten ton lift capacity on the rear linkage and is road legal to tow up to twenty eight tons."
Other features of the Fastrac 8310 include external disc ABS brakes, air trailer brakes and full cab suspension. It is also designed to have fifty/fifty weight distribution for maximum traction when fully laden.
"The Fastrac 8310 comes GPS-steering ready and it is operating off the power beyond hydraulics so is not compromised by the tractors hydraulic requirements," Sealey adds.
During the granulated fertiliser demonstration the tractor spreader combination did a pass over seventeen containers placed at two metre intervals. Each container was then collected and weighed with the results showing a very accurate spread pattern.
Highlighting its ability to operate at speeds previously unattainable by conventional tractor spreader units, the combo successfully broadcast lime to sixteen metres at thirty km/h without compromising spreading rate or accuracy.
For more information contact Stuart Sealey of JCB Ballarat on 0427 971 207 or Southern Spreaders Jeff Keyte on 0419 314 105.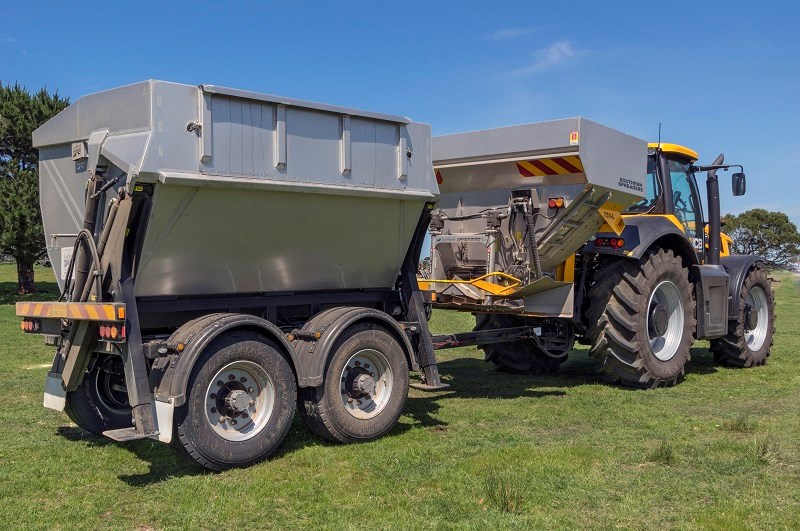 The complete spreading Combo.JCB's Fastrac 8310 plus Southern spreaders 750 L linkage chain spreader and ten ton side tipping fertilizer trailer.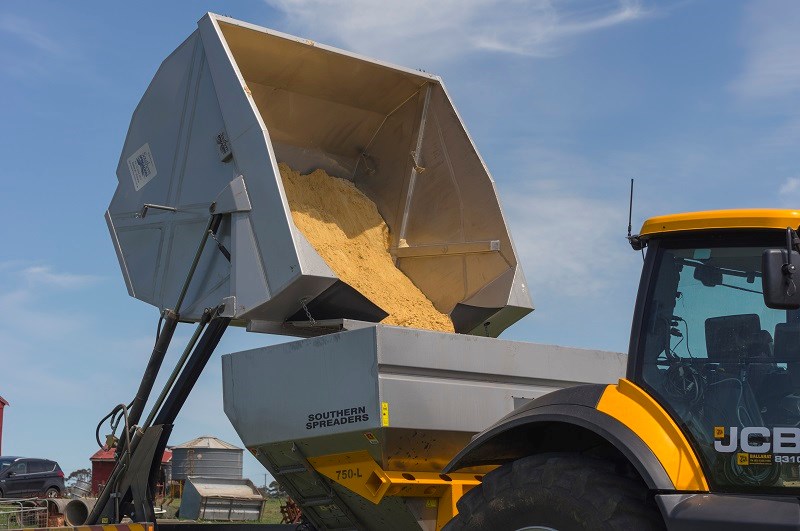 The hydraulic tipping trailer transfers fertilizer directly into the spreader.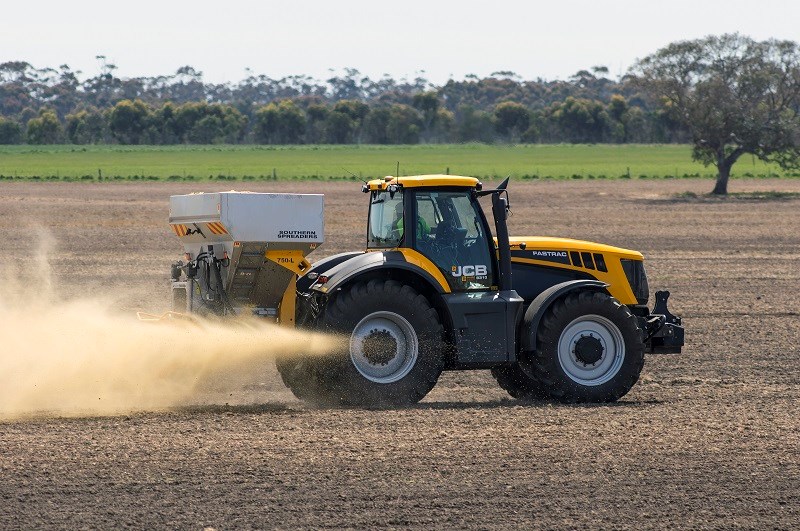 Spreading lime to about sixteen metres at speeds up to thirty km/h.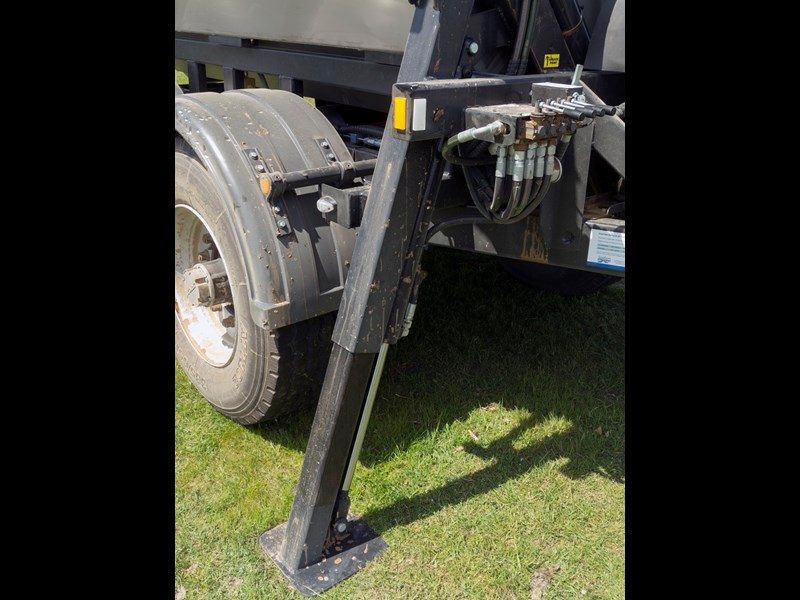 Four extendable hydraulic legs stabilize the trailer while tipping.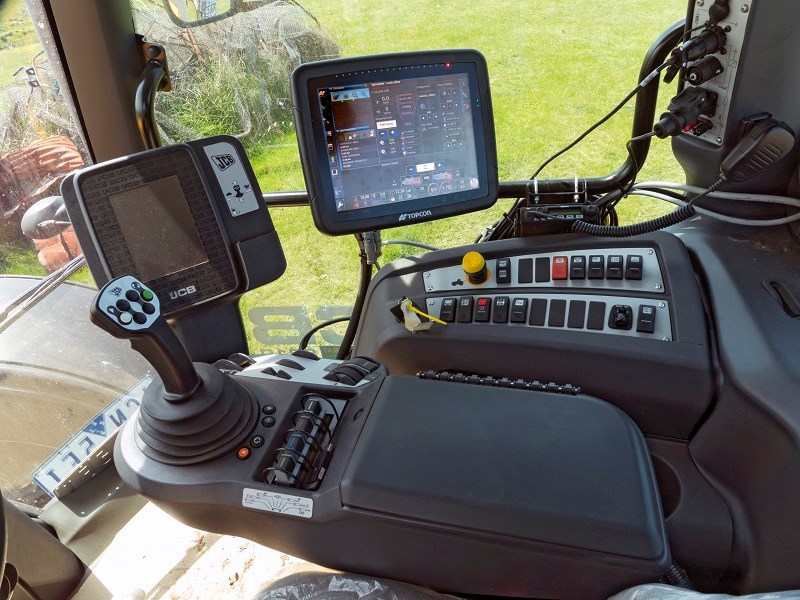 In-cab mounted Topcon electronic control centre.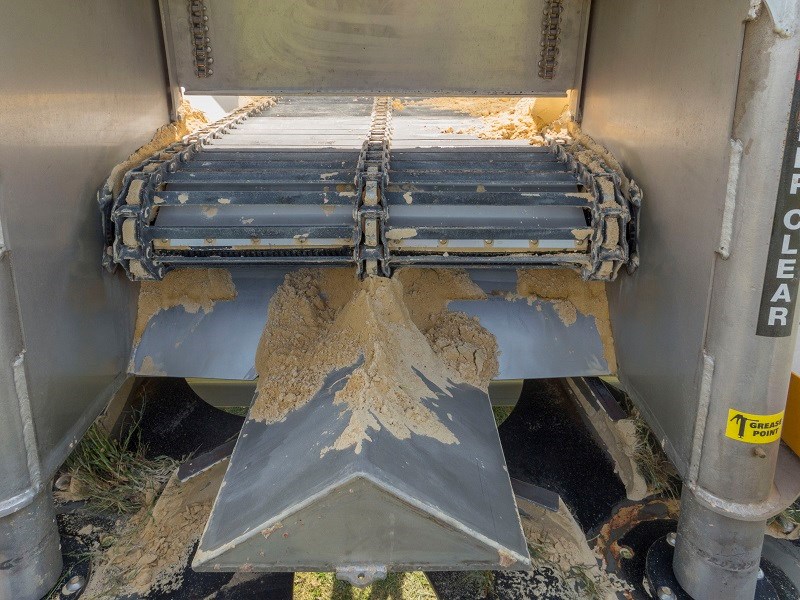 The chain driven belt and adjustable door guarantees a consistent delivery of lime to the spinners.

Subscribe to our newsletter
Sign up to receive the Trade Farm Machinery e-newsletter, digital magazine and other offers we choose to share with you straight to your inbox
You can also follow our updates by liking us on Facebook. 

Graders For Hire | Cranes For Hire | Telehandlers For Hire | Excavators For Hire