Seed Hawk unveils WiFi controlled air cart
---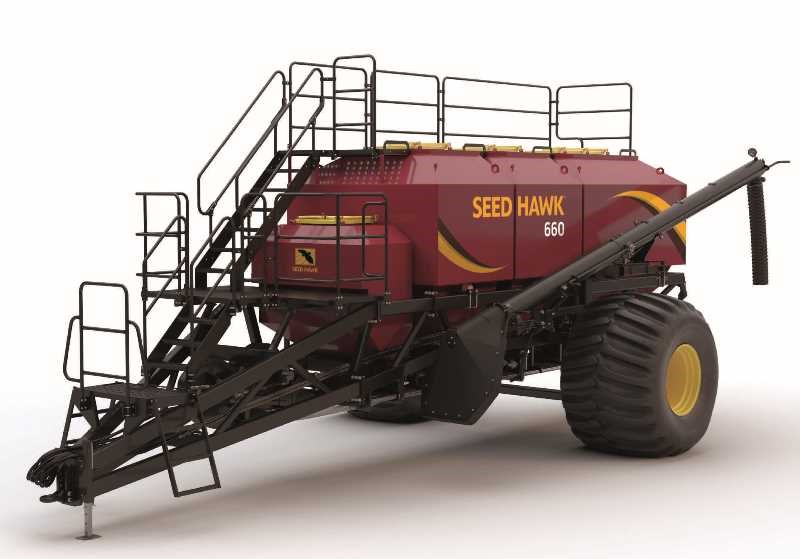 The latest air cart technology from Seed Hawk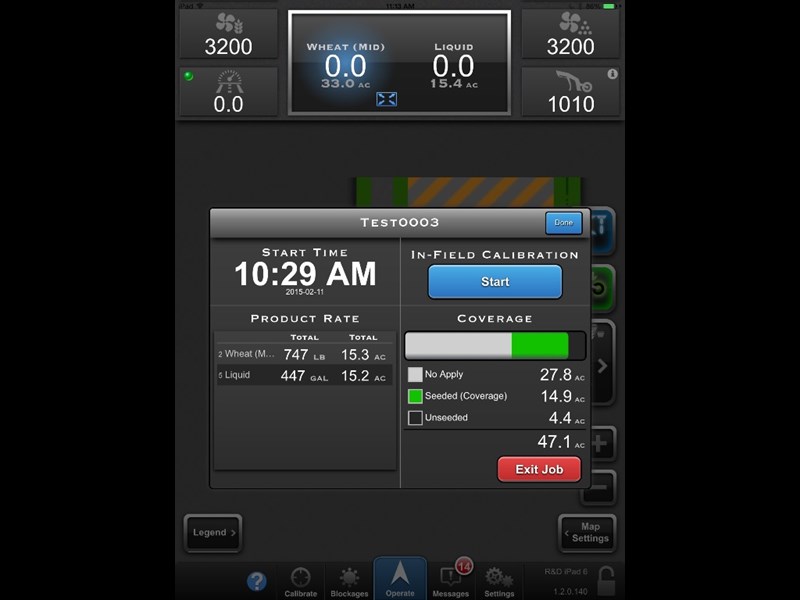 The new Seed Hawk iCon series allows WiFi control using your iPad

AUSTRALIAN EXCLUSIVE: Precision seeder manufacturer Seed Hawk has released a new series of wireless-controlled air carts, the iCon series
The new Seed Hawk iCon series incorporates independent electronic metering, individual load cells in each tank and an iPad controller to make section control or variable rate application easier.
Seed Hawk product manager Marc Nesbit says the new series is intended for use in combination with the company's XL and 45 series toolbars.
He says the iPad-based app provides the ability to intuitively control all tank and toolbar functions without the need for wiring or complex hardware/software interfaces.
"iCon combines real-time information with on-the-go automatic calibration, eliminating guesswork and the frustrating need to go back and forth to the cart," he says.
"For example, the 'acres to empty' function tells you instantly how many acres you can cover until your next fill.
"Alternatively, the 'calibrate on-the-go' function tells you how much additional seed and fertiliser you will need to complete the paddock.
Another smart feature is the 'fit to field' function that calculates what's left in the tank and adjusts the application rates to fit the remainder of the paddock.
"This means you can leave the paddock with an empty cart, eliminating the need to transfer product if you want to change seed or fertiliser," Nesbit says.
 Nesbit adds the iCon system is both cost-effective and 'future proof'.
 "The unit is a standard iPad, which you can remove from the tractor and use at home throughout the year," he says.
"In the unfortunate event that it breaks or is lost, a replacement iPad can be easily sourced in any regional town.
"It's also worth pointing out that the software is actually an 'app', so you can easily download any upgrades as they become available."
The iCon 660 has a total capacity of about 23 tonnes across three primary bins (5650, 5650 and 10,600 litres), while the 500 model has a total capacity of about 18 tonnes across two primary bins (10,600 and 5650 litres).
Both models incorporate an additional 1400 L bin, which allows small seeds, granular inoculant, micronutrients or other low volume products to be fed directly to the seed or fertiliser lines.
A 28 tonne capacity cart with optional dual rear wheels will be introduced later in the year.
Other standard features include easy access ladders and walkways, while optional high capacity augers, belt conveyors or bag lifting systems ensure fast and easy filling.
The new carts feature up to eight, independently-controlled electric drive meters, powered by an on-board hydraulically-powered generator.
Each tank has two separate lines, allowing it to carry either seed or fertiliser.
"You can divert product from the seed to the fertiliser airstream by simply flicking the diverter switch," Nesbit says.
"In addition, each meter can be independently controlled via iCon which allows section control or variable-rate application if desired.
"Alternatively, you can blend fertilisers from two different bins on the go, or incorporate granular inoculants directly to the seed row.
"iCon can also control and integrate the application of liquid fertiliser from an additional towed tank, a practice that is becoming increasingly popular in WA and the eastern states."
The meters are made from a durable, anti-static polymer for consistent product flow and easy cleanout.
Wireless blockage monitors, which assess product flow through each opener,  provide visual and audio warnings to the operator via the iPad.
Three quick-change roller configurations are available to match different seed sizes and application rates.
 The addition of the new electric metering system means Sectional Control Technology (SCT) is now standard on all Seed Hawk units.
SCT automatically shuts down the seed and fertiliser metering systems and lifts the openers on a section-by-section basis as the machine passes over sown ground.
Seed Hawk claims the technology can reduce input costs by 10 to 15 percent, depending on toolbar width, by eliminating overlap on headlands.
"The driver does not have to worry about flipping switches to stop and start product flow or pulling levers to raise and lower the openers," Nesbit says.
"Convenience aside, SCT offers a number of important agronomic advantages.
"SCT results in more uniform crops because overlaps and misses are virtually eliminated.
"Unlike other systems, the opener is removed from the ground to prevent disturbing the seed and fertiliser already in the ground.
"This helps to achieve a more even crop by eliminating double-seeded areas or over-fertilised areas."
iCon air tanks are available with all Seed Hawk XL and 45 series toolbars, which offer eight working widths from 12 to 26 metres.
All feature the company's  patented openers, which can be fitted on 25 cm or 30 cm row spacings.
 Each opener consists of a laid-back hydraulic tyne with separate knives that place the fertiliser about 19 mm deeper and 38 mm to the side of the seed row.
 "This ensures excellent seedling safety during germination and then fast access to the fertiliser band just when the seedling needs it," Nesbit says.
"Accurate seed and fertiliser placement is the first step to establishing the best crop possible."
Depth control is achieved via the 10 cm trailing press wheel, which independently tracks ground contours and then packs and seals the furrow for faster, more uniform emergence.
The simple design of the patented openers delivers precise seed depth, even over uneven ground, high trash conditions or at higher operating speeds.
Each opener is pulled into its operating position by a hydraulic ram with the 'break-out' pressure adjusted from the cabin.
Once the trip pressure has been reached, the opener gently glides up and over any obstacle before re-engaging the soil.
Seed Hawk is distributed via selected CLAAS Harvest Centres and independent dealerships throughout Australia.
Subscribe to our newsletter
Sign up to receive the Trade Farm Machinery e-newsletter, digital magazine and other offers we choose to share with you straight to your inbox
You can also follow our updates by liking us on Facebook. 

Graders For Hire | Cranes For Hire | Telehandlers For Hire | Excavators For Hire