Agrowplow's latest seed drill spikes demand
---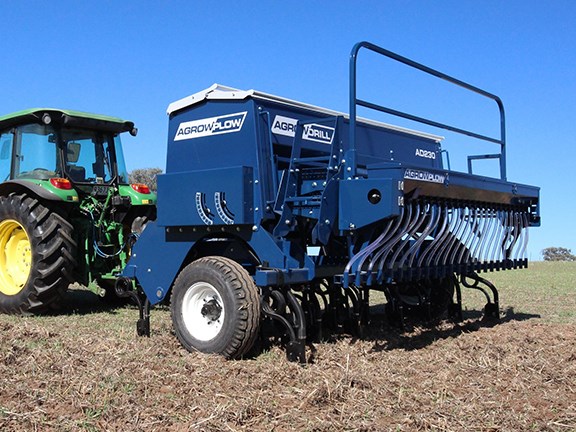 The Agrowplow AD230 seed drill uses the company's 425 coil tyne assemblies.

Barely released to the market, the very latest AD230 seed drill from Agrowplow is selling like hotcakes across Australia.


Manufacturing capacity is being stepped up to enable the build of two seed drills a day to meet incoming ordersfor the company's latest release the AD230 seed drill.
Agrowplow's David Hobbs says the popularity of the new seed drill comes down to its versatility and large number  of innovative features.
 "The new AD230 has already met unprecedented demand, sight unseen, across nearly every state – it will go everywhere," Hobbs says.
"The 4-bar machine is available in 24 and 28-run versions (at 125mm tyne spacings), plus the options of 20 or 24 row versions at 150mm spacings," Hobbs explains.
"The 4-bar format, based on a beefy 100 x 100 RHS welded frame and 600mm (24 inch) underframe clearance, also delivers superior trash handling ability.
The new unit employs Agrowplow's proven 425 coil tyne assemblies, and the famous Baker boot which delivers seed into a superior seedbed while maximising trash handling and minimising topsoil disturbance.
With an overall width of just 3.25 metres, two of the four AD230 versions offer transport through standard 12ft farm gateways; the two other versions, at 3.6m overall, will fit through 14ft gateways.
"On this basis alone the new Agrowplow AD230 is well suited to most tasks – from sowing cereal crops, hay production and pasture renovation – across a range of farming enterprises," Hobbs says.
He says the new implement also boasts a range of features, some of which are not available, or not common on most other seeders.
For example, powder coated seedboxes with a generous 605 or 710 litre capacity – some of the biggest in their class - and twin lids to prevent cross-contamination, provide distinct advantages.
The AD230 also features heavy duty wheel arms, renowned Australian-made Titan axles, Alford phasing cylinders and an adjustable platform height," he says. 
In addition, Shaft Rotator Indicators visible from the tractor seat provide visual assurance that the seed metering system is functioning, while windows in the front of the seedbox provide a quick and ready guide to seed levels. 
Simple calibration and efficient cleaning are valuable features in everyday operation, as is a positive drive dog clutch to engage/disengage operation when the machine is raised or lowered into work. 
The Agrowplow AD230 Series AgrowDrill's available  options and accessories include a small seeds box, coulters, press wheels, spring harrows, and trailing flexi-rollers. 
"This new seed drill is a clear step above existing standards, and at a price that delivers farmers with a real value surprise," Hobbs adds. 
"It's strong, smart and durable, clearly demonstrating that all seed drills are not created equal. 
Agrowplow has established a track record for building high quality seed drills – made in Australia and built at Agrowplow." 
"Popular sizes, great trash handling, and really useful everyday features to make work easier and more consistent – no wonder this new seed drill is already going to farms everywhere," Hobbs says.
Subscribe to our newsletter
Sign up to receive the Trade Farm Machinery e-newsletter, digital magazine and other offers we choose to share with you straight to your inbox
You can also follow our updates by liking us on Facebook. 

Graders For Hire | Cranes For Hire | Telehandlers For Hire | Excavators For Hire